Brian Stelter here at 10:30pm ET on Sunday, August 14th. Here's the latest on Antony Blinken, Liz Cheney, "Better Call Saul," TikTok, "Top Gun," and more...
"Life-changing injuries"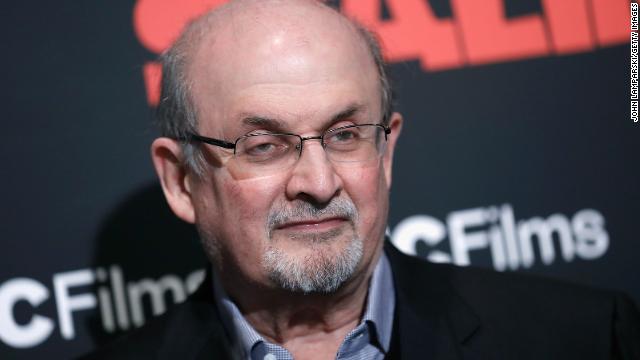 Salman Rushdie is "more than a literary giant," US Secretary of State Antony Blinken said Sunday as the icon remained in critical condition after Friday's stabbing attack. Rushdie "has consistently stood up for the universal rights of freedom of expression, freedom of religion or belief, and freedom of the press," Blinken said. "Specifically, Iranian state institutions have incited violence against Rushdie for generations, and state-affiliated media recently gloated about the attempt on his life. This is despicable."
Blinken said Rushdie's strength "steels our resolve and underscores the imperative of standing united as an international community against those who would challenge these universal rights."
There has, indeed, been global outrage in the wake of the Rushdie attack. President Biden said the author stands for "the ability to share ideas without fear." Australian Prime Minister Anthony Albanese called the attack "an assault on global freedom of expression."
On Sunday, Rushdie's son Zafar said that "though his life changing injuries are severe, his usual feisty & defiant sense of humor remains intact. We are so grateful to all the audience members who bravely leapt to his defense and administered first aid along with the police and doctors who have cared for him and for the outpouring of love and support from around the world."
On "Reliable Sources," I spoke with Henry Reese, who was on stage with Rushdie when the attack occurred. At first, he said, "it looked like a sort of bad prank, and it didn't have any sense of reality. And then when there was blood behind him, it became real."
Reese said he didn't want to talk about the details, or his own injury (he had a bandage above his eye), but he definitely wanted to talk about the protection of writers. That's what Friday's planned event was all about. And that's what Reese's organization City of Asylum is about, too. Billed as the "largest residency program in the world for writers living in exile under threat of persecution," the group defends the values Rushdie represents.
Reese said "we should all go out and buy a book by Salman Rushdie this week and read it." And writers, he said, should "write to the full extent of truthfulness and their ability." We should all recognize the importance of creative expression "and how it brings people to discuss important issues and to think about people other than themselves."
 >> Randy Boyagoda made a similar point in this new piece for The Atlantic titled "To Support Salman Rushdie, Just Read Him." 
"No comparable incident..."
Via CNN's story: Press Freedom group PEN America said the organization "is reeling from shock and horror" after Friday's attack. "We can think of no comparable incident of a public attack on a literary writer on American soil," said CEO Suzanne Nossel. "Salman Rushdie has been targeted for his words for decades but has never flinched nor faltered," Nossel said. "He has devoted tireless energy to assisting others who are vulnerable and menaced." Nossel also said that hours before the attack Rushdie had emailed her asking for help in finding safe refuge for "Ukrainian writers in need of safe refuge from the grave perils they face..."
Further reading
 – "A man with a knife could not silence a man with a pen," New York Gov. Kathy Hochul told a crowd gathered at the Chautauqua Institution on Sunday.
 – "The criticism voiced by some about a possible lapse of security at Chautauqua is at odds with Rushdie's sense of his work and himself," Boyagoda added. "He made the choice to put freedom of expression and freedom of movement before their fearful alternatives..."
 – AP correspondent Joshua Goodman, who is based in Miami, happened to be at Chautauqua with his family on Friday. He expected "a peaceful week away from the news. Instead, the news found him..."
 – "Top Chef" star and Rushdie's former wife Padma Lakshmi said she's "relieved" the author is "pulling through:" "Now hoping for swift healing..."
Fighting for Austin Tice's freedom
American journalist Austin Tice disappeared in Syria ten years ago today. When it first happened, "I never would have believed we'd still be working to bring Austin home" a decade later, his mother Debra said Sunday at a National Press Club event in DC. The club's exec director Bill McCarren joined me on "Reliable" and said he remains hopeful for a breakthrough that will secure Tice's release. He said direct negotiations with the Syrians are the key. "I think President Biden is extremely engaged," he said. The aforementioned Antony Blinken attended the press club event and said "this is a priority for us..."
 >> Tony Hunter, the chairman and CEO of McClatchy, ended an opinion piece with this message: "To my colleagues in the press, do not let Austin Tice be forgotten..."

Some recommended end-of-weekend reads:
 -- John Harwood's latest analysis: "The same Joe Biden suddenly looks different..." (CNN)
 -- Edward-Isaac Dovere reports that Biden aides are planning a "big speech" for him, set for right after Labor Day: "A hard-hitting kick off for midterm campaigning..." (CNN)
 -- "After Roe v. Wade Reversal, readers flock to publications aimed at women," Katie Robertson reports in a story citing Jezebel and The 19th... (NYT)
 -- Mark Guarino's story about John Hinckley Jr.: "The man who shot Reagan wants to play concerts. It's not going well..." (WaPo)
COMING UP THIS WEEK...
One year after the fall of Kabul
The Afghan government collapsed and the Taliban entered Kabul on August 15, 2021. One year later, Afghanistan "is a land of shrugs and sadness," Stefanie Glinski writes for Foreign Policy. Some Afghans tell of "desperate months trying to evade capture and flee the country," according to this Guardian report.
 >> Numerous reports and reviews of the withdrawal are in the works, with some set to be released sooner than others...  
 >> Fareed Zakaria looked back at an inspector general report, "Lessons from Twenty Years of Afghanistan Reconstruction," and said it is "worth studying carefully..."
The Liz Cheney primary
Harriet Hageman looks to be a "heavy favorite" in Wyoming on Tuesday, CNN's Harry Enten writes. Politico columnist John F. Harris went ahead and drafted "Liz Cheney's concession speech in advance," since, he says, "all signs suggest she aims to turn a congressional defeat into a presidential campaign." Here, WaPo's Jonathan Capehart portrays Cheney as "the Obi-Wan to Trump's Darth Vader." Come Wednesday, if polls are right, Trump boosters will portray Cheney as a washed-up loser. Let's be honest – they can't wait to do it. (They pretend like the L-word doesn't apply to Trump, too.)
 >> Alaska also holds primaries Tuesday. The Guardian's Maanvi Singh in Anchorage writes: "Alaska election tests weight of Sarah Palin's celebrity – and Trump's sway..."
Media week ahead calendar
Monday: R. Kelly's federal trial starts in Chicago. It is expected to last several weeks...
Monday: AMC airs the "Better Call Saul" series finale. Scroll down for details...
Monday: HLN debuts the first of three "HLN Investigates" specials with "Sex Rings Secrets: Exposing Jeffrey Epstein" at 9pm ET...
Monday: "Legacy: The True Story of the LA Lakers" premieres on Hulu...
Tuesday: New releases include Oxford philosopher William MacAskill's "What We Owe the Future..."
Tuesday: "Alex Wagner Tonight" launches at 9pm on MSNBC...
Wednesday: WNBA playoffs begin...
Thursday: "She-Hulk: Attorney at Law" premieres on Disney+...
Friday: "Superspreader," the NYT's latest documentary for FX/Hulu, looks at vaccine disinformation...
Sunday: "House of the Dragon" debuts on HBO Max...
Awaiting more Trump news...
...And if this coming week is anything like last week, the news could break at any and every time. Just like nature, the media abhors a vacuum. The press and the public, to some extent, expect instant information, but the government works at a different pace.
So as we wait, here is one of the Page One headlines in Monday's NYT: "After Early Fury At Trump Search, GOP Is Divided," Luke Broadwater writes. Inside the paper, Zolan Kanno-Youngs and Maggie Haberman write that Team Trump's conflicting arguments about the top-secrets scandal have failed to answer a question "at the center of the federal probe: Why was he keeping documents, some still marked classified, at an unsecured Florida resort when officials had sought for a year to retrieve them?"
I think Andrew Kaczynski is right about this: "Trump supporters/prominent former Trump admin officials have settled on 'he did it but it's no big deal'" as the response to the top-secret documents scandal. "At least they are no longer spreading conspiracy theories that evidence was planted," he added. As Oliver Darcy said on "Reliable," the media shouldn't soft-pedal the extreme nature of the base's rhetoric...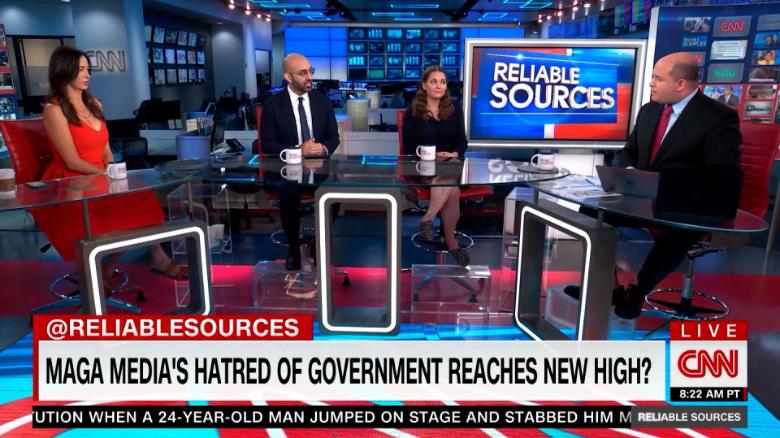 -- A headline from my interview with John Dean: "Former Nixon counsel says Trump's media supporters will have 'egg all over their face' when probe ends..." (The Hill)
 -- Scott Jennings on CNN's "SOTU:" Either Trump has "to be indicted, or Merrick Garland has to resign..." (Mediaite)
 -- Trump and allies have returned "to his familiar strategy: flood the zone with nonsense," Daniel Dale reports... (CNN)
 -- Dan Gillmor with some not-so-common sense: "The unanswered questions regarding the documents Trump pilfered greatly outnumber the answered ones, so I'm waiting for journalism that is based on something other than unnamed sources before believing anything in particular..." (Twitter)
Front-page look at Dominion's defamation suit against Fox
Jeremy W. Peters had the story on Page One of Sunday's NYT. Three key facts:
 >> "Dominion's $1.6 billion case against Fox has been steadily progressing in Delaware state court this summer, inching ever closer to trial. There have been no moves from either side toward a settlement, according to interviews with several people involved in the case..."
 >> "The two companies are deep into document discovery, combing through years of each other's emails and text messages, and taking depositions. These people said they expected Rupert and Lachlan Murdoch, who own and control the Fox Corporation, to sit for depositions as soon as this month..."
 >> "The case has caused palpable unease" at Fox News... "Anchors and executives have been preparing for depositions and have been forced to hand over months of private emails and text messages to Dominion... Steve Doocy, Dana Perino and Shepard Smith are among the current and former Fox personalities who either have been deposed or will be this month." Read on...
FOR THE RECORD, PART THREE
 -- The WSJ editorial board hails the verdicts against Alex Jones and says "there's finally a cost for his Sandy Hook garbage." Further, the board hopes it'll "convince mainstream political figures that it's wrong to play footsie with Mr. Jones's audience by going on his show, as some Republicans have done..." (WSJ)
 -- "The Unfiltered Faces of Monkeypox:" Jacob Bernstein writes about people sharing "their stories on social media, to fight stigma and demand more action..." (NYT)
 -- Here's more on the Gannett layoffs we reported on Friday... (Deadline) 
 -- Sign of the times: Some prominent right-wing tweeters, like Rasmussen Reports and Christina Pushaw, seemingly celebrated the firing of local journalists...
TikTok as election lie incubator
NYT reporter Tiffany Hsu is out with a deep look at TikTok's "troubling track record during foreign elections" and what that portends for the US. "Ahead of the midterm elections this fall," she writes, "TikTok is shaping up to be a primary incubator of baseless and misleading information, in many ways as problematic as Facebook and Twitter, say researchers who track online falsehoods. The same qualities that allow TikTok to fuel viral dance fads — the platform's enormous reach, the short length of its videos, its powerful but poorly understood recommendation algorithm — can also make inaccurate claims difficult to contain." Read on...
 >> "Reading this report," Emily Baker-White tweeted, "I can't help but think about how last month, a TikTok exec told Brian Stelter we that shouldn't be worried about the platform's effect on civic discourse because it's just used for entertainment..."
Why did Elon sell all those Tesla shares?
It's simple, Puck's William D. Cohan writes: "He probably will need to get his hands on something like $5 billion in cash to settle with the Twitter board after he loses the court judgment in October, which is when the serious settlement negotiations will begin in earnest." His recent sale of $7 billion in Tesla shares makes sense in that context...
FOR THE RECORD, PART FOUR
 -- From Friday night: "YouTube is planning to launch an online store for streaming video services and has renewed talks with entertainment companies about participating in the platform," Jessica Toonkel and Sarah Krouse report... (WSJ)
 -- Did you know this? "Major publishers are buying ads in mobile games like Subway Surfers to juice traffic..." (Marketing Brew)
 -- "Daily Mail calling?" Jim Waterson says " Boris Johnson weighs offers for his return to journalism..." (Guardian)
 -- Barkha Dutt writing about Indian TV: "In India, 75 years after independence, democracy dies in prime time..." (WaPo)
"We have lost a bright light"
Anne Heche "has matched with an organ recipient and will be taken off life support on Sunday, a representative for her family told CNN." The LAPD also says it has ended its investigation into Heche's car crash. Sandra Gonzalez and Chloe Melas have the latest here. Heche is survived by her sons Homer and Atlas. "We have lost a bright light, a kind and most joyful soul, a loving mother, and a loyal friend," Homer said...
 >> In a relatable editorial, Variety's Daniel D'Addario writes how Heche's "seeming desire to be understood, to make herself known as a way of knowing herself, was a striking perennial reminder that, even as perfection would be simpler, performers are, that they must be, fallible — that they are, with all the mess that comes along with it, human beings..."
FOR THE RECORD, PART FIVE
 -- "Actress and director Denise Dowse, whose prolific career featured roles in 'Beverly Hills, 90210,' 'Insecure' and 'Ray,' has died." She was 64. (CNN)
 -- "FBI testing of the gun used in the fatal shooting on the movie set of 'Rust' found that the weapon handled by actor Alec Baldwin could not be fired without pulling the trigger while the gun was cocked, according to a newly released forensics report..." (CNN)
 -- Jon Caramanica's newest column: "Questions about borrowing, authorship and inspiration — from the underground to the mainstream and vice versa — connect new releases from Beyoncé, Madonna and Saucy Santana..." (NYT)
Farewell to "Better Call Saul"
BY BRIAN LOWRY:
As AMC's "Better Call Saul" comes to an end Monday, I looked back at the show that launched it, "Breaking Bad," and how the formula that series creator Vince Gilligan concocted – beginning with its unpredictability – translated into one of those rare spinoffs that is itself destined for TV immortality...
Lowry's latest AMC review
BRIAN LOWRY ADDS:
Speaking of spinoffs, the anthology series "Tales of the Walking Dead" is the latest addition to AMC's "universe" of zombie content, and while there would seem to be a world of possibilities in telling stories culled from that apocalyptic vision – and good casting thanks to the stand-alone stories – the episodes previewed don't do much more than kill time...
"Top Gun" continues to wow the box office
"The Brad Pitt action film 'Bullet Train' led all movies in ticket sales for a second straight weekend, according to studio estimates Sunday, while a quiet spell in theaters and incredible staying power allowed 'Top Gun: Maverick' to rocket back into third place in its 12th week of release," the AP's Jake Coyle reports.
Paramount juiced "Maverick" by increasing its theater count and putting it "back on a number of large-format screens." The film was "very narrowly edged for second place by Warner Bros.' 'DC League of Super-Pets,'" and "final figures Monday should break the near-tie," Coyle adds...
 -- "Universal Pictures announced on Sunday that it has become the first studio since the pandemic began to gross over $3 billion worldwide in a calendar year," Jeremy Fuster writes... (TheWrap)
 -- Erich Schwartzel's latest: "Movie theaters plot revival as Americans show up for blockbusters..." (WSJ)
 -- "Westworld" co-creator Lisa Joy talked with Deadline about Sunday night's season four finale... (Deadline)
 -- Tom Holland revealed that "he's taking a break from social media because it's 'very detrimental to my mental state...'" (Yahoo)
Recommending "Mr. Saturday Night"
My amazing in-laws Helen and Neil were with my little ones this weekend, which meant that my wife Jamie and I savored kid-free activities like a Broadway matinee. Here is Jamie's review of "Mr. Saturday Night:"
"I'm still smiling thinking about some of the jokes. Billy Crystal is a national treasure. If you want to laugh out loud for over two hours straight (don't worry, there is a 15 minute intermission) you should go see this before its run ends on Sept. 4. Bonus points if you can keep up with his yiddish scat routine and correctly use the word 'plotz...'"
LAST BUT NOT LEAST...
Pet of the day! 
Evan in Edinburgh writes: "Nora waits eagerly for the next edition of Reliable..."
Thank you for reading! Email us your feedback. We'll be back tomorrow...