Brian Stelter here at 10:40pm ET on Wednesday, August 10th. Here's the latest on Margaret Sullivan, Samsung, Sonos, Spotify, Spotter, Steve Martin, and more...
#FreeAustinTice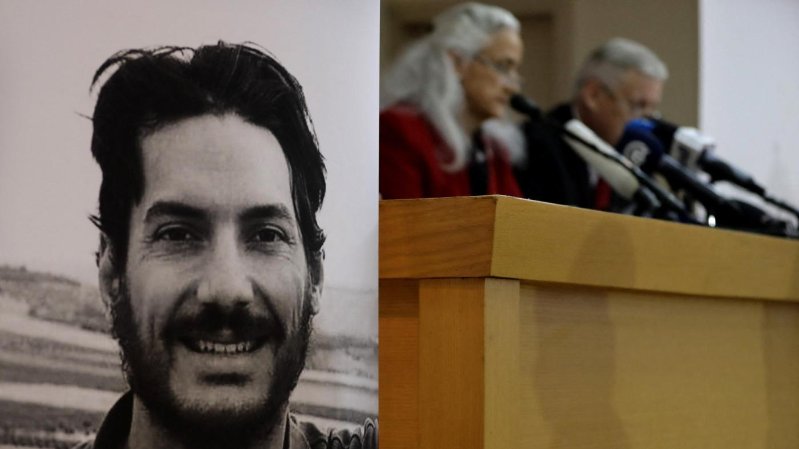 CNN's Jennifer Hansler reports: "President Joe Biden on Wednesday declared that the US government knows 'with certainty' that American journalist Austin Tice has been held by the Syrian government and called on Damascus to cooperate on efforts to release him after 10 years of captivity."
"On the tenth anniversary of his abduction, I am calling on Syria to end this and help us bring him home," the president said.
Biden's comments "were the clearest indication so far that the U.S. is certain Tice is being held by the government of President Bashar Assad," The AP's Bassem Mroue wrote. The Syrian government has not publicly acknowledged they are detaining Tice...
 >> In a separate statement Wednesday, Secretary of State Antony Blinken said the administration "will continue to pursue all available avenues to bring Austin home and work tirelessly until we succeed in doing so..."
Austin is "planning to walk free"
"I've never wavered. I'm not wavering now," Austin's mother Debra Tice recently told CBS. "There's no reason not to believe that he's waiting and hoping and dreaming and planning to walk free."
Sonia Smith's new story for the September issue of Texas Monthly notes that the ten-year mark is "a particularly grim milestone for the longest-held American journalist in history and the only one currently a hostage." Read the story here...
🔌: Debra and Marc Tice will be on CNN's "New Day" Thursday AM...
 -- Across Wednesday's network nightly newscasts, the lead was the same, only the verb was different: "Trump invokes the fifth" on ABC, "Trump takes the fifth" on NBC, "Trump pleads the fifth" on CBS...
 -- Before, during and after the meeting at Attorney General Letitia James' Manhattan office, Trump used Truth Social to spin the deposition... (Mediaite)
 -- The WSJ homepage lead right now: The latest inflation reading "indicated a slowing in price gains," sending stock indices soaring... (WSJ)
 -- Matt Viser observed: "Just as Biden was holding a triumphant event in the East Room – touting new inflation numbers and signing sweeping legislation to help military veterans who were exposed to toxic chemicals – Trump was pleading the fifth in a New York courtroom..." (Twitter)
 -- Biden honored Jon Stewart's vets advocacy at the PACT Act signing ceremony, prompting a standing ovation from the audience... (CNN)
 -- On Page One of Thursday's WaPo: "Historians warn Biden that U.S. democracy is teetering..." (WaPo)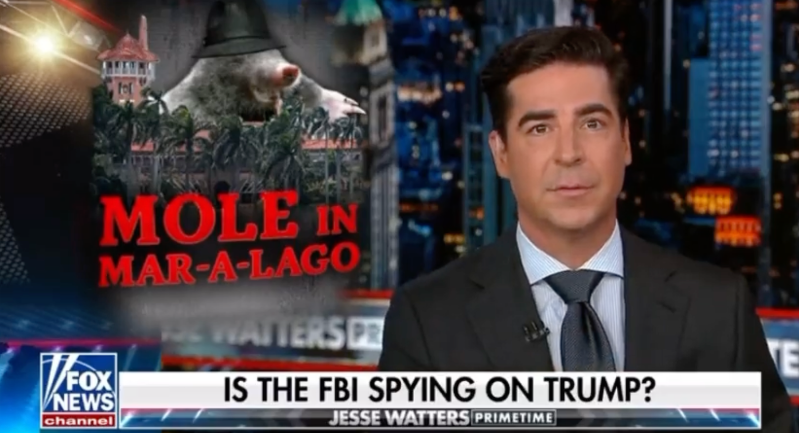 Inside the info vacuum
A banner on "CNN Tonight" just now said "TRUMP'S ANGER OVER SEARCH FUELING BACKLASH AGAINST FBI, DOJ." The backlash is enormous. The info vacuum about the FBI search of Mar-a-Lago is super-charging all sorts of conspiracy theorizing across the right-wing media world. "With few firm details about the investigation available to the public," VF's Eric Lutz wrote Wednesday, "Republicans are filling in the gaps with wild accusations and dangerous rhetoric about civil war."
Fox's 7pm show ran graphics that screamed "ANOTHER WITCH HUNT" and "MOLE IN MAR-A-LAGO" while banners asked "WHAT WAS IN THE SEARCH WARRANT?" and "IS THE FBI SPYING ON TRUMP?" Similarly sinister narratives are running all over MAGA media. David French wrote: "The GOP has circled the wagons even without knowing the facts or the law. He's got his team, and they don't need to know the truth..."
 >> Violent chatter continues: The bio and contact info "of a federal magistrate judge has been wiped from a Florida court's website," Donie O'Sullivan reported, because "the judge has become the target of violent threats following the FBI search of Mar-a-Lago..."
None of us know
"I'm not saying it's equal," legal analyst Elie Honig said on CNN, "but you see Republicans saying 'this is an abomination, this is a violation,' and you do see people saying 'this is airtight and perfect.' None of us know that! There are ten people in the world who maybe know that right now, and they're all inside DOJ or a courthouse. I think there's a lot of premature jumping to conclusions here."
Among those chafing at the government's silence: Some DOJ and FBI officials who believe the no-comment approach to the Mar-a-Lago search, however legally wise, "is harmful to the department's and the public's interest, in part because Trump and allies have filled the void," CNN's Evan Perez reported Wednesday...
 >> George Conway on "AC360:" "The government doesn't publicize search warrants is to protect the rights of the potentially accused, the people who are being investigated. It's really for Donald Trump's protection that they went in quietly and executed a warrant under seal..."
Tim Alberta's take
The Atlantic's Tim Alberta, who has covered the American right for years, felt "nauseous" watching coverage of the search. Why? "Because this country is tracking toward a scale of political violence not seen since the Civil War," Alberta wrote. "It's evident to anyone who spends significant time dwelling in the physical or virtual spaces of the American right. Go to a gun show. Visit a right-wing church. Check out a Trump rally. No matter the venue, the doomsday prophesying is ubiquitous -- and scary."
 >> Vice's Tess Owen, fresh off her visit to CPAC Texas, made a similar point in this new story: "Even before the FBI search, MAGA World was saying it's at war..."
"There is no uprising"
BY BRIAN LOWRY:
Amid all the understandable concern about whether Trump has been working his supporters into a frenzy, an interesting take last night from MSNBC's Lawrence O'Donnell, who noted that despite the media surrounding Mar-a-Lago and interviewing Trump supporters, and despite what right-wing commentators and Fox News would have you believe, "nothing happened."
"There is no outrage," O'Donnell said. "There is no uprising. If you take the TV cameras away, there will be zero Trump supporters outside of Mar-a-Lago." O'Donnell also cautioned against putting too much stock in the "mirage" of social media, particularly the most strident voices emanating from the right...
NYC mayor Eric Adams and Paley Center for Media CEO Maureen Reidy are holding a 9am press conference to announce a "major live event" in the city this fall...
Two NFL preseason games: Giants v. Patriots and Titans v. Ravens...
The last supermoon of 2022 rises Thursday evening...
Murdoch: Fox not seeing "any adverse advertising impact" 
BY OLIVER DARCY: 
Addressing investors Wednesday as Fox Corp. reported Q2 earnings, CEO Lachlan Murdoch said that the company was not experiencing any downturn in its ad business. "We are aware of the chatter around advertising headwinds," Murdoch said. "And of course we will be prepared if the market turns downward. But let me be clear: We are currently not seeing any adverse advertising impact on our business." Murdoch said that with an "unprecedented wave of political spending" ahead of the November elections, he expects Fox to deliver a "record midterm cycle."
 >> Re: the company's actual earnings: Fox "reported higher advertising and affiliate fee revenues for its fiscal fourth quarter, while overall earnings and revenue missed analyst expectations," THR's Etan Vlessing wrote...
Disney's new deal
The business headline from Disney's earnings report on Wednesday: "Streaming subscriber growth blows past estimates, as company beats on top and bottom line," CNBC's Sarah Whitten wrote. However, the company "lowered its 2024 guidance for Disney+ by 15 million on both the low end and high end," her colleague Alex Sherman wrote. Still, Disney shares were up nearly 7% after-hours.
The consumer headline: Disney+ just got more expensive, "unless you're willing to watch ads," CNN's Frank Pallotta wrote. "The Disney+ new ad-supported subscription tier will debut in the US on December 8 at a cost of $7.99 a month," the current ad-free price point. The ad-free tier will jump up to $10.99, "the largest price increase for the channel since its November 2019 debut." Read on...
 -- Reuters with the tale of the tape: Disney edged past Netflix "with a total of 221 million streaming subscribers..." (Reuters)
 -- David Zaslav's "Hollywood Doctrine" is the subject of Caitlin Huston and Georg Szalai's new deep-dive for THR. "The Warner Bros. Discovery chief wants to be the anti-Netflix: all in on theatrical, a fan of linear TV, happy to sell content to other players and focused on the bottom line..." (THR)
 -- Missed this yesterday: "Walmart has held discussions with major media companies about including streaming" in its Walmart+ membership service... (NYT)
Margaret Sullivan departing WaPo
BY OLIVER DARCY:
Margaret Sullivan is retiring her media column and departing the Washington Post later this month. "More than a star columnist," editors said Wednesday, "she has been a mentor, sounding board and role model for our media team and the newsroom at large." Throughout the day, others in the journalism community celebrated her in the same way.
Sullivan will head to Duke University for a part-time role as the 2023 Pamela and Jack Egan Visiting Professor. She will also continue to work on book projects, including potentially writing a "fictional series about a laid-off local newspaper reporter who turns her investigative skills to solving crime." Her next book, "Newsroom Confidential," is due out in October. Here's my full story...
Two media columnist openings
So will WaPo now, like the NYT, be looking for a media columnist? The Times still hasn't filled Ben Smith's column position. A spokesperson for The Post told Darcy that Sullivan's position will be filled either by a new columnist or a media reporter...
FOR THE RECORD, PART THREE
 -- ABC is promoting Ian Pannell to chief foreign correspondent... (TVNewser)
 -- RTDNA is presenting Richard Engel with the 2022 John F. Hogan Distinguished Service Award in September... (RTDNA)
 -- Apple is ramping up its "in-house podcasting efforts" with a deal to buy Futuro Studios, and it is "seeking other arrangements to fund shows," Ashley Carman and Lucas Shaw report... (Bloomberg)
 -- The satirical publisher Reductress is being acquired by Phenomenal Media. It "combines like-minded publishers with an eye toward entertainment..." (AdWeek)
 -- MSNBC is canceling Zerlina Maxwell and Ayman Mohyeldin's Peacock streaming programs, Brian Steinberg reports... (Variety) 
 -- Crown Media Family Networks is now Hallmark Media... (Deadline)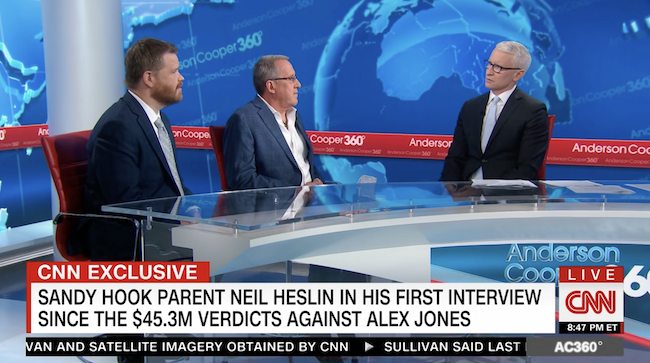 Father who sued Alex Jones speaks to CNN

BY OLIVER DARCY:
Sandy Hook father Neil Heslin, one of the parents who successfully sued Alex Jones for nearly $50 million last week, spoke to Anderson Cooper on Wednesday for his first post-trial interview. Heslin told Cooper that the trial took a toll, reopening wounds and causing him to relive the last moments in which he saw his son Jesse. But Heslin suggested that the trial also provided a sense of closure. He told Cooper he's in a more "comfortable place" now. "Everything I set out to do was accomplished," he said...
 >> Sandy Hook attorney Mark Bankston to Cooper: The families "have been in an endless sense of torment for nine years now and these cases are bringing that to a head..."
 >> Jesse's mother Scarlett Lewis will be on "New Day" Thursday AM...
Business in other Jones court hearings delayed
BY OLIVER DARCY:
The business before the court in two Jones-related hearings on Wednesday was delayed for future dates. A ruling on a motion to remand hearings in bankruptcy court for the Connecticut Sandy Hook plaintiffs back to state court on Wednesday was pushed back to Friday. And the hearing that was set to decide whether Jones attorney Norm Pattis should be sanctioned or disciplined for an unauthorized disclosure of medical records was pushed back to a TBD date, which will likely be next week...
FOR THE RECORD, PART FOUR
 -- "Facebook has long banned content referencing white nationalism," but researchers can still find it on the site, Naomi Nix writes: "A new report from the Tech Transparency Project, a nonprofit tech watchdog, found 119 Facebook pages and 20 Facebook groups associated with white supremacy organizations..." (WaPo)
 -- In response, FB said "it was conducting a comprehensive review of its systems to make sure ads no longer show up in search results related to banned organizations..."
 -- This story keeps developing: Sara O'Brien and Clare Duffy break down how a Nebraska teen and her mother are "facing charges in an abortion-related case that involved obtaining their Facebook messages..." (CNN)
"Teens have fled Facebook but are loyal to YouTube"
BY JAMIE MAGLIETTA:
What social media sites are teens using most? The Pew Research Center is out with a new survey of American teens between the ages of 13 and 17. The data shows that Facebook use has "plummeted" from 71% of teens in 2014-15 to 32% in 2022. WaPo's headline: "Teens have fled Facebook but are loyal to YouTube." As Heather Kelly writes, "their interests are a mix of the old and new," with a majority of teens saying they use YouTube, TikTok, Instagram, and Snapchat. As Casey Newton pointed out, in jest, on Twitter, "only 23 percent of teens say they use Twitter, meaning that we are safe from them here." Twitter wasn't alone; teens also pulled away from Tumblr, according to the survey...
New foldable phones at Galaxy Unpacked event
As Samsung's Galaxy Unpacked event began on Wednesday, USA Today's Brett Molina asked the key question: "Is this the year smartphone consumers finally bend toward devices with folding screens?" Right now "foldable phones still account for a sliver of the broader mobile phone market," CNet's Lisa Eadicicco wrote, and "the new Z Fold 4 and Z Flip 4 are Samsung's latest attempt to change that by remedying some of the biggest criticisms of previous models." Check out CNN's full coverage of the event here...
Elon Musk sells $7 billion in Tesla stock for Twitter deal

BY OLIVER DARCY:


Elon Musk can't be happy about this. The Tesla chief sold about $7 billion in Twitter stock so that he has enough cash to complete the purchase of Twitter, should a judge force the deal to go through. "In the (hopefully unlikely) event that Twitter forces this deal to close *and* some equity partners don't come through, it is important to avoid an emergency sale of Tesla stock," Musk explained on — you guessed it — Twitter. Musk said he is done selling Tesla shares and added that if the Twitter deal does not go through, he will once again purchase shares in the electric car company. CNN's Chris Isidore has more here...
FOR THE RECORD, PART FIVE
 -- "Google, the developer of the Android, is increasing the pressure on Apple to adopt RCS, a next-generation standard for text messaging." Global VP Adrienne Lofton says "we're hoping that Android users stop being blamed for ruining chats..." (CNBC)
 -- Sonos shares tumbled more than 18% after-hours after the speaker maker "fell short of expectations for its latest quarter and cut its forecast amid a 'significantly more challenging' macroeconomic environment..." (MarketWatch)
 -- Spotify launched a new website "selling live music tickets to fans..." (TechCrunch)
 -- "Spotter, a startup that pays YouTube creators cash for the right to monetize their video libraries, hired Galvea Kelly as its first chief marketing officer..." (Variety)
"Are the Golden Globes coming back to NBC?"
That's the headline on Stacy Perman's story for the LA Times, describing conflicting accounts that surfaced on Tuesday. THR reported that "the Golden Globe Awards will be back on NBC in 2023;" Deadline said it was "not a done deal;" and Perman's story signals that the awards telecast will wind up back on NBC, but it's not finalized yet...
 -- John Koblin writes about the high stakes for "House of the Dragon..." (NYT)
 -- Jon Hamm is joining the third season of "The Morning Show." Disclosure: I'm a producer on the show... (THR) 
 -- Kevin Hart is releasing an Audible self-help book "about taming 'voices in your head'" next month... (Variety)
 -- Steve Martin is talking about retirement, "but he somehow continues coming up with new ideas and finding people who inspire him to turn those ideas into actual work," Mikey O'Connell writes in a new profile... (THR)
 -- Marcus Mumford is getting the GQ treatment. Zach Baron profiled him ahead of his upcoming solo album... (GQ)
 -- "Fred Savage is denying allegations of misconduct after he was fired from 'The Wonder Years' reboot in May." His statement followed Kim Masters' detailed report for THR... (NBC, THR)
What will Vince Gilligan cook up next?
With "Better Call Saul" coming to an end, Vince Gilligan is about to pitch a new drama. Deadline's Nellie Andreeva says there is "a lot of anticipation in the marketplace for the pitch, which is expected to come out in the next couple of weeks, with at least 8-9 networks and platforms lined up to hear it." It's "described as a blended, grounded genre drama" and is "being compared to The Twilight Zone..."
 >> Brian Lowry adds: Speaking at a TCA session about "Better Call Saul" on Wednesday, "Gilligan said there are no plans to do anything else related to that 'universe,' although in classic Hollywood fashion, he added, 'never say never...'"
FOR THE RECORD, PART SEVEN
 -- "Angela Yee announced on Wednesday that she will be departing 'The Breakfast Club' to host her own syndicated radio show," Chloe Melas reports... (CNN)
 -- Evette Dionne reacting to Tuesday's Vogue cover story: "The era of Serena Williams making miracles on the court is coming to an end..." (MSNBC)
 -- Scottie Andrew writes: In a new Marie Claire profile, Mindy Kaling says she isn't bothered by speculation that B.J. Novak is the father of her children... (CNN)
 -- One more from Andrew: Beyoncé calls Madonna a "masterpiece genius" for joining her on "Break My Soul" remix... (CNN)
LAST BUT NOT LEAST...
Pet of the day
Reader Kathy Antoniotti emails: "10-week-old Cooper waiting not-so-patiently for me to finish [Reliable Sources] so I will play with him. His interest in the news is limited at this point of his young age..."
Thank you for reading! Email us your feedback. We'll be back tomorrow...