Oliver Darcy here at 9:47pm ET on Tuesday, August 9th. Here's the latest on Steve Bannon, Kara Swisher, Alex Jones, Vince McMahon, Eva Longoria, and many more. Plus, details on WaPo's ceremony unveiling a #BringAustinHome banner outside its offices. But first, some brand new reporting about the Murdoch media empire...
The Murdoch muddle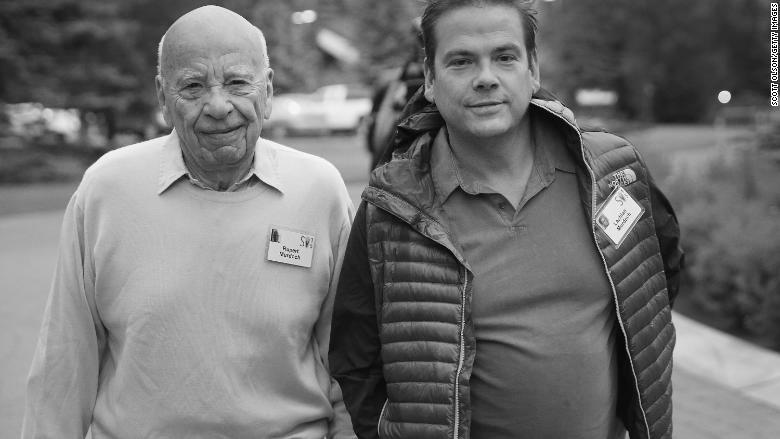 Fox News largely refrains from criticizing Donald Trump. But, in private, Lachlan Murdoch has denounced some of the former President's behavior in harsh terms. 
In private this year, the Fox Corp. chief executive has freely criticized Trump, saying that he disagrees with much of the way the former President behaves, sources tell me. Murdoch has gone so far as to tell people that he believes if Trump were to run again, it would be bad for the country, I'm told.
But, the sources added, Murdoch has also noted that the Fox News audience continues to support Trump. Which is to say that Murdoch knows that supporting Trump is good for business -- and, more importantly, he knows that pillorying him is bad for business because it would alienate the channel's core audience.
This is notable. Patriarch Rupert Murdoch's low opinion of Trump has been endlessly covered. But, until now, the younger Murdoch's opinion has been somewhat of a mystery.
A Fox Corp. spokesperson declined to comment on this reporting. But the dichotomy helps explain why the right-wing channel continues to be supportive of Trump, despite recent reporting that indicates the Murdochs are privately disillusioned with him. Last month, The New York Times and The Washington Post published stories indicating that the Murdochs were quietly giving Trump the cold shoulder by emphasizing him less in coverage on Fox. 
That reporting prompted some to wonder: Could the Murdochs finally be steering Fox in an anti-Trump direction?
The network's programming over the last 24 hours has shattered any such illusion. Fox's coverage of the FBI's search and seizure of documents at Trump's Mar-a-Lago resort has been downright sycophantic. Just like when he was in the White House facing scandal, the network's top personalities have rushed on air to portray Trump as the victim of shadowy, deep-state forces who are corrupt enough to use the levers of governmental power to damage him.
So what should we make of all of this? Perhaps it is that when Trump is not in the news, we may see the personal views of the Murdochs shine through coverage on Fox, with their television megaphone choosing to spotlight other conservative politicians as the future of the Republican Party. But when Trump is at the center of the news cycle, it puts Fox in an untenable business position: If the network condemns Trump, it loses its audience. So, in those moments, the default position will be to air supportive coverage of him.
Of course, if this is the law of the land at Fox, it would suggest that if Trump were to run again, he'd have Fox back at his side -- regardless of how the Murdochs actually feel about him.
Breaking through to the Fox audience


Fox might shy away from anti-Trump commentary in its programming, but one way to ensure that such messages do make their way to its large audience is through ad buys. Which is precisely the strategy that Liz Cheney has decided to employ as she faces a tough primary race this month against a Trump-backed challenger.
Cheney's campaign has purchased a series of national ad spots on the network to run the campaign ad featuring her father lace into Trump as a "coward" who lies to his supporters and "tried to steal the election" using violence. The ads, first reported by Axios' Alayna Treene, started running on Tuesday and will continue throughout the week, airing twice each day on "Fox & Friends" and once each night on "Hannity." 
Jeremy Adler, a spox for the Cheney campaign, said in a statement, "It's important not only for Fox News viewers, but for the network's hosts and top executives, to hear former Vice President Cheney's warning about the ongoing danger Donald Trump and his lies pose to our constitutional republic." Here's my full story...
Elsewhere in the Murdoch-verse
Through their papers, where the financial stakes are notably far lower, the Murdochs continue to send signals that they are not happy with Trump. Tuesday's edition of the New York Post is the latest example. The tabloid published a piece from the editorial board which argued that Trump "shares blame" for "the wasteful spending" from Democrats in Congress. "Republicans also need to cast an eye to Bedminster, summer home of the party's sabotager-in-chief," the Post's editorial board wrote. "Blame for this travesty also lies at Donald Trump's feet."
That editorial followed a Monday afternoon piece in WSJ by Gerard Baker who wrote that many Trump Republicans are "not ready for prime time." Baker explained, "The problem isn't inexperience itself. This year's leading crop of outsiders owe their difficulty less to being new faces than to the things they say — and purport to believe — and to their inescapable proximity to Mr. Trump and his various toxicities..." 
 -- It's primary night, and "all eyes are on the key swing state of Wisconsin, where the GOP race for governor sets up another proxy battle between" Trump and Mike Pence. Check CNN's live coverage for the latest... (CNN)

 -- "Yyyyyuuuuugggggeeeee scoop." That was the text Florida reporter Peter Schorsch received from a source tipping him off to the Mar-a-Lago story. Elahe Izadi has more of the story behind the story here... (WaPo)
 -- "A problem with the way objectivity manifests in U.S. journalism is on display as our news system uncritically passes on GOP outrage about the Trump raid," sociologist Jeremy Littau wrote. "Statements are just stenography and rarely strained with an eye on credibility..." (Twitter)
 -- The lack of firm info – like a copy of the search warrant – is "creating an information vacuum that supporters have filled with threats and accusations," journalism prof Jay Rosen wrote... (Twitter)
Now, speaking of the information vacuum...
Waiting for info from DOJ

BY BRIAN STELTER:
More than 36 hours have passed since the FBI showed up at Mar-a-Lago. Officials have not explained why. Even though they have very good reasons for staying silent, the criticism is becoming deafening. "The country deserves a thorough and immediate explanation," Senate minority leader Mitch McConnell said Tuesday evening. The DOJ "should already have provided answers to the American people and must do so immediately." 
Much more aggressive versions of that sentiment are seemingly everywhere in right-wing media. MAGA media pundits aren't giving the DOJ the benefit of the doubt. Some "are clamoring for war." (Fox's Jesse Watters said "they've declared war on us" on Tuesday night's "The Five.") Many commentators are claiming that the search was "meant to impede" a Trump 2024 run. And they're going much, much further: They're saying Hillary Clinton was protected while Trump is targeted. They're suggesting that the FBI planted evidence at Mar-a-Lago. And they're portraying a "deep state" plot. Steve Bannon appeared on Infowars with Alex Jones and imagined that government agencies may "actually try to work on the assassination" of Trump...
Cable's conundrum 

BY BRIAN LOWRY:
Veteran journalists such as Karen Tumulty, John Harwood, and Chris Bury have all pointed out the vacuum in terms of knowledge surrounding the Mar-a-Lago search, with Bury noting that "nothing about the Trump search is worth reading until the verified full warrant is made public." The fundamental challenge underlines a constant and enduring one for cable news. Namely, how to handle a story that's impossible to ignore in the hours of time to fill, but lacking more detail, equally hard to advance?
 >> Former DOJ IG Michael Bromwich says there are "a lot of uninformed, speculative, and overheated takes out there..."
Violent rhetoric circulates on pro-Trump internet

BY DONIE O'SULLIVAN:
"Lock and load," was one of the top comments on an online forum dedicated to Trump soon after it emerged his residence had been searched by the FBI. Other posts were more explicit, "I'm just going to say it. [Attorney General Merrick] Garland needs to be assassinated. Simple as that." Another user posted, "kill all feds." Erin Burnett  noted on her program Tuesday night that "the anger was so strong that at points there was more than one tweet every second talking about civil war." 
It can be difficult to distinguish between empty and serious threats of violence online, but it cannot be ignored. We are seeing conspiratorial rhetoric from elected officials, political leaders, and political entertainers that is fueling calls for real-world violence," the Advance Democracy's Daniel J. Jones told me. "The conspiratorial and divisive rhetoric ... is continuing to undermine our institutions and democracy at an alarming rate." Here's my full story...
Fox Corp reports earnings in the AM; Disney reports in the PM...
Joe Biden signs the PACT Act into law in the morning, then heads to South Carolina in the afternoon to begin his summer vacation...
Two Alex Jones-related hearings set for Wednesday
Two hearings are set to take place on Wednesday afternoon involving Alex Jones. A bankruptcy judge will hear a motion from Sandy Hook plaintiffs in Connecticut to send their case back to state court so jury selection can resume. Those plaintiffs have already won a default judgement against Jones and are hoping a trial can get underway soon to determine how much in damages he will need to pay them. The judge in that case said that if the bankruptcy court sends the case back to the superior court, that parties will have 24 hours to prepare for jury selection to resume.
Separately, another hearing will take place Wednesday to determine whether Norm Pattis, an attorney for Jones in Connecticut, should be sanctioned over an unauthorized disclosure of medical records. Mark Bankston, an attorney for Sandy Hook families suing Jones in Texas, said last week in court that Pattis shared psychiatric medical records of the Connecticut plaintiffs with Jones' Texas attorney, Federico Andino Reynal. The attorney for the Sandy Hook plaintiffs in Connecticut, Christopher Mattei, has vowed to hold Jones' legal team accountable for this unauthorized disclosure... 
 -- Charlie Warzel spoke to ex-Infowars staffer Josh Owens about "the experience of watching his former boss on trial" and what he remembers from Tucker Carlson's visit years ago with Alex Jones at the Infowars office... (Atlantic)
 -- Charlotte Klein wrote about how "some of Trump's closest allies just got turned over to the Jan. 6 committee" through the Jones text archive... (Vanity Fair)
 -- Jones sent a nude photo of his wife to Roger Stone, according to Sandy Hook plaintiff attorney Mark Bankston. Bankston said he was concerned because he didn't know "if that was consensual..." (Guardian)
 -- Jones' wife, Erika Wulff-Jones, told Insider she was "unaware this occurred." She added, "I am upset that he took privilege to send the image to someone without my knowledge. However, that's really the least of my problems right now..." (Insider)
 -- In other news... A former Twitter employee, Ahmad Abouammo, "was found guilty of spying for Saudi Arabia after passing on private user information associated with critics of the kingdom in exchange for hundreds of thousands of dollars..." (WSJ)
#BringAustinHome
WaPo on Tuesday morning unveiled a #BringAustinHome banner outside its DC offices, a few days ahead of the August 14 10-year anniversary of Austin Tice's disappearance in Syria. Event attendees included Debra Tice, Fred Ryan, Sally Buzbee, the White House's Josh Geltzer, National Press Club's Bill McCarren, RSF's Clayton Weimers, CPJ's Katherine Jacobson, State Dept's Stephen Dreyer, and many others. Here's more info on the #BringAustinHome campaign...
Highlights/lowlights from BuzzFeed's earnings report
"BuzzFeed brought in $106.8 million in revenue during the second quarter as total time spent by users declined to 154 million hours, representing a 19% drop year over year," THR's J. Clara Chan reported Tuesday, summing up the headlines from the company's earnings call. The company additionally noted in its earnings report that it ended Q2 with $68 million cash on hand, while also having $5.3 million in restructuring costs. Clara Chan has more here...
 >> Jonah Peretti also added to the chorus sounding the alarm over the impact of an economic downturn: "We expect recession concerns to continue putting pressure on advertising, and we're prepared for what comes next. We've navigated multiple economic downturns and seismic industry shifts. I am confident we'll do so again..."
FOR THE RECORD, PART THREE
 -- Sara Fischer calls this "a rare injection of high-growth capital into a company that services local newspapers:" Column, "a public benefit company that provides software to streamline the placement of public notices, has raised a $30 million series A investment round led by Lux Capital..." (Axios)
 -- Digital media company Overtime Sports has raised $100 million in new funding, Gerry Smith and Lucas Shaw report... (Bloomberg)
 -- "Canada's Online News Act shows how other countries are learning from Australia's news bill." Taylor Owen and Supriya Dwivedi explain here... (NiemanLab)
 -- Margaret Sullivan writes about how book bans are "threatening American democracy..." (WaPo)
How Big Tech is subsidizing news for DC audiences
BY AN PHUNG:
The sale of Axios to Cox inspired this analysis about the boom times for DC-based media. The open secret to success is the corporate responsibility advertising from tech platforms: "Meta, Alphabet, and other Big Tech companies looking to repair or burnish their reputation have been pouring ad money into Axios and other digital publishers that focus on Washington, DC," Peter Kafka wrote Tuesday. Readers of newsletters by POLITICO, Axios, Punchbowl or Puck might have noticed these ads by now since on "any given day," either Google or Facebook is "the presenting sponsor of at least one DC media publication," Brian Morrissey adds in the latest edition of The Rebooting...
FOR THE RECORD, PART FOUR
 -- After this year, Kara Swisher will no longer host the Code conference... (Axios)
 -- Rhiannon Ally is becoming co-anchor of ABC's early morning shows... (TVNewser)
 -- Allie Sandza is now EP for streaming DC coverage at CBS News... (Politico)
 -- Christian Hall is jumping from Punchbowl to Bloomberg... (Twitter)
 -- Margaret Walker has been promoted at NBCU to lead brand strategy... (Deadline)
McMahon payments higher than reported
"Vince McMahon's off-the-books personal payments that he made while chairman and CEO of WWE were higher than previously reported," Variety's Todd Spangler reported Tuesday, citing a new SEC filing. Per Spangler, "WWE disclosed that since the July 25 announcement, it had discovered that McMahon made two additional payments totaling $5 million." Spangler said WWE "did not provide details on what McMahon's $5 million in payments were for." Here's Spangler's full story...
FOR THE RECORD, PART FIVE
 -- Every day brings a new headline like this one: "Microsoft tries to reduce business expenses by restricting spending on travel and company gatherings..." (WSJ)
 -- And like this one: IAC "warned of a softening in corporate advertising spending Tuesday," Caitlin Huston reports... (THR)
 -- "Roblox reported results on Tuesday that missed analyst estimates on the top and bottom lines..." (CNBC)
 -- Endeavor has "struck a deal to sell its professional development league business, Diamond Baseball Holdings, to investment firm Silver Lake, Endeavor's major investor, for $280 million," Jill Goldsmith reports... (Deadline)
 -- "Nearly 400 directors have signed a statement of solidarity with the showrunners' letter demanding abortion protections from networks, studios and streamers a week and a half ago," Rebecca Sun reports... (THR)
 -- The Daily Wire is staffing up its kids entertainment division... (Deadline)
Netflix family values

BY BRIAN LOWRY:
The title does most of the heavy lifting in "I Just Killed My Dad," the latest Netflix docuseries, focusing on a teenager who shot his father, and the details that emerged in the aftermath of that 911 call. While hardly designed to watch with the family — especially this one — these programs pay reliable dividends to the streaming service, regularly trending without the expense of rounding up an all-star cast. Here's my full review...
 -- "Where are all the blockbusters?" Rebecca Rubin writes that movie theaters are bracing for "slowdown after bustling summer..." (Variety)
 -- The New York Film Festival has unveiled its main 2022 slate... (IndieWire)
 -- HBO Max will not move forward with DC's "Strange Adventures..." (Deadline)
 -- Jill Biden will appear in NatGeo's "American Parks" docuseries... (USA Today)
 -- Eva Longoria will star in AppleTV+'s "Land of Women..." (THR)
Streaming's fun (without) numbers
BY BRIAN LOWRY:

Same day, similar claims for streaming presentations: Hulu's "Prey," spun out of the "Predator" franchise, was "the #1 premiere on Hulu to date, including all film and TV series debuts," the service announced. Meanwhile, NBC's Peacock crowed that "Love Island USA" has become its "most-streamed original unscripted series." Lacking, as usual, from both releases: Actual numbers, or anything that would quantify what a "hit" by either streaming service's standards equates to in the larger TV universe.

FOR THE RECORD, PART SEVEN
BY LISA RESPERS FRANCE:
 -- Ozzy Osbourne surprised the Commonwealth Games after surgery...
 -- Fidel Castro's daughter has endorsed James Franco playing her father in the wake of backlash over what some view as appropriation...
LAST BUT NOT LEAST...
Pet of the day
Reader Llee Heflin emails: "This is a photo of the feral cat 'BOBO' I've been taking care of for years. The only 'news' he is interested in is, 'When is breakfast served?'"
Thank you for reading! Email us your feedback. We'll be back tomorrow...