Brian Stelter here at 8:50pm ET on Friday, August 5th with the latest on President Biden, Kim Kardashian, Alex Jones, CPAC, Cinemark, "The Sandman," and more...
Positive shocks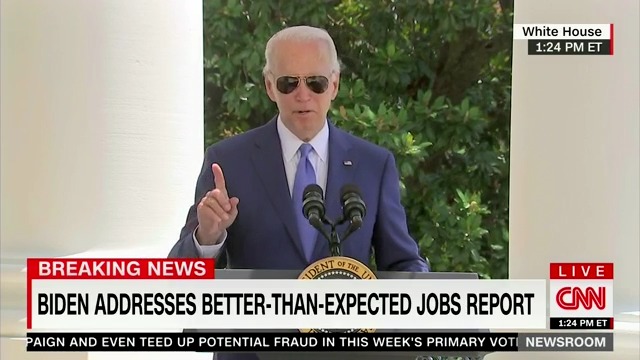 Most of the time, when the news is shocking, it's shockingly tragic or damaging. But this week has brought the opposite: Numerous news headlines that were, at least for American viewers, categorized as constructive. Positive shocks! 
The workweek began with word that a US drone strike had killed longtime al-Qaeda leader Ayman al-Zawahiri. The news "shot like an electric current through social media," the BBC observed.
Then on Friday came the "massive jobs surprise," as conveyed by this CNN Business headline. July's jobs report showed a gain of 528,000 jobs, "more than double the 250,000 that economists were expecting." Politico Playbook PM called it "the jobs report shocker."
Mid-week, the decisive Kansas vote against a ballot measure that would have allowed lawmakers to ban abortion in the state" was also labeled a shock and a "stunner," though whether it was positive or negative depends on your POV about abortion. Ditto the newfound narrative about President Biden racking up win after win. 
The Kansas result was "unexpected." The jobs report "defied expectations." This week of surprises reinforced the old adage that "nobody knows anything..." 
Brian's weekend reads
 -- A "startling number of lawmakers in President Biden's own party have been unwilling in recent days to say he should seek re-election..." (Axios)
 -- Elisabeth Zerofsky's incredibly informative article in this weekend's NYT Mag: "How the Claremont Institute Became a Nerve Center of the American Right..." (NYT)
 -- After this week's GOP primary results, Elaine Godfrey writes about "the radical fringe that just went mainstream..." (The Atlantic) 
 -- In the wake of the Dobbs decision, "newsrooms expand coverage of reproductive health..." (Current)
 -- What did Nick Kristof learn from his failed bid for Oregon governor? He talked with Charlotte Klein about that... (VF)
 -- Fall of the social media giants? Cal Newport writes that "Facebook is trying to copy TikTok, but this strategy may well signal the end of these legacy platforms..." (The New Yorker)
 -- "How changing one law could protect kids from social media:" Yuval Levin writes about the Children's Online Privacy Protection Act... (NYT)
 -- Researchers Sam Wineburg and Nadav Ziv say they know "what happens when TikTok is your main source of news and information," and it's not good. They're calling for major expansions of media and digital literacy... (LAT)
 -- Madison Malone Kircher's disturbing story about social-media vigilantism: "A stranger filmed her on the train. TikTok users decided she had monkeypox..." (NYT) 
 -- One of WaPo's most-read stories on Friday: "How a Phoenix record store owner set the audiophile world on fire..." (WaPo)
 -- I'm hoping to learn from Arthur C. Brooks' latest: "How to Embrace Doing Nothing..." (The Atlantic)
Alex Jones on the hook 
After the compensatory damages decision against Alex Jones on Thursday, it was time for punitive damages on Friday. The attorneys for Neil Heslin and Scarlett Lewis wanted jurors to empty Jones' bank accounts to deter him and "others who may want to step into his shoes." The jury agreed, at least to some degree, by penalizing Jones with $45.2 million in punitive damages. However, the huge sum of money may be reduced due to Texas statute. There's a lot of uncertainty about it right now. (Here's my full story.)
After the jury's decision was announced, Jones' attorney, Andino Reynal, said "we think the verdict was too high. As for punitive damages, Texas law caps them at $750,000 per plaintiff so this verdict today amounts to $1.5 million in punitives. Alex Jones will be on the air today, he'll be on the air tomorrow, he'll be on the air next week. He's going to keep doing his job holding the power structure accountable. That's our only statement."
Scarlett Lewis, mother of the slain six year old Jesse, also made a statement to reporters outside court. "When I got up on the witness stand and I looked at Alex," she said, "I thought about Jesse. You know, I had been so nervous, I think that was obvious before I faced Alex, but once I looked into his eyes I realized that's exactly what Jesse did to the shooter that came into his first grade classroom after just having murdered his principal and guidance counselor." Jesse stood up to that "bully," that gunman, "and saved nine of his classmates' lives," she said. "And I hope that I did that incredible courage justice when I was able to confront Alex Jones, who is also a bully, and I hope that that inspires other people to do the same in their own lives. We all have the capacity for the courage that Jesse showed..."
What's next
The legal battles are only just beginning. "Remember," NYT reporter and "Sandy Hook" author Elizabeth Williamson tweeted, "this is the first of 3 trials for damages against Jones. 2 more are scheduled for next month -- one in TX, and one brought by the families of 8 victims in CT, where laws governing damages favor plaintiffs more than in Texas. And Connecticut is where the shooting occurred..."

 -- The Jones trial "has been almost enough to restore my faith in truth, justice and the American way," Eugene Robinson writes... (WaPo)
 -- I have to admit, I'm feeling more like Pamela Paul: This was "a moment of truth in a flood of lies..." (NYT)
 -- Elsewhere in Texas... "At CPAC Dallas, far-right conspiracy theorists take the mainstage to applause and fanfare." Marjorie Taylor Greene, Jack Posobiec and Mike Lindell were among the speakers on Friday... (Dallas Observer)
 -- Zachary Petrizzo notes: "Over a week ago," Donald Trump "said he would file a lawsuit against CNN. There is still no lawsuit filed, but now he's fundraising off it, begging supporters to give money to 'support' the legal action..." (Twitter)
 -- The DOJ's talks with Trump's lawyers "mark a grave moment for the ex-President," Stephen Collinson writes... (CNN)
Coming up this weekend...
The Senate reconvenes on Saturday to move forward with the Democrats' sweeping economic package...
CPAC continues in Dallas, with Trump set to speak Saturday evening...
Senators Lindsey Graham and Richard Blumenthal are booked for an exclusive joint interview on CNN's "SOTU" with Dana Bash...
"What Really Happened in Uvalde?" An "AC360" special report airs Sunday at 8pm ET on CNN...
This Sunday on "Reliable Sources"
Michael LaRosa, former press secretary for First Lady Jill Biden, will join me for his first interview since leaving the WH. Plus: Howard Polskin, Elaine Godfrey, David Bornstein, and the hosts of the Alex Jones-tracking podcast "Knowledge Fight," Jordan Holmes and Dan Friesen. We'll see you Sunday at 11am ET on CNN...
 -- Biden is racking up wins, but Frida Ghitis writes that "it's difficult to redraw an image after it has been etched in the public mind..." (CNN)
 -- Biden continues to feel well, according to his physician, but he also continues to test positive for Covid-19... (The Hill)
 -- If he tests negative by Monday, he will travel to Kentucky to survey flood recovery efforts... (Politico)
 -- Speaking of Kentucky, CNN's Dianne Gallagher met Chandler Wilcox, a local journalist rising to the occasion: "Just 3 months into his first job at WYMT, his own home flooded," she wrote, but he's still out reporting nonstop, "highlighting the need, getting necessary info to people..." (Twitter)
 -- The offices of WKCB, a beloved radio station in Knott County, were flooded last week, but the station is now back up and broadcasting from a new building... (WYMT)
"What a week it's been for Jon Stewart"
That's the first sentence of Chris Murphy's piece for VF. "After successfully shaming Republican lawmakers into passing the PACT Act, Stewart faced a series of deeply strange insults about his height by conservative talk show host Tucker Carlson — and handled them with aplomb." Stewart responded to Carlson on Twitter, continuing a nearly twenty-year back-and-forth between the two men. It got Brian Lowry thinking:
Here's what Carlson learned from Stewart
BY BRIAN LOWRY:
After Carlson's Thursday night attack against Stewart, I went back and rewatched the 2004 "Crossfire" segment that many referenced as the unspoken motivation for it. What struck me is that moment when Carlson almost pleadingly asks Stewart to "be funny," when the comedian has actually gotten lots of laughs up until then. The subtext is that Carlson sensed that he had lost control of what was supposed to be a light, fun interview, something that the Fox host very rarely ever allows to happen in terms of the guests he books and the environment on his current program...
THIS JUST IN
Kim Kardashian and Pete Davidson end relationship
BY CHLOE MELAS:
Kete is no more. Kim Kardashian and Pete Davidson have ended their relationship, a source close to the couple tells CNN. "They did break up this week amicably due to distance and schedules," the source said. More here...
FOR THE RECORD, PART THREE
 -- "Elon Musk's legal team on Friday made public its official response to Twitter's lawsuit attempting to force him to complete their $44 billion acquisition deal," Clare Duffy reports... (CNN)
 --Kevin T. Dugan has "8 things to know about" Musk's response to Twitter... (NYMag)
 -- "Amazon snaps up Roomba-maker iRobot in $1.7 billion all-cash deal," Hamza Shaban reports... (WaPo)
 -- "Lionsgate may finally be ready to sell. Executives said on the earnings call Thursday that buyers have expressed interest in both its forthcoming Starz deal and its studio business..." (Axios)
 -- Another data point about the economy: Live Nation set records in the second quarter "as fans flock to concerts..." (Billboard)
WBD shares slump
Shares of Warner Bros. Discovery (CNN's parent) "sank Friday after the media and entertainment giant reported disappointing earnings and lowered profit projections for the recently combined company," the LAT's Ryan Faughnder wrote. Shares closed down $2.89, or 16.5%, "as Wall Street gave a cool response" to the company's Q2 results. Meanwhile, David Zaslav's Thursday evening remarks about strategy -- "we will fully embrace theatrical" – gave the industry lots to talk about on Friday. Here's part of my discussion with Richard Quest on CNNI...
Cinemark sell-off
Shares of Cinemark slumped 13.4% on Friday after the movie theater chain reported Q2 earnings. "Cinemark actually posted a relatively strong second quarter, with revenue up 152.6% to $744.1 million, beating analyst estimates, as the theater chain strongly recovered from the pandemic," The Motley Fool's Billy Duberstein writes. The selloff "might have had something to do with management's commentary that the current quarter may be more challenged, thanks to an air pocket of new releases in August and September." As Frank Pallotta and others have written, there simply aren't many new movies coming to theaters in the coming weeks...
FOR THE RECORD, PART FOUR
 -- Another Friday earnings report: "AMC Networks hits 10.8M streaming subs, U.S. ad revenue drops in second quarter..." (THR)
 -- Speaking of AMC: Christina Spade, "who was previously chief financial officer of the former ViacomCBS, has been named the new chief executive..." (Variety)
 -- NBC says Thursday night's Pro Football Hall of Fame Game on NBC and Peacock "easily won the night among all networks," with an average total of 5.7 million viewers across both TV and streaming... (Twitter)
 -- Thursday was also the unveiling of NBC's 2022 NFL coverage team: "Maria Taylor steps into new role and two new faces join crew..." (The Sun)
A very Friday story
Here's the headline on Vice.com: "French Scientist's Photo of 'Distant Star' Was Actually Chorizo." A piece of meat. "Étienne Klein's tweet was liked and retweeted thousands of times before he revealed he was trolling and the photo showed a slice of sausage, not Proxima Centauri." He has since apologized. CNN's Toyin Owoseje has more here...
FOR THE RECORD, PART FIVE
 -- Missed this yesterday: "Russell Moore will step into the role of editor in chief of Christianity Today on September 1..." (CT)
 -- "Gwendolyn Bounds, VP and chief content officer at Consumer Reports, is leaving the publication to become head of content at SmartNews..." (Talking Biz News)
 -- Vice News has promoted Beverly Chase to VP of current programming, development... (Variety)
 -- CBS has promoted Mackenzie Mitchell to VP of specials, music and live events... (Deadline)
Judge orders Kevin Spacey to pay
CHLOE MELAS AND STELLA CHAN WRITE:
Kevin Spacey will have to pay almost $31 million to Media Rights Capital, the production company behind "House of Cards," a judge has ruled, confirming an award that had been decided by an arbitrator last year. Here are all the details...
"The Sandman" isn't the stuff dreams are made of
BY BRIAN LOWRY:

After years of fits and starts, "The Sandman" finally makes its way to the screen, with writer Neil Gaiman participating in the adaptation of his acclaimed 30-plus-year-old comic book. It's gorgeous to look at but dramatically listless, and in a larger context kicks off a stretch of big-budget, high-expectation streaming series, including "She-Hulk" (Disney+, Aug. 18), "House of the Dragon" (HBO and HBO Max, Aug. 21), and "The Lord of the Rings" (Amazon, Sept. 2). Given the law of averages, there are going to be some very expensive misses in what could be a pivotal stretch...
Beyoncé on track for a big No. 1 debut 
"Beyoncé's Renaissance is heading for a No. 1 debut on the Billboard 200 albums chart with one of the biggest weeks of the year," Billboard's Keith Caulfield reports. "Notably, if it opens atop the chart, it will be the first album released by a woman in 2022 to hit No. 1." Details here...
 -- "Harvey Weinstein, stuck in prison flood lockdown, misses latest court hearing..." (Variety)
 -- Stephen Colbert poked fun at Radar's "story" about Colbert and CNN... (Twitter)
 -- "MTV VMAs sets stage with first batch of performers for 2022 trophy show..." (Deadline)
 -- Epix's four-part docuseries, "My Life as a Rolling Stone," paints an "intimate portrait of Mick Jagger, Keith Richards, Ronnie Wood, and the late-great Charlie Watts..." (Rolling Stone)
  -- "New York Film Festival taps James Gray's 'Armageddon Time' for main slate with special 60th anniversary screening..." (Deadline)
 -- "The Kid Mero has shared that his split with creative partner and 'Desus & Mero' co-host Desus Nice was more than a year in the making," Lisa Respers France reports... (CNN)
"They/Them" underlines perils of social commentary + horror
BY BRIAN LOWRY:


Set in a gay-conversion-therapy camp for teens, Peacock's "They/Them" ultimately has a progressive message. But the awkward marriage of horror/slasher elements with teens subjected to what amounts to abuse offers a pretty good demonstration of the delicacy in combining such commentary with this genre, something that's happened for a long but which has become more popular since the success of "Get Out." Read on...
IN PARTNERSHIP WITH ANIMAL HAVEN:
Rescue of the Day!
This week, we have been featuring rescues from NYC's Animal Haven. Reliable Sources readers who choose to adopt one of the dogs or cats will not only receive the wonderful company of a new companion, but we will also send a CNN gift package your way. Just mention that you found the rescue through our newsletter...
Today's rescue is 7-year-old Redeye: "Need a little pick-me-up? Grab yourself a Redeye! We can't get enough of this goofy boy. He LOVES playing with toys and could bounce around for hours with them, and would enjoy a home with people who like endless games of fetch. Redeye is a handsome guy (clearly!) who wants to be the center of your attention and would prefer to be the only pet in your household. Redeye may be too bouncy for small children, so we're looking for an adults-only home for him. His ideal home would have low-traffic, dog-experienced, and preferably in a quieter neighborhood as this sensitive boy can sometimes get spooked by loud noises - he's really a big baby. He can't wait to be the little spoon to your big spoon, snuggling under the covers after a long day of play and long walks." Click here to adopt Redeye!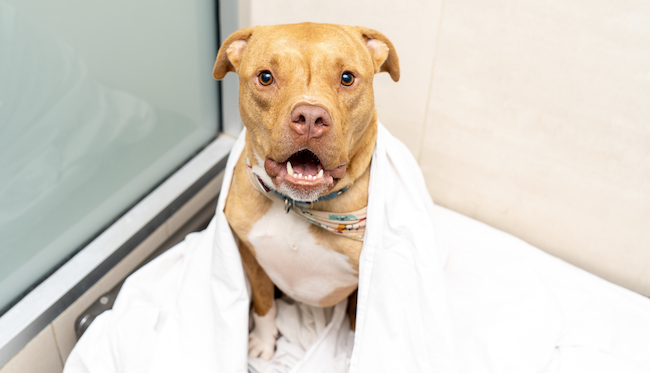 Thank you for reading! Email us your feedback. We'll be back tomorrow...