Brian Stelter here at 10:50pm ET on Monday, August 1. Here's the latest from Afghanistan, Texas, Oregon, Arizona, DC, and L.A. Plus, scroll down for our first featured Rescue of the Day, in partnership with NYC's Animal Haven...
"Justice has been delivered"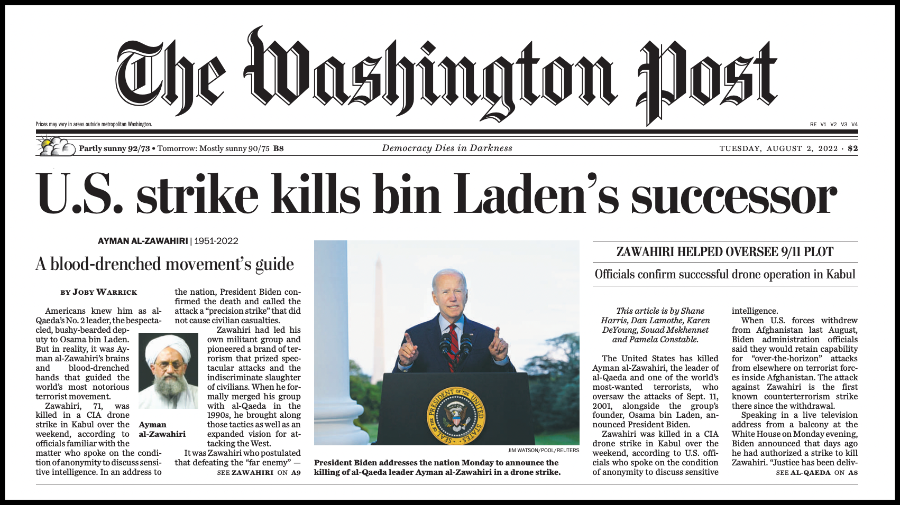 By now you've heard the news, so let me start with an ending. Minutes after President Biden's address, CBS News concluded its nationwide special report about the killing of Ayman al-Zawahiri with a live shot of lower Manhattan, One World Trade Center in the center of the frame, sparkling in the golden hour of daylight.
"All those that plotted the attack are either dead or captured," anchor John Dickerson said. "One World Trade stands as the tallest building in the western hemisphere. A reminder of the resilience of New York City and the American people." The camera operator pulled back to show the Statue of Liberty in the distance, and Dickerson signed off.
It's been 21 years since 9/11. So much time has passed that I heard another anchor on Monday refer to the attack with a caveat: "Anyone who's old enough to remember 9/11" knows this is good news.
For those of us who are old enough, the memories came flooding back as soon as al-Zawahiri's name was reported. The successful drone strike was a bookend to the 9/11 era. But Monday's news coverage also underscored the amount of time that has passed, and how much news priorities have changed.
"We don't talk about terrorism a lot" these days, Fox's Bret Baier acknowledged in his first live report about the drone strike on Monday afternoon. His point was that the US fight against terrorism "has been ongoing, even though we haven't talked about it a lot."
That's an accurate assessment of the US media landscape writ large. CNN's Stephen Collinson called the news "a blast from a previous foreign policy era." These days, threats to Americans seem closer to home and arguably even harder to stop, in part due to disputes about what actually is a threat. Monday's newscasts covered the drone strike, then moved onto climate extremes, health emergencies, and tensions with China, among other stories...
Inside the raid
"Details of the strike and its planning were disclosed by a senior administration official as Biden was preparing to announce the mission Monday," CNN's Kevin Liptak wrote.
The admin official's briefing provided key context. Biden "was first briefed in April on US intelligence placing Zawahiri at a safe house in Kabul," per Liptak's story. The final briefing took place on July 25 while Biden was isolating with Covid. Biden's Monday address, too, was delivered from the Blue Room Balcony since he has a "rebound" case of Covid...
 >> The strike occurred at 6:18am local time Sunday, nearly 48 hours before Biden's announcement. The government needed time to confirm the result...
Early clues on social media?
Just as the raid on Osama bin Laden's compound in Abbottabad, Pakistan was "unwittingly live-blogged" by a nearby resident, some social media users in Kabul shared photos and accounts of a Sunday morning strike without knowing what it was all about. Competing "versions," or narratives, made the rounds on Twitter. All of those posts were within a few hours of the drone strike, so users are now speculating that they were related to the al-Zawahiri killing. As in Abbottabad, US forces can stealthily reach a target, but random onlookers with cameraphones can record what they see...
Coverage notes
 >> Just after 5pm ET, the White House announced plans for a 7:30pm address. The AP was first to report the killing, citing sources, about 20 minutes later. Other major newsrooms reported the same within minutes...
 >> A news bulletin typically highlights the differences between established TV networks and newer challengers. On Monday, for example, NewsNation treated it as a brief headline at first, before circling back ten minutes later with fuller coverage. Newsmax was slow to report the news at all, and when it eventually did, interrupting its 5pm talk show in mid-sentence, the network cited none of its own sources, just vague "reports."
 >> Richard Clarke on "CNN Tonight:" "For all the pledges that we've had from the Taliban, that they wouldn't be like their old selves, well that all turns out to be horse pucky. They are backing a terrorist organization, and we can expect them to continue to..."
 >> Rachel Maddow brought up Donald Trump's conspiratorial recent remark that "nobody's gotten to the bottom of 9/11," and responded, "It took 20 years and 10 months, but actually, somebody definitively has gotten to the bottom of 9/11..."
 >> CNN's Josh Campbell described "a flurry of calls and messages tonight among former counterterrorism colleagues. The theme of today's news: Justice."
Fox goes right back to Biden-bashing
Biden's speech was undeniably powerful and patriotic. "No matter how long it takes, no matter where you hide, if you are a threat to our people, the United States will find you and take you out," he said.
In a previous era, those words would have been cheered on a channel like Fox for days, weeks, months. But not now. Ten minutes before the scheduled address, "Jesse Watters Primetime" was having fun at Biden's expense with a segment titled "BIDEN TESTING POSITIVE FOR COVID... AGAIN." Fifteen minutes after the address, Watters moved on to a "DEMOCRATS IN DISTRESS" segment. At 8pm, Tucker Carlson downplayed the drone strike and said "nobody feels safer" as a result because Biden botched the withdrawal from Afghanistan last year. At 9pm, Sean Hannity's show said "THE WORLD IS LESS SAFE WITH BIDEN AS PRESIDENT." And on and on it went. Bret Baier had said that the address "will be President Biden's 'bin Laden moment,'" but clearly his prime time opinion counterparts disagreed...
SOME OF MONDAY'S OTHER TOP STORIES...
 -- The FT's Tuesday front page, sent to the presses prior to Biden's announcement, leads with "Pelosi to meet Taiwan leader as China steps up warning signals..." (FT)
 -- The Drudge Report's banner about Pelosi is two words: "SHE'S GOING!" (Drudge)
 -- In Kentucky: "Search for the missing continues in E. Ky., hampered by unknowns and communication hitches," Taylor Six reports... (Lexington Herald-Leader)
 -- Monday's top headline on the LA Times homepage was "Deadly McKinney fire levels homes, destroying a lifetime of memories in a flash," until it was replaced by "Newsom declares a state of emergency over monkeypox outbreak..." (LAT)
 -- This just in from CNN's DJ Judd: "The White House plans to formally announce FEMA regional administrator Bob Fenton to head the administration's monkeypox response Tuesday..."
Suing the Texas Department of Public Safety
On Monday more than a dozen major news organizations, including CNN and The Texas Tribune, filed a lawsuit against the Texas Department of Public Safety to obtain public records relating to the Robb Elementary massacre. The coalition's lawsuit, filed in state court in Austin, arises under the Texas Public Information Act. "DPS has refused numerous requests by these news organizations even though it's clear under Texas law that the public is entitled to have access to these important public records," said Laura Lee Prather, a First Amendment lawyer at Haynes Boone who represents the plaintiffs. "We ask that the court grant our petition so that the people of Texas can understand the truth about what happened." Here's my full story... And the Texas Tribune has more here...
Arizona primary time
"Arizona is always in the national media for some thing or other, typically a Southwest version of the Florida Man trope," Arizona Republic media critic Bill Goodykoontz writes. But right now it's worse, he says, because of the election-denying candidates who are trying to win primary elections on Tuesday. "Arizona, in particular, has been the epicenter of Trump's election denialism," CNN's Eric Bradner writes. Tim Miller told MSNBC's Nicolle Wallace that the state's GOP primary underlines just how much the "Overton window" has shifted further and further to the right...
Along with Arizona, primaries are taking place in Kansas, Michigan, Missouri and Washington...
"Ukraine: Life Under Russia's Attack" premieres on PBS' "Frontline..."
New nonfiction releases include Will Bunch's "After the Ivory Tower Falls" and Steven W. Thrasher's "The Viral Underclass..."
"Thank You For Listening"
That's the title of a new novel by Julia Whelan that has generated lots of positive press ahead of Tuesday's release date. Whelan "is one of the most in-demand audiobook narrators working today," the NYT's Katie Rosman writes, and the novel is "a story of her own." It's "a rom-com about two audio narrators," The New Yorker's Rachel Levin writes. Check out the two stories for fantastic details about the real lives of narrators...
THE ALEX JONES TRIAL:
Sandy Hook parents and Jones expected to take stand
BY OLIVER DARCY:
Tuesday looks like it will be the final day of testimony during the Sandy Hook trial taking place in Texas. Neil Heslin and Scarlett Lewis, the parents of murdered six-year-old Jesse Lewis, are expected to take the stand and testify in the morning. And Alex Jones will testify in his defense, his attorney said at the conclusion of court proceedings on Monday. That testimony from Jones should occur in the afternoon...
"They are very, very frightened"
BY OLIVER DARCY:
On Monday, a psychiatrist who has treated Heslin and Lewis testified to the court how terrified and worried for their personal safety the two parents are. Roy Lubit, a forensic psychiatrist who was hired to conduct a review, told the court that Lewis and Heslin "are very, very frightened." When asked to specify who they are frightened of, Lubit responded, "Some follower of Jones trying to kill them." Lubit elaborated that Lewis is so fearful for her safety that she sleeps with a gun, a knife, and pepper spray on her night stand. Lubit added she won't even turn on the air conditioning during hot days because she wants to be able to hear if someone is coming to hurt her...
 >> Related: Mark Bankston, Heslin and Lewis' attorney, confirmed to me on Monday that his clients have been in isolation and with professional security after an unspecified incident since the trial got underway. CTPost's John Moritz, who broke the story, has the details here...

First day of the book biz trial 
"A federal judge on Monday began a trial that will decide whether Penguin Random House is allowed to buy Simon & Schuster," the NYT's David McCabe reports. In opening statements, DOJ lawyer John Read "said the merger 'must be stopped,'" while the lawyer arguing for the publishing houses, Daniel Petrocelli, said "the government's case had a fundamental flaw: The idea that a discrete category of anticipated best-selling books exists in the industry is not grounded in reality, he said."
More here... The trial will last about three weeks...
 -- Guy Reffitt, the first Capitol rioter to go to trial rather than take a plea agreement, was sentenced to more than seven years in prison on Monday. Reffitt's son, who turned him in, will be on "New Day" Tuesday AM... (CNN)
 -- On Monday top lawmakers, citing CNN reporting, renewed their call for DHS IG to step aside from the probe of missing Secret Service text messages... (CNN)
 -- Margaret Sullivan on whether Trump and the Murdochs will break up: "The signs are still a little murky and certainly open to interpretation..." (WaPo)
 -- Charlotte Klein's latest is on how "the media's gaze is searching for signs of a Trump-Fox split..." (Vanity Fair)
 -- Speaking of Fox, disgraced star Bill O'Reilly is in talks to join NewsNation as a contributor, Lachlan Cartwright reports... (Daily Beast)
FIRST IN RELIABLE:
Tucker ignores 9/11 group 
BY OLIVER DARCY
Tucker Carlson aired a softball interview on Monday with LIV Golf boss Greg Norman in which he feigned ignorance as to why the Saudi-backed sports league might offend some Americans. But the Fox host was apparently not interested in the answer as his show chose to ignore a 9/11 group that reached out.
A spokesperson for 9/11 Families United told me that the group reached out to Carlson's team to see if they would be interested in having a 9/11 family on the program, given Norman's appearance. But I'm told that Carlson never responded. Terry Strada, head of the org tweeted at Carlson following the interview: "Did you just say re: LIV Golf you're NOT taking sides? Great to hear, I imagine your producer will be calling me then to come on & talk about 9/11 families side?" A Fox spox did not immediately respond to a request for comment...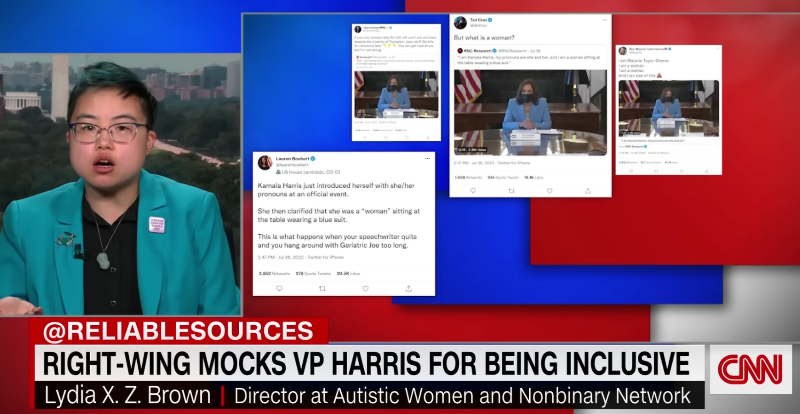 Revisiting the "blue suit"
In a meeting to mark the 32nd anniversary of Americans with Disabilities Act last week, VP Kamala Harris introduced herself by identifying her preferred pronouns and describing her clothing. The GOP's @RNCResearch Twitter account clipped the moment and tweeted it out, triggering days of mockery of the VP across Fox and other right-wing media outlets. But almost no one explored the reasons why Harris said "I'm a woman sitting at the table wearing a blue suit." Almost no one interviewed the event's attendees or addressed the substance of the meeting. I was inspired to do so by Sara Luterman's story for The 19th. That's why Lydia X. Z. Brown, who was in the room, joined me on Sunday's "Reliable Sources."
Brown said many blind people appreciate the type of "visual description" Harris gave. "We were talking about real issues" facing disabled people, they said, but on social media it was reduced to "ridiculous criticism of a very basic practice of accessibility and inclusion." Watch the segment here...
 -- Joshua Benton's latest: "Can we make it easier for readers to digest all the numbers journalists stuff into their stories?" (NiemanLab) 
 -- Vogue's Taylor Antrim is out with a new profile of Rappler's Maria Ressa and her "never-let-up drive." The piece will be in the September issue... (Vogue)
 -- "Reintroducing Sam Sanders:" Reggie Ugwu wrote about the longtime NPR host's "new pop culture podcast — uncensored, uninhibited and unbothered..." (NYT)
FIRST IN RELIABLE:

Axios' new CFO is...
BY OLIVER DARCY:
Axios has hired Jenny Darling as its chief financial officer. Darling, who joins the news org from the Pittsburgh Penguins where she's served as CFO, worked for more than 20 years in the media industry at places such as NBCU and CNN/HLN. "Axios is in the midst of an explosive growth period, having launched Axios Pro this year and expanding Axios Local into even more new markets," Axios co-founder and CEO Jim VandeHei said in a statement. "With her decades of experience in local and national media, advertising, subscriptions and TV production, Jenny Darling is the best person to continue leading Axios to new heights."

Kristof returns to NYT 
"The former New York Times columnist Nick Kristof got his old job back," Willamette Week's Rachel Monahan reports. "Kristof quit the Times last October after 37 years to seek the Democratic nomination for Oregon governor," but failed to make Oregon's residency requirement. He will resume his Times Opinion column in the fall, "after he has completed a new book," Kathleen Kingsbury announced. Kristof told Monahan that he will continue to be based in Oregon, at his farm in Yamhill, "but spend a week every month or two in New York." He also said he has "no plans to ever run for office again..."
FOR THE RECORD, PART THREE
 -- "Elita Fielder Adjei has been named vice president, corporate communications for National Geographic Content..." (TVNewsCheck)
 -- Telemundo Enterprises has named Sandra Smester as EVP of programming and content development... (Variety)
 -- After more than a decade with the outlet, John McCann will depart TechRadar as managing editor... (Twitter)
Male TV producers back up last week's letter 
BY BRIAN LOWRY:
Nearly 600 male TV producers/creators have joined 400 female counterparts in asking studios to implement abortion safety protocols for employees in states that have adopted (or soon will) restrictive anti-abortion legislation. The writers state in the new letter, first obtained by Variety's Kate Aurthur, that they "stand with our female, trans & non-binary showrunner colleagues." Aurthur has the full story here...
Streamers jockey for space
BY BRIAN LOWRY:
Two interesting footnotes to Monday's launch of the trailer for "Andor," Disney+'s prequel to "Rogue One," the "Star Wars" movie:
 – The service delayed the release by three weeks, to Sept. 21, seemingly to create some space between its launch and HBO's "House of the Dragon" (Aug. 21) and Amazon's "The Lord of the Rings" (Sept. 2). Makes sense, although that also pushes it into the teeth of the fall broadcast premieres...
 – The "exclusive first look" came via "GMA" on Disney's ABC, more of that mutually beneficial synergy that we take for granted by now. "Andor" will also kick off with three episodes, usually a sign it takes a while for the story to get into gear...
FOR THE RECORD, PART FOUR
 -- "It's official: The Flash's upcoming ninth season will be its last..." (THR)
 -- "The official Marilyn Monroe Estate has come to the defense of Ana de Armas, who is playing the Hollywood icon in Andrew Dominik and Netflix's upcoming drama 'Blonde...'" (Variety)
-- Atlanta's Music Midtown festival has been canceled, reportedly due to "a recent interpretation of Georgia's gun law, which permits firearms in public spaces, including parks..." (CNN)
 -- "Ron Meyer, the O.J. Movie, and L'Affaire Charlotte Kirk:" Eriq Gardner reports that "one of the most sordid episodes in modern Hollywood enters a strange new phase of legal maneuvering..." (Puck)
 -- Lil Durk is taking a break after a Lollapalooza pyrotechnics explosion, Lisa Respers France reports... (CNN)
 -- One more from France: Angelina Jolie's daughter Zahara is headed to Spelman College... (CNN)
Beyoncé will replace this word
BY TOYIN OWOSEJE:
Beyoncé says she will remove an ableist slur from her new album, "Renaissance," after facing online backlash and criticism from disability campaigners. On the track "Heated, co-written by Drake, Beyoncé sings the line: "Spazzin' on that ass, spazz on that ass." Although the word "spaz" is often used colloquially to describe "freaking out" or "going crazy," it is derived from the word "spastic," which is considered demeaning to people with spastic cerebral palsy. Reps for Beyoncé said Monday that "the word, not used intentionally in a harmful way, will be replaced."
IN PARTNERSHIP WITH ANIMAL HAVEN:
Rescue of the Day!
This week, we will be using this space to feature rescues from NYC's Animal Haven. Reliable Sources readers who choose to adopt one of the dogs or cats will not only receive the wonderful company of a new companion, but we will also send a CNN gift package your way. Just mention that you found the rescue through our newsletter...
Today's featured rescue is Hash: "Hash is an extra sweet pup who came to Animal Haven all the way from the island of Antigua, where she was found living in the streets. She's an incredibly inquisitive and playful pup who is eager for a fresh start. Hash is already a pro at walking on leash and she's been working on learning some basic commands while in the shelter. Hash is highly food motivated and eager to learn, and would make a great addition to most families willing to take on the standard challenges of puppyhood." Click here for more info on adopting Hash!

Thank you for reading! Email us your feedback. We'll be back tomorrow...