Welcome to August. Brian Stelter here at 10:11pm ET on Sunday, July 31 with the latest on Jon Stewart, Sally Buzbee, Tucker Carlson, Nima Elbagir, Paul Krugman, Elon Musk, "Super-Pets," Lollapalooza, and more...
The book biz trial 📚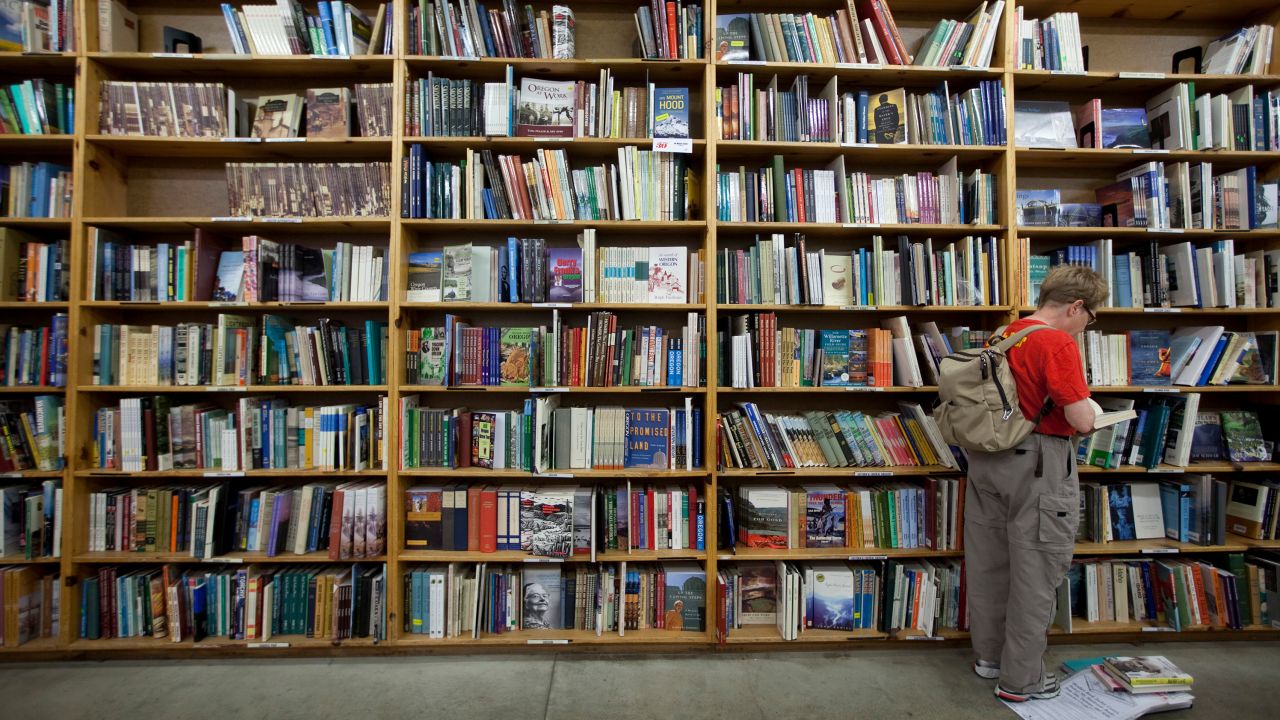 Penguin Random House announced its bid to acquire Simon & Schuster in November 2020. The deal – combining two of the top five book publishers in the United States – normally would have taken effect by now. But the Justice Department is standing in the way, and an antitrust trial is set to begin on Monday.
Judge Florence Pan of the US District Court in Washington, D.C. will hear about three weeks of oral arguments. The government says, in its pre-trial brief, that the publisher combo "would further entrench the largest publishing giant in the United States (and the world) and give the merged company control of nearly half of the market to acquire anticipated top-selling books from authors."
The publishers say that "after the merger, the market dynamic will be just the same" and reject the arguments that authors will suffer.
"The closely watched case holds major implications for a publishing industry that has been grappling with consolidation for years," Publishers Weekly reporter Andrew Albanese writes. "It also looms as a key test for the government amid growing calls for more vigilant antitrust enforcement, and in the wake of a stinging defeat in 2018 in its bid to block the massive $85 billion merger between AT&T and Time Warner."
Other publishing houses argue that the merger would be anticompetitive. But the government bears the burden of proof. "The lawsuit will test whether the government can mount more antitrust cases targeting the effects of corporate concentration on how much workers — in this case, writers of major books — get paid," the NYT's overview of the lawsuit notes.
The judge is expected to rule in November...
Further reading (get it?)
Simon & Schuster (which, full disclosure, was the publisher of my most recent book) is going to be sold by Paramount Global one way or another. Speculation abounds about potential private equity bidders. But for now, the buyer is Penguin Random House, and S&S CEO Jonathan Karp (who previously spent 16 years at PRH) said in a recent memo to staffers that "we, and our authors, will benefit greatly from becoming a part of this superb publishing company."
 >> "Regardless of the outcome," Karp wrote, there will be a new owner, and "the best and most important thing we can do is to remain focused on achieving excellence on behalf of our authors and their books, assured in our purpose..."
 >> Vanity Fair's Joe Pompeo (whose book publisher is HarperCollins, which reportedly lost out on the bidding for S&S) reports that "the witness list is a who's who of publishing bosses, power agents, and authors," including Stephen King...
 >> "An appearance at some point by King, whose works are published by Simon & Schuster, will be a highly unusual for an antitrust trial and will draw wide attention," the AP's Marcy Gordon writes in this great explainer...
 >> Another big antitrust trial is getting underway in DC on Monday: The government is also trying to block insurer UnitedHealth Group from buying Change Healthcare. "The cases represent a conscious strategy by the Justice Department to expand the frontiers of merger enforcement," the WSJ says...
Sally Buzbee speaks
Sunday night's buzzy read in national news media circles: Vanity Fair just published Charlotte Klein's up-close profile of WaPo executive editor Sally Buzbee's first year. Read it for yourself here. I'll highlight just a few of the many notable passages:
 >> "She's focused heavily so far on overhauling the newsroom — 'a lot of deeply unsexy infrastructure work,' she admits — along with navigating international crises."
 >> "Much of the uncertainty in the newsroom about who Buzbee is stems from staffers having little physical interaction with her this past year," due to pandemic-era return-to-office delays.
 >> Buzbee on her "essential feeling" toward social media: "We want people to be able to join conversations, but we don't want them to veer over into outright opinion because that's gonna turn readers off from us."
 >> "Another mandate for Buzbee: make the rest of the paper as strong as [Marty] Baron made national politics and investigations."
 >> "The Post had a great sense of urgency around the Trump years," and "I think we want that sense of urgency to be across a broader swath in the newsroom," Buzbee says.
 >> "The last time she spoke to [Jeff] Bezos was months ago, about what the Post was going to invest in this year."
 -- Sen. Joe Manchin told CNN's Jake Tapper "that he hopes his tax and climate bill will pass before the Senate leaves for its August recess," i.e., this week... (CNN)
 -- Michael Shear's story about President Biden's "much-needed victories," like the Manchin deal, also observed that "Biden has so far struggled to ensure that his victories break through the often grim reports that dominate news coverage..." (NYT)
 -- Biden's "Paxlovid rebound" was in the news all weekend long... (CNN)
 -- I learned a lot from Rachel Gutman-Wei's article about the "persistent fog around Paxlovid," which "comes from the disease that it's meant to alleviate..." (The Atlantic)
 -- Trump wove together "three different bonkers conspiracies in all-timer of a backhanded Covid sympathy note to Biden," Natalie Korach writes... (Mediaite)
 -- A forthcoming book by Sen. Tim Scott has some strange copyright page language stating that "this book is a political memoir that includes his core messages as he prepares to make a presidential bid in 2022." The Post & Courier's Caitlin Byrd reported on it... (Post & Courier)
 -- ...And then the publisher, Thomas Nelson, said the line "was erroneously added," and Scott had nothing to do with it. "We are working to correct this immediately..." (Examiner)
99 days to the midterms...
Sunday was the 100-day marker, providing a news peg for state-of-the-race assessments. CNN.com's headline: "Democrats try to defy the odds as Republicans boast of coming wave." CBS presented its first "Battleground Tracker" of the midterms, estimating the GOP would hold 230 seats if the election were held today. MSNBC featured "100 days" programming throughout the day, including a taped "Morning Joe" special, three hours of "The Sunday Show," and live shots from battleground states...
Media week ahead calendar
Tuesday: Primaries in Arizona, Kansas, Michigan, Missouri and Washington...
Tuesday: New nonfiction releases include Will Bunch's "After the Ivory Tower Falls"
and Steven W. Thrasher's "The Viral Underclass..."
Wednesday: New York Times Company reports earnings before the bell...
Wednesday: The 2022 NABJ-NAHJ convention begins in Las Vegas...
Wednesday night: "CMA Fest" airs on ABC...
Thursday: Paramount Global, Thomson Reuters, and Gannett release earnings before the bell; Warner Bros. Discovery (CNN's parent) and AMC Entertainment report earnings after the close...
Friday: Cinemark and AMC Networks report earnings before the bell...
Friday: "Prey" lands on Hulu; "Bullet Train" rolls into theaters; and "The Sandman" finally makes the journey from comic book to screen via Netflix...
THE ALEX JONES TRIAL:
Plaintiffs call final witnesses on Monday
BY OLIVER DARCY:
Alex Jones may have placed his right-wing media empire in bankruptcy protection Friday, but the move is not expected to affect the trial underway in Texas. In fact, the plaintiffs are expected to call their final witnesses to the stand on Monday, including parents Scarlett Lewis and Neil Heslin...
 >> NYT's Elizabeth Williamson writes: "More important than money, the parents said, is society's verdict on a culture in which viral misinformation damages lives and destroys reputations, yet those who spread it are seldom held accountable..."
Even more rain in Kentucky
Flood watches are in effect in some of the same areas that were devastated on Thursday. "We're going to be finding bodies for weeks," Gov. Andy Beshear said Sunday. Here are two of Sunday's front pages, from Louisville and Lexington, showcasing the long-term struggles that will ensue: 
Jon Stewart's TV tour 
Brian Lowry said it best: "In case this wasn't obvious before, Jon Stewart learned a little something about how media operate during the 15 years he spent lampooning the media." Stewart kept up the pressure on Sunday ahead of another expected Senate vote on the PACT Act. He was on ABC's "This Week" and NBC's "Meet the Press;" on the latter program, he said he was "trying desperately not to curse," alluding to his explicit remarks and interviews earlier in the week.
Over on CNN's "SOTU," Sen. Pat Toomey called Stewart "a pseudo celebrity" who has been unleashed "to make up false accusations" and ram a bill through Congress. Stewart then replied to Toomey via Twitter. 
Stewart's veterans advocacy, years after his time on "The Daily Show," will go down in history as his most important "show." He very strategically uses TV – and social media – to raise public awareness and support. He "manages to get the media to pay attention because of the way he fights," Tara Palmeri said on "Reliable..."
 -- Another headline from Tapper's program: "VA secretary says Republican-backed amendments to burn pits legislation would lead to 'rationing of care for vets...'" (CNN)
 -- "Fox News contributor and Spectator editor-at-large Ben Domenech got in a massive Twitter fight with a veteran whose military service he demeaned as being paid 'to travel across the world and murder brown people,'" Ken Meyer writes... (Mediaite)
 -- ☝️ "To be clear," Oliver Darcy tweeted, if a top contributor "on any other network made comments remotely like this, they'd be condemned all day and night on Fox..."
Two new stories about Trump and the Murdochs
"It's been more than 100 days since Donald J. Trump was interviewed on Fox News," Jeremy W. Peters pointed out in a Page One NYT story over the weekend. Peters wrote that Fox "is now often bypassing him in favor of showcasing other Republicans" and pointed to the influence of Rupert and Lachlan Murdoch. Leaders like Mitch McConnell have expressed concerns "to the Murdochs about the potential harm Mr. Trump could cause to the party's chances" in the midterms, Peters reported.
 >> WaPo's new story by Sarah Ellison and Jeremy Barr says Rupert's "frustrations with Trump have only grown; the two have barely spoken since Trump left office." But Rupert is a pragmatist, "so it's hard to say for sure where their relationship will end up."
 >> In other words: This is ultimately all about power. The Murdochs want the GOP back in power, with or without Trump...
How all this translates on Fox
On Sunday's "MediaBuzz," Howard Kurtz said "there is no edict whatsoever against having Trump on this network." He said he invited Trump on his program relatively recently, indicating Trump is turning down Fox, not the other way around.
Setting aside Kurtz, I think it's fair to say that many of Fox's hosts and pundits are still 100% in Trump's corner – they support him on-air, they cheer for MAGA candidates, they oppose Biden at every turn – but what Fox does as an institution is revealing. And the institution has been trying to move on from Trump almost ever since Jan. 6. The evidence is in plain sight: Opting not to air his rallies, skipping his speeches, and avoiding the kind of election denialism talk that triggered Dominion and Smartmatic's lawsuits... 
Carlson spotted with Trump at LIV Golf tournament 
BY OLIVER DARCY:
Fox's Tucker Carlson was spotted at the Saudi-backed LIV Golf tournament hosted, amid protests, at Bedminster this weekend. Carlson was seen with Donald Trump, Donald Trump Jr. and Kimberly Guilfoyle, Eric Trump, and Marjorie Taylor Greene on Sunday. At one point, a "Let's Go Brandon" chant broke out on the course. Carlson smiled and Trump cheered on the crowd...
 >> Fox says Carlson will interview LIV Golf CEO and commissioner Greg Norman on his show Monday night... 
 >> Related: WaPo's Ben Strauss' writes that while LIV Golf's "future on US TV is uncertain," it "certainly has one..."
Krugman on "Reliable"
"I've never seen anything as bad as the determination of a lot of people to say it's a recession," Paul Krugman said on Sunday's Reliable Sources," calling it "above and beyond anything I've ever seen." He chalked it up to pure partisanship. He also told me that he senses a "negativity bias" on the part of the press.
"If you ask people 'How is your financial situation?' it's pretty favorable," he said. "If you ask them 'How is the economy?' they say 'Oh, it's terrible.' That's a media failing," because, in his view, people aren't being presented with the full picture.
Krugman and I agreed that we're experiencing the weirdest economy of our adult lives, largely due to the pandemic. Here's part one of the interview... In part two, I asked him about his "I was wrong about inflation" column...
FOR THE RECORD, PART THREE
 -- Coming Monday: Masha Gessen's newest piece for The New Yorker, a dispatch from Ukraine, where authorities are pursuing large-scale prosecutions of war crimes. This link will be live Monday morning...
 -- "In another sign of growing political repression in Guatemala," authorities have arrested renowned journalist José Rubén Zamora, president of the elPeriódico newspaper, "who was critical of the government," Oscar Lopez reports... (NYT)
 -- Mark Bergen's latest: "The Indian government's fight against 'fake news' targets political dissent..." (Bloomberg Businessweek)
 -- Neha Wadekar reports from Nairobi for WaPo: "Why dangerous content thrives on Facebook and TikTok in Kenya..." (WaPo)
 -- Related: "Kenya's national cohesion watchdog has threatened to suspend" Facebook "in a week if it doesn't mitigate hate speech..." (Gizmodo)
Protests in Khartoum following CNN reporting 
Via CNN's international desk: "Thousands of demonstrators across the Sudanese capital of Khartoum took to the streets calling for a return to civilian rule and the prosecution of Sudan's military rulers for corruption, following a CNN investigation into Russia's plunder of Sudan's gold."
The investigation by Nima Elbagir and a formidable team, "based on multiple interviews with high-level Sudanese and US officials and troves of documents reviewed by CNN, painted a picture of an elaborate Russian scheme to plunder Sudan's riches in a bid to fortify Russia against increasingly robust western sanctions and to buttress Moscow's war effort in Ukraine. The investigation sparked widespread outrage on social media across Sudan. It was also picked up by several Sudanese newspapers and media." CNN has reached out to Sudan's military rulers but has not received a response...
End-of-the-weekend reads
 -- Bloomberg's deep dive – "Fear of Rampant Crime Is Derailing New York City's Recovery" – has a lot to say about media coverage, including this: "A tendency to focus on the most lurid or sensational crimes gives people a distorted sense of what's actually going on in their communities..."
 -- NYT Opinion has sponsored 16 focus groups this year. The latest one, convened by Frank Luntz, was "the most heated focus group" yet... (NYT)
 -- Cazzie David's latest column for Air Mail is about BeReal: "Going on our phones more in order to show each other that we are capable of being real on our phones is twisted. You can't destroy the illness social media has created with more social media..." (Air Mail)
 -- "The Netflix Aesthetic:" Sam Adams says he can explain "why Netflix's most expensive movies keep getting worse..." (Slate)
 -- "Facing their first recession, Twitch streamers are tightening their belts," Nathan Grayson writes... (WaPo)
FOR THE RECORD, PART FOUR
 -- "Twitter on the cheap:" Charlie Gasparino suggests that Elon Musk is "eyeing a discount..." (NYPost)
 -- Speaking of Musk, we discussed the WSJ's story (that he disputes) about his love life on Sunday's "Reliable..." (CNN)
 -- I had to re-read this new Musk tweet a few times to absorb it: "If our reality is actually an alien soap opera, our ratings would be 🚀💥💫"
 -- Tech stocks have taken a beating this year, but "many individual investors have used it as an opportunity to double down," Gunjan Banerji writes... (WSJ)
Remembering the lives they lived 
 -- Bill Russell "redefined how basketball is played, and then he changed the way sports are viewed in a racially divided country." Russell died Sunday. He was 88. Russell "had the most remarkable career of any player in the history of team sports." Civil rights activist Harry Edwards said he was a "generational giant." Biden called him "an all-time champion of champions, and a good man."
 -- Nichelle Nichols, "best known for her groundbreaking portrayal of Lt. Nyota Uhura in 'Star Trek: The Original Series,' has died." She was 89. NASA honored her on Sunday, saying she "symbolized to so many what was possible." "Star Trek" vets and other Hollywood icons paid tribute to her star-power.
 -- Pat Carroll, "a comedic television mainstay for decades, Emmy-winner for 'Caesar's Hour' and the voice Ursula in 'The Little Mermaid,' has died." She was 95. Her daughter Tara Karsian said "she leaves my sister Kerry and I with the greatest gift of all, imbuing us with humor and the ability to laugh…even in the saddest of times."
 -- Jerry Ceppos, "the onetime top editor at The Mercury News and later dean of two major journalism schools, died Friday evening." He was 75. In a journalism career spanning 50+ years, Ceppos influenced countless lives, including my own. He was a reliable reader of this newsletter, and I quoted his perceptive analysis just a couple of weeks back.
 -- Larry Josephson, "a cranky practitioner of free-form radio on noncommercial WBAI-FM in New York who helped shape the station into a vibrant, eccentric, alternative radio haven, died on Wednesday." He was 83. His daughter Jennie wrote: "He yelled too much. He ate too much. But you can never love life too much, and at that he excelled..."

Weekend box office takeaways
 >> Warner Bros.' "DC League of Super-Pets" earned $23 million, hitting #1 for the weekend and moving "Nope" to #2, the AP's Lindsey Bahr writes. The superhero spin-off's launch was "much, much stronger than Paramount's 'Paws of Fury: The Legend of Hank's' $6.3 million debut several weeks ago..."
 >> Frank Pallotta notes: "One film that's not getting enough attention for being a hit is 'Where The Crawdads Sing.' The Sony film has made $53.5M domestically. The film, which was made for $24M, is an old school Hollywood success..."
 >> One more from Pallotta: "'Everything Everywhere All At Once' has crossed $100M at the worldwide box office. The film, which cost only about $25M (and there are reports it cost even less), is a big win for A24, theaters and original films..."
Theatrical chairs
BY BRIAN LOWRY:
One lesson from the summer box office is that movies tend to hold up better when there's less competition in theaters, which is evident as "Top Gun: Maverick" tops the $650-million domestic mark, en route to passing "Jurassic World" and "Titanic" on the all-time roster in the weeks ahead.
But studios have also made a choice in funneling projects directly to streaming at the expense of having fresh fare for the theatrical pipeline, a decision that's highly subjective and clearly not always well communicated to talent. This week, for example, "Prey," a film spun out of the "Predator" franchise, heads straight to Hulu, while "Bullet Train," an action-comedy with Brad Pitt headlining an ensemble cast, hits theaters. In an interview with Uproxx, "Prey" director Dan Trachtenberg nicely conveyed the mixed feelings and vague second-class status that bypassing theaters still engenders, saying, "Look, we made it to be a big theatrical experience and on the downside, it's not being released that way. So you can't see [it] in the theater, but on the upside, the thing you're getting straight into your living room is a giant theatrical experience. It's not like a straight video dumping ground. It's like, 'This is a real movie.'"
FOR THE RECORD, PART FIVE
 -- "The team behind an unofficial 'Bridgerton' musical is being sued for infringement by Netflix in a Washington, D.C. U.S. District Court..." (Variety)
 -- As this year's Lollapalooza concludes in Chicago Sunday evening, "talks continue between C3 and the city over a potential contract for Lollapalooza's next 10 years on the lakefront..." (Chicago Tribune)
 -- "Taylor Swift's rep calls private jet report 'blatantly incorrect' amid backlash." This study published by The Yard prompted the response... (LA Times)
 -- Via Lisa Respers France, here is some of what's streaming in August... (CNN)
Beyoncé's very strong start 
Beyoncé's "Renaissance" album "will easily debut at #1, with a projected total of 275-315k based on first-day sales and streams," HITS Daily Double reports. "The album, Queen Bey's first solo set since 2016, is expected to collect more than 170m plays in the U.S., outperforming early expectations. Those streams are spread across the album as fans consume 'Renaissance' in its entirety." Right now 7 of the 10 highest-ranking songs on Apple's "top songs" chart are from the album...
 >> CNN's Scottie Andrew wrote about "12 Black queer icons that inspired Beyoncé..."
LAST BUT CERTAINLY NOT LEAST...
Dog of the day!
CNN comms manager Alexandra Manasseri writes: "What Charlie lacks in size he makes up for in personality and separation anxiety."
Thank you for reading! Email us your feedback. We'll be back tomorrow...