TGIF! Brian Stelter here at 10:44pm ET on Thursday, July 14 with the latest on Instagram, "She Said," Protocol, "The Bear," Wordle, Beyoncé, and a whole lot more... 
Covering 'our national nervous breakdown'
The Atlantic's editor in chief Jeffrey Goldberg definitely does not lack motivation.
"I want to make sure that 2024 is not our last democratic election," Goldberg said on this week's "Reliable Sources" podcast.
While discussing his priorities at The Atlantic, he told me the 2024 election cycle is a "huge, huge focus," because it's critical not to lose sight of the forces that are aligning against peaceful transitions of power in the US. Here are a few of the points he made:
 – "What I'm trying to do, in a pretty deliberate way, is find the very best writers and reporters in America who can write at feature length to cover all aspects of our national nervous breakdown."
 – "I've come away from this whole experience of the last six years thinking" that "democracy, transparency, accountability, all of these issues are much more fragile than we thought."
 – "America is a democratic experiment. I think that many Americans have unlearned democracy or never learned democracy in the first place. If we're going to fulfill our mission at The Atlantic... then we're going to have to bear down and bear down and bear down on these questions." 
 
 – "I keep a very, very steady focus on what we can be doing and what we can be saying and how we can be deploying these amazing writers and amazing editors... to tell Americans and the world something new." 
I originally booked the interview to talk about The Atlantic's huge digitization project – this week the magazine put its entire 165-year archive on the web for the first time. After all, Goldberg said, "we're not going to know ourselves if we don't know what we thought 10, 20, 30, 100 years ago." On the podcast, we talked about that, as well as his newest article: "'Where the Crawdads Sing' Author Wanted for Questioning in Murder." Tune in via Apple Podcasts, Spotify, Stitcher, TuneIn, or your preferred pod app...
Imagining the next six years
I heard an echo of Goldberg's reflection on the "last six years" while reading David Brooks' new column for the NYT. Brooks begins this way:
"I'd like you to consider the possibility that the political changes that have rocked this country over the past six years will be nothing compared with the changes that will rock it over the next six. I'd like you to consider the possibility that we're in some sort of prerevolutionary period — the kind of moment that often gives birth to something shocking and new."
Brooks runs through the political environment, citing widespread dissatisfaction with "the leaders of both parties" and "disgust with the current system," and contending that "if ever there was a moment ripe for a Ross Perot-like third candidate in the 2024 general election, this is that moment." Read on...
 -- ICYMI: This week's NYT/Siena poll found that "a majority of American voters across nearly all demographics and ideologies believe their system of government does not work..." (NYT)
 -- Thursday morning's big Donald Trump story was Olivia Nuzzi's interview with the ex-president. Trump told her, "In my own mind, I've already made that decision," about whether to run in 2024. His only hesitation is midterm timing: "Do I go before or after? That will be my big decision..." (NYMag)
 -- Thursday afternoon's big Trump story was about the death of ex-wife Ivana Trump, 73, at her home in NYC. She lived an extraordinary life. Kate Bennett has details here... (CNN)
 -- CNN.com's top homepage headline right now: "Secret Service erased texts from Jan. 6, watchdog alleges..." (CNN)
 -- "Many Americans are fleeing the bad news cycle:" VF's Charlotte Klein captures this uncertain moment in the news biz, featuring Melissa Bell's comments from last Sunday's "Reliable Sources..." (VF)
 ➡️ Three of today's media must-reads
 -- The Justice Department "is likely to reject concessions offered by Alphabet, clearing the way for an antitrust lawsuit over Google's dominance of the online advertising market," Bloomberg's Leah Nylen scooped on Thursday...
 -- CNN's Sean Lyngaas has new details about a hacking campaign that shows "just how valuable a target journalists can be to intelligence services in search of clues about US policy." There are lessons to learn here...
 -- A fascinating, worrying story by Insider's Lara O'Reilly: "The price of paper has more than doubled this year and publishers are freaking out that their print magazines and newspapers are in jeopardy..."
Today's media must-watch
Universal released the first trailer for "She Said," the film based on Jodi Kantor and Megan Twohey's book about investigating Harvey Weinstein, and it is top-notch. The filmmakers made ample use of the actual New York Times newsroom, as you can see in the image below. The film opens on November 18. Watch the trailer here...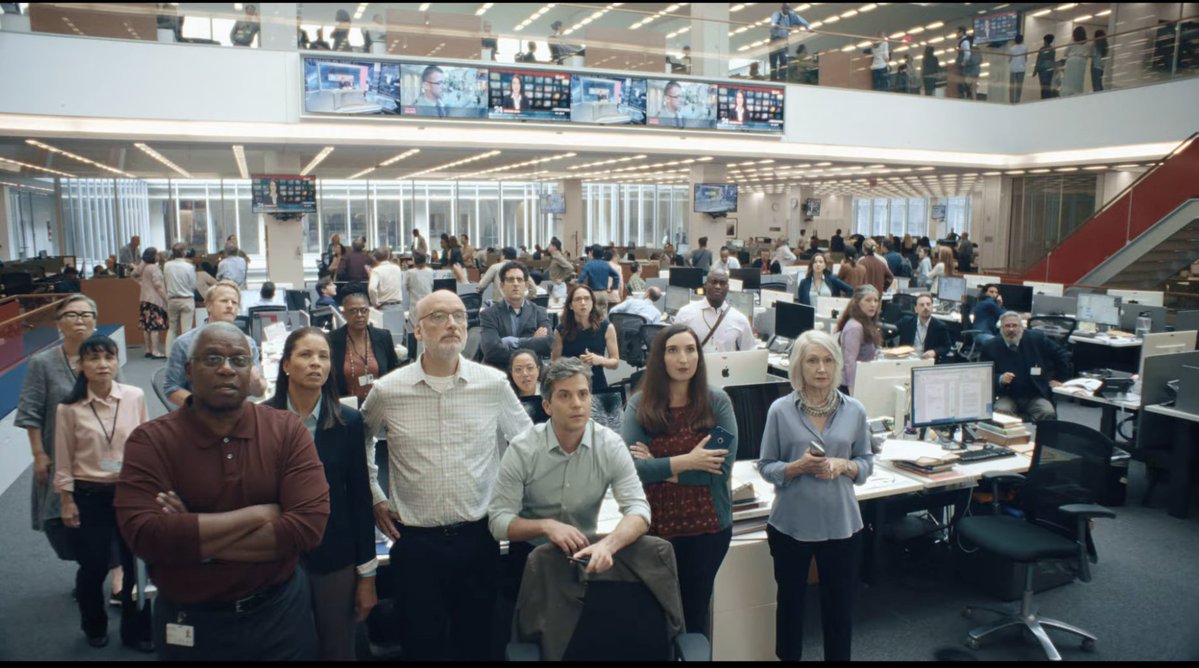 -- In the aftermath of a Russian missile strike in Vinnytsia that killed at least 23 people, CNN's Scott McLean delivered vivid live reports walking through the trail of destruction and showing the blast debris... (CNN)
 -- Social media posts charted the "life and death of four-year-old Liza Dmitrieva" in the strike... (Guardian)
 -- New from Will Oremus: "Ukraine says Big Tech has dropped the ball on Russian propaganda." He says a "new report finds that YouTube and Twitter are ignoring requests to take down hate and disinformation targeting Ukrainians..." (WaPo)
 -- Fox News shared an update about injured correspondent Ben Hall on Thursday. Top execs Suzanne Scott and Jay Wallace recently visited Hall in Texas "to deliver a birthday card from the news team and see how he's doing..." (People)
President Biden travels to Saudi Arabia...
A fourth hearing in Brittney Griner's trial is expected to take place...
"Where the Crawdads Sing," "Paws of Fury: The Legend of Hank" and "The Gray Man" open in theaters...
On the documentary front, "Gabby Giffords Won't Back Down," from CNN Films, opens in theaters...
"The Rehearsal," Nathan Fiedler's latest strange mix of comedy, reality TV and performance art, premieres on HBO...
"Ohio rape shows how a story can spread faster than facts"
That's the headline atop David Bauder's new story for The AP.
"It is remarkable," Jake Tapper said on CNN Thursday afternoon, "that in the US today, there are prominent figures in politics and news media who heard a story of a 10-year-old girl being impregnated by her rapist and decided that the appropriate action to take was to make it worse."
Some conservative pundits and politicians clearly wanted to downplay the consequences of abortion bans that they championed. The NYT's Katie Robertson documented how it happened in this story. The fallout continued on Thursday, as Indiana's GOP attorney general said that authorities in his state were investigating the doctor who provided abortion services to the 10-year-old "for potential failure to report the procedure," even though CNN and other news outlets obtained documents showing that the doctor did, in fact, report it to the state's health department.
 >> "Fox News has been playing an extraordinary amount of defense on this story — first by doubting its veracity and then by deflecting to the real issue at play here," Erik Wemple wrote Thursday. "It's as if the network couldn't countenance the realities behind a sea change in legal policy for which it had long advocated..."
AJC responds to subpoena
A recent subpoena to the Atlanta Journal-Constitution (AJC) "underscores a Fulton County grand jury's interest in the abrupt resignation of former U.S. Attorney Byung J. 'BJay' Pak as then-President Donald Trump contested Georgia's election results,"  AJC's Tamar Hallerman wrote Thursday.
Nearly a week after receiving the subpoena, which sought an audio recording of a Jan. 11, 2021 conference call that the AJC obtained and covered at the time, the publication decided to publish the recording in full -- and provide it to prosecutors. "A careful review found there was nothing on the recording that would reveal a confidential source or private information," editor Kevin Riley said in a statement to CNN. "We saw value in making the full contents of the recording public on our website." More here...
The Economist's new cover
It's as close as a magazine can get to a literal wake-up-call:
"For the good of America, the governing party urgently needs to take on its own activists," and stop pandering to extremes, the magazine says...
Guardian hires new US newsroom chief
"Betsy Reed, the editor in chief of The Intercept, has been tapped to be the head editor of The Guardian's U.S. newsroom," the NYT's Ben Mullin reported Thursday. Reed will replace John Mulholland in the fall. The Intercept is "promoting Roger Hodge, The Intercept's deputy editor, to succeed Ms. Reed. Nausicaa Renner, Washington editor at The Intercept, will become deputy editor..."
FOR THE RECORD, PART THREE
 -- Tim Grieve, the editor in chief of tech news site Protocol, is leaving the site later this month..." (Talking Biz News)
 -- Protocol says exec editor Jamie Condliffe "will lead the editorial team and report directly to Protocol president Bennett Richardson." Plus, MIT Tech Review exec editor Michael Reilly is joining the site as editorial director, reporting to Condliffe... (Twitter)
 -- "Just shy of two years into the role, Simone Oliver is stepping down as global editor-in-chief of Vice Media Group's Refinery29..." (Digiday)
Two new tests by Meta 
First: Facebook's newest stab at reigniting user growth? As first reported by Bloomberg on Thursday, the platform "is testing an option for users to create multiple profiles from a single account," CNN's Clare Duffy reports. While FB "prohibits users from having more than one account, the feature would let them create up to five profiles under their account to engage with different topics or groups of people..."
Second: Instagram's latest step to compete with Patreon? Insta is expanding its subscribe-to-creators test, trying out new features like "subscriber group chats, reels and posts for subscribers only, and a subscriber-only tab on a creator's profile, so paying fans can see the content they've unlocked access to," TechCrunch's Amanda Silberling reports. Mark Zuckerberg posted a Story to tout the features...
YouTube to allow US political advertising in audio content
BY BRIAN FUNG:
YouTube will open up its audio content to US political advertisers starting next month, according to its parent company, Google. For the first time, listeners of podcasts, music or other audio-only content on YouTube may begin to hear ads for US candidates. It may create a new potential vector for mis- and disinformation, though YouTube says the ads will be governed by Google's broader policies on election advertising...
FOR THE RECORD, PART FOUR
 -- In Alphabet's "first board change since 2020," Goldman Sachs vet Marty Chavez is joining the board, adding "finance know-how to technology giant..." (Bloomberg)
 -- Twitter suffered its "longest global outage in years" on Thursday... (NYPost)
 -- Speaking of: "Elon Musk is facing scrutiny from securities regulators over whether he promptly disclosed his intention to terminate" his Twitter deal... (WSJ)
 -- "Warner Bros. Discovery renewed contracts for two of its most senior executives, Gunnar Wiedenfels, its chief financial officer, and Bruce Campbell, its chief revenue and strategy officer..." (Variety)
Wordle – the board game
Jordan Valinsky's scoop for CNN Business on Thursday: "Wordle is jumping from the P-H-O-N-E to the B-O-A-R-D. Hasbro is partnering with the NYT to create 'Wordle: The Party Game.' Hasbro approached the The Times after noticing how popular Wordle had become online. The company is paying The Times a licensing fee to use Wordle." Details here...
 >> Related: Earlier this summer, NYT head of games Jonathan Knight said on "Reliable Sources" that his team was fully integrating Wordle into the NYT, for instance by creating proper storage for players' stats and streaks. Now that functionality is rolling out: The Times said users are starting to see an option to "link your Wordle stats" to a NYT account...
FX renews "The Bear"
"The Bear" is next on my to-watch list. (With Jamie at home recuperating after ankle surgery, we actually have some time to watch!) It's remarkable how much buzz the show is generating – and FX helped keep it going by ordering a second season on Thursday. "The show moves extremely fast with natural dialogue that seems off-the-cuff. It's not. The cast is just that good," the AP's Alicia Rancilio wrote, setting up an interview with star Jeremy Allen White...
FOR THE RECORD, PART FIVE
 -- "Thor: Love and Thunder" is expected to remain #1 at the box office this weekend, though it "isn't looking like it will have a particularly strong hold..." (TheWrap)
 -- "Stranger Things" has logged its fourth week at #1 on Nielsen's streaming chart... (Deadline)
 -- "Hillary Rodham Clinton and Chelsea Clinton's docuseries 'Gutsy' will debut on Apple TV+ on Sept. 9. The streamer announced the premiere date Thursday..." (Variety)
 -- Freida Pinto is developing Huma Abedin's book "Both/And" "into a TV series through her production company, Freebird Films..." (Deadline)
 -- "At long last, Beyoncé has posted her first TikTok..." (Billboard)
An 'Angels and Demons' at war with itself
BY BRIAN LOWRY:
Hulu's "Victoria's Secret: Angels and Demons" has an appropriate title, since the docuseries at times seems to be at war with itself – part look at the lingerie brand's rise and fall, and the excesses of its corporate culture and marketing; and part look at former CEO Les Wexner's relationship with Jeffrey Epstein, the latter pretty well-trodden territory. Director Matt Tyrnauer finally brings the two together, linking the company's excesses to blind spots that were indicative of what allowed Epstein (and Harvey Weinstein, who is also mentioned) to engage in predatory behavior...
A generic 'Evil'
BY BRIAN LOWRY:
After games and two decades worth of live-action movies, "Resident Evil" has become a generic new Netflix series, seemingly stitched together from pieces of other dystopian horror fare. This latest adaptation suggests that any aspirations beyond branding and commerce ended a long time ago too. Read on...
LAST BUT CERTAINLY NOT LEAST...
Cat of the day!
Jean Berko Gleason, Ph.D., professor emerita at Boston University, writes: "This is Foster, a big fan of Reliable Sources, and of spending time in the garden. He is a rescue from Maine, and named for Foster Pond in Bridgton. Foster is making his acting debut in September, when he will be joining me online in the Welcome speech to viewers of the annual Ig Nobel Awards show..."
Thank you for reading! Feel free to email us anytime. See you tomorrow...