Brian Stelter here at 10:51pm ET on Monday, July 11 with the latest on Elon Musk, Amazon, BTS, James Bennet, Lea Michele, and more. Plus, an update on my co-pilot Oliver Darcy's whereabouts...
The deepest image of our universe 
How can any other news possibly compete with this?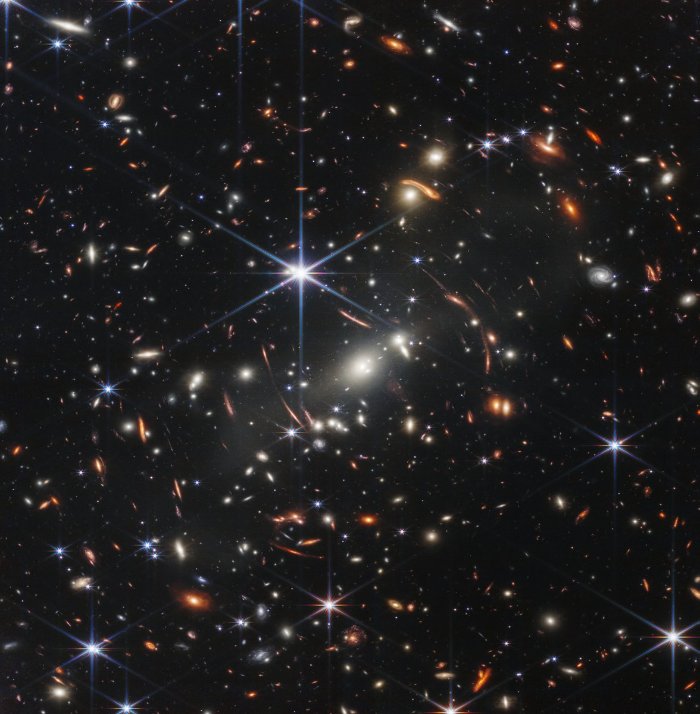 On Monday President Biden unveiled the first full-color image from the James Webb Space Telescope, showcasing thousands of galaxies. It's a view back in time and beyond our comprehension. "Some of these distant galaxies and star clusters have never been seen before," Ashley Strickland explains. "The galaxy cluster is shown as it appeared 4.6 billion years ago."
We're looking at "light from other worlds orbiting stars far beyond our own," Biden said. "It's astounding." Later, during the event with NASA administrator Bill Nelson, Biden joked, "I wonder what the press are like in other places."
Marina Koren of The Atlantic said the image released on Monday "is sparkly and beautiful, a great choice for a computer background. It is also, more important, an entirely new view of the universe." Koren says "scientists are giddy, eager to dive into the data behind the pretty pictures."
According to NASA, "this slice of the vast universe covers a patch of sky approximately the size of a grain of sand held at arm's length by someone on the ground." It's enough to render a person speechless. But there's a lot more to see and say and share! On Tuesday NASA, the ESA (European Space Agency) and CSA (Canadian Space Agency) will release the full set of Webb's first full-color images.
Per CNN's story, "opening remarks by NASA leadership and the Webb team will begin Tuesday at 9:45 a.m. ET, followed by an image release broadcast that kicks off at 10:30 a.m. ET. Images will be revealed one by one, and a news conference at 12:30 p.m. ET will offer details about them." The events will stream live on NASA.gov...
Back on Earth...
 -- This NYT/Siena College poll drove the day in US politics. The top finding: "Most Democrats Don't Want Biden in 2024..." (NYT)
 -- Nia-Malika Henderson's analysis on "The Lead with Jake Tapper:" This is "a five-alarm fire" for Democrats... (CNN)
 -- "Jill Biden's attempt to compliment Latinos flopped on Monday when she said they were as unique as 'breakfast tacos,' prompting criticism from across the political spectrum." The National Association of Hispanic Journalists issued a statement... (Reuters)
The final word on Weinstein
At Monday night's party for "Hollywood Ending," Ken Auletta's powerful new book about Harvey Weinstein, Auletta said he was driven to answer several key questions. Among them: "What made Harvey the monster he became?" "What enabled him for four decades to escape notice?" And "who were these people" who covered his tracks?
The excerpts and reviews leave no doubt that Auletta has found the answers. CBS published an excerpt along with Auletta's interview on "Sunday Morning." To understand Hollywood's culture of silence, "it's necessary to take a close look at the architecture of collusion, both intentional and unwitting, that he built at his companies," Auletta wrote. He talked more about that in interviews with the NYT's Maureen Dowd and VF's Joe Pompeo, among others...
It's the first of two Amazon Prime Days...
Emmy nominations come out at 8:30am PT...
New books include "Hollywood Ending," Mark Leibovich's "Thank You for Your Servitude" and Rep. Lauren Boebert's "My American Life..."
The next 1/6 hearing starts at 1pm ET...
Zurawik's assessment of the 1/6 hearings
Tuesday afternoon's hearing is "focusing on the role of extremist groups in the deadly riot," Hannah Rabinowitz writes in this CNN.com story about some of the names you might hear. 
The hearings will continue into next week, at least, but it's already tempting to declare the telecasts "a major media triumph," CNN media analyst David Zurawik wrote on Monday. "What the first six hearings have already accomplished is noteworthy: They offered millions of people a narrative of the insurrection based on facts, documentary images and eyewitness testimony given under oath rather than the alternative account Trump and his allies have promulgated through right-wing media." Read on...
 >> Useful: JustSecurity has produced a detailed new chart "tracking Trump's knowledge and intent in efforts to overturn the election..."
The Twitter sell-off 
Shares in Twitter closed down more than 11% on Monday, to $32.65, after Elon Musk tried to back out of his $54.20 per share offer. The company is gearing up to file a formal suit against Musk, as foreshadowed by a regulatory filing on Monday. CNN's Clare Duffy has the latest here...
 >> Kate Conger and Mike Isaac's latest for the NYT: "How Elon Musk damaged Twitter and left it worse off..."
 >> CNN's Julia Horowitz points out that "Twitter shares would probably be doing way worse if Musk hadn't made his play..."
 >> Matt Levine's newest column for Bloomberg walks through the reasons why the two sides have ample reason to settle out of court. Either "Musk buys Twitter for less" than $44 billion, "or Musk walks away for more" than the $1 billion breach-of-contract fee, he says. Levine adds: "Nothing about this deal has been especially rational so far, and there is no reason to assume that it will settle rationally now. But it would be nice..."
 >> CNBC's Alex Sherman made a list of "8 ways the Musk-Twitter saga could end..."
Oliver's trip to the ER 
BY OLIVER DARCY:
I never anticipated that I'd be writing these words following my trip to Iceland, but: A sudden turn of events stemming from a back injury I sustained hiking in the land of fire and ice landed me in an ambulance to the ER when I arrived back in New York on Sunday. The good news is that I'm now back at home and on the road to recovery, which hopefully will not take too long. Thank you to the entire team at Bellevue Hospital for taking care of me and my incredible wife Elise for never leaving my side. I'll be off for a few days as I rest at home, but hope to be back in the swing of things soon. Which is to say, Brian, you're stuck without me for a bit! And if anyone has advice about relieving back pain, or good shows to binge while in bed, email me...
 -- Vin Gupta, an NBC medical analyst, "was in line to be the FDA's principal medical adviser," but has "taken himself out of the running..." (Politico)
 -- On Monday the Sarasota Herald-Tribune apologized for publishing a guest column in support of the Proud Boys. "We are adding additional, higher level review of the process for accepting and editing guest columns for publication," editor Jennifer Orsi wrote... (Herald-Tribune)
 -- Mediaite's Sarah Rumpf has been all over this story. She says the Herald-Tribune "attempted to memory hole" the op-ed "without disclosing that the author was married to a member of the group..." (Mediaite)
Tlaib v. Times
Rep. Rashida Tlaib is capitalizing on left-wing anger at The New York Times to... add people to her campaign mailing list.
Tlaib asserted on Monday that the NYT "has been providing a platform for transphobic hate & propaganda, with horrifying consequences." She linked to a PinkNews recap of the backlash to Emily Bazelon's recent article, "The Battle Over Gender Therapy," and referenced the criticism of Pamela Paul's recent column, "The Far Right and Far Left Agree on One Thing: Women Don't Count." Tlaib alleged -- without any evidence I can find -- that the Times is "featuring writers debating whether trans people should even exist." And she she urged people to challenge the Times by signing a form... which adds them to a campaign listserv. This practice is common among candidates, but that doesn't make it any less nauseating...
Growing questions about this "one-source story"
A couple of days ago WaPo's Glenn Kessler wrote about the "one-source story about a 10-year-old and an abortion" that "went viral around the world — and into the talking points of the president." He found that "this is a very difficult story to check." Now there are even more questions.
The story originated in the Indianapolis Star, with a doctor describing a 10-year-old rape victim who needed to travel from Ohio to Indiana to obtain an abortion. The horrific account was cited by numerous other outlets, but no details about the 10-year-old have emerged. On Fox's "Jesse Watters Primetime" Monday night, Ohio Attorney General Dave Yost said there is no evidence in Ohio of a case like the one alleged. "Not a whisper anywhere," he said. This is going to gain more attention, especially in conservative media circles...
"The Uber whistleblower"
The Guardian's Tuesday front page features Mark MacGann, the source of the trove of documents that were presented on Sunday as the "Uber files" by news outlets around the world. From the story: "MacGann decided to speak out, he says, because he believes Uber knowingly flouted laws in dozens of countries and misled people about the benefits to drivers of the company's gig-economy model." He "said he was partly motivated by remorse." Read on...
 >> The Guardian also has a roundup of how global media has been covering the revelations...
FOR THE RECORD, PART THREE
 -- Jeffrey Goldberg's revelatory report on Monday: "Delia Owens, the author of 'Where the Crawdads Sing,' is wanted for questioning in a murder investigation in Zambia." The "Crawdads" movie opens Friday... (The Atlantic)
 -- "The award-winning director Jafar Panahi has become the third Iranian film-maker to be arrested in less than a week..." (The Guardian)
 -- Jack Nicas retraced the fateful trip for this story: "Inside the Amazon journey that left a journalist and an activist dead..." (NYT)
A uniquely American problem 
With so many spasms of gun violence across America, how do news outlets decide "which atrocities warrant on-the-ground coverage" (and for how long) and which don't? That's what Jeremy Barr and Elahe Izadi explored in this WaPo story. Vickie Walton-James of NPR made the point that "shooting stories that rise to the level of national attention are usually attacks 'targeting people in places where people expect to be safe,' such as a school or a church, or targeting people of a specific race or religion." Read on...
James Bennet's new column
Former NYT editorial page editor James Bennet has a new posting: He is The Economist's new Lexington columnist. The publication says "Bennet is the first American to write the weekly column, which is dedicated to US politics, full time." His first column is "High noon for Liz Cheney..."
FOR THE RECORD, PART FOUR
 -- Semafor "has hired Joe Posner, who co-founded Vox.com's Vox Video division, to lead its efforts in the space," Alex Weprin reports. Posner says "we hope to build helpful antidotes to the toxic, polarized information ecosystem that blankets cable news and social platforms..." (THR)
 -- Two hires at The New Yorker: Namara Smith has been named a story editor, overseeing books coverage online, and Helen Shaw has been named a staff writer covering theatre... (Twitter)
 -- The New York Times is mourning the death of Francis X. Clines, a 59-year veteran of the publication who was "an almost ideal reporter: a keen observer, a tenacious fact-finder and a paragon of integrity and fairness who could write gracefully against a deadline." He was 84. (NYT)
 -- Clyde Haberman called Clines "one of the finest reporters and most lyrical writers ever to grace the Times's pages..." (Twitter)
The reality show must go on
CNN's Kara Scannell reports: "Jennifer Shah, a cast member on the 'Real Housewives of Salt Lake City,' pleaded guilty Monday to defrauding hundreds of victims, including some elderly, in a years-long telemarketing scheme."
As Variety noted here, "the lead up to Shah's trial has been chronicled as a main storyline for the show's third season. Bravo cameras were not in the courtroom with Shah on Monday... but she will continue to film on the show..." 
"The value of soccer in America is getting its next big test"
That's how Bloomberg's Gerry Smith and Lucas Shaw framed this scoop on Monday: The Union of European Football Associations is "soliciting bids for the US TV rights to its Champions League matches this week and offers are expected to top $2 billion for a six-year deal, more than double what UEFA gets every year under current agreements, according to people familiar with the organization's thinking." Paramount and Univision currently hold the US rights. More here...
FOR THE RECORD, PART FIVE
 -- Netflix "is searching for an executive to lead the creation of an ad-supported tier of its service... and has interviewed candidates outside the company," Jessica Toonkel and Sarah Krouse report... (WSJ)
 -- Brian Steinberg's latest: "Endeavor's Bull-Riders' League hopes to buck the system with new team play..." (Variety)
 -- Eriq Gardner says "the government is about to make a $7.8 billion decision that will impact the tech world and the music industry," but "hardly anyone is paying attention." It's a trial before the Copyright Royalty Board (heard of it?) that will "decide what % of revenue from Spotify, Apple Music, Amazon Music, Pandora, and YouTube will head to music publishers for a five-year period between 2023 and 2027..." (Puck)
Big deal between BTS and Disney
CNN's Michelle Toh broke this story on Monday night: "Disney is bringing BTS to its streaming service, adding the world's biggest band to its roster of digital stars." Disney+ will gain "five new titles with HYBE, BTS' management company," and at least two "will be shot with the entire band, including a taped concert special in Los Angeles and a behind-the-scenes documentary series." The terms of the deal were not disclosed.
 >> Toh wrote: "The move shows how Disney is focusing on top-tier talent as it continues to go after Netflix and cash in on the recent wave of popularity surrounding Korean content and culture." More here...
 -- Speaking of Toh: She recently penned this important story titled "Hollywood won't budge for Chinese censors anymore. Here's what changed..." (CNN)
 -- Hulu has renewed "Only Murders in the Building" for a third season... (Yahoo)
 -- "'Queen Sugar' creator and executive producer Ava DuVernay, who directed the pilot, will return to direct the series' final episode. Production on the seventh and final season has begun in and around New Orleans..." (Deadline)
 -- "'Winning Time' co-creator Max Borenstein has extended his deal with HBO..." (TheWrap)
 -- "Big gameshow news" via Joe Adalian: "For the first time ever, 24/7 channels featuring vintage episodes of Jeopardy! and Wheel of Fortune are coming to streaming via Pluto TV..." (Vulture)
 -- Here is the first installment of "The Metaverse, Unwrapped," TheWrap's series we previewed last night... (TheWrap)
Lea Michele replacing Beanie Feldstein
"Lea Michele has been tapped to step in and lead the Broadway revival of the beleaguered 'Funny Girl' this fall, an announcement made just hours after current star Beanie Feldstein revealed she was leaving the musical sooner than anticipated due to the show taking a 'different direction,'" The AP's Mark Kennedy writes. "The high-profile casting change rocked the Broadway community." The key bit of context for all this: Initial reviews of "Funny Girl" were "mixed to poor, with many critics saying that while Feldstein brought excitement and spirit, her voice was simply not up to the task..."
LAST BUT CERTAINLY NOT LEAST...
Dog of the day!
Brad Kornfeld writes: "Taking Daisy out in the Colorado Rocky Mountains reminds me there is beauty and peace in a world that seems anything but at times..."
Thank you for reading! Feel free to email us anytime. See you tomorrow...