Oliver Darcy here at 11:22pm ET on Tuesday, June 28. Here's the latest on Rappler, The Verge, Bob Chapek, Cesar Conde, "True Detective," and more... 
"The Don's Rage"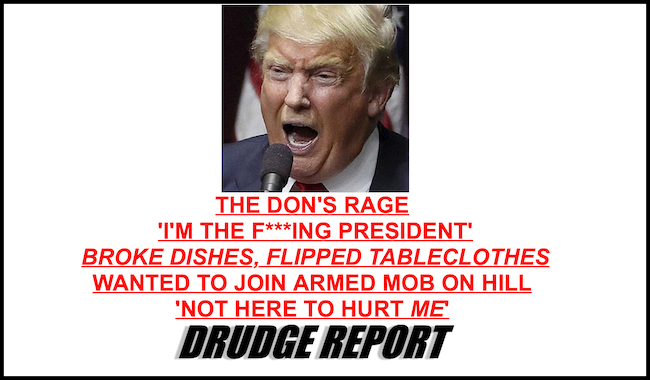 "What we have witnessed today, in front of the American people, is something we have not seen before," ABC News' David Muir commented after Cassidy Hutchinson's explosive testimony. "We have said this a number of times after these hearings, but this is quite different."
Over on CNN, Jake Tapper was more blunt, saying it was "one of the most stunning offerings of testimony in American history." Tapper later said Hutchinson had "exploded the lies and the myths that the Trump team have been perpetuating for more than a year now."
Muir and Tapper weren't alone. The testimony even rocked — to some extent — the daytime Fox News crew. Bret Baier noted that he has "covered politics a long time" before saying the kind of "jaw-dropping" testimony of a White House in crisis delivered Tuesday had not been on display before the American people "since Watergate." 
All across the news media, the coverage has been unflinching. The all-caps headline across NYT's homepage Tuesday night read, "AIDE DETAILS TRUMP'S RAGE ON JAN. 6." The Drudge Report captured the dramatic testimony with a set of five banner headlines detailing "THE DON'S RAGE." 
The bar for being taken aback by Donald Trump's behavior is quite high at this point in time. Much of the press and the public have become desensitized to the former president's unhinged conduct. It's difficult to jolt the country with details of his antics. But the surprise Tuesday hearing unquestionably did just that. 
"It was a big deal"
Don't simply take it from me. Take it from John Dean. Remember, he said on Monday that the surprise hearing "better be a big deal" and told the lawmakers to "cancel now if you can't match." He said on CNN right after the hearing, "it was a big deal. Absolutely. I think she knocked it out of the park..."

What's next?
Former acting White House chief of staff turned CBS News political commentator Mick Mulvaney turned to Twitter to offer his thoughts during the hearing. Among them: "Things went very badly for the former President today. My guess is that it will get worse from here." 
Surely, the committee has more damning revelations that it plans to share. As Chris Wallace noted on CNN, "There are some secrets still out there." Wallace pointed out that after all the investigative journalism and books that have been written about Trump, the Tuesday hearing proved some shocking details about his behavior that have gone unreported. So what shoe will drop next? 
NYT TV critic's review
"For one afternoon, the investigation played like the Watergate hearings as punched up by the writers' room of '24,'" NYT TV critic James Poniewozik wrote...
"Barring further surprises, the committee now takes a midseason hiatus until after the July 4 holiday. It has left its viewers with quite a story to chew on over the break. The price of success, of course, is raising the bar, and it remains to be seen whether the hearings' final run can pay off the buildup, or whether it can spur actual political or legal action. But this installment? It was a beast."
A quick note about the Jan. 6 hearing comparisons to Watergate strictly from a media perspective: While the analogy is understandable, the media landscape has changed so profoundly that as a point of reference it misses how the world has changed, in ways that both undermine the impact of Hutchinson's testimony (the sheer volume of available options to distract us) and that magnifies it (real-time social-media commentary, and endless postgame analysis, calling attention to every one of her revelations)...
How it's playing in MAGA Media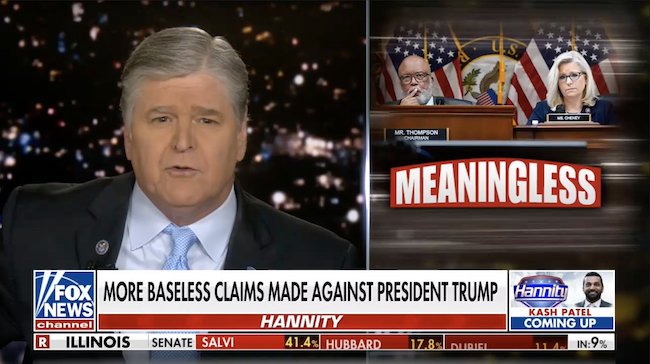 I noted earlier that the dayside Fox crew expressed some shock at Hutchinson's testimony. The same cannot be said for the bloc of prime time propagandists Rupert Murdoch employs.
As you would expect, by the time Sean Hannity's program aired, Fox was firmly back in Trump's corner. Hannity told his audience that the Tuesday hearing was yet another "meaningless" product of work from the "anti-Trump kangaroo court" working in the "Washington sewer." Hannity ranted against what he said is "an obsessive compulsive cult-like rage against Donald Trump" from "Trump haters" that "never ends." And he went on to attack Hutchinson.
Which is all to say, that if you were under the impression that the hearing was going to play differently in MAGA Media than scandals of the past, it is most certainly not...
"Facts mean nothing"
Carl Bernstein on Tuesday night acknowledged that facts simply do not move the modern day GOP. "Facts mean nothing," he said during a panel on CNN. "Facts have meant nothing for four years of the presidency, for the post-presidency of Donald Trump, and for the campaign of Donald Trump."
Bernstein suggested again that the old rules that govern journalism are broken. He said the press needs to "deal with this" in another way and asked, "How do we start to cover this differently?"
 -- The testimony won't break Trump's spell over his fans, but it still "damaged the Trump edifice in a way that a thousand op-eds and a hundred political speeches couldn't," Jack Shafer writes... (Politico)
 -- David Bauder writes about how Fox viewers tuning out the 1/6 hearings in large numbers... (AP)
 -- Drew Harwell reports on how the pro-Trump web "sought to undercut" Hutchinson's testimony and tried to "distract from the truth..." (WaPo)
 -- Speaking of the pro-Trump web: Banned from Twitter, Trump "unleashed a frenzy of posts on Truth Social," Nikki McCann Ramirez writes... (Rolling Stone)
 -- The hearings are showing that the "standard MAGA account" of Trump as "innocent bystander of the January 6 violence is nearly as big a lie as the stolen election fable," Ed Kilgore opines... (NYMag)
 -- Heidi Przybyla observes that "the best sources are often aides, not the top officials." She adds, "True in journalism, and apparently, history..." (Twitter)
 -- Liz Cheney tweeted David French's latest piece: "The case for prosecuting Donald Trump just got much stronger..." (Dispatch)
President Biden is in Madrid for the NATO summit...
The Aspen Ideas Festival continues with a keynote from David Brooks on building trust in the "age of distrust..."
"Media coverage of abortion is under attack"
That's the headline atop Prism editor-in-chief Ashton Lattimore's latest. "What does it mean for a website to 'encourage' abortion?" she asks in her piece. "New anti-abortion model legislation released last week by the National Right to Life Committee would force anyone who publishes work online to grapple with that question, putting journalists who cover abortion squarely into legal crosshairs." As Lattimore explains, "The model legislation — which NRLC hopes will be adopted by state legislatures around the country — would subject people to criminal and civil penalties for 'aiding or abetting' an abortion, including 'hosting or maintaining a website, or providing internet service, that encourages or facilitates efforts to obtain an illegal abortion.' Unsurprisingly, the text offers no guidance on how broadly or narrowly the provision might be interpreted..."
 -- Jemele Hill goes public with her abortion story for the first time: "I had an abortion when I was 26 years old. I was not raped. I wasn't the victim of incest. I was not in the midst of a life-threatening medical emergency. I simply had no desire to give birth to a child..." (Atlantic) 
 -- "It's possible to be a journalist and a human," Alex Sujong Laughlin asserts. "The way journalists are told to perform objectivity is outdated. If we want to preserve public trust, the best thing we can do is tell the truth..." (Poynter)

 -- "Multiple polls conducted since the Supreme Court's ruling ... find that broad majorities of the public disapprove," Ariel Edwards-Levy writes... (CNN)
 -- "Facebook and Instagram have begun promptly removing posts that offer abortion pills to women who may not be able to access them," Amanda Seitz reports... (AP)
 -- "Slate is launching a provocative new campaign to promote its latest season of 'Slow Burn,' which tells the story of Shirley Wheeler, the first woman convicted of manslaughter for getting an abortion," Ariel Shapiro writes. "The outlet has placed billboards in states that now have some of the strictest abortion laws..." (Verge)
FIRST IN RELIABLE:
The Verge to launch special editorial series, "Homeland"
The Verge on Wednesday will launch a new editorial series called "Homeland" which will be aimed at exploring the expansion of government power since the formation of the DHS. "The Department of Homeland Security was formed nearly twenty years ago — a knee-jerk response to 9/11 that would become a two-decade bureaucratic boondoggle," features editor Kevin Nguyen told me. "Over the next three months, The Verge's 'Homeland' series will publish ambitious investigative stories about the surveillance, immigration, and tech policies that have been pushed through by the DHS, and how those insidious moves have rewired the lives of millions of Americans."
 >> The first entry into the series will be published Wednesday at 10am on The Verge's homepage. The piece, "Unsettled: The Afghan Refugee Crisis Collides with the American Housing Disaster" by Makena Kelly, will examine the "refugee crisis created by the U.S. withdrawal from Afghanistan..." 
FOR THE RECORD, PART THREE
 -- "Journalists in Uvalde are stonewalled, hassled, threatened with arrest": Arelis R. Hernández and Paul Farhi report on the appalling media environment in Texas... (WaPo)

 -- Jen Wieczner has an in-depth piece about BuzzFeed's "SPAC fiasco." Wieczner says the situation "is only getting worse..." (NY Mag)

Conde talks Maddow-Wagner arrangement 
NBCU News Group chief Cesar Conde commented on MSNBC's 9pm programming strategy Tuesday while at the Aspen Ideas Festival. In a conversation with FT editor-at-large Gillian Tett, Conde said the arrangement in which Rachel Maddow hosts once a week and works on other projects is "a great case study in sort of this proliferation of platforms." Conde noted that it frees Maddow to work on other projects and said NBC believes it is "extraordinarily important because we have so many more touch points." Conde also praised Alex Wagner and said, "We're just very lucky to have Alex, and Rachel, and we think it's a win for them. We think it's a win for us. And we think it's a win for our audience..."
>> Speaking of multiple platforms, Conde noted that the NBC News NOW demo is made up of a much younger viewership: "Our average age is 35 to 40-year-olds..."
Rappler vows to fight shutdown order 
Rappler boss "Maria Ressa said Tuesday that the Philippine government has ordered her news organization to shut down," Nathan Bomey wrote for Axios. Speaking at a conference in Honolulu, Ressa "said Rappler would fight the order, which 'affirmed' an earlier decision to revoke the organization's certificates of incorporation. 'We're not shutting down. Well, I'm not supposed to say that,' Ressa said. 'We are entitled to appeal this decision and will do so...'"
FOR THE RECORD, PART FOUR
Disney renews Chapek 
Disney's board "removed all doubt" about CEO Bob Chapek's fate on Tuesday by unanimously voting to extend his contract for another three years, CNN's Frank Pallotta wrote. He's "the right leader at the right time," board chair Susan Arnold said in a statement.
 >> "By giving him a second term in such aggressive fashion, the board is essentially wiping the slate clean of the 'Don't Say Gay' matter and giving him an opportunity to restore investor confidence in the promise of streaming," the NYT's Brooks Barnes wrote...
Iger writing book on leadership "in times of crisis"
Meanwhile, Bob Iger had some news of his own to make. Random House announced Tuesday that the former Disney boss will author another nonfiction book. The book is described as a "playbook on leading in times of crisis and disruption that takes readers behind the scenes for crucial decisions at the highest levels of business, entertainment, and politics." Variety's Wilson Chapman has more here...
CAA completes ICM acquisition
"Almost nine months to the day after the surprise Deadline scoop that CAA would acquire ICM Partners, the deal finally got government approval and closed," Nellie Andreeva and Mike Fleming Jr. reported Tuesday. "This creates a mega agency in the biggest linkup in the space since the WMA-Endeavor merger in 2009." WSJ's Joe Flint reported that the deal is valued around $750 million and that as a result of the deal, CAA "will now have an enterprise value of $5 billion..."
More than 100 to be laid off
In the immediate future, there will be some uncertainty for staffers of the now unified company. Leadership is expected to address staffers later this week, but there are already reports that job cuts on the ICM side are imminent. Variety's Jennifer Maas reported that "105 current ICM employees will be laid off following the close of the transaction..."
FOR THE RECORD, PART FIVE
In the why-mess-with-success department, "Only Murders in the Building" returns looking very much like its first season. It is seemingly timed to maximize the show's exposure heading into the Emmy-voting window, should it (as expected) secure some nominations. Here's my review...
 -- The Academy has invited 397 new members to its ranks, including Billie Eilish... (Vulture)
 -- Dakota Johnson has opened up to Britt Hennemuth about the "psychotic" making of "Fifty Shades of Grey..." (Vanity Fair)
 -- "Obi-Wan Kenobi" writer Stuart Beattie spoke with Nathan Johnson about how the Disney+ series was imagined at the outset as a "full trilogy" of films... (Direct)
 -- Justin Chang argues that Tom Hanks' dreadful performance in "Elvis" represents the sort of rare misstep that highlights an otherwise splendid career... (LAT)
 -- HBO has officially ordered a fourth season of "True Detective," casting Kali Reis as a co-lead alongside Jodie Foster... (THR)
 -- NBC has ordered eight episodes of "Surviving Earth," an unscripted series focused on the prehistoric era... (Variety)
Showtime's new docuseries
Showtime has announced a four-part docuseries — and this one is all about the Supreme Court. The project is called "Confirmed" and it examines the high court during the period from the 1950s to the present...
FOR THE RECORD, PART SEVEN
 -- Johnny Depp's rep shuts down talk of a "Pirates of the Caribbean" return...
 -- Nick Cannon says he has "failed miserably" at monogamy...
LAST BUT CERTAINLY NOT LEAST...
Pet of the day!
Reader Ralph McKenna emails: "Philippe is not amused with the current events..."
Would you like to see your pet featured here? Send us a photo + note containing a short caption and your pet's name...
Thank you for reading! Feel free to email us anytime. We'll be back tomorrow...