Oliver Darcy here at 10:33pm ET on this monumental Friday, June 24...
Roe's demise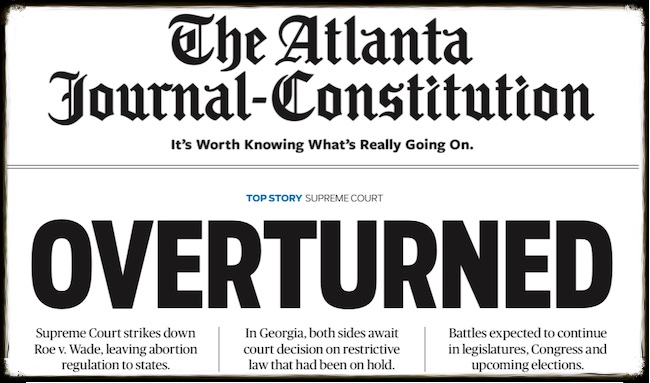 POLITICO's story was spot on.
Josh Gerstein, who co-bylined last month's seismic scoop about the leaked court opinion against abortion, was awake and online on Friday, knowing it was possible that the Supreme Court's official decision overturning Roe v. Wade could be handed down. He didn't think the ruling was likely until next week – but with an iced tea at the ready (his caffeinated drink of choice), he logged on from home to a Zoom call with his editors at 10am, and started to refresh the court's website to see what opinions would be released.
When the court ruled on Dobbs v. Jackson Women's Health Organization at 10:10am, "we just kicked into gear," Gerstein told me, recalling the moment that he realized that the court had overturned Roe, as his May 2 story telegraphed.
Gerstein described Friday as "crazy and chaotic" — words that I'm sure were applicable to most newsrooms as journalists worked to cover the decision and explain exactly it means to audiences across the country...
Will we ever know Politico's source?
Ever since Politico's scoop, speculation has swirled about the leaker and the possible motive for the leak. The number one question Gerstein said he received on Friday was what he believed the impact of the leak was. "It's a little tough to say," he admitted.
When I asked whether Gerstein has spoken to the source of the leaked opinion since the official ruling came out, he declined to answer. However, he did suggest that one day, it is possible we will all know who the source is. When I asked Gerstein whether the person would eventually out themselves, he replied, "I don't think I can answer that directly. But I do think in most of the situations, that part of the story does get told. In most of these types of stories, Watergate or what have you. But we shall see." Gerstein added that as a reporter, he tends to believe that "history moves in the direction of more information coming out." 

"Too much credence" or not enough?
Not only is Gerstein one of the two reporters who broke news that the court was set to overturn Roe, he is also one of the most respected legal reporters in the industry. So I asked him what the media can improve on as it covers this tectonic moment.
Gerstein said that he believes the news media is putting too much focus on Justice Clarence Thomas' concurring opinion in which he invites the court to reconsider other landmark cases. "Just because the liberal justices say that this ruling means that same-sex marriage or contraception — the right to those things is about to be taken away — or advocacy groups say that, that doesn't tend to mean that is the most immediate fallout," Gerstein said. "I think the press gives a bit too much credence to that sort of thing, which is somewhat speculative." Gerstein argued that, instead, "there are many concrete other things" the press can draw attention to "that will flow out of today's decision without needing to necessarily say the sky is falling about all kinds of other things that may or may not develop years down the road."
When I asked Jeffrey Toobin, CNN's chief legal analyst, about this, he said it's a "fair point" and that he certainly agrees "there is a lot to say about the implications of Dobbs itself." But, Toobin said, "Thomas is the senior member of the court's conservative majority. His explicit endorsement of overturning those precedents is definitely newsworthy. It would be one thing if the liberals alone were saying the sky is falling, but Thomas is the one making the claim."
"I've spent my entire journalistic career covering the legacy of Roe," Toobin added to me. "It's always been the biggest issue at the Supreme Court. At one level, the fight over Roe is over, but there will only be more litigation coming out of Dobbs, not less. Same with Bruen and gun control. Every law on the books is going to be challenged."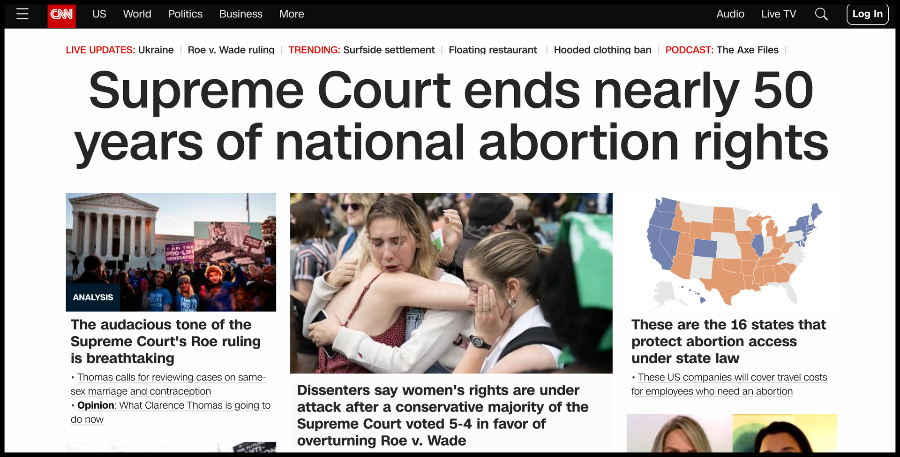 Coverage notes
Most major news outlets have a process in place for ingesting and distributing bulletins like the SCOTUS ruling. CNN viewers could see it happen in real time: At 10:10am, Jim Sciutto said the ruling was in, and awaited the DC newsroom's assessment of what it said. Chief legal analyst Jeffrey Toobin, who was already at the anchor desk for a segment about the 1/6 hearings, set the table for the news by saying it would be a "flashbulb memory," a where-were-you-when moment for the country. Then at 10:12 Jessica Schneider reported the decision and the coverage began...
 >> NBC, then ABC, then CBS all broke into regular programming between 10:12 and 10:13am...
 >> Fox News cut off a segment with Reince Priebus to break the news, with Shannon Bream reporting from outside the court...
 >> MSNBC initially fumbled the news by belatedly cutting into NBC's special report that was already in progress. But then the network went into breaking news coverage, commercial free, for four straight hours...
Fox's filter
The prime time coverage from Fox was precisely what you would expect from the right-wing channel. Hosts portrayed anti-abortion activists as the part of the country under attack from "radical" liberals. Here are four banners that aired during the 7pm and 8pm hours that really illustrate the tenor of coverage:
 >> "RADICALS SWARM HOME OF CLARENCE THOMAS"
 >> "PRO-LIFE MOVEMENT TARGETED BY RADICAL LEFT"
 >> "ROE IS DEAD. ACTIVISTS THREATEN A 'NIGHT OF RAGE'"
 >> "ROE IS DEAD: PRO-LIFERS CRY TEARS OF JOY AS ABORTION ACTIVISTS RAGE"
 -- Doris Truing wrote about how news orgs can "ensure diverse viewpoints in abortion coverage..." (Poynter)
 -- Shefali Luthra: "It's tempting to focus on the political battles. But at heart, the new reality of abortion access is about medical care and health equity..." (Center for Health Journalism)
 -- Jenna Sherman: "Perhaps no medical procedure is subject to more misinformation than abortion, and social media and search engine companies have been too stagnant in their efforts to stop the spread..." (Scientific American)
 -- Kate Zernike wrote about Friday's "split-screen reaction," saying it reflects "a polarized nation: jubilation and relief on one side, outrage and grief on the other..." (NYT)

 -- Religion News Service: Friday's opinion "is the crowning achievement of a conservative Christian drive to reshape American society to hew more closely to the traditional sexual and gender values they espouse..." (RNS)
 -- CNN's Joan Biskupic: "This is America's new Supreme Court, moving swiftly, rejecting the incrementalism of Chief Justice John Roberts..." (CNN)
 -- Emily Jordan: "I don't think that if I were to write an article about abortion I couldn't cover it objectively. I also worry that we are approaching a journalistic environment in which only those separated from the issues cover them..." (YR)
-- Ben Mullin: "Politico's Roe v. Wade scoop becomes law..." (NYT)
 -- Kelly Hooper looks at "what changed from Justice Alito's draft opinion to final ruling on Roe..." (Politico) 
How media companies are responding
Media giants are ensuring employees and their family members that access to abortion will still be covered:
 >> Disney, which owns ABC News, said that it "communicated directly" with employees and told them the company remains committed to providing access to reproductive care "no matter where they live..."
 >> Warner Bros. Discovery, which owns CNN, said it "is committed to offering our employees across the country access to consistent and comprehensive healthcare services" and that the company "immediately expanded our healthcare benefits options to cover transportation expenses for employees and their covered family members who need to travel to access abortion and reproductive care..."
 >> Comcast, which owns NBC News and MSNBC, said travel for abortion services is covered under a benefit that allows employees to receive up to $4,000 if they need to travel for a covered health service...
 >> Vox Media CEO Jim Bankoff said the decision "deeply harms the autonomy and health of women and all people who become pregnant." Bankoff said Vox "will continue to support employees seeking access to critical health care, including abortion..."
 >> Condé Nast CEO Roger Lynch emailed staffers saying that the company will reimburse travel for those needing an abortion...
 >> BuzzFeed said that it will pay for employees who needed to travel for abortions. CEO Jonah Peretti vowed, "The process around this will be completely confidential..."
Newsrooms reiterate social guidelines 
 >> Axios told employees it is "continuing to seek additional health-care resources" and made the "difficult request that every staff member refrain from taking political stands in public." The note added, "We know this is a lot to ask when you feel your identity or most sacred values are under assault. But public stands on political topics can undermine trust in our journalism..."
 >> The NYT reminded some of its staffers about the company's social media policy: "If our journalists are perceived as biased or if they engage in editorializing on social media, that can undercut the credibility of the entire newsroom..."
 >> Gannett sent a note to staffers saying its "values and dedication to inclusivity ensure that we respect all views to reproductive rights." The company said it is "actively working with our providers to ensure continued benefits under the new regulations." The memo added that "journalists must be mindful of what they post on social media" and said that "as journalists, we make sacrifices for our profession..."
Tension inside newsrooms
As news orgs cover this moment, they are also confronting a familiar issue: Should journalists be allowed to take a public stance on abortion? Most major newsrooms prohibit staffers from taking a particular side on political issues, the rationale being that perception of bias can undercut the outlet's credibility. But, by and large, newsrooms also grant journalists the freedom to speak on certain issues pertaining to human or civil rights. The question some journalists are wondering now is: Does abortion fall into that latter category? It seems that the answer is no, given the guidance some newsrooms sent staffers on Friday.
There is also a larger debate about the concept of objectivity. "I wish we, as an industry were willing to declare: journalists are humans," Wesley Lowery tweeted. "We have biases and experiences and that humanity enriches our journalism. Like all humans, our journalists will at times express that humanity in private, semi-public and public platforms and venues." Lowery noted that there is a distinction between the "perception of objectivity" and the "objectivity of work/process..."
Lawmakers want FTC to probe Apple and Google
A group of US lawmakers — including Sens. Elizabeth Warren and Cory Booker — wrote FTC Chair Lina Khan on Friday and said that the agency should investigate Apple and Google over the data they collect on consumers. "Data brokers are already selling, licensing, and sharing the location information of people that visit abortion providers to anyone with a credit card. Prosecutors in states where abortion becomes illegal will soon be able to obtain warrants for location information about anyone who has visited an abortion provider," the lawmakers wrote.
"Private actors will also be incentivized by state bounty laws to hunt down women who have obtained or are seeking an abortion by accessing location information through shady data brokers," the lawmakers added. "The FTC should investigate Apple and Google's role in transforming online advertising into an intense system of surveillance that incentivizes and facilitates the unrestrained collection and constant sale of Americans' personal data."
When I spoke to Gerstein, he also said that this is "going to stretch into social media" fast. "This is going to be a real mess for tech and social media companies," Gerstein said. He noted that there will unquestionably be efforts from local prosecutors and police in red states "to use those technologies to go after people circumventing laws" in those states. "It's going to be a big, big problem," Gerstein warned. So far, it's unclear how Big Tech is going to react...
This Sunday on "Reliable Sources"
BY BRIAN STELTER:
Our bookings will be in flux right up until Sunday at 11am, owing to the overwhelming news environment right now. But I'm looking forward to speaking with "Slow Burn: Roe v. Wade" podcast host Susan Matthews; The Bulwark publisher Sarah Longwell; Planned Parenthood senior director of news content Kate Smith; CNN senior political analyst Ron Brownstein; The Atlantic contributing writer Tom Nichols; and more...
Biden to sign gun reform bill into law
Had the SCOTUS decision on Roe not come down on Friday, the day's biggest news story would have been the bipartisan gun legislation that was sent to Biden's desk. "The bill amounts to the first major federal gun safety legislation in decades and marks a significant bipartisan breakthrough on one of the most contentious policy issues in Washington," CNN's team wrote. Biden will sign the legislation before departing for Munich on Saturday... 
G7 leaders convene in the Bavarian Alps...
The Aspen Ideas Festival begins Saturday...
The NASCAR Cup Series: Nashville starts on NBC Sunday at 5pm...
The 2022 BET Awards air at 8pm...
The season four premiere of "Westworld" airs on HBO at 9pm...
Starz premieres the docuseries "Who is Ghislaine Maxwell?" at 9pm...
Fox viewers ditch network during 1/6 coverage
Fox viewers really do not want to watch the 1/6 hearings. Every time the right-wing cable channel has carried the daytime proceedings, a significant chunk of the audience has turned it off. Take Thursday's ratings: In the noon hour, Fox averaged 1.76 million viewers, with 203,000 in the advertiser-coveted 25-54 demographic. But it was all downhill from there. In the 3pm hour, Fox averaged only 747,000 viewers, and 101,000 in the key demo — having lost about 1 million total viewers from its noon hour. And in the 4pm hour, the network averaged just 718,000 total viewers, with 81,000 in the key demo. But when Fox opted to carry "The Five" instead of the end of the hearing, the ratings instantly spiked back up, with 2.76 million viewers, and 378,000 in the demo.
 >> The opposite audience trend was true for CNN and MSNBC. CNN's ratings swelled to an average of 2.4 million viewers during the hearing. And at MSNBC's peak, the network averaged 3.2 million viewers...
 -- A United Nations panel said Friday that Shireen Abu Akleh was killed by Israeli forces and not shot "from indiscriminate firing by armed Palestinians, as initially claimed by Israeli authorities..." (WaPo)
 -- Former USA Today deputy editorial page editor David Mastio writes that the paper demoted him for a tweet "because its woke newsrooms are out of touch with readers..." (NY Post)
 -- Fox Nation, the right-wing streaming offering from Fox News, has started running a small number of ads, Brian Steinberg reports... (Variety)
 -- Missed this yesterday: "Researchers who depend on CrowdTangle to find social media's worst content are worried about what happens when it goes away," Davey Alba reports... (Bloomberg)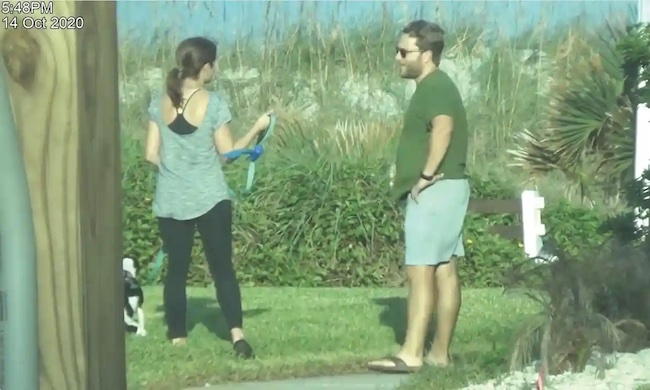 Journalist who wrote about power company was surveilled
"Consultants working for America's largest power company covertly monitored a Jacksonville journalist and obtained a report containing his social security number and other sensitive personal information," Mario Alejandro Ariza and Annie Martin reported Friday, citing leaked documents. The story was the result of a collaborative investigation by the Florida Times-Union, the Orlando Sentinel and Floodlight. The news orgs found that Florida Power & Light consultants obtained a photo of Florida Times-Union columnist Nate Monroe with his girlfriend outside their apartment, as well as text messages notifying them of his movements while on vacation. Here's the full story...
 >> "FPL denies that it authorized or knew about the surveillance," the report said. "But the records show employees of Matrix LLC, an Alabama-based consulting firm employed by the utility, were shadowing the journalist throughout his critical coverage of a failed $11bn purchase of a smaller Florida utility...
 >> Monroe tweeted: "Pooling resources among our Florida publications was incredibly helpful and will continue to be vital as we unpack more - and there is more - on how the crackup of an Alabama political consulting firm has exposed dark secrets in Florida politics..."
FOR THE RECORD, PART THREE
FOR THE RECORD, PART FOUR
This weekend in streaming: "Trevor: The Musical" and "Loot"
The label "important" can be daunting, but it applies to "Trevor: The Musical," a filmed presentation (in the mode of "Hamilton") of the off-Broadway production. The production is based on the Oscar-winning short that inspired the Trevor Project, a suicide prevention nonprofit for LGBTQ youth. Given Disney+'s reticence initially to air such content, the show takes on greater symbolic significance in light of the studio's recent criticism from employees and subsequent clashes with Florida over its so-called "Don't Say Gay" legislation. As for "Loot," what could easily be a one-note joke – an Apple TV+ series about a divorced billionaire who turns to philanthropy, much like Jeff Bezos' ex-wife Mackenzie Scott – becomes a sweet and interesting series, and more than just a workplace sitcom, starring Maya Rudolph...
FOR THE RECORD, PART FIVE
LAST BUT CERTAINLY NOT LEAST...
Pet of the day!
Reader Christine Young emails: "Mirabelle was a rescue cat that was in a shelter managed by the French equivalent of the SPCA or La Societe Protectrice des Animaux. As we wandered through the shelter in the town of Laon near Paris, we were looking for just the right kitty.  She reached out of her cage and touched my husband's shoulder with her paw and picked us for her forever family.  We brought her back with us to the US last year when we returned from being overseas for over 23 years..."
Thank you for reading! Feel free to email us anytime. We'll be back Sunday...