TGIF! Brian Stelter here at 10:23pm ET on Thursday, June 23 with the latest on Donald Trump, Wordle, Mark Zuckerberg, Netflix, Taylor Swift, and more... 
"Selective news avoidance"
☝️ This is a phrase we're going to hear more often. It comes from the newest edition of the annual Reuters Institute Digital News Report. While most people "remain engaged and use the news regularly, we find that many also increasingly choose to ration or limit their exposure to it – or at least to certain types of news," the researchers wrote. And they cite a variety of reasons for doing so: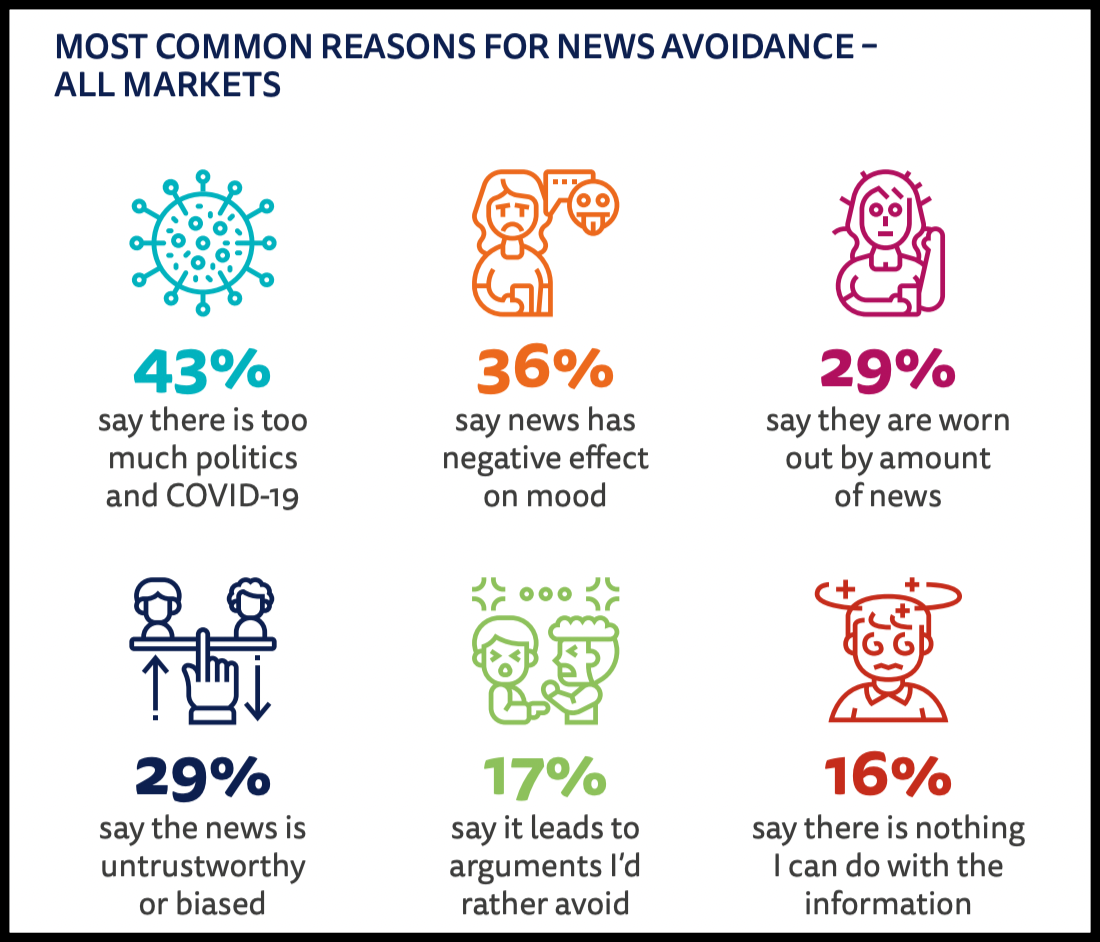 The institute's report is billed as "the most comprehensive study of news consumption worldwide." At the New York launch event this week, my ears perked up when I heard Rasmus K. Nielsen, director of the Reuters Institute for the Study of Journalism, describe the phenomenon. Media analysts have written a lot about news fatigue in the US, often in connection with exhausting Trump-related news cycles, but Nielsen has been seeing it elsewhere. The institute's surveys of online news readers in 46 markets found a growing amount of "news avoidance" from Brazil to Australia to the UK to the US.
Some people simply have "less interest in news than they had in the past," Nielsen said. And even among people who are generally avid news consumers, many are "selectively avoiding news often or sometimes," whether because the specific topic is a turnoff or the amount of info is overwhelming. 
"When we asked them why, part of this is about politics," Nielsen said. "Some would say they find the news untrustworthy or biased." But it's about more than that. "A large number of those who selectively avoid the news say the news has a negative effect on their mood," he said.
Think about it: A never-ending stream of news on a phone screen is like a piercing scream, far different from, for instance, a half-hour newscast that always ends with sports or a feel-good story. At the same time, the internet contains an equally never-ending number of alternatives to news. It's no wonder why more people are self-reporting that they are changing their habits.
Later, during a panel discussion sponsored by Reuters, Vox publisher Melissa Bell talked about the "powerlessness" that readers sometimes feel when confronted by bleak story after bleak story. She urged newsrooms to think about producing journalism "as a service to audiences" versus just an act of publishing.
Here are some other findings from the new report...
Stressful state of digital media
 -- Nielsen reminded attendees that "this is the most competitive marketplace for attention in human history..."
 -- Overall, the report stated, "trust in the news has fallen in almost half the countries in our survey, and risen in just seven, partly reversing the gains made at the height of the Coronavirus pandemic..."
 -- In the US, "those who self-identify on the right are more than twice as likely to distrust the news compared with those on the left. In early 2021 only 14% of those on the political right said they trusted the news." It's not like this in other countries. "In Finland," the report said, "we see almost no difference in news trust based on politics..."
 -- While some subscription models are encouraging, "much of the public isn't paying for the news" and many don't want to pay, Nielsen noted...
 -- One of his slides was titled "the Substack revolution still has some way to go." Roughly 1 in 5 Americans pay for any form of online news, the researchers found, and only 7% of them "currently pay for a journalist email." In other words, lots of room for growth...
 -- When researchers asked, "What's your main way of getting to news?," only 23% of respondents cited direct visits to news websites. The rest cited "side doors" like social media, search, and mobile alerts...
 -- "TikTok is globally the fastest growing network for news," the report said, and is most popular with under 25-year-olds. More broadly, "visual social networks continue to grow for news..."
 -- The researchers found that "growth in podcasts seems to have resumed, with 34% consuming one or more podcasts in the last month." Here's the full report...
 -- The researchers also took a look at perceptions of media coverage of the war in Ukraine... (Reuters Institute)
 -- Rick Edmonds asked the report's lead author, Nic Newman, to assess "what might be done about news avoidance..." (Poynter)
 -- The data shows that "younger audiences increasingly consume and think about news differently than older audiences do," research fellow Kirsten Eddy wrote. "They are more casual news users, rely more on social media, and are less connected to (and therefore less loyal to) news brands. They also have different perceptions of what news is and how it's practiced..." (NiemanLab)
 -- What's New In Publishing compiled "10 key takeaways," including that "interest in climate change news is higher than you think and that's an opportunity..." (WNIP)
 -- "I don't think we should feel defeated by this data, I think it's a challenge for journalists," Ros Atkins of the BBC said... (Reuters Institute)
Talking Wordle's future on this week's Reliable podcast
My podcast guest this week is Jonathan Knight, head of games at The New York Times. He joined the news outlet nearly two years ago -- a/k/a pre-Wordle -- and now oversees the viral hit word puzzle along with a portfolio of new and old games. We talked about Wordle's appeal; upcoming updates that will protect users' streaks and stats; and whether the game is serving as a funnel to turn players into Times readers. For now, Knight said, there are no plans to move Wordle behind the subscriber wall. 
 >> He also made this point that might relate to "news avoidance:" Games are "intended to give people a bit of a break from the news, which can be a tough read." He said that working on a product that "contributes to the independent journalism that's so important at The New York Times is super rewarding..."
 >> Tune in via Apple Podcasts, Spotify, Stitcher, TuneIn, or your favorite app...
A historic hearing 
BRIAN LOWRY WRITES:
For those who have talked about the production qualities of the Jan. 6 committee hearings, it was particularly notable how Thursday's news-breaking hearing built toward the revelation of the names of the members of Congress that had allegedly sought pardons. It was structured very much as if it was building toward a dramatic climax, saving the most newsworthy element -- the one seemingly destined to reverberate loudest in the days ahead -- to close the presentation.
True, except...
Right-wing media's news avoidance 
Fox News carried the first two hours of the hearing, in keeping with its apparent position that it shows 1/6 news during daytime hours but not during (much higher rated) evening hours. At 5pm ET the network immediately cut away to "The Five." That meant that Fox viewers didn't hear the pardon revelations live, nor did they hear Liz Cheney's closing statement "to millions of Americans who put their trust in Donald Trump." Cheney said "it can be difficult to accept that President Trump abused your trust, that he deceived you. Many will invent excuses to ignore that fact, but that is a fact. I wish it weren't true, but it is."
Fox's Chad Pergram summarized the pardons news on "Special Report" one hour later. As of 10pm ET, Fox's opinion shows had yet to deal with the damaging details at all. Tucker Carlson instead opened his show with a 13-minute monologue making fun of VP Kamala Harris. Later, he claimed that "what's happening in Congress right now is not about an insurrection, it's about using the mechanics of the federal government, which you pay for, especially the intel and law enforcement agencies, to crush and silence anyone who opposes the Democratic party."

Newsmax and One America News did not air the afternoon hearing or summarize the revelations. During the hearing, OAN re-aired a fringe movie portraying rioters as patriots and victims. At night, Newsmax's Rob Schmitt, a former Fox anchor, knocked Fox for showing some of the hearing "nonsense." Trump-aligned shows talk about everything except the coup plot...
 -- View from the left: "The narrative around the insurrection was an 'outside job,' an attack on the Capitol. And there was that. But the 'inside job' is harder to see in real time," Ari Melber said on MSNBC, "and this committee is meticulously pulling the information, getting the testimony and finding all these efforts at an 'inside job...'"
 -- View from the right: The Federalist EIC Mollie Hemingway tweeted, "Show trials are disgusting and deeply unAmerican. Anyone supporting them in any way is a bad American..." (Twitter)
 -- After the hearing, Jake Tapper interviewed Rep. Adam Kinzinger about the day's "bombshell testimony..." (CNN)
 -- Don Lemon's interview with inside-the-Trump-family filmmaker Alex Holder is airing now... (CNN)
 -- Margaret Sullivan says the 1/6 hearings "make for the startlingly loud wake-up call that we all need" about the threats to democracy. She writes about how journalists can best cover them... (WaPo)
 -- Molly Jong-Fast worried that the news media might "bury the findings" from the committee, but now she's reassessing: The hearings are working, "and even the staunchest Trump allies know it," she writes... (Atlantic)
 -- There is a lot of detail in this story on the "subtle stagecraft" behind the hearings, written by Sarah Ellison, Jacqueline Alemany, and Josh Dawsey. One nugget: "The committee has intentionally resisted jazzing up its video segments with the trappings of a slick, overly dramatized broadcast-news package..." (WaPo)
"Guns, guns, guns"
That's the banner headline on The Drudge Report tonight, reacting to the Supreme Court striking down a strict New York gun law. "Across the street from the court," The AP noted, "lawmakers at the Capitol sped toward passage of gun legislation prompted by recent massacres in Texas, New York and California. Senators cleared the way for the measure, modest in scope but still the most far-reaching in decades."
Shortly after 10pm ET the bill passed the Senate, and it now heads to the House, with a vote there expected on Friday. "The package amounts to the most significant new federal legislation to address gun violence since the expired 10-year assault weapons ban of 1994," CNN's team writes, "though it fails to ban any weapons and falls far short of what Democrats and polls show most Americans want to see."
SCOTUSblog overloaded 
I led last night's newsletter by writing about the success of SCOTUSblog – a point that was reiterated on Thursday when the site's servers struggled to keep up with all the traffic. The site failed to load for some users while SCOTUS handed down opinions. This was partly due to heavy traffic, Tom Goldstein told me, but the site was also "attacked" by digital bad actors. "It happened in the ACA year too," he said.
The live blog will be back up and running for Friday morning's rulings...
Cannes Lions concludes...
The Investigative Reporters & Editors' annual conference continues all weekend in Denver and online...
Game 5 of the Stanley Cup Final airs on ABC...
"Loot," with Maya Rudolph as a billionaire divorcee, and "Trevor: The Musical," a filmed presentation of the off-Broadway production, premiere on Apple TV+ and Disney+, respectively...
"Elvis" opens wide...
"Can media companies weather a recession?"
"While media executives are meeting with advertising leaders this week over glasses of rose at the annual Cannes Lions International Festival of Creativity, they can't help but talk about the disconnect between hanging out with celebrities on yachts and the creeping feeling that a recession is around the corner," CNBC's Alex Sherman wrote Thursday. While there are warning signs, "industry leaders feel their companies are finally lean and balanced enough to weather an advertising downturn without sacrificing profit or contracting their businesses..."
Speaking of Cannes...
 -- Brian Morrissey, author of The Rebooting, wrote up five "Cannes rules." Much "as the center of gravity at CES moves away from its roots in the newest advances in consumer tech, Cannes has moved far beyond being about creativity and become, increasingly, about the tech used for distribution and monetization..."
 -- Netflix "attended the global advertising confab" for the first time, "a clear sign the company is looking to embrace the ad industry," THR's Scott Roxborough wrote. Ted Sarandos was interviewed on stage by Kara Swisher about the company's plans for an ad-supported tier...
 -- CNN CEO Chris Licht and chief international correspondent Clarissa Ward held an on-stage conversation Thursday. Per TVNewser, Licht said "we are heading for consequential times that demand serious journalism..."
 -- Google president Allan Thygesen talked with AdAge about "Netflix rumors, cookies and TV upfronts..."
 -- At a Wednesday panel, News Corp. CEO Robert Thomson urged governments to "crack down on Big Tech's self-dealing..."

"Safeguarding elections is no longer Zuckerberg's top concern"

That's what four Meta employees with knowledge of the matter told NYT's Sheera Frenkel and Cecilia Kang. The two reported that the core election team at Facebook has "been dispersed." And the remaining team members, Frenkel and Kang reported, no longer meet with Mark Zuckerberg, but another exec instead. "The shift in emphasis at Meta, which also owns Instagram and WhatsApp, could have far-reaching consequences as faith in the U.S. electoral system reaches a brittle point," Frenkel and Kang wrote. Read their full story here...
 >> Zuckerberg's priorities were also made clear through his interview with Jim Cramer on CNBC. One of the takeaway headlines: "Zuckerberg envisions a billion people in the metaverse spending hundreds of dollars each..."
 >> Cramer evidently came away impressed: "People should be buying this stock," he said Thursday...
FOR THE RECORD, PART THREE
 -- Stories about Gavin Newsom and 2024 are piling up. Here's one of the latest: "Newsom jumps onto the national stage and Bidenworld takes notice..." (Politico)
 -- Speaking of Newsom, "the California governor recently joined Truth Social, where he's calling out 'Republican lies' — and, to critics, helping legitimize an upstart right-wing platform..." (VF)
 -- Erik Wemple writes about Dominion's legal victory over Fox this week: Rupert Murdoch "needs to be heard. And a deposition would be a dandy setting..." (WaPo)
 -- "Book bombs:" Daniel Lippman, Meridith McGraw and Max Tani describe how "Trump aide tell-alls fail to sell..." (Politico)
 -- This is a fantastic piece by Anna Merlan on why some right-wing influencers are "obsessed" with organ meats: "The 'carnivore diet'—or, more specifically, an organ meat-centric one—has proved to be a meeting place for a variety of extremely online and highly bizarre people..." (Vice)
Senators call for US probe into Abu Akleh death
In a letter to President Biden, 24 Democratic Senators are calling on the US to take charge and establish an independent investigation into the death of Palestinian-American journalist Shireen Abu Akleh. The veteran reporter was shot dead in May, while reporting in the West Bank city of Jenin. As The Hill's Laura Kelly points out, the IDF says Abu Akleh was "not intentionally shot by an IDF soldier," but "multiple media outlets have conducted investigations into Abu Akleh's death that have pointed to Israeli military fire." The two dozen senators demanding action are also echoing calls made by Congress for the US to get "directly involved" to uncover the "truth and provide accountability..."
FOR THE RECORD, PART FOUR
Netflix lays off about 300 staffers
"Layoffs have hit Netflix again, with the streamer letting go of roughly 300 staffers on Thursday," Variety's Jennifer Maas and Brent Lang reported Thursday. The news confirmed what Variety first reported earlier in the week. A Netflix spox confirmed the layoffs, saying "we made these adjustments so that our costs are growing in line with our slower revenue growth." 
 >> More: In a memo to staff, obtained by THR's J. Clara Chan, Netflix co-chiefs Reed Hastings and Ted Sarandos said that they understood the "two rounds of layoffs have been very hard for everyone." But, they added, "We plan to return to a more normal course of business going forward. And as we cut back in some areas, we also continue to invest significant amounts in our content and people..."
TikTok's biggest star
The 22-year-old comedian Khaby Lame, who "launched his TikTok channel and shared his first comic video in March 2020, after he was laid off in the early days of the COVID-19 pandemic," is "now the official king of TikTok," Variety's Todd Spangler reports. "The short-form comedy video virtuoso now has 142.8 million followers on TikTok, which puts him above previous top TikTok creator Charli D'Amelio (who currently has 142.3 million)." Read all about him here...
FOR THE RECORD, PART FIVE
"Elvis" has entered the theaters
Director Baz Luhrman's frenetic editing style (see "Moulin Rouge!") clash with the storytelling demands of a biographical movie in "Elvis," a misguided film that squanders Austin Butler's performance in the title role and seriously misuses Tom Hanks as his manager Col. Tom Parker, who serves as the narrator/guide to this bizarre Warner Bros. release. Read on...
 -- 🚨 Attention Swifties: Taylor Swift's new single "Carolina" is set to drop at midnight... (Billboard)
 -- Mandy Patinkin and Kathryn Grody are set to star in a Showtime comedy pilot inspired by their real life marriage... (Variety)
 -- Netflix has renewed "Selling Sunset" for a season six and seven... (Deadline)
 -- But "Selling Sunset" star Maya Vander will not be returning to the show after suffering her second miscarriage... (US Weekly)
 -- The cast of "Outer Banks" season three is starting to come into focus, with Andy McQueen, Fiona Paloma, and Lou Ferrigno Jr. joining... (Deadline)
 -- CBS has revealed its fall premiere dates... (THR)
"Beavis and Butt-Head Do the Universe" comes more than a decade after the last production around the animated duo, and 26 years after their previous movie where they "did" America. Yet Mike Judge's creation -- now headed to Paramount+ -- hasn't really missed a beat, providing the streaming service with a significant asset that proves as relentlessly goofy as ever...
John Williams' final film score?
"John Williams is putting the final notes on what may be his last film score," the AP's Jake Doyle wrote Thursday. Williams told him: "At the moment I'm working on 'Indiana Jones 5,' which Harrison Ford — who's quite a bit younger than I am — I think has announced will be his last film. So, I thought: If Harrison can do it, then perhaps I can, also."
That quote prompted Doyle to note that "Ford, for the record, hasn't said that publicly. And Williams, who turned 90 in February, isn't absolutely certain he's ready to, either." But for now, "Williams is devoting himself to composing concert music..."
LAST BUT CERTAINLY NOT LEAST...
Pet of the day!
Reader Taylor Kelley emails a photo of Nina: "I found her at a rescue group. She was found on the streets of Juarez, Mexico. Although she has been through a lot  she is now adjusting to a safe loving home..."
Thank you for reading! Feel free to email us anytime. We'll be back tomorrow...