Brian Stelter here. It's 9:35pm ET on Monday, June 20. Tuesday is the longest day of the year in the Northern Hemisphere, a fact that I have strong feelings about, since my kids wake up with the sun at 5:15am. That's why I'm trying to file early! Here's the latest on SCOTUS, Netflix, Kevin Feige, Beyoncé, "Sesame Street," and more...
A "people-hunting video"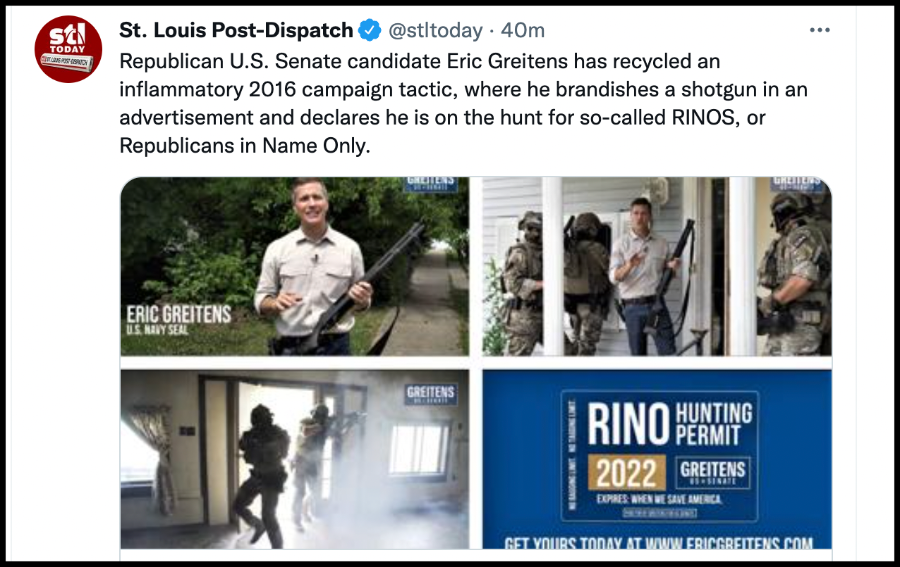 Missouri news outlets did not mince words about Monday's new campaign video from Republican U.S. Senate candidate Eric Greitens. "Gun-wielding Greitens releases violent ad targeting other Republicans," the St. Louis Post-Dispatch said. An article by the Kansas City Star was even more blunt, calling it "Greitens' people-hunting video."
In the violent ad, Greitens "is depicted as hunting RINOs," short for "Republicans in Name Only," CNN's Chris Cillizza wrote. He barges into a home with a tactical unit and uses hunting terminology: "Join the MAGA crew. Get a RINO hunting permit. There's no bagging limit, no tagging limit and it doesn't expire until we save our country."
Greitens is not a fringe candidate. He is the disgraced former governor of the state. As Jake Tapper said on CNN, "You would think a candidate who has been accused of spousal and child abuse by his ex-wife... might consider a less violent appeal to voters." His guest S.E. Cupp pointed out that Greitens is "leaning in" to the controversy, "very smugly promoting it," even though the ad is "crazy, creepy and chilling."
Later in the day, CNN chief political analyst Gloria Borger said the ad is evidence that "the Republican party right now is in a very dark, dark place." So, let's explore this in more detail. The video posed obvious challenges for tech platforms...
Donie's key points
DONIE O'SULLIVAN WRITES:
The main story here should, of course, be on the campaign and Republicans' response. But this is also the first high profile test of Silicon Valley's implementation of its rules ahead of the midterms. Perversely, the inventive for some Republicans now seems to be creating deliberately provocative videos that might break social media platform rules – that way, when the video is removed, they can fundraise off the back of "tech censorship" cries. As The Hill's Niall Stanage said, this is a "window onto the bigger problem of how the worst behavior is so deeply incentivized, all across the board..."
In the public interest?
DONIE O'SULLIVAN ADDS:
So here's how the platforms responded to Greitens on Monday: Facebook removed the video for violating its violence and incitement policies. YouTube left the video up but said it won't let it run as an ad. Twitter's response drew a lot of criticism, but may be the most nuanced. Twitter allowed the video to stay on the platform, but put a label noting it did break its rules but determined "it may be in the public's interest for the Tweet to remain accessible."
That public interest line raised some eyebrows – but Twitter's position here is that the public should be able to see the good, bad, and ugly from candidates for public office and make up their own minds. It's a policy that has been in place for a few years – so shouldn't be viewed as Twitter pandering to potential future owner Elon Musk. But the question for Twitter, and all the platforms, is where to draw the line between public interest and allowing content that might potentially inspire violence? This campaign season, it is a dilemma they are likely to face again and again...
An "undeniable connection"
"There is an undeniable connection between what the angry right-wing mob does on the ground and what it sees from the Republican elite," liberal WaPo columnist Paul Waldman wrote Monday. "And what do members of the right-wing mob see? Every day on Fox News and other conservative media outlets, they get a deluge of histrionic outrage and apocalyptic warnings about 'groomers' preparing to abuse their children, about the coming genocidal campaign against White people, about antifa coming to burn down their towns, about the impending outlawing of gun ownership and Christianity and everything else they hold dear."
"If you actually believed all of it," Waldman wrote, "violence might seem a reasonable response, just like storming the Capitol might seem reasonable if you believed Donald Trump's lies about the 2020 election..."
 -- CNN and MSNBC programs pointedly did not show the ad, but discussed it several times on Monday. The only mention I could find on Fox was when Martha MacCallum asked J.D. Vance about the ad, and he said "it's clearly a TV advertisement meant for effect..." (Mediaite)
 -- Former GOP Rep. Denver Riggleman's point on "AC360:" Greitens is "talking to live action role players, he's talking to LARPers, and any idiot can pull a trigger." He said people can be radicalized through this "ridiculous buffoonery..."
 -- MSNBC's Chris Hayes called it a "clearly calculated attention grab from a desperate candidate" and an "intentionally outrageous performance of fascist violence..." (Twitter)
 -- Bakari Sellers on CNN: "Is Mitch McConnell going to say something?" Is John Cornyn "going to say something?" And so on... (CNN)
 -- Garrett Graff's reaction to all the news coverage on Monday: "Seems to me" Greitens "is getting everything he wanted out of a pro-assassination and insurrection TV ad..." (Twitter)
 -- Professor Robert Pape: "When individuals feel more confident and legitimate in voicing violent sentiments, it can encourage others to feel more confident in making actual violence easier. Unfortunately, this is a self-reinforcing spiral..." (NYT)
Tuesday's 1/6 hearing
The House 1/6 committee "has done a masterful job laying out its case in a way that's informative and compelling," Poynter's Tom Jones wrote Monday. "And there's still much more to go."
Tuesday's hearing will begin at 1pm ET, just like last Thursday's session. It will focus on how Donald Trump and his allies "pressured state-level officials to overturn the 2020 election results," with four live witnesses, three from Georgia and one from Arizona, CNN's team reports. Testimony from officials in Michigan and Pennsylvania will also be shown. Details here...
 >> Trump on Newsmax Monday night: "We did nothing wrong other than complain about the election." It's "freedom of speech," he added...
Cannes Lions continues all week long...
President Biden will visit a DC site offering Covid-19 vaccines to kids under 5...
Primaries in DC and Virginia and runoffs in Alabama and Georgia...
New nonfiction releases include Marie Brenner's "The Desperate Hours" and Ed Yong's "An Immense World..."
A special edition of "20/20" will preview the new "Elvis" film...
SCOTUS watch
There are 18 cases remaining in the Supreme Court's term. "These are some of the most blockbuster cases of the term, and this term is the most explosive one in decades," CNN's Ariane de Vogue said on "The Lead with Jake Tapper." She said "this June is like no other that I've ever covered." Read her related story here. An unknown number of opinions will be issued on Tuesday. The Drudge Report's banner headline captures the uncertainty:
 -- Expect to hear more about the Uvalde massacre on Tuesday. "It took a bit…but information is starting to come to light," CNN's Shimon Prokupecz wrote Monday night. "Local reporters [are] starting to get access to information." On Tuesday "we are expected to hear PUBLICLY from the head of DPS, Steve McGraw, for the first time since his statements about the botched police response..." (Twitter)
 -- Biden "snapped at a reporter Monday after she asked him about the possibility of a looming recession..." (Mediaite)
 -- On Monday night Sean Hannity led with Biden falling off a bike on Saturday and said the media is "barely reporting on Biden's fall at all..."
 -- Following up on our preview in last night's newsletter, here is Dexter Filkins' profile of Florida Gov. Ron DeSantis, "a regular on Fox News, second only to Donald Trump as a figure of admiration..." (New Yorker)
 -- Related: Piers Morgan's newest column is titled "it's time to dump The Donald and run with The Ronald..." (NYPost)
 -- David Zurawik's latest column is titled "The media is awash in Trump coverage…again." (CNN)
YOU HEARD IT HERE FIRST
Bill Moyers' donation
On Tuesday Hunter College will announce that legendary broadcast journalist Bill Moyers has donated "a large selection of 300 books and original period magazines about the Progressive Era," and on topics like public policy, democracy, and economic inequality, to the Roosevelt House Public Policy Institute. "Moyers acquired many of the materials during years of research for a projected PBS documentary series about the Progressive Era," the college says. Roosevelt House was Franklin and Eleanor's NYC base, and the collection will be housed there...
FOR THE RECORD, PART THREE
 -- This year's Cannes Lions festival is "sure to be raucous and spirited..." (Page Six)
 -- Mark Landler summing up the biggest mystery in UK media right now: "The Times of London reported that Boris Johnson once tried to hire his mistress (now wife) as his chief of staff. Then the article vanished from the paper, without any explanation. And the reporter stands by every word. So many questions..." (NYT)
 -- Former BBC cameraman Peter Jouvenal was "among five British men released from Taliban custody," Susannah George reports... (WaPo)
NYT probe finds Abu Akleh killed by bullet from Israeli convoy 
A monthlong investigation by the NYT found that the bullet that killed journalist Shireen Abu Akleh "was fired from the approximate location of the Israeli military convoy, most likely by a soldier from an elite unit." The NYT investigation comes just weeks after a CNN investigation found evidence Abu Akleh "was killed in targeted attack by Israeli forces." NYT said evidence it reviewed "showed that there were no armed Palestinians near her when she was shot," contradicting claims she could have been mistakenly killed during a clash with a Palestinian gunman. Read the full NYT piece here...
FOR THE RECORD, PART FOUR
Netflix "deeply saddened" about deaths of two actors
On Monday, Netflix "released an official statement following the tragic death of actors Raymundo Garduño Cruz and Juan Francisco González Aguilar," Deadline's Rosy Cordero reports. The two men were working on the series "The Chosen One" when a vehicle en route to a local airport crashed and flipped in Santa Rosalía-Loreto, Mexico last Thursday. Four others were injured. "Friends of Garduño and González spoke out on Sunday asking for a thorough investigation alleging there were logistical and transportation issues with the production..."
More layoffs at Netflix this week?
"Netflix is bracing for its next round of layoffs as the streaming giant looks to cut costs in the wake of its stock troubles," Variety's Brent Lang reports. "Impacted staff are expected to be told at the end of the week. It's unclear what departments are going to be hit, but sources suggest that the cuts could be similar in size to the round of reductions undertaken in May..."
Viewers cheer CNN's Juneteenth special
A Twitter search for Juneteenth and CNN turned up lots of very satisfied viewers during Sunday night's concert special. If you missed the show, Scottie Andrew has a full recap here.
During the pre-show, Don Lemon interviewed Opal Lee, the 95-year-old woman heralded as the "grandmother of Juneteenth" for helping lead the fight to make it a federal holiday. "I'm still pinching myself it really happened," she told Lemon.
Biden appeared on the special in a pre-taped video. He said "one of the great honors I have had as president was to sign the bill making Juneteenth a national holiday..."
Feige vows the future of MCU will become clearer

BY OLIVER DARCY:
Marvel chief Kevin Feige is reassuring fans that the future of the post-infinity War MCU will become clearer in the near future. "As we're nearing the end of Phase 4, I think people will start to see where this next saga is going," Feige told Total Film mag. "I think there have been many clues already, that are at least apparent to me, of where this whole saga is going. But we'll be a little more direct about that in the coming months, to set a plan, so audiences who want to see the bigger picture can see a tiny, tiny, tiny bit more of the roadmap..."
Beyoncé dropping new song at midnight
Beyoncé is about to release her first new single in two years. "The Grammy winner subtly shared the news in the bio of her social media pages, writing '6. BREAK MY SOUL midnight ET,'" Chloe Melas wrote. "The track would be the first single off of her upcoming seventh studio album, 'Renaissance,' which is due out July 29..."
"1932" becomes "1923"
"The latest Yellowstone prequel will actually be taking place a decade earlier than previously said," TVLine's Meredith Jacobs wrote Monday. "Paramount+ announced, as part of the streaming service celebrating its debut in the U.K. and Ireland, that Taylor Sheridan's next installment in the hit franchise has been renamed to 1923 (formerly 1932). The next Yellowstone origin story stars Helen Mirren and Harrison Ford and, with the change, will account for the end of World War 1 (1918) and the start of Prohibition (1920), both of which will be woven into the story." It debuts in December...
Lost episode of "Sesame Street" brought back to life?
"An episode of 'Sesame Street' reportedly deemed too scary for kids after being aired once in the 1970s was resurrected over the weekend after being posted on YouTube and Reddit — and it was bringing back childhood memories and even nightmares for some," USA Today's Natalie Neysa Alund wrote Monday. The 1976 episode starred Margaret Hamilton, "reprising her role as the Wicked Witch of the West from 'The Wizard of Oz.'" It was "taken out of rotation after parents complained," according to AV Club's William Hughes, but now it has reemerged on the web...
An apology to Ross Douthat
BY BRIAN LOWRY:
Yesterday, in an effort to make a broader point about NYT op-ed columnists using their forums to weigh in on pop-culture issues, I overlooked that Ross Douthat also works as a film critic for National Review. It was a poor example, and I apologize to Mr. Douthat and regret the error.
LAST BUT CERTAINLY NOT LEAST...
Pet of the day!
Andy in Baltimore writes: "I just happened to be reading this newsletter on my phone when our dog Howard came up to me and stuck his nose in my face. Coincidentally, this was after breakfast..."
Thank you for reading! Feel free to email us anytime. We'll be back tomorrow...