Brian Stelter here. It's 7:49pm ET on Sunday, June 19. Here's the latest on The AP, The New Yorker, Melissa Francis, Sundar Pichai, AVOD, "Lightyear," and more...
The "democracy beat"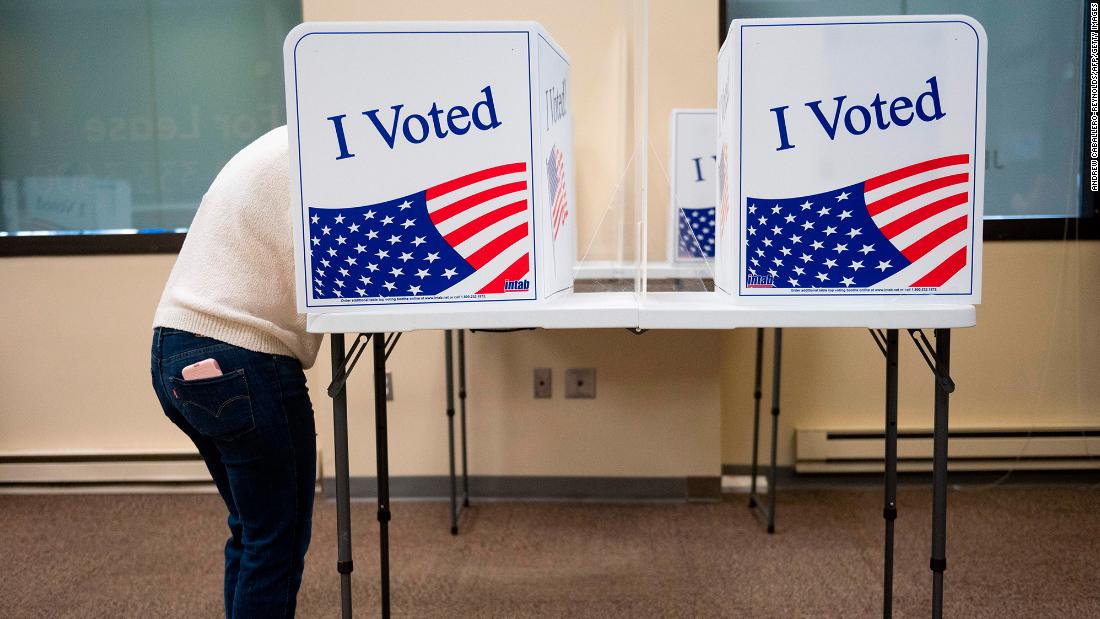 "2024 is going to be a mess," Republican Rep. Adam Kinzinger said on "This Week" Sunday, citing stories of political leaders and election administrators who "don't believe" in democracy.
"We're in a very rough time in America right now," Democratic Rep. Zoe Lofgren said on "Face the Nation." All of us "need to stand up for the rule of law and against political violence."
"I think that Donald Trump is going to be a candidate in '24. The voters still like him a lot," Republican Rep. Fred Upton said on "State of the Union."
By continuing to attack Mike Pence, Trump is "essentially saying, 'Yeah I did it and I'll do it again,'" Democratic Rep. Jamie Raskin said on "Meet the Press." "If you allow impunity for attempts at unconstitutional seizures of power, which is what a coup is, then you're inviting it again in the future."
The Sunday show conversation underscores why the "democracy beat" is crucial right now. Outlets like the Washington Post and The Associated Press have been staffing up to cover threats to democracy. (The AP named Tom Verdin to a newly created post, democracy news editor, about a week ago.) "The democracy beat is now everyone's beat," Blake Hounshell of The New York Times wrote earlier this month.
Otero County, New Mexico is a prime example. False fraud claims "threw primary certification into question," as CNN's Fredreka Schouten reported here. 
Many of the falsehoods were focused on Dominion's voting machines. The company said the Otero County standoff was "yet another example of how lies about Dominion have damaged our company and diminished the public's faith in elections."
"If you think about what happened in New Mexico potentially playing out across the country in November, in the midterm elections, or in a general election in 2024, I think it certainly could provide enough fodder to keep a democracy editor and a democracy team quite busy," AP executive editor Julie Pace said on Sunday's "Reliable Sources..."
"Truth on the one side and lies on the other side"
On Sunday's show, HuffPost editor in chief Danielle Belton was outspoken about the urgent nature of the story. "We have an extremist wing, an extremist element, within the conservative movement that is trying to basically take over the Republican party," she said, asserting that "the press, American people, all of us, anyone who's pro-democracy, pro-free press, pro-equality, this is what we're up against because these are the things these people do not want."
At the same time, I pointed out, when pollsters for Fox News asked "which party would 'do a better job' on 'preservation of American Democracy,' 46% of registered voters said Republicans compared to 45% who said Democrats." This beat is more complicated than it may appear at first glance.
"We have to make sure," as reporters, that "we have the right language for this moment," CNN WH correspondent John Harwood said. "The traditional way that we cover political disputes, in Congress for example, is Democrats on one side, Republicans on the other. The spectrum is liberal to conservative. We should not take sides on liberal versus conservative. However, this situation -- the Trump era more generally, but this particular situation -- that's not the spectrum. The spectrum is truth on the one side and lies on the other side." With many Republicans echoing Trump's lies, "we can't shrink from identifying who is on the truth side and who is on the lying side," Harwood said...
Most Americans are not following the 1/6 hearings closely
The House's 1/6 committee will hold its next public hearing on Tuesday. So far, and so unsurprisingly, "Democrats are more likely to be following the hearings," a new ABC News/Ipsos poll found. "Overall, 34% of Americans are following the hearings very or somewhat closely, with 43% of Democrats and 22% of Republicans saying so. In a reminder of where political attention is, just under one in 10 (9%) Americans say they are following the hearings very closely."
 -- Juliette Kayyem says the hearings "give the former president's followers a new excuse to quietly back away..." (The Atlantic)
 -- Ezra Klein diagnoses "an almost Olympian refusal to confront the present" in a column titled "This Is a Weirder Moment Than You Think..." (NYT)
 -- On "SOTU," former Trump WH aide Alyssa Farah Griffin told Dana Bash that "she heard Trump admit privately that he lost the 2020 election to Joe Biden..." (CNN)
 -- Rethinking the phrase "The Big Lie:" On Sunday's "Reliable," I asked Reason mag's Robby Soave about the recent internal conversation at CNN, and he said "I think 'Trump election lies' is a more accurate way to describe it," since there have been other, bigger lies in history. "Commentators should make their own good judgment for themselves," he added... (CNN)
 -- Over the weekend Trump repeatedly distorted the story by wrongly saying that the guidance was a mandate. "So," Caleb Howe wrote, "Trump lied about CNN calling his lies a lie. Makes sense, I guess?" (Mediaite)
CNN's star-studded Juneteenth special
"Juneteenth: A Global Celebration for Freedom" is taking place tonight at the Hollywood Bowl, live on CNN. Per Chloe Melas, "concert performers will include Chaka Khan, Khalid, Yolanda Adams, Jill Scott, Anthony Hamilton, Billy Porter, Debbie Allen Dance Academy, Earth, Wind & Fire, Jhené Aiko, Killer Mike, Lucky Daye, Mary Mary, Ne-Yo, Michelle Williams, Mickey Guyton, Robert Glasper, The Roots and Bell Biv DeVoe. The Re-Collective Orchestra, a 68-piece all-Black symphony orchestra, will also perform." Don Lemon is hosting pre-event and post-event coverage...
Media week ahead calendar
Monday morning: Golden State Warriors championship parade in SF...
Monday evening: Game 3 of the Stanley Cup Final airs on ABC...
Tuesday morning: The Supreme Court issues opinions...
Tuesday: New releases include Marie Brenner's "The Desperate Hours" and Ed Yong's "An Immense World..."
Wednesday: VidCon begins in Anaheim...
Wednesday: "Chernobyl: The Lost Tapes" premieres on HBO, and the "Obi-Wan Kenobi" finale drops on Disney+...
Thursday evening: The NBA Draft airs on ESPN and ABC...
Friday: "Elvis" hits theaters...
Saturday: The Aspen Ideas Festival begins...
Cannes Lions week
The International Festival of Creativity officially begins Monday "on the French Riviera, after a two-year Covid-19 hiatus," as Insider's Cannes blog reports here. It is one of the year's top events for ad and marketing execs as well as the wider media world. AdAge has a what-to-expect story here.
 >> Leslie Sims, U.S. chief creative officer at Deloitte Digital, told Digiday that the festival "will likely have two vibes happening:" Celebration "since it is the first time back in-person in two years, and yet also a more reserved tone given the complicated issues the world is facing..."
ALSO COMING UP THIS WEEK...
 -- Texas lawmakers are set to hold additional meetings as they investigate what went wrong in Uvalde. The front page of Sunday's San Antonio Express-News, citing a source, reported that "Police never tried to open class door..."
 -- Jurors in the Bill Cosby sex assault case "will resume deliberations Monday after saying they had decided most, but not all, of the issues raised," the NYT reports...
 -- Tuesday is primary day in DC and Virginia... Plus there are primary runoffs in Alabama and Georgia...
Pichai on the Hill
As Brian Fung reported on Friday, Google CEO Sundar Pichai will be in DC this week to meet with lawmakers. Why? Because lawmakers who are backing a bipartisan antitrust bill targeting Big Tech "are trying to engage in a last-minute push to get this bill through with a Senate floor vote," Fung said on Sunday's show. The bill "really drives at the business models of some of these companies, which is why they're so dead set on fighting it..."
"Everybody wants to be TikTok" right now
That's how Kaya Yurieff summed up the current state of play in the tech space. "TikTok has just captured young people," she said on the show. "It's captured the cultural zeitgeist. It's just far ahead of these competitors." Since the likes of Meta can't buy up TikTok, due to the regulatory environment, "their second best option is to copy them," and that's what users are noticing now. She said Elon Musk has TikTok envy, too...
 -- New reporting from Edward-Isaac Dovere: "Homeland and national security officials are warning of a potential hybrid Russian effort for November, staging hacks meant to get detected and then feeding that into disinfo channels to undermine faith even more in US elections..." (Twitter)
 -- On Sunday's "Reliable," we explored why Biden's age is becoming a hot topic in the media. And no, it's not because he fell off his bike on Saturday... (CNN)
 -- SNEAK PEEK: Dexter Filkins' newest piece for The New Yorker is a profile of Ron DeSantis, including details about his relationship with Fox News and his dynamic with Trump. The profile will be online Monday at 6am ET at this link...
WaPo: Fox paid Melissa Francis $15 million
WaPo reporter Sarah Ellison's big Sunday scoop: "Fox News agreed to a roughly $15 million settlement with a female former host," Melissa Francis, "who complained about gender-based pay disparities at the cable news network." Ellison indicated that she saw the documents that proved it. She also interviewed Francis. The massive payout "underscores perennial concerns that women do not prosper as well as men in this industry — an issue Francis says she personally attempted to investigate by researching what her peers earned at Fox." Read on...
 >> Fox News said in a statement to CNN that the allegations by Francis "were entirely without merit." Fox "has always been committed to the equitable treatment of all employees..."
 >> Ellison's story noted that Fox's general counsel Lily Fu Claffee left the company "shortly after authorizing the settlement Francis would eventually receive..."
 >> Francis still has a pending complaint with the New York State Department of Labor "claiming that Fox retaliated against her after she pointed out pay disparities..."
Fox's version of an "insurrection"
While the news media over the weekend relayed to viewers the revelations from the 1/6 hearings, Fox was focused on another "insurrection." The right-wing channel treated the Capitol Hill arrest of Stephen Colbert's production team as one of its top stories, with star personalities framing the incident as a security breach that implicated Democrats and the media. In fact, Tucker Carlson went as far as to say the producers "committed insurrection." Here's my full story...
 >> Fox focused much of its attacks on Adam Schiff, framing him in coverage as having played a crucial role in allowing the Colbert production team into the Capitol. But Schiff participated in an interview with the Colbert crew Thursday morning at around 10 a.m., an aide to his office told me. That's 10+ hours before the crew was arrested. And Fox's own reporter, Chad Pergram, tweeted that it was someone other than a member of Schiff's office who let the crew into the Longworth Building later in the day...
 >> Of note: Colbert himself has yet to comment on the incident. Will he break his silence on Monday? 
FOR THE RECORD, PART THREE
 -- One of Politico's most-read stories of the weekend: "Herschel Walker received resounding applause from evangelical Christian activists on Saturday, following revelations he had fathered three children he had not previously discussed publicly..." (Politico)
 -- Angry right-wing protesters confronted GOP Rep. Dan Crenshaw on Saturday. Some called him "Eyepatch McCain," an insult "coined by Fox News host Tucker Carlson..." (NYPost)
 -- It is "absolutely disgusting that the far-right has turned a Navy SEAL's war wound into some lame attempt at derision," Jake Tapper said... (Twitter)
Remembering Mark Shields
Mark Shields, the political sage and longtime analyst for CNN and PBS, died Saturday morning. He was 85. "We at CNN were so fortunate to work with such a kind, brilliant, funny man," Rick Davis, a former executive producer of "Capital Gang," said. Shields, a co-host of the program for 17 years, "was the same person to the powerful politicians as he was to youngest staffer on our team," Davis recalled.
Shields was a regular presence on the PBS "NewsHour" for 33 years. He was beloved by staffers as well as viewers. On Sunday's "Reliable," his daughter Amy Doyle, an executive producer at TLC, talked with me about her dad's legacy. "He loved people and he loved politics," she said. He grew up in a time when "people listened to each other, and that is what he definitely wanted to pass on, I know, to the future."
 >> "To me, Mark represented an inclusive and empathetic liberalism," Paul Begala wrote in this tribute column...
FOR THE RECORD, PART FOUR
 -- "Scenic designer Victor Paganuzzi, who created the iconic set for the long-running morning show 'Sunday Morning,' and countless other CBS programs, died Thursday. He was 90." He "spent a quarter-century creating the look of the network's election coverage and special broadcasts..." (CBS)
 -- "Mean Tweets, Internal Battles, Finding Direction:" Politico's Max Tani spoke with WaPo journalists about the state of the publication and exec editor Sally Buzbee's first year... (Politico)
 -- Via Mediagazer: The Times (UK) "withdrew a story about Boris Johnson without explanation after printing it in some editions," and "MailOnline and aggregators removed a rewrite of the story." The Guardian has more here... (Guardian)
"The tailwind is behind AVOD"
That's what Farhad Massoudi, the CEO of Tubi, told the WSJ about his ad-supported video-on-demand platform and others. Lillian Rizzo and Joe Flint filed an in-depth new story about the growth of free-to-use streaming services. Pluto TV CEO Tom Ryan said "people are creating their own bundles right now, and they are only willing to pay for a certain number of apps. We want to complement those paid apps."
 >> Overall, the ad-supported streamers – both free apps and the ad-supported versions of services like HBO Max -- are "expected to generate nearly $19 billion in revenue this year, more than doubling their 2020 haul, according to Insider Intelligence projections." More...
FOR THE RECORD, PART FIVE
 -- The aforementioned Joe Flint spoke with Seth MacFarlane, Liz Meriwether, and Danny Strong for this story about Dana Walden's promotion... (WSJ)
 -- Here's how Vince McMahon opened WWE "Smackdown" on Friday amid a "corporate firestorm..." (CNN)
 -- All across the entertainment industry, "everyone right now is terrified of the economic outlook," Tatiana Siegel said on the newest episode of The Ankler's weekly podcast... (The Ankler) 
Production halted after deadly accident 
An accident "claimed the lives of two actors and injured two cast members and four crew members" who were filming the Netflix series "The Chosen One" in Mexico last Thursday. "Production of the series has been temporarily paused by Redrum, the company running the filming," Deadline's Bruce Haring wrote Saturday. Details about the incident still appear to be scarce...

"Lightyear" fizzles
BY FRANK PALLOTTA:
This was Pixar's worst opening in years. "Lightyear" opened to an estimated $51 million at the North American box office, way under industry expectations, which projected the film to make around $70 million. The film also failed to grab the top spot at the box office, opening at No. 2 behind the second weekend of Universal's "Jurassic World: Dominion," which made an estimated $58.6 million.
Elsewhere at the box office, "Top Gun: Maverick" came in third place with $44 million for its fourth weekend. That's a drop of just 15% from last week. Remarkable stuff...
Lowry's "Lightyear" analysis
BY BRIAN LOWRY:
The second-guessing on "Lightyear's" below-expectations opening should be long, detailed and (thanks to the political aspects of its gay kiss) pretty stupid, but the most intriguing culprits boil down to this: Did Disney misread the market by essentially hiding the premise from the audience, or was that premise itself the problem, which explains the studio's coyness? Also, having sent the last several Pixar movies directly to streaming, did a segment of the audience that was expected to show up simply decide to wait? Obviously, people are going back to theaters for certain kinds of fare, but the possibility that the studio undercut itself by launching titles like "Turning Red" via streaming is an interesting one, and has implications on those decisions going forward...
 -- The latest edition of Lisa Respers France's "Pop Life Chronicles" recommends three things to watch, including "God's Favorite Idiot;" two new albums to hear; and something to sip on... (CNN)
Write what you know!
BY BRIAN LOWRY:
I hereby (half-jokingly) suggest a pact where film critics swear off politics if New York Times op-ed columnists stop writing about movies. Without refuting or dissecting them point by point, the shortcomings in Ross Douthat's latest column – essentially envisioning two very different films, "Top Gun: Maverick" and "The Northman," as a portal to Hollywood's past – underscore what can happen when news-based columnists choose to dabble in pop culture, a beat where (much like sports) everyone presumes that they're an expert...
LAST BUT CERTAINLY NOT LEAST...
Pet of the day!
NYT's chief HR officer Jacqueline Welch sends a photo in of her dog, Bones Benjamin Welch...
Thank you for reading! Feel free to email us anytime. We'll be back tomorrow...