Brian Stelter here. TGIF! It's 10:46pm ET on Thursday, June 16. Here's the latest on Beyoncé, BuzzFeed, USA Today, TikTok, the Baltimore Banner, and much more...
"People are really, really down"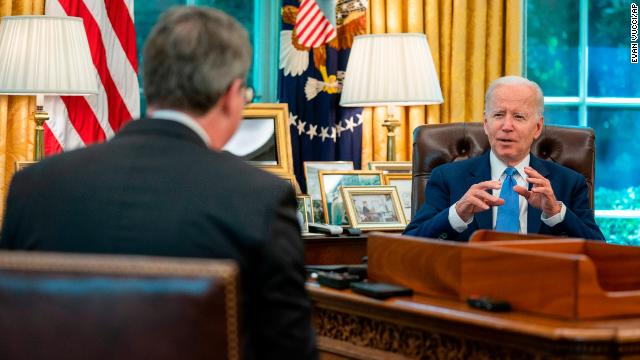 President Biden has given very few interviews this year. That fact makes his half-hour sit-down with Associated Press White House reporter Josh Boak all the more newsworthy. Thankfully The AP published the transcript in its entirety. Here are nine insights from the Oval Office interview:
 >> Biden's recognition that gas prices are paramount: "If you want a direct barometer of what people are going to talk about... and whether things are going well, it's the cost of food and what's the cost of gasoline at the pump. I mean literally at the pump."
 >> When Boak said "Republicans right now are saying to voters that inflation started with your COVID relief package," Biden said, "zero evidence of that." He also said "the idea that it caused inflation is bizarre." (In this detailed CNN Business story, Allison Morrow said "it's true that government spending boosts inflation," but noted that it's complicated and many other factors are involved.)
 >> Boak's main story after the interview led with this Biden quote: "People are really, really down. They're really down." He said it in the context of Covid-19. He said he thinks people "vastly underestimate" the impact of school closures and other Covid disruptions. "Think about it across the board," he said. "How isolated we've become. How separated we've become."
 >> Biden cited "overwhelming evidence" about the pandemic's impacts "on the psyche," including the deaths of so many people. "So you're talking about a country that has undergone profound psychological trauma," Boak said. "Yes," Biden answered. "What can you as a president do," Boak began to ask, "to address that psychology," and Biden answered mid-sentence: "Be confident."
 >> Biden also touched on the nation's psyche while invoking climate change: "You got the tundra melting. We've got the North Pole, I mean, so people are looking and I think it's totally understandable that they are worried because they look around and see, 'My god, everything is changing.' We have more hurricanes and tornadoes, flooding." Then he brought up Yellowstone.
 >> The president alluded to his media diet a few times. He mentioned early pandemic era videos of cars lining up for food donations. He said the "MAGA party" tries "to make me out to be this socialist." And he cited a positive article, apparently on his desk, from The New York Times Magazine.
 >> Donald Trump on the mind? The funniest part of the transcript is when Biden called Boak a "young man;" Boak said "I feel like I'm getting more gray hair every day, sir;" and Biden said "Well, I tell you what, at least you're keeping it. I'd settle for orange if I had more hair."
 >> Biden brought up the impending SCOTUS ruling about abortion on his own, and then he circled back to it later, too: "Even people who are not pro-choice are going to find it really, really off the wall when a woman goes across the state lines and she gets arrested for where she's going." 
 >> At the very end, as Biden lambasted Republicans for being "out of the mainstream of where the public is," he said, "I knew I was stepping into a difficult moment, but — Can I say something off the record?" So it's anyone's guess what he said then. Read the rest of the transcript here...
More interviews to come?
Thursday marked The AP's first Biden interview of his presidency. (Many other major
American news outlets still haven't had one.) Reporters referred to the Q&A as "rare" and barely concealed their hopes that he'll speak more often.
When I inquired with the White House about what the interview said about Biden's broader media strategy, I didn't hear anything definitive. CNN's Edward-Isaac Dovere wrote earlier this month about the administration's messaging struggles. Biden complimented Boak during the sit-down, saying "I'm impressed by your objectivity, how you write," so perhaps the president's readership led to the interview. I'll ask AP exec editor Julie Pace when she joins me on Sunday's "Reliable Sources..."
 -- "Joe Biden should not run for reelection in 2024. He is too old." That's the beginning of Mark Leibovich's latest piece for The Atlantic. Read the rest and see if you're persuaded... (Atlantic)
 -- Interesting framing: Bidenworld believes "we won the Covid battle, lost the political war," Adam Cancryn writes, as "the nation has moved on to abortion, inflation and guns..." (Politico)
 -- Max Tani and Alex Thompson describe how the White House is working "behind the scenes to get more of its perspective on Fox's website..." (Politico)
 -- Friday is the 50th anniversary of the Watergate break-in. The Washington Post has a special online section full of coverage... (WaPo)
 -- It's the differences between then and now, not the similarities, that stand out most. As former publisher Donald E. Graham wrote in this retrospective, had the "fake news" phrase been around in 1972, "Nixon's folks would have gratefully used it..." (WaPo)
 -- James Hamblin quipped Thursday: "The Jan. 6 hearings are like Watergate but if dozens of staff testified that the president told them to break into the Watergate … then publicly shamed his vice president for not breaking into the Watergate … then continued to insist that breaking into the Watergate is very good..." (Twitter)
"Watergate: High Crimes in the White House" airs on CBS, while History repeats its six-part 2018 docuseries "Watergate" to mark the break-in's 50th anniversary...
"Lightyear" zaps into theaters, and is expected to top the weekend box office...
"Good Luck to You, Leo Grande," a showcase for Emma Thompson, premieres on Hulu...
Savannah Guthrie's interview with Amber Heard airs as a special "Dateline" hour...
Helpful reads about the 1/6 hearing
If you missed Thursday afternoon's hearing, CNN's team has eight takeaways here. Most major networks carried it live, though NBC only showed the first hour on broadcast TV before switching to the US Open. Lester Holt encouraged viewers to stream the rest of the hearing, but the golf coverage sent a message about priorities, that's for sure.
Fox News showed the proceedings but quickly moved on afterward, after only a few minutes of analysis that minimized the revelations. Newsmax mostly ignored it and featured guests who said, in essence, that the American people don't care. (CNN's Avery Lotz flagged a quote from Rep. Jeff Van Drew, who called the investigation "General Hospital on steroids.") OANN featured 1/6 deniers and far-right guests who sympathized with riot suspects.
To understand the right-wing media's attitude toward the hearings, read Mollie Hemingway's latest essay for The Federalist, attacking "the media aristocracy" for focusing on the "Stalinist show trial" because "it's a vehicle to get rid of the politician they detest." 
And for a broader look at opinions across the country, check out this story by a team of WaPo reporters who expertly captured the moment in history, weaving in the voices of many hearing viewers and avoiders. They concluded that a "sense of despair" – a feeling "that only those who already viewed Trump as a threat to democracy are gaining wisdom from the hearings" – was "palpable in many places...."
Conversation starters
 -- Why didn't Trump's inner circle intervene? On Thursday's "The Lead," Jake Tapper invited Sandra Garza, partner of fallen Capitol Police officer Brian Sicknick, to look into her camera and address Jared Kushner and Ivanka Trump directly. Garza said: "Jared, Ivanka, yes, it's hard to stand up to a family member... But you could have done something. You could have avoided the bloodshed that took place..."
 -- Will the former VP speak out? "To live up to the praise being bestowed upon him, Mike Pence must testify next week in prime time and finish the job," Tim Miller wrote for The Bulwark...
 -- "Listening to these hearings, you can see why Republicans, both in electoral politics and in the media, worked so very hard to keep them from ever coming about," National Review's Jay Nordlinger commented...
 -- "If nothing else, today showed that the Trump years were poetically bookended by two very public uses of the 'P-word,'" Elliot Williams tweeted...
 -- Per The Hill, "a judge in Delaware on Thursday ruled that a defamation lawsuit against Newsmax filed by Dominion Voting Systems can proceed..."
TikTok exec on "massive difference" the app has with Facebook

TikTok exec Blake Chandlee, a veteran of Facebook, drew a strong distinction between the ByteDance platform and FB during an interview Thursday with CNBC's Alex Sherman. "Facebook is a social platform," Chandlee said. "They've built all their algorithms based on the social graph. That is their core competency. Ours is not." Instead, Chandlee said, TikTok is an "entertainment platform" that cannot be easily copied by Facebook. "The difference is significant," he said. "It's a massive difference."
Chandlee recalled how Google was unable to replicate the social experience Facebook offered its users, despite investing significant sums of money into Google+. "It became clear Google's value was search and Facebook was really good at social," Chandlee said. "I see the same thing now." More here...
 >> All that said: "Instagram is chasing TikTok with a new full-screen experience test," The Verge's Mitchell Clark reports... 

 -- At his first virtual forum with Twitter employees, Elon Musk "doubled down on his desire to relax content restrictions" and "laid out some ambitious plans for the company," Clare Duffy and Donie O'Sullivan report... (CNN)
 -- Big Tech companies "have signed up to a new EU rulebook for tackling online disinformation," James Vincent writes... (The Verge)
 -- "A tracking tool installed on many hospitals' websites has been collecting patients' sensitive health information ... and sending it to Facebook," Todd Feathers, Simon Fondrie-Teitler, Angie Waller, and Surya Mattu report... (Markup)
 -- VP Kamala Harris is launching "a new national task force aimed at helping to prevent and address online harassment and abuse," Sam Fossum writes... (CNN)
Richard Spencer, blocked
BY SARA ASHLEY O'BRIEN:
Earlier this week, Jezebel EIC Laura Bassett wrote about a bizarre text exchange with the white nationalist Richard Spencer. She contacted Spencer after she was tipped off to his having a Bumble profile, and he reportedly confirmed the account was his. But was Bumble aware that Spencer is among its users?
I asked Bumble and a spokesperson got back to me Thursday to say that Spencer has, indeed, been blocked – sometime after Bassett's story ran. "We are dedicated to building a community where our members feel safe to make connections and build meaningful relationships," the spokesperson said. The company encourages people to report profiles based on offensive behavior both on and off its app...
USA Today removes 23 stories over "fabricated" quotes

USA Today on Thursday said that it had removed 23 stories from its website after an internal investigation found that one of its journalists had apparently made up quotes. The audit into the journalist, breaking news reporter Gabriela Miranda, had "revealed that some individuals quoted were not affiliated with the organizations claimed and appeared to be fabricated," the paper said in note posted online from managing editor of standards Michael McCarter. Miranda, who could not be reached for comment, resigned from the paper, USA Today said. Here's my full story...

>> More: NYT's Ben Mullin and Katie Robertson, who broke the story, reported that during the probe, USA Today determined Miranda "took steps to deceive investigators by producing false evidence of her news gathering..."
New BuzzFeed News boss

BY OLIVER DARCY:
BuzzFeed News on Thursday named Karolina Waclawiak as its next editor-in-chief. In a note to employees, which you can read in full here, interim EIC Samantha Henig (who steadied the ship for the past three months) said that Waclawiak, who has been BuzzFeed News' culture editor, "impressed everyone on the hiring committee." Her appointment marks the first time the newsroom has been led by a woman.
 >> Leaks on leaks: The news, Henig told staffers, was not supposed to be made public for a few days. "We had planned to announce this news early next week," Henig told employees, "but somehow it began to leak, so we're rushing to tell you now so you hear it from us before you hear it from the WSJ." I'm told that WSJ's Alexandra Bruell was working on the story before BuzzFeed News rushed its memo to employees. NYT's Katie Robertson, however, was first to break the news via Twitter, citing the internal memo sent to employees...
FOR THE RECORD, PART THREE
 -- Rebecca Kutler, most recently the SVP and head of programming for CNN+, is departing the company after a distinguished career at CNN... (Variety)
 -- Jason Fields is joining Newsweek as deputy opinions editor with a remit to "bring fresh voices and views from the left..." (Newsweek)
 -- ABC News has announced its 2022 midterm campaign producers/reporters: Libby Cathey, Miles Cohen, Abby Cruz, Hannah Demissie, Lalee Ibssa, Will McDuffie, and Paulina Tam... (ABC PR)
 -- When I was in Baltimore on Thursday, the first billboard I noticed on I-83 was a big ad for the Baltimore Banner, which officially launched on Tuesday. The nonprofit local news startup has "a newsroom staff of 42 journalists that it plans to grow to about 70 reporters and editors by the end of the year..." (Baltimore Fishbowl)
Remembering Dom Phillips
Friday's front page of The Guardian pays tribute to Dom Phillips, "the journalist who died trying to warn the world about the war on nature." Brazilian authorities say a man has confessed to killing Phillips and researcher Bruno Araújo Pereira in a remote region of the Amazon. Jonathan Watts' appreciation for The Guardian says Phillips' journalism "was always aimed at making the world a fairer, more accountable and enlightened place. To my mind, this made him a 21st century war correspondent as well as a witness to a crime that probably led to his death..."
The 19th, in-person
When your news brand launches in the middle of a pandemic, the prospect of an in-person gathering can feel very far away. But on Friday it's finally happening for The 19th. The nonprofit newsroom's 2022 summit was virtual earlier this week but on Friday it will also take place in-person in DC.
"It's taken more than two pandemic years for The 19th to gather in person, and we couldn't be more excited about it," Emily Ramshaw, co-founder and CEO of the gender, politics and policy newsroom, told me. "Our first summit marked the 100th anniversary of suffrage. This year, it feels fitting to be marking the 50th anniversary of Title IX..."
FOR THE RECORD, PART FOUR
BY AN PHUNG:
 -- Christine Armario and Elahe Izadi report on the "political brawl over a Miami giant of Spanish talk radio." The duo writes that "the sale of conservative Radio Mambí to Democratic owners has become a flash point in a debate about Spanish-language misinformation..." (WaPo)
 -- Joe Adalian has this perspective on Bob Chapek's decision to sack Peter Rice and promote Dana Walden: "In all the stories that have been written about how well Rice's TV units have been doing of late, what has gotten lost is that Walden — not Rice — is the exec most TV industry insiders would likely credit with those triumphs..." (Vulture)
 -- I hope American media execs read this: "Britons cancelled over 1 million music subscriptions in the first quarter as a worsening cost of living crisis forced them to make savings, industry data showed on Thursday..." (Reuters)
🎤 New RS podcast: Inmate turned reporter Keri Blakinger
When Keri Blakinger joined The Marshall Project to cover the country's prisons and jails, she was billed as the organization's "first formerly incarcerated reporter." In a new memoir, "Corrections in Ink," she shares her personal experience with the criminal justice system, from her arrest for heroin possession to her two years behind bars, and how being a former inmate impacts her reporting. We talked about all of it on this week's "Reliable Sources" podcast episode. Blakinger shared a wonderful story about how her reporting helped hundreds of toothless Texas inmates get dentures. She also critiqued how other news outlets cover America's prison system. Tune in via Apple Podcasts, Spotify, Stitcher, TuneIn, or your favorite app...
NBC's currency conversation
BY BRIAN LOWRY:
NBCUniversal laid out a presentation on Thursday about shifting criteria in negotiating ad sales and seeking more accurate data, claiming that 40% of its business for this year's upfront market "will be conducted outside of traditional 'age and gender' guarantees." The information regarding the studio's work with iSpot essentially updated a plan to shift away from reliance on Nielsen announced in March. Deadline's Dade Hayes has more here...
FOR THE RECORD, PART FIVE
 -- Rapper Nipsey Hussle's last moments were detailed "at the outset of a long-delayed murder trial..." (AP)
 -- "Anheuser-Busch InBev is giving up its exclusive Super Bowl ad rights in alcohol, a distinction the world's largest brewer has held for 33 years..." (AdAge)
 -- Prime Video has poached Netflix comedy exec Casey Benesch... (Deadline)
 -- "The Jennifer Hudson Show" is set to launch Sept. 12, Elizabeth Wagmeister reports... (Variety)
Beyoncé releasing 'Renaissance' next month
We don't know much about Beyoncé's next project, but we do know that it's coming. Tidal, the streaming service purchased by her husband Jay-Z in 2015, tweeted a hint on Thursday. "Beyoncé RENAISSANCE July 29," the post reads. Those visiting the store on her site are able to pre-order "Renaissance" box sets including a CD, a t-shirt and a 28-page booklet. More here...
 -- ABC has unveiled its fall 2022 premiere dates... (THR)
 -- HBO Max has renewed "Hacks" for a third season... (TV Line)
 -- The season four trailer of "Westworld" has dropped... (Deadline)
 -- Marvel is developing a "Wonder Man" series... (THR)
 -- Mick Jagger has shared that his health is improving after testing positive for Covid-19, Lisa Respers France reports... (CNN)
 -- Netflix has released the first look at "Blonde," in which Ana De Armas absolutely morphs into Marilyn Monroe... (Tudum)
There's not a lot new to be done with the spy genre, but "The Old Man" doesn't really try, with Jeff Bridges and John Lithgow classing up the joint as a retired agent being hunted again after living off the grid and the weary bureaucrat charged with finding him. It's simple pleasures (and gritty violence) reminded me of "Robin and Marian," a 1976 movie that saw an aging Robin Hood dealing with his geriatric limitations and the Sheriff of Nottingham grudgingly pursuing him...
LAST BUT CERTAINLY NOT LEAST...
Pet of the day!
Reader Anna Vital emails: "My rescue dog Sweets listening to me read Reliable Sources..."
Thank you for reading! Feel free to email us anytime. We'll be back tomorrow...