Brian Stelter here at 10:34pm ET on Tuesday, June 14. Here's the latest on Zoe Lofgren, WaPo, Elon Musk, James Patterson, Vice Media, Ryan Gosling, and more...
"This was a close call"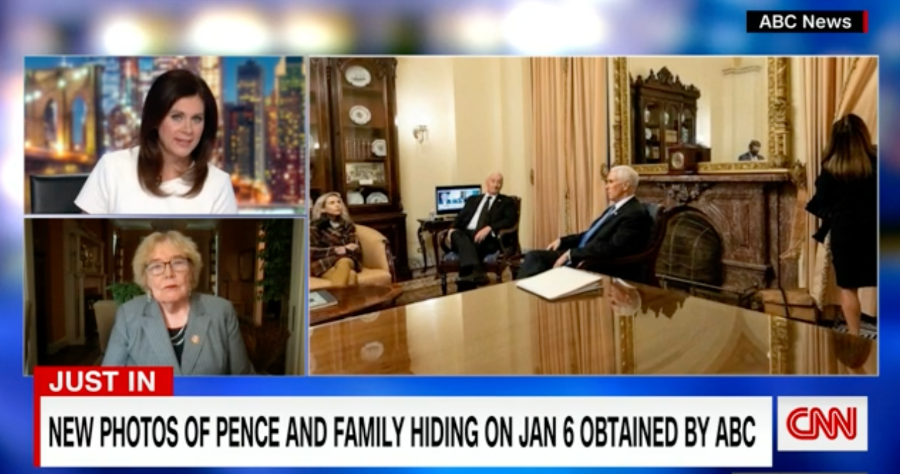 The House's 1/6 committee will try another new time slot on Thursday: An early afternoon window for East Coast viewers, which amounts to a lunchtime window for viewers in the west. The hearing will begin at 1pm Eastern and will feature two announced witnesses in person: Greg Jacob, who served as counsel to VP Mike Pence, and J. Michael Luttig, a retired judge and informal Pence adviser. 
CNN's special coverage will begin at noon. Other major networks, from ABC to CBS, Fox News to MSNBC, will show the hearing live, just like they did on Monday. CNN's team reports that the committee will use the hearing to advance the case that Donald Trump's "pressure campaign on his vice president to overturn the 2020 presidential election 'directly contributed'" to the January 6 attack.
On Wednesday, in the run-up to the hearing, ABC's Jon Karl shared photos of Pence and his family sheltered in the Capitol during the riot. Karl had previously described the photos in his book "Betrayal." CNN's Erin Burnett asked committee member Rep. Zoe Lofgren about what the photos show that the public doesn't already know.
"I think the public is probably not aware how close a call this was," Lofgren said. "The rioters came very close to capturing the Vice President, and I think there's very good evidence they would have done harm to him, perhaps even killed him. So this was a close call."
An "ongoing threat"
At Thursday's hearing, per committee aides, "the panel also intends to demonstrate at the hearing that there's an 'ongoing threat' to democracy from people advocating the false view that the 2020 election was rigged." 
 >> Related? "The potential for far-right Republicans to reshape the election systems of major battleground states is growing much closer to reality," the NYT's Reid J. Epstein and Nick Corasaniti write...
 >> The pro-Trump right's growing narrative is that "no one cares," so to speak, about the 1/6 hearings. The argument from Sean Hannity et al is that 1/6 was bad, but that most Americans moved on a long time ago...
 -- Former Pence chief of staff Marc Short sat down with Wolf Blitzer on Wednesday... (CNN)
 -- CBS reported that Luttig will tell the committee that "America's democracy was almost stolen from her..." (CBS)
 -- Public Religion Research Institute CEO Robert P. Jones says this month's 1/6 hearings "will tell something that we don't know right now: How impenetrable is the tribalism?" (CNN)
 -- Stephen Engelberg argues that "one should be cautious in predicting the effect congressional investigations will have on public opinion..." (ProPublica)
 -- Paul Farhi writes about how some PBS stations are choosing to carry programs like "Curious George" over the 1/6 hearings and "essentially consigning the hearings to second-class status" by streaming the sessions online... (WaPo)
Thinking about "The Big Lie" 
Does the phrase "The Big Lie" reduce a complex topic to a politically provocative hashtag? On Wednesday Mediaite's Aidan McLaughlin and Puck's Dylan Byers reported that CNN CEO Chris Licht suggested that staffers should steer away from it. 
According to McLaughlin, Licht "was asked for his thoughts about it" during a Tuesday conference call with exec producers. While "he made clear this was a preference, not a mandate," he "encouraged producers to instead use the terms 'Trump election lie' or 'election lies' in banners and graphics." The reasoning: "According to a source, Licht argued that using 'the big lie' makes the mistake of adopting branding used by the Democratic Party, thereby weakening the objectivity of the network."
This is a fascinating inside-the-newsroom discussion – and it shows that editorial choices should be made thoughtfully...
Here is the WSJ's lead by Nick Timiraos, who telegraphed this move earlier in the week: "The Federal Reserve approved the largest interest-rate increase since 1994 and signaled it would continue lifting rates this year at the most rapid pace in decades to fight inflation that is running at a 40-year high..."
 >> That "so-called 75-basis-point move appears to have chastened Wall Street," CNN's Allison Morrow wrote. "It showed the Fed was serious but not panicking. Markets rallied in afternoon trading..."
 >> More: CNN's Matt Egan explains "what today's Fed rate hike means for you..."
 -- "What, media worry?" Heidi Chung says execs at this week's Credit Suisse comms conference were bullish about the operating environment... (Variety)
 -- "The Great Resignation is pivoting to a forced resignation," Jon Swartz writes, noting thousands of layoffs in tech, "compounded by hiring freezes and a slowdown in hiring..." (MarketWatch)
 -- Big story in Thursday's WSJ: The board of World Wrestling Entertainment is investigating a "secret $3 million hush pact by CEO Vince McMahon," Joe Palazzolo and Ted Mann report... (WSJ)
 -- This just in: "Disney has postponed shifting 2,000 California jobs to Central Florida until at least 2026..." (TheWrap)
 -- Tom Tapp's reaction to the news: "What a difference a year makes..." (Deadline)
Elon Musk takes questions from Twitter staffers during a virtual all-hands meeting...
Game 6 of the NBA Finals airs at 9pm ET on ABC...
"The Old Man," starring Jeff Bridges as a spy who comes out of retirement, premieres on FX...
It's the seven-year anniversary of Trump's ride down the escalator...
"Khashoggi Way" unveiled outside Saudi embassy

Biden's anticipated trip to Saudi Arabia faced even more criticism on Wednesday as activists and members of Congress gathered to unveil "Jamal Khashoggi Way" outside the Middle Eastern country's embassy. Speaking at the street naming, which was approved by the DC City Council last year, activists implored Biden to reconsider meeting with the Saudi leaders. "We will hold the Biden administration to account for its treacherous betrayal of the promises it made to the American people, the promises the America people wanted to hear, which is to end support for the brutal dictatorship of Saudi Arabia," said Sarah Leah Whitson, exec director of Democracy for the Arab World Now. CNN's Chandelis Duster has more here and Washingtonian's Andrew Beaujon has more here...
Bloomberg staffer released on bail in China, authorities say
BY SIMONE MCCARTHY:
Haze Fan, a Chinese national employed by Bloomberg News, was released on bail earlier this year following more than a year in detention, according to Chinese authorities. But Bloomberg has not been able to contact Fan, the company said...
Here's what Musk might say
"Elon Musk is expected to confirm his desire to own Twitter when he speaks to the social-media company's employees on Thursday," the WSJ's Cara Lombardo reported, citing "a person familiar with the matter." Lombardo said Musk will share his view of Twitter's "importance in the world;" "is likely to clarify recent comments" about remote work; "and touch on aspects of his strategy for Twitter, including the role of advertising and subscriptions..."
FOR THE RECORD, PART THREE
 -- The aforementioned Elon Musk has "appealed a judge's refusal to end his 2018 agreement with the SEC requiring a Tesla lawyer to vet some of his posts on Twitter," Jonathan Stempel reports... (Reuters)
 -- Twitter "now allows local businesses to display location, hours, and contact info on their profiles," Ivan Mehta reports... (TechCrunch)
 -- The EU is expected to publish its "updated code of practice on disinformation on Thursday as part of its crackdown against fake news..." (Reuters)
 -- Max Chafkin writes that Sheryl Sandberg's wedding planning is "the least of Facebook's Sheryl Sandberg problems..." (Bloomberg)
 -- "After nearly 27 years, an iconic Microsoft product is finally being put to rest. Internet Explorer 11 is now incompatible with Microsoft products..." (CNN)
Google touts YouTube Shorts' reach as TikTok war intensifies

Google said Wednesday that YouTube Shorts has reached 1.5 billion monthly logged-in users. As Variety's Todd Spangler wrote, "The figure is meant to be a flex showing YouTube Shorts' reach -- especially relative to TikTok." Google has been pouring significant resources -- including a $100 million fund to incentivize creators -- into its short-form video alternative to TikTok. YouTube said that it has found that there is a new class of "multiform creators" who use short, long, and live video to reach their audience in unique ways. Spangler has more here...
 -- Speaking of the TikTok threat: Facebook is planning to change its algorithm to better compete with the ByteDance app, Alex Heath reports... (The Verge)
FIRST IN RELIABLE:
Vice Media Group "slowing down on new hires"

Vice Media Group is taking its foot off the gas pedal. The company announced to staffers Wednesday that it will be easing up on new hires. A spokesperson confirmed that news to me, saying in a statement, "In an effort to increase efficiency, VMG is currently slowing down on new hires as we prioritize. We continue to have many open positions in key areas of growth."
 >> In yet another signal that "companies are bracing for possible recession," Spotify is set to slow down its hiring by 25%, the WSJ's Anne Steele reported Wednesday...
FOR THE RECORD, PART FOUR
 -- James Patterson's new memoir debuts at #1 on the NYT's nonfiction best seller list this week. Also new this week: Dan Pfeiffer's "Battling the Big Lie" at #6, Tim Kennedy's "Scars and Stripes" at #8, David I. Kertzer's "The Pope At War" at #10, and Lindsey Fitzharris's "The Facemaker" at #15... (NYT)
 -- Speaking of Patterson, he apologized for saying in an interview with the UK's Sunday Times that White men are kept from getting writing jobs due to "racism." He says "I absolutely do not believe that racism is practiced against White writers." Scottie Andrew has details here... (CNN)
 -- WaPo and Tina Brown Media have partnered to host the annual Global Women's Summit... (WaPo)
 -- NPR's David Folkenflik landed the first interview with Seth Rich's parents, Joel and Mary, "since they reached a confidential settlement in fall 2020" with Fox News and Fox Corp. He says the Riches' experience shows that "conspiracy theories can be brought to heel, but not without, in this case, a grievous emotional toll..." (NPR)
 -- I missed this the other day: "Longtime CBS News correspondent Richard Schlesinger, a fixture on the newsmagazine '48 Hours,' is retiring after nearly four decades at the network..." (AP)
WaPo starts social media listening tour

The first of four social media listening sessions got underway Wednesday evening at WaPo. Staffers have been sent an early draft of the paper's updated policy and are now being asked to weigh in on it. "We are eager for your feedback and working toward a new policy together in these sessions," deputy managing editor Mark W. Smith wrote staffers in an email. The sessions will take place throughout the week... 

FOR THE RECORD, PART FIVE
 -- Theodore Schleifer has a fascinating look at "crypto king" Sam Bankman-Fried's "media dreams." S.B.F. wants to fund journalism, and has hired consultants who are "helping him to make connections across the media funding world..." (Puck)
-- "Meet Bob Dylan, crowd-pleaser:" Mikael Wood reviews the 81 year old's "deeply satisfying concert" at Hollywood's Pantages Theatre... (LAT)
 -- "Raffaele Annecchino, president of Paramount International Studios, Networks and Streaming has been put 'on leave' from the company 'effective immediately...'" (Variety)
"Why was Rice so unceremoniously ousted?"
Two excellent points from Kim Masters' THR story about Peter Rice and Disney:
 >> In a town that goes to such great lengths to avoid the word "fired" -- people invariably take production deals or "choose" to spend more time with their families -- why was Rice so unceremoniously ousted?
 >> And to what extent did the friction cited in the WSJ's recent coverage stem from an unwieldy structure implemented by CEO Bob Chapek, "separating creative decisions from financial and distribution calls," which was considered confusing at the time and remains baffling to many?
 -- Michael Peterson spoke with Addie Morfoot and slammed HBO's depiction of him in "The Staircase," including asserting that it was "homophobic..." (Variety)
 -- Billy Crystal will star in Apple TV+'s limited series "Before..." (THR)
 -- Manny Montana is set to join the MCU, playing a star role in the Disney+ series "Ironheart..." (Deadline)
 -- Gina Rodriguez is set to play a role in a "Lost" style Amazon thriller about a missing airplane... (TV Line)
 -- Apple has renewed "Swagger" for a second season... (Deadline)
Britney Spears granted a restraining order against her ex
Earlier this week Britney Spears' ex-husband Jason Alexander pleaded not guilty to charges of misdemeanor trespassing after allegedly breaking into the singer's home on her wedding day. Spears' attorney Mathew Rosengart told CNN that the singer was also granted a restraining order against Alexander, which will remain in effect for three years. Rosengart said he is working closely with law enforcement... More here...
Promo photo of the day
"A first look at Ryan Gosling in 'Barbie' has sent the internet into a frenzy," 13 full months before Warner Bros. releases the movie, Scottie Andrew writes.
"It's the first official image of Gosling" as Ken, "the character made famous in the toy aisle," she writes... "But in terms of plot, the photo is all we've got to go on (as well as a photo of Robbie posing in-character with a pink convertible). Will Barbie tire of Ken's shirtless, vapid ways? Will Ken prove to his beloved Barb that there's more to him than an absurd amount of abdominal muscles? Or will Ken conspire against Barbie and become the villain of her story?"
LAST BUT CERTAINLY NOT LEAST...
Pet of the day!
Reader Ian Umansky emails: "Dusty is waiting for me to get home from school so that I can take her out to play ball. She is a 12 year old Sheltie and I am a teacher at Somerville High School..."
Thank you for reading! Feel free to email us anytime. We'll be back tomorrow...