Oliver Darcy here at 11:20pm ET on Tuesday, June 7. Here's the latest on Matthew Chance, Kara Swisher, Page Six, George Clooney, "Ms. Marvel," and so much more...

WaPo intervention

Sally Buzbee has had enough. The Washington Post executive editor sought to reign in her newsroom with a memo on Tuesday that carried a far firmer tone than her note about "respect and kindness" from Sunday.
Buzbee started the new memo by reiterating The Post's values against "racist or sexist behavior." She then, "in the strongest of terms," outlined rules that all staffers are expected to follow. "We do not tolerate colleagues attacking colleagues either face to face or online," Buzbee wrote. "Respect for others is critical to any civil society, including our newsroom."
The bottom line? Stop tweeting and focus on working! After all the recent episodes involving Felicia Sonmez, David Weigel, and other staffers, Buzbee wants buzz about the newsroom's scoops, not its internal strife. "To be clear: We will enforce our policies and standards," Buzbee wrote. 

"I'm proud to work here"
Shortly after Buzbee's memo went out to the newsroom, some of the most prominent reporters at The Post tweeted a version of this: The paper is not perfect, but they are proud to work for it. Here are just a few of those tweets:
 >> Ashley Parker: "The Post is not perfect. No institution is. But I'm proud to work here. I love coming to work (almost) every single day, and knowing that my colleagues are collegial, collaborative and fun humans — not to mention talented journalists — who are always striving to do better."
 >> Dan Baiz: "Collegiality and collaboration long have been hallmarks of The Post's culture. It is filled with good and talented people who take their work seriously and who also enjoy each other's company. We make mistakes and try to learn from them. I've felt proud and lucky to be here."
 >> Amber Phillips: "Working at The Washington Post, I'm in awe almost every day how such talented journalists, from all backgrounds, can also be so collegial and thoughtful and caring. I love working here, and I love helping improve it..."
 >> Josh Dawsey: "No institution is perfect, including the Post. But the place is filled with many terrific people who are smart and collegial. I'm proud to work here..."
The tweets were designed to send a clear message that many staffers have had a positive experience. I'm told that no editors were involved in the effort and that it was an organic attempt amongst staff aimed at regaining control of the narrative about the paper – i.e., to shift the message away from the rabble-rousers...

Yet more infighting
That said, Buzbee's memo failed to stop all of the infighting. Sonmez, the politics reporter who filed a lawsuit against the paper last year and has been extraordinarily critical of The Post leadership in the past few days, continued to tweet critically of the paper. Sonmez retweeted a person who mocked the efforts from her colleagues to voice pride in working at The Post. And she tweeted a screen grab showing she is still blocked by her colleague, Jose A. Del Real, who challenged her: "So I hear The Washington Post is a collegial workplace," she sarcastically wrote. That prompted The Post's Lisa Rein to quip back, "Please stop." Sonmez replied and asked, "Do you have any idea of the torrent of abuse I'm facing right now?"
I checked in with WaPo spokesperson Kris Coratti to see what The Post's leadership was doing about the matter. Coratti replied, "While we have not commented publicly, make no mistake, this is being addressed directly with the individuals involved."

"I never expected that I could help set fire to The Washington Post"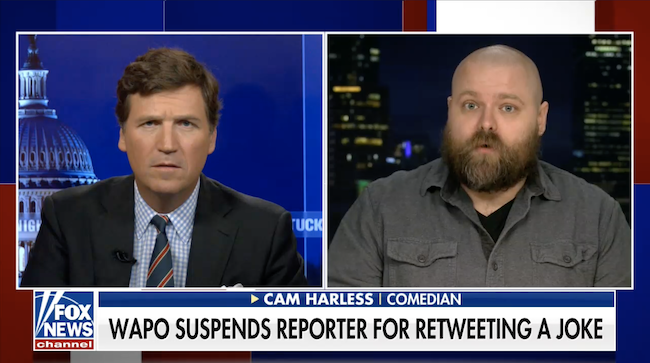 Meanwhile, Tucker Carlson couldn't resist weighing in on the topic on Tuesday, using the disarray inside The Post to attack the newsroom as one full of "triggered" employees. Carlson chatted with Cam Harless, the YouTuber who made the original sexist joke that David Weigel retweeted and which set off the chain of events that led to the current infighting.
While the two did both attack Weigel, they also said they believed he shouldn't have been suspended. Harless said he could never have imagined what his tweet would do: "I never expected that I could help set fire to the Washington Post..."
 -- "Here's a full breakdown of the ongoing drama at the Washington Post..." (Mediaite)
 -- Josh Barro says "something has happened at The Washington Post over the last few days that is so bizarre and petty, it's hard for me to explain it to people who don't work in journalism without sounding nuts..." (Barro)
 -- The WaPo website's most-read story right now is a remarkable new story-behind-the-story of the paper's Watergate coverage from 50 years ago... (WaPo)
 -- A new DHS bulletin "warns US could see more volatile threats fueled by election misinformation and upcoming SCOTUS abortion ruling," Whitney Wild reports... (CNN)
Johnny Depp's attorneys, Camille Vazquez and Ben Chew, will be on "Today..."
The Tribeca Festival begins...
The TIME100 Gala takes place in NYC...
"Ms. Marvel" premieres on Disney+...
Game 3 of the NBA Finals airs on ABC...
President Biden appears on "Jimmy Kimmel Live..."
"The Janes," about pre-Roe abortion activists, debuts on HBO Max. Scroll down for Brian Lowry's review...
McConaughey's message
Matthew McConaughey stopped viewers in their tracks when he stood before the White House press corps on Tuesday and told the stories of Uvalde's young victims. As journalist Heidi Przybyla put it: McConaughey's "emotional rendering of the slain children ... isn't something we've seen. His delivery. The human detail. The destroyed little bodies, with green shoes as the only way to identify her." Even on Fox, John Roberts remarked it was "the best presentation that we've seen" from the WH podium "in a very long time."
McConaughey also met briefly with Biden. But he mostly used the visit to amplify his call for gun regulations from the podium. His comments were featured across broadcast and cable evening newscasts, and he was interviewed by Bret Baier on Fox's "Special Report." While Fox's prime time coverage was critical, from the coverage I watched, the hosts abstained from vicious attacks. On Sean Hannity's program, Dan Bongino said of McConaughey, "He sounds like he genuinely cares and I don't want to just sit here and say, 'You know what, forget this guy, you know, he's an actor.'" Bongino and Hannity did voice disagreement with most of what the actor proposed, but Hannity did leave open the idea of raising the age for purchasing AR-15-style weapons to 21. "That's a debate the American people certainly can have," he said. We'll see...
Celeb starpower really is power
BRIAN LOWRY ADDS:
It's easy to mock the political class or media outlets when they enlist entertainers to weigh in on the issues of the day. But the reaction to McConaughey's WH appearance is a pretty strong endorsement or at least encouragement of the practice, and reflects that however jaded they might appear, even Beltway types can occasionally be a little starstruck...
Data shows Fox "has dominated" Biden WH briefings
Which network was granted the most Qs at White House briefings between Jan. 1 and May 22? You may be surprised to learn that it was not CNN or NBC or CBS. No, per data in Erik Wemple's Tuesday story, it was Fox that "dominated." Wemple's story reported that Fox had been able to ask 347 questions in briefings, compared to 263 for CBS, 221 for NBC, 202 for ABC, and 184 for CNN. "It's important for readers and viewers to have factual information," a White House official told Wemple, "and sometimes that takes a more extended back and forth with follow ups to ensure our point of view is adequately represented accurately and fairly by reporters." 
Wemple pointed out that Fox personalities like Sean Hannity have not presented answers the WH has given to Fox fairly. "I wouldn't say we are crossing our fingers hoping Sean Hannity accurately or adequately reflects the views of the Administration on his show," the WH official responded. "We're not going to like every question asked, and reporters are going to push us on answers, but we strive to convey accuracy and transparency from the podium, while respecting the role of the press, including Fox News, in asking questions, whether we agree with them or not."
 -- "Some Democrats think the party should boycott Fox News. Not John Fetterman, though," Holly Otterbein writes. He is "airing one of his first two general election TV ads on the conservative network in an appeal to blue-collar voters..." (Politico)
 -- Justin Baragona reports on how the progressive group Media Matters has "issued a lawsuit threat to a former longtime staffer after he tweeted out an array of vague claims about the nonprofit organization allegedly covering up another employee's sexual misconduct..." (Daily Beast)
 -- Anna Merlan takes a look at a PR firm "paying TikTok influencers to promote liberal causes and hype Democrats' middling accomplishments..." (Vice)
 -- "Don't believe everything you read about the man in this photo:" Tiffany Hsu talks to Jordie Jordan, a gamer who "has been attached to a fake name and numerous bogus reports of his death, including from the mass shootings in Uvalde..." (NYT)
 -- Jake Tapper brought together Democratic Sen. Kristen Gillibrand and Republican Sen. Marco Rubio for a joint interview Tuesday on burn pits... (CNN)
And speaking of bipartisanship...
Romney and Osoff call for probe into killing of Abu Akleh
A bipartisan pair of senators, Republican Mitt Romney and Democrat Jon Ossoff, are calling for the State Department to investigate the death of Al Jazeera reporter Shireen Abu Akleh. The senators said they were "deeply disturbed by the killing of an American journalist" and urged the State Department to "ensure there is a full and transparent investigation and accountability." WaPo's Bryan Pietsch has more here...
CNN taken to secret site Ukraine uses to fire at Russian forces
For a package that aired Tuesday, CNN's Matthew Chance got remarkable behind-the-scenes access to the Ukrainian military. Chance was taken with the military to a secret location that they were using to fire on Russian forces. There, Chance and his team witnessed the Ukrainian military fire artillery rounds at the Russians. Chance said the team could only stay to watch the first two rounds because it was likely that the Russians would strike back, which they did attempt to do when the CNN team had left. Watch the full report here...
FOR THE RECORD, PART THREE
 -- Sevgil Musaieva, editor of the Ukrainian news outlet Ukrayinska Pravda, spoke at the TIME100 Summit. He said it is a war "of truth and lies..." (TIME)
 -- Josh Rogin writes about Marina Ovsyannikova: "This Russian journalist blew up her life to protest Putin's war. Now she's in limbo..." (WaPo)
 -- Brittaney Kiefer writes about a project aimed at fighting Russian propaganda "by disguising Ukrainian news as pirated entertainment... (AdWeek)
 -- In this CJR panel, Nick Schifrin, Vivian Salama, Joshua Yaffa, and Elise Labott talked about what it's like to cover the war... (YouTube)
 -- "Advertising giant Publicis Groupe pared back its global ad-spending forecast for 2022 due to the war in Ukraine, but said the advertising market remained healthy despite macroeconomic challenges," Suzanne Vranica reports... (WSJ)
 -- "The families of a British journalist and a Brazilian indigenous affairs expert are calling on Brazilian authorities to intensify their search efforts for the pair, who went missing in a remote part of the Brazilian Amazon this weekend..." (CNN)
Musk's new financing on ice?
That's what Reuters' Krystal Hu and Greg Roumeliotis reported Tuesday. The duo, citing sources, reported that new financing "been put on hold because of the uncertainty surrounding the deal." As Hu and Roumeliotis wrote, "The pause in financing activities offers the first clear sign that [Elon Musk's] threats are interfering with steps that would help complete the deal." Here's the full story...
Kara Swisher's next act
BY BRIAN STELTER:
Kara Swisher is taking her talents to Vox, or rather back to Vox exclusively, after a four-year relationship with The New York Times. Her "Sway" podcast and Times newsletter are ending this summer, and Swisher is starting "a new interview show at the Vox Media Podcast Network that will serve as a companion to Pivot," her existing program with Scott Galloway, Bloomberg's Ashley Carman scooped on Tuesday.
"Swisher said she's become 'very interested' in owning intellectual property and sharing in the benefits of building a business alongside a partner," Carman wrote. Indeed, my sense is that she wanted the same sort of revenue share arrangement that she had at Dow Jones years ago.
 >> "Swisher will join Vox Media CEO Jim Bankoff onstage at the company's Vox Media Now event in New York on Thursday," VF's Joe Pompeo noted...
FOR THE RECORD, PART FOUR
 -- Promotions at Page Six: Emily Smith is now editorial director; Ian Mohr is now editor; and Oliver Coleman is now deputy editor... (Twitter)
 -- Sara Fischer reports that new CNN boss Chris Licht is evaluating network talent… (Axios)
 -- Tabitha Jackson is exiting Sundance Film Festival as director; meanwhile, Kim Yutani is joining the Sundance Institute... (Deadline)
 -- The trailer for "Gabby Giffords Won't Back Down" came out Tuesday. "The feature-length pic is gearing up for a theatrical release July 15," then coming to CNN later in the year... (Deadline)
 -- Keith Morrison talks to Julie Miller about his new podcast and how he approaches interviews with those accused of crimes... (VF)
Remembering Ken Bode
BY BRIAN STELTER:
Television news veterans are mourning the death of Ken Bode, who spent years covering politics for NBC News in the 1980s and CNN in the 1990s, then served as dean of Medill's journalism school. He also wrote columns, moderated "Washington Week In Review," and served as the ombudsman for the Corporation for Public Broadcasting. He was 83. 
"Erudite but unpretentious, Dr. Bode was a savvy chronicler of the nation's political scene," WaPo's Harrison Smith wrote. "He combined the expertise of a scholar (he had a PhD in political science) and the passion of an activist (he had worked for liberal Sen. George S. McGovern of South Dakota) with an open, easygoing manner." Read more about his life here...
FOR THE RECORD, PART FIVE
 -- "An Australian court on Monday ordered Google to pay a former lawmaker A$715,000 ($515,000), saying its refusal to remove a YouTuber's "relentless, racist, vilificatory, abusive and defamatory" videos drove him out of politics..." (Reuters)
 -- "AT&T has quietly dropped HBO Max as a bundled perk for new customers on its highest-tier unlimited wireless plan,"Todd Spangler points out... (Variety)
 -- "Broadway took a pre-Tony Awards early-summer dip at the box office last week, slipping 11% from the previous week," Greg Evans reports... (Broadway)
"The Janes" looks at life before Roe
"Timely" is an overused term when describing documentaries, but it more than applies in the case of HBO's "The Janes." The film details an underground abortion network operated in the days before Roe v. Wade, which inevitably raises the question of whether what's past is indeed prologue. Here's my full review...
A man purporting to be a member of the seven-person jury that deliberated in the Johnny Depp vs. Amber Heard trial made a series of posts on TikTok last week about what he claimed were his insights from the high-profile trial that captivated the world. While some social media sleuths were quick to cast doubt on his account, the man's eight videos posted to TikTok last Thursday and Friday generated much attention. Combined, the posts garnered more than 2 million views and were recirculated on YouTube and Instagram by large-scale content creators. But the man behind the account isn't a resident of Virginia where the trial took place — and he did not, in fact, serve on the jury. In a text message Sunday, the man admitted it "was just a prank." Here's my full story...
Kramer named new Academy CEO
Bill Kramer will replace Dawn Hudson as the CEO of the Academy of Motion Picture Arts and Sciences, the organization behind the Oscars. Kramer had been heading the Academy Museum, and earns the promotion (which is effective next month) after a period of significant growth in the organization's membership, and sigh-of-relief ratings for this year's Oscar ceremony – marred by the Will Smith-Chris Rock controversy – after its precipitous 2021 decline. The Academy Museum opened in September, and, per the academy, has sold 550,000 tickets in its first nine months...
 >> Of note: The Ankler reported Monday that Kramer had become the leading candidate for CEO...
 -- Chris Rock and Dave Chappelle are going on tour together... (NY Post)

 -- Julia Garner as Madonna? Sources tell Matt Donnelly and Ramin Setoodeh that she's been offered the role in a Universal biopic... (Variety)
 -- Scarlett Johansson will star in Kristin Scott Thomas' directorial debut, "The Sea Change..." (Deadline)
 -- George Clooney is teaming up with HBO on an Ohio State abuse doc... (THR)
 -- Sam Waterson will return for season 22 of "Law & Order..." (Deadline)
 -- "Julia" has been renewed for a second season at HBO Max... (TV Line)
"Ms. Marvel" shines light on Disney+
Featuring a Muslim-American superhero, "Ms. Marvel" feels more suited to the Disney Channel than most of Marvel's fare for Disney+. But it works as a coming-of-age origin story, thanks in no small part to its utterly charming star, newcomer Iman Vellani, as the starry-eyed teen who stumbles into strange powers. Here's my full review... 
FOR THE RECORD, PART SEVEN
 -- Michael B. Jordan and Lori Harvey have split. Her dad, Steve Harvey, says he's "Team Lori..."
 -- Al Roker has explained how he lost 45 pounds recently...
SAVING THE BEST FOR LAST...
Pet of the day!
Readers Mia and Antonio Cavaco emails a photo of their cat Sunny, aka the "Ninja Princess": "She's the house manager, and keeps us all in line... between power naps."
Thank you for reading! Feel free to email us anytime. We'll be back tomorrow...