The weekend has arrived! Oliver Darcy here at 9:55pm ET on Friday, June 3. Here's the latest on Dr. Mehmet Oz, Maggie Haberman, David Weigel, Elon Musk, Taylor Lorenz, Jennifer Cunningham, and more...

Weekend reads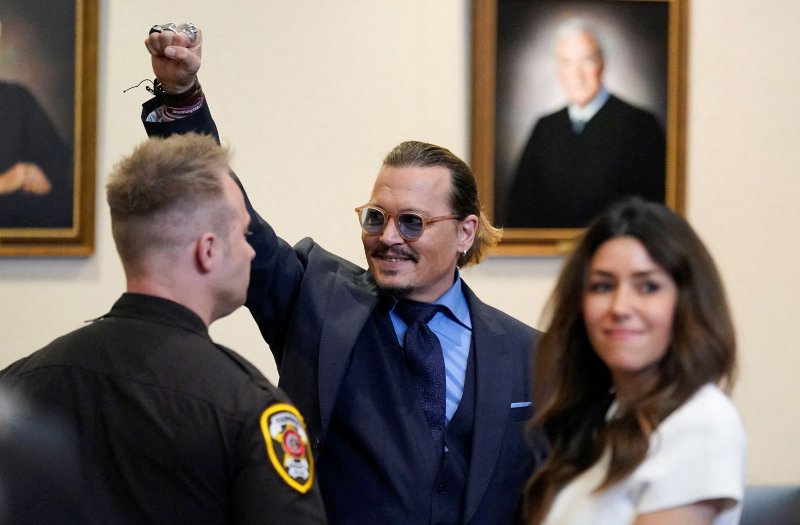 >> NY Mag's Choire Sicha declares the mainstream media losers in the Johnny-Depp-Amber Heard trial. "The lifestyle influencers turned court correspondents won," Sicha adds... 
 >> WaPo's Erik Wemple says the case "hinged on the world's worst #MeToo op-ed..."
 >> Media lawyer Dan Novack writes that "the First Amendment is stronger than Johnny Depp" and how "not every high-profile case sets an immediate precedent..." 
 >> "Yesterday, amid concern about the future of #MeToo, a NY appeals court affirmed Harvey Weinstein's conviction. A foregone conclusion, right? No!" Jodi Kantor says. "This was high drama and a big deal for the future of #MeToo..."
 >> Speaking of Weinstein: In this preview of his book, Ken Auletta outlines "how the Hollywood producer lost control of the story during his criminal trial in New York..."
 >> The Atlantic's Ronald Brownstein responds at length to attacks from the right in this piece: "No, Ann Coulter, I am not responsible for the 'Great Replacement' theory..." 
 >> NYMag's Shawn McCreesh examines the move by the FT to rename the How to Spend It section, asking: "Why is the Financial Times trying to hide the wealth porn?"
 >> Don't miss this quadruply-bylined WSJ deep-dive on "why Sheryl Sandberg quit Facebook's Meta..."
 >> NYT's Emma Goldberg looks at what Sandberg's "Lean In" has meant to women: "The high-profile executive's decision to leave Meta is also a moment to reflect on the impact of her best-selling book and philosophy about success in the workplace..."
 >> Kara Swisher is "dubious" that Mark Zuckerberg "can do what needs to be done to make his virtual world a success without another Sandberg type at his side..."
 >> THR's Borys Kit digs into Netflix's "leaner movie mandate" and how the streamer is "adjusting to a new set of realities..."
 >> The Atlantic's Shirley Li argues that "Stranger Things" won't "save Netflix." Li writes that, "If anything, the hit show's triumphant return is only further proof of the streamer's unsustainability..." 
 >> Not a read, but a good long watch: Vox's Estelle Caswell shows "what happens after TikTok songs go viral..." 

 >> "Uvalde wasn't an 'apparent law-enforcement failure,'" Peggy Noonan writes. "It is the biggest law-enforcement scandal since George Floyd, and therefore one of the biggest in US history..."
 >> "The next potential mass shooter is, right now, surely watching the coverage of Uvalde," Elliot Ackerman writes for The Atlantic. He ponders how to change the "narrative..."
 >> "A Journalist Sits on a Baltimore Jury:" And Alec MacGillis recounts the experience for ProPublica as only he can...
 >> An important tale by Don Moynihan: "What a viral fake news story about 'race-based grading' tells us about our media ecosystem..."
 >> If you're not familiar with the "Wagatha Christie" court case, let The Atlantic's Helen Lewis catch you up. She says the UK libel trial "pits two English footballers' wives — and two forms of celebrity — against each other..."
 >> Is this going to help or hurt? "Several states are putting more money and effort into combating false and misleading information about elections," Cecilia Kang reports...
 >> Max Robins is penning a new column for TheRighting. His first: Tom Brady "for President is No Hail Mary..."
 >> CNN's Scottie Andrew took a look at "how abortion storylines in film and TV have evolved in recent years..."

 >> "Why Fangirls Scream:" This excellent piece is a preview of Kaitlyn Tiffany's forthcoming book...
 >> "I feel unsettled when I stream music on Spotify. Maybe you feel that way, too," Jeremy D. Larson writes. In this Pitchfork feature, he explores the woes of streaming music algorithms...
 >> Have you heard of Passionflix? Would you admit if you have? Elon Musk's younger sister Tosca Musk "is the force behind" this streaming service "dedicated to adaptations of romance novels and erotic fan fiction," Brooks Barnes writes...
 >> And saving the best for last, watch Ernie Johnson's "Note to Self" for "CBS Mornings." He says "medicine and surgery will fix you. But it's your faith, your family and your friends who will sustain you..."
A storm that may become Tropical Storm Alex will blow across south Florida on Saturday...
The "Platinum Party at The Palace," a two-hour concert honoring Queen Elizabeth, airs Saturday on BBC One in the UK and ABC in the US... 
Game 2 of the NBA Finals tips off Sunday at 8pm...
The MTV Movie & TV Awards air live Sunday at 8pm...
"Very Scary People" starts season four on HLN Sunday at 9pm...
This Sunday on "Reliable Sources"

Bob Woodward and Carl Bernstein will join me – together on "Reliable Sources" for the first time – to discuss the 50th anniversary of Watergate; the new four-part CNN series "Watergate: Blueprint for a Scandal;" and the upcoming 1/6 hearings. Plus: Senior Biden adviser Gene Sperling; San Antonio Express-News executive editor Nora Lopez; Mara Schiavocampo; and Jeffrey Toobin. See you Sunday at 11am ET on CNN...
 -- Peter Navarro's indictment by a grand jury for contempt of Congress dominated the DC press on Friday... (CNN)
 -- John Heilemann, filling in for Nicole Wallace on MSNBC Friday, chose to cut away from Peter Navarro's post-arrest press conference Friday, and "called his screeds against the federal government 'bug-eyed gibberish,'" Kipp Jones noted... (Mediaite)
 -- Maggie Haberman scooped Friday that Mike Pence's top aide warned the Secret Service of a security risk to the VP the day before 1/6. Haberman said in the story that the scoop was "uncovered recently during research" for her forthcoming book... (NYT)
 -- 1/6 committee leaders "are furious that a onetime adviser to the panel, former Rep. Denver Riggleman, divulged private details about their work in what they say was an 'unauthorized' CNN interview," Nicholas Wu and Kyle Cheney report... (Politico)
A scene straight out of "The Dr. Oz Show"
BY BRIAN STELTER:
On the same day that the Democratic candidate for Senate in Pennsylvania, John Fetterman, released info about his health, after weeks of questions from reporters and criticism about his lack of transparency...
Specifically, on the same day that Fetterman's cardiologist said he failed to take medication for a previously undisclosed heart condition until he had a stroke in May, and Fetterman admitted he messed up and "almost died..."
...Celebrity heart surgeon Dr. Mehmet Oz became the effective Republican candidate for Senate in the state, when Dave McCormick conceded to Oz at a Friday evening event. Now it's Oz v. Fetterman from here through November. And lest we forget, Sean Hannity played a critical role in getting Oz over the GOP primary finish line...
Reuters team comes under fire 
BY RADINA GIGOVA:
Two Reuters journalists were injured when they came under fire near the city of Severodonetsk, in eastern Ukraine, a Reuters spokesperson confirmed to CNN Friday. The driver was killed. "They were traveling in a vehicle provided by the Russian-backed separatists and driven by an individual assigned by the separatists," Reuters said, adding "deepest sympathies to the family of the driver for their loss."
Russia invites US media reps for meeting
Russia's Foreign Ministry said Friday that it will "invite" legal reps from foreign outlets to a meeting Monday. The purpose of the meeting, Foreign Ministry spokeswoman Maria Zakharova said, will be "to explain" to the outlets the consequences of the West's actions against Russian media. "If Russian media operators are not allowed to work normally in the US, Russia will take the harshest measures," Zakharova said. Reuters has more here...
 -- "Twitter said Friday the window has closed for federal antitrust regulators to block Elon Musk's proposed $44 billion acquisition of the social-media company, removing another barrier to the transaction," Dean Seal reported... (WSJ)
 -- A dozen advocacy groups launched a campaign Friday to lock Musk's purchase of Twitter, warning that he "will degrade important safeguards on the platform if he's allowed to take control," Lauren Feiner scooped... (CNBC)
 -- Meanwhile: Hyunjoo Jin scooped that Musk told Tesla execs this week he has a "super bad feeling" about the economy and wants to slash 10% of the automaker's salaried staff... (Reuters)
WaPo issues lengthy correction to Lorenz story 
WaPo on Friday was forced to correct a story written by Taylor Lorenz after two people mentioned in the article publicly said they were never contacted for comment, contrary to what Lorenz reported. The initial version of Lorenz's story touched on how much money two content creators who followed the Johnny Depp-Amber Heard trial earned through their coverage. Lorenz said the two creators "did not respond to requests for comment." But soon after the story was published, the creators went on Twitter and disputed that they had been contacted by WaPo.
"The Washington Post LIED and DID NOT contact me before including me in their story on Johnny Depp, despite reporting they did so," tweeted one of the creators, ThatUmbrellaGuy, who attached a screen grab showing Lorenz reached out after the story had been published. "Um. This says I didn't respond to requests for comment? I know I've gotten a lot of emails over the past two months, but I've just double checked for your name, [Taylor Lorenz], and I see no email from you," tweeted the other creator, Alyte Mazeika. 
WaPo issued a correction, saying the article had "been amended" because "previous versions omitted or inaccurately described" attempts to ask the subjects for comment. After some criticism that the correction left key questions unanswered, the paper issued a second, lengthy correction that read, in part, "The first published version of this story stated incorrectly that Internet influencers Alyte Mazeika and ThatUmbrellaGuy had been contacted for comment before publication. In fact, only Mazeika was asked, via Instagram."
"After the story was published," the correction added, "The Post continued to seek comment from Mazeika via social media and queried ThatUmbrellaGuy for the first time. During that process, The Post removed the incorrect statement from the story but did not note its removal, a violation of our corrections policy." A WaPo spokesperson said Lorenz did not have a comment. Read the full correction here...
...Reprimands Weigel for "reprehensible" retweet
Meanwhile, WaPo on Friday also reprimanded politics reporter David Weigel for a sexist joke that he retweeted and which he ultimately apologized for. Weigel's retweet was spotlighted publicly by his colleague, Felicia Sonmez, who recently had a discrimination lawsuit against the paper dismissed, a decision her attorney has said she plans to appeal. Sonmez sarcastically wrote on Twitter that it is "fantastic to work at a news outlet where retweets like this are allowed." She attached a screen grab showing Weigel retweet a user who had joked, "Every girl is bi. You just have to figure out if it's polar or sexual."
Sonmez, according to messages that I obtained, also confronted Weigel in an internal WaPo Slack channel, tagging him and writing, "I'm sorry but what is this?" Sonmez said in the Slack channel that the retweet sent "a confusing message about what the Post's values are." Others joined the discussion in the Slack channel, ultimately resulting in national editor Matea Gold writing, "I just want to assure all of you that The Post is committed to maintaining a respectful workplace for everyone. We do not tolerate demeaning language or actions." WaPo's chief spokesperson, Kris Coratti, also issued a statement that said, "Editors have made clear to the staff that the tweet was reprehensible and demeaning language or actions like that will not be tolerated." Weigel apologized on Twitter, writing, "I just removed a retweet of an offensive joke. I apologize and did not mean to cause any harm."
FOR THE RECORD, PART THREE
 -- Friday afternoon scoop from Ashley Carman: "Clubhouse lays off staff as strategy shifts..." (Bloomberg)
 -- The classic case of an accidental email: Emily Birnbaum was able to scoop Amazon's latest messaging push because of "an email exchange mistakenly forwarded to Politico..." (Politico)
 -- "Latina activists and entrepreneurs Jess Morales Rocketto and Stephanie Valencia have raised $80 million to launch a new Hispanic media company called the Latino Media Network," Sara Fischer reports. With the $$, they have "acquired 18 Hispanic radio stations across 10 markets from TelevisaUnivision..." (Axios)
TikTok'er claims to be juror in Depp-Heard case

A TikTok user claiming – without concrete evidence – that he was one of the jurors who deliberated in the Depp-Heard trial began posting on Thursday what he claimed were insights and thoughts he gleaned from being a member of the jury –– and the Daily Mail swiftly slapped an "exclusive" headline on an article and ran with it. The first part of the Daily Mail's headline reads, "Everything she was saying came off like bulls***." But the second part of the headline reveals how little the publication actually knows about the TikToker: "Man claiming to be JUROR in Depp-Heard trial says moment Amber lied about donating divorce settlement sunk her case and that jury believed Johnny was physically abusive – but not the instigator."
The TikToker, though, could be anyone and some are, indeed, sharing the posts to warn others to view with skepticism. The eight TikTok posts from the past day have garnered well over 2 million views combined and been recirculated on YouTube and Instagram by large-scale content creators reaching exponentially more people. Outlets like Radar Online have also picked up the unverified "story." In the TikToker's most recent post, which is captioned "on confirming my identity," he claims he's going to keep his account "inactive" for 30 days and then will consider revealing his identity...
"Watergate was a puzzle and he was a collector of the pieces"
Barry Sussman, the WaPo editor who oversaw the paper's Watergate coverage, died at the age of 87 on Thursday night, just two weeks before the 50th anniversary of the break in. Emily Langer, who wrote WaPo's obit, described  Sussman as having played a crucial role behind the scenes during Watergate, despite being omitted from the film "All the President's Men." In the obit, Langer quoted from the book, which stated, "In Sussman's mind, everything fitted. Watergate was a puzzle and he was a collector of the pieces."
Despite a rift that ultimately formed between them, Bob Woodward told WaPo after his death, "Barry was one of the great imaginative, aggressive editors at The Washington Post during Watergate. We all owe him a debt of gratitude, particularly Carl Bernstein and myself." Read the full obit here...
FOR THE RECORD, PART FOUR
 -- Jennifer Cunningham has been promoted to editor-in-chief of Insider's news division... (Twitter)
 -- Missed this yesterday: Marcia Parker is joining NYT as director of philanthropic partnerships... (NYT)
 -- Jayanta Jenkins is departing her post as head of content marketing for Disney Branded TV and Nat Geo... (Deadline)
Louie C.K. to debut new film
Louis C.K. is "releasing a new movie and, in the process, is leveling up his efforts to return to mainstream industry acceptance," THR's James Hibberd wrote Friday. The movie, "Fourth of July," will debut next month in select theaters, C.K. said in an announcement on his site. "For me it was a real pleasure to direct without acting for the first time in many years," the comedian, who admitted to sexual misconduct in 2017, wrote in an open note to fans. More here from Hibberd...
FOR THE RECORD, PART FIVE
"Fire Island" updates Jane Austen as a gay rom-com

The backstory is more interesting than the movie with "Fire Island," a gay rom-com version of "Pride and Prejudice." The movie was actually developed for Quibi, the since-defunct streaming service, before it landed as a movie on Hulu. There's some synergy there, since the film – written by and starring Joel Kim Booster, as well as "SNL's" Bowen Yang – comes from Searchlight Pictures, like Hulu, part of Disney. Read my full review here...
 -- "Jurassic World Dominion" has netted nearly $17M so far at the international box office... (Deadline) 
 -- The original "Top Gun" is also having a moment in the sun, flying to the top of the US streaming charts... (Variety)

 -- HBO Max has canceled "Raised by Wolves..." (TV Line)

 -- Meanwhile, HBO dropped the trailer for "Chernobyl: The Lost Tapes..." (AV Club)

 -- Amazon's Prime Video is heading to LA for a "Marvelous Mrs. Maisel" pop-up on June 18 and 19... (Variety)

 -- The Producers Guild of America's 34th annual awards will take place February 25, 2023... (THR)

Cancellations with an asterisk 
The latest reminder that "cancellations" announced during the fall upfront presentations now come with an asterisk: NBC and/or USA network might revive "Magnum P.I.," Deadline's Nellie Andreeva reported Friday, after CBS passed on a fifth season. NBC/USA's sister studio Universal Television has a stake in producing and distributing the show, so extending it might make sense on a level beyond the US ratings...
FOR THE RECORD, PART SEVEN
 -- Jamie-Lynn Sigler is sorry to dash your "Sopranos" reboot hopes...
 -- An Eddie Van Halen autopsy special is being slammed by his son Wolfgang and Valerie Bertinelli...
SAVING THE BEST FOR LAST...
Pet of the day
Reader Terry Dawson emails: "Joié has her thinking cat on..."
Thank you for reading! Feel free to email us anytime. We'll be back Sunday evening...