May be Fourth be with you! Oliver Darcy here. It's 11:35pm ET on Tuesday, May 2. Scroll down for the latest on Ali Velshi, Mathias Döpfner, Norah O'Donnell, Elon Musk, Francesca Chambers, Doctor Strange, and more... ...
Covid after WHCD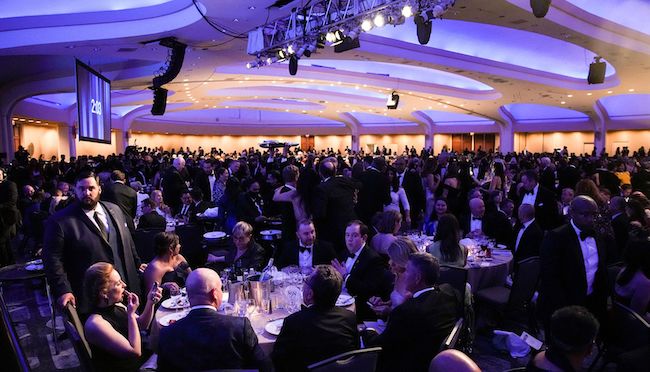 Trevor Noah joked about the event becoming a superspreader — and now the cases are rolling in. The annual White House Correspondents Dinner, along with the festivities held in the days before and after it, have led to the inevitable spread of Covid. 
In the days since WHCD weekend, reporters and staffers from CNN, ABC News, NBC News, CBS News, Politico, and other participating news organizations have tested positive for the virus. Most notably, ABC's Jon Karl, who shook hands with President Biden and who sat next to Kim Kardashian, has fallen ill, as Politico's Maxwell Tani first reported.
There is no exact data to indicate precisely how many people have caught the virus from the weekend. But, anecdotally speaking, much of Tuesday afternoon seemed to consist of attendees trading text messages and emails about colleagues and friends and people they had seen who had tested positive. That's almost certainly going to continue in the days ahead...
What the WHCA is saying
I talked on Tuesday afternoon with White House Correspondents Association President Steven Portnoy. Portnoy told me this: "We worked hard to publicize our protocols and encouraged those eligible to get booster shots in the weeks leading up to the dinner. Our event implemented protocols that went beyond any guidance or regulation issued by the CDC or the DC health department. We wish anyone who may not be feeling well a speedy recovery."
 >> Also of note: While Karl did shake Biden's hand at the dinner, to have gone on-stage at the event he would have had to have taken a medically certified proctored test that the White House uses because it believes it to be a measure of infectiousness, a source told me. Which is to say, it's unlikely he was infectious at the time...
Different than Gridiron 
In the days ahead, there will probably be stories that draw comparisons between the WHCD and Gridiron. But there is a key difference between the two events: Gridiron is a singular event, whereas the WHCD is bookended by dozens of parties held by news orgs and talent agencies. In other words, it will be difficult — impossible? — to identify specifically where the spread of Covid actually occurred.
Was it at the dinner, which required same-day testing and vaccination? Or was it at one or more of the parties? Remember, the WHCA had no oversight over the outside events. Some of the orgs that hosted them implemented strict Covid precautions, others did not. And there were many events in which people were tightly packed into small, confined areas with little ventilation... 
Not an outlier
News orgs should also keep this story in perspective. It's not 2020. With vaccines and booster shots being widely available, this type of event is no longer unique. Every day, people evaluate various risks and decide whether or not to take them. I can't imagine a single person who attended the weekend of events who did not believe that they had a non-zero chance of contracting Covid. 
Nate Silver made this point well. He tweeted, "There are undoubtedly 100s of crowded indoor gatherings across the United States every day. Not to mention millions of people dining at restaurants, going to work or school, etc. It is kinda weird to focus on the WHCD as though it's some sort of outlier; it is very much the norm!"
 -- Dr. Jonathan Reiner's advice: "Everyone who attended the WHCA dinner and  associated events this weekend should test over the next few days..." (Twitter) 

 -- While WHCA took precautions, the annual Cannes Film Festival is dropping previous precautions. Those who attend the festival, which starts May 17, won't be required to be tested and a mask mandate won't be in place... (Variety)
 -- The Sundance Film Festival is back — sort of. The 2023 festival will follow a hybrid model, with some in-person events being hosted in Utah... (Deadline)
 -- Olga Khazan has a very interesting piece about Covid and changing one's positions on life with the virus: "Understanding when to abandon beliefs and when to recommit to them can help us ride out this pandemic and prepare for the next one..." (Atlantic)
 -- Uhh what? "In a video interview published on the right-wing social media platform Rumble, Sen. Ron Johnson said it 'may be true' that vaccines against COVID-19 cause AIDS," Henry Redman reports... (Wisconsin Examiner) 
Vance wins Ohio Senate primary
"Trump-backed J.D. Vance will win the Republican primary for Senate in Ohio." That's one of the top headlines on CNN as I file this newsletter. And while Trump's endorsement without question played a key role in Vance's come-from-behind win, key figures in conservative media did as well. There is a reason that Vance thanked Tucker Carlson by name during his speech Tuesday night...
SCOTUS dividing line 
BY BRIAN STELTER:
Yes, it was real. Chief Justice John Roberts has confirmed the legitimacy of the draft majority opinion overturning Roe v. Wade that Politico published on Monday night. Roberts' confirmation, and his announcement of a how-it-got-out investigation. There is reason to be skeptical that the probe will turn up anything, as CNN reported here. (And remember, we don't actually know if there was a leaker at all.)
Meanwhile, the dividing line we described in last night's newsletter became much more clear on Tuesday: Conservatives focused on the leak -- expressing outrage and contempt instead of joy about a long-awaited victory -- while everyone else focused on the expected rollback of abortion rights.
Abortion stories "are flooding social media" due to the leak, Janay Kingsberry wrote for WaPo. "People took to Twitter to talk about their own abortions — sometimes for the first time publicly." Conversely, anti-abortion activists used social media to denounce the leaker and the media. Lila Rose of Live Action wrote, "Pro-lifers: when you see media & reporters continually going to bat for the pro-abort lobby, call them on it...."
Wednesday's front page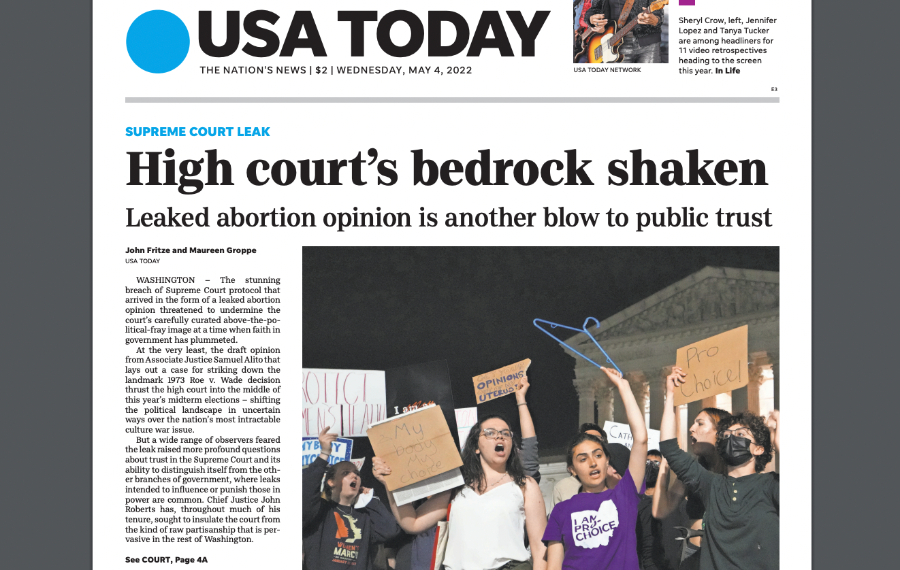 Inside Politico, the day after
Mathias Döpfner, the CEO of Politico parent company Axel Springer, sent a memo to employees Tuesday praising the outlet's coverage. "I have been closely following your conscientious work and its resonance," Döpfner wrote. "And wanted to let you know that I admire how you carefully outlined the facts, putting reader's interest first in a nonpartisan way. The most contentious issues in society are also the ones where our commitment to diligent reporting and editing." 
Politico staffers also heard from exec Traci Schweikert who notified them that the outlet was proactively implementing safety measures at its offices "given the heightened visibility to POLITICO." NYT's Benjamin Mullin and Katie Robertson reported such measures included "restricting access to certain floors" and being "advised to consider the privacy settings on their social media accounts to avoid potential online harassment." More from Mullin and Robertson here...
"It's about time someone punctured the Supreme Court's veil of secrecy" 
That was the headline on Jack Shafer's latest opinion piece for Politico. Shafter wrote the scoop "did the nation a service by ignoring the magic fairy dust that envelops the court to take an overdue look at the court's decision-making process." Shafer raised this question: "Would Congress scream murder if one of its bills under consideration leaked to the press? Of course not. Its draft legislation gets aired all the time. So why the hubbub over the Alito draft?" Read his full piece here...
 >> Shafer's larger point: "The government works to keep you in the dark. The press to shine the light. Heaven bless the press..."
 -- Norah O'Donnell anchored the "CBS Evening News" from outside the Supreme Court on Tuesday...
 -- CNN senior legal analyst Laura Coates anchored the network's 9pm hour, while Ali Velshi led "MSNBC Prime," the new program that will replace "The Rachel Maddow Show" Tuesday through Friday nights...
 -- Paul Farhi and Jeremy Barr's overview: "Politico scoop on Supreme Court draft opinion triggers media intrigue..." (WaPo)
 -- WSJ editorial board's message: "The best response from the Court would be to ignore the political fallout and focus on the law..." (WSJ)
 -- The "silent majority of Americans who support abortion rights just learned the danger of silence," Mary McNamara writes... (LAT)
 -- The start of a corporate trend? "Amazon, Apple, and Citi are covering travel costs for employees seeking abortion in different states..." (Insider)
Will Chief Justice Roberts share any updates on the leak probe?
President Biden will welcome Team USA to the White House...
Disney+ will drop the "Moon Knight" season finale...
It's Star Wars Day. Scroll down for ideas on how you can celebrate...
FIRST IN RELIABLE
"Be The Enemy"
Open Society Foundations, the George Soros-founded entity that tries to combat authoritarianism, is launching a new digital campaign called "Be The Enemy." The group says it is "designed to help people around the world understand that the fight in Ukraine is their fight, too." A 30-second spot shows images from Ukraine, then other countries, and says "We are the enemy. A terror to tyrants." Open Society sums it up this way: "Speaking freely. Holding up a protest sign. Voting. Or maybe just choosing who we want to dance with. To autocrats like Putin, that makes us the enemy. So let's #BeTheEnemy..."
"Musk Maps Twitter's Public Return"
That's one of the headlines in Wednesday's print edition of the WSJ. Cara Lombardo and Eliot Brown exclusively report that Elon Musk "told potential investors he could return the social-media company to public ownership after just a few years," adding that "Musk said he plans to stage an initial public offering of Twitter in as little as three years of buying it, according to people familiar with the matter." More here...
FOR THE RECORD, PART THREE
 -- "How Elon Musk wings it:" Ryan Mac, Cade Metz, and Kate Conger took an in-depth look at his management style... (NYT)
 -- Musk on Tuesday went after Apple, saying its App Store is like having a "30% tax on internet..." (Bloomberg)
 -- Twitter is testing a feature, called Twitter Circle, that allows users to show tweets only to certain users, Richard Lawler reports... (The Verge)
 -- Facebook is having difficulty with its e-commerce business, Salvador Rodriguez and Charity L. Scott report... (WSJ)
 -- Meanwhile: YouTube execs "are placing a 'big bet' on live shopping and other commerce integrations with creators," J. Clara Chan reports... (THR)
 -- "Decrypt, a media company that focuses on covering cryptocurrency and web3, has spun out from its parent company after raising a $10 million series A round at a $50 million post-money valuation..." (Axios)
Curnow announces departure from CNN
Robyn Curnow, a 21-year veteran of CNN International, has signed off. "I've decided it's time to change," she wrote on Instagram. "This is my decision. I'm excited for the plans I've been cooking up recently." Curnow, the former anchor of the "International Desk," has recently been anchoring hours that were simulcast on both CNN/US and CNNI. Her exit comes after Hala Gorani's departure from the anchor chair last week...
FOR THE RECORD, PART FOUR
 -- Francesca Chambers is joining USA Today as the publication's White House corespondent... (Gannett)
 -- Stacker, a "news-syndication agency with a focus on data-driven feature content," has hired 538's Micah Cohen for "the newly created role of editor in chief..." (MediaPost)
 -- CBS News has selected Gabe Almanzar as its new creative director... (TVNewser)
 -- Education news source The 74 is partnering with the Aspen Institute's "Weave: The Social Fabric Project," founded by David Brooks, for a series celebrating educators "who use community to help students succeed in class and life..." (The 74)
Paramount profits fall
"Paramount Global said first-quarter profit fell as the company's investments in content and declines in its traditional business offset gains it made in streaming," Variety's Brian Steinberg wrote Tuesday. Paramount's stock recovered most of its early losses by the end of the trading session...
 --> Paramount+ "will be launching in the UK and South Korea in June, with plans to also make it available in India in 2023 as part of its continued expansion around the world," THR's Georg Szalai reports...
FOR THE RECORD, PART FIVE
 -- Roku and Apollo Global have teamed up to "bid for a minority stake in the pay-TV and streaming service Starz," Lillian Rizzo and Miriam Gottfried report... (WSJ)
 -- Devika Chawla is joining Disney as SVP of lifecycle engineering; Arun Chandra will join as SVP of streaming viewer experience... (THR)
 -- Snap "has launched an equity pledge that seeks to have 50 percent of its Snap Originals talent, crew and production company owners or leaders be women and/or come from historically underrepresented backgrounds in the next three years," J. Clara Chan reports... (THR)
 -- The Broadway box office "was down 15% last week, with even some of the biggest hit shows reporting slips for the week ending May 1," Greg Evans reports... (Deadline)
Depp's attorneys rest their case
After 13 days of testimony, attorneys for Johnny Depp on Tuesday rested their case in his defamation trial against Amber Heard, and Heard's legal team began presenting their side. Depp is suing Heard, his ex-wife, alleging that a 2018 op-ed she penned defamed him and caused him to lose work in Hollywood. Heard is expected to take the stand as soon as tomorrow...
Lowry's review of "Madness"
Marvel has released movies since "Avengers: Endgame," but the hoopla surrounding "Doctor Strange in the Multiverse of Madness" feels like the closest thing to the buzz surrounding the blockbuster three years ago. Given those expectations, the film proves something of a mixed bag – thrilling and inventive in places, and occasionally undercut and even a little silly due to the vagaries of the whole 'multiverse' concept. That said, there are some scenes tailor-made to be consumed with a whooping audience, and even a less-than-full-throated critical endorsement is unlikely to have any impact on what's projected to be a Marvel-ous opening weekend...
 -- Ashley Judd "is remembering her late mother and thanking those who are supporting her family in the wake of Naomi Judd's death this past weekend," Lisa Respers France reports... (CNN)
 -- "Viola Davis is eyeing a return to the role of Amanda Waller in her own spinoff series currently in the works at HBO Max," Joe Otterson reports... (Variety)

 -- "Bryan Cranston will lend his voice to voice Experience Yosemite, an immersive virtual-reality experience on Yosemite National Park," Valerie Complex reports... (Deadline)

Yes, there's still a TV 'season'
The concept of a traditional September-through-May "TV season" linked to the broadcast calendar seems oddly quaint, but CBS still proudly publicizes those measures. The channel announced Tuesday that it will finish that span as "America's most-watched network" for the 14th straight year. In a more 21st-century accomplishment, Viacom said on its earnings call that CBS accounts for 17 of the top 30 titles on Paramount+. It's a reminder, as Variety's Brian Steinberg noted, that network content is no longer measured by linear ratings alone...
May the Fourth be with you
It's May the fourth — aka, Star Wars Day. "The day is an auspicious one for fans as the date references the iconic phrase 'may the force be with you,' which was first said in the original 'Star Wars film A New Hope' in 1977," Roxy Simons writes for Newsweek. A new "Disney Gallery" special about "The Book of Boba Fett" will be released Tuesday. Looking to binge on Star Wars for the 4th? USA Today's Jon Winkler has suggestions...
LAST BUT NOT LEAST...
Pet of the day!
Reader Jeanne Roubeix emails: "My cat Marlon is trying to hide from all the bad news coming..."
Thank you for reading! Email your feedback anytime. We'll be back tomorrow...
You are receiving this message because you subscribed to CNN's Reliable Sources newsletter.
® © 2022 Cable News Network, Inc.
A WarnerMedia Company. All Rights Reserved.
Our mailing address is:
Cable News Network, Inc.
Attention: Privacy Policy Coordinator
One CNN Center, 13 North
Atlanta, GA 30303