Oliver Darcy here at 11:30pm ET on Tuesday, April 26. Here's the latest on Batman, Elon Musk, YouTube, Dean Baquet, Tucker Carlson, Viola Davis, and more...

LA Sheriff targets LA Times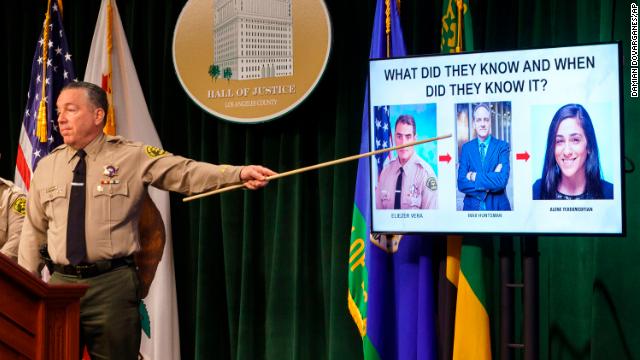 LA County Sheriff Alex Villanueva is the subject of national scrutiny right now.
On Tuesday he alarmed press freedom advocates by lashing out at a press conference and indicating that a Los Angeles Times reporter was under criminal investigation. Later in the day, he attempted to walk back his alarming comments, but it's important to understand the background, including Villanueva's highly controversial behavior and his attacks against the media.
Villanueva has repeatedly singled out LA Times reporter Alene Tchekmedyian, who is just doing her job by covering his department. Tchekmedyian has published a series of stories about an incident in which a deputy kneeled on an inmate — including an article on Monday regarding an allegation that Villanueva was implicated in a cover-up.
At Tuesday's press conference, Villanueva displayed and pointed to a photo of Tchekmedyian, plus one of his political rivals and the sheriff's inspector general. Arrows implied a connection between all three. Villanueva referred to video of the incident that Tchekmedyian had obtained as "stolen property." And he declared that he was investigating "all parties" involved in the matter. When repeatedly asked whether Tchekmedyian was specifically under investigation, Villanueva responded that "all parties to the act" were being probed.
But after widespread condemnation and a warning from the paper's general counsel, Villanueva sort of walked back his remarks. "Resulting from the incredible frenzy of misinformation being circulated, I must clarify at no time today did I state an LA Times reporter was a suspect in a criminal investigation," the LA County Sheriff's Department tweeted Tuesday night. "We have no interest in pursuing, nor are we pursuing, criminal charges against any reporters."
Notably, Villanueva appears to have set up a straw man here. There is a difference between being the subject of an investigation and a suspect in an investigation where criminal charges can be brought against the person. The former was reported by news organizations, not the latter...
"An abuse of your official position"
Hours before the department's tweet, LA Times general counsel Jeff Glasser wrote the sheriff a scathing note. Glasser described Villanueva's remarks as a "thinly veiled attempt to intimidate" to intimidate Tchekmedyian "for reporting unflattering (but entirely accurate) information about the conduct of individuals in your department and allegations of a cover-up by you and other officials."
Glasser said it was "an abuse of your official position that risks subjecting you and the county to legal liability." He demanded that the department "preserve all documents related to any 'investigation' of Ms. Tchekmedyian or any other LA Times employee in this matter." You can read the full letter here...
A history of going after the press
This is far from the first time that Villanueva has made the press a target, as LA Mag's Ian Spiegelman wrote earlier this month. He has objected to Tchekmedyian before. The LA Times recalled an incident last year in which the sheriff's department refused to talk with her. "The department suggested it would answer questions from 'any other' Times reporter," the story said. "The Times declined to assign a new reporter to the story."
Widespread denunciation 
 >> LA Times exec editor Kevin Merida said Villanueva's "attempt to criminalize news reporting goes against well-established constitutional law..."
 >> Robert Garcia, the mayor of Long Beach City, which is in LA County, said it was "a clear attack on the free press and incredibly dangerous" and called on other elected officials to "denounce this behavior and stand up to these actions by the Sheriff..."
 >> The Reporters Committee for Freedom of the Press described Villanueva's move as "beyond the pale" and a violation of the First Amendment, condemning it in the "strongest terms..."
 -- One of Tuesday's top stories: VP Kamala Harris testing positive for Covid. Harris is taking the antiviral coronavirus treatment Paxlovid... (CNN) 
 -- A related story on Page One of Wednesday's WaPo: "Blood tests indicate most in U.S. have had virus..." (WaPo)
 -- "Masks are off, COVID rates are up and musicians are once again on edge about touring..." (LAT)
FIRST IN RELIABLE:

Fauci backs out of WHCA dinner over Covid concerns
The nation's top doctor will no longer be attending the White House Correspondents Association Dinner this Saturday. Dr. Anthony Fauci had been invited to attend as a guest of ABC News and had planned on going, sources familiar with the matter told Kaitlan Collins and me. But he recently decided to abandon those plans and inform ABC that he would no longer attend because of an individual assessment of his own personal risk, the sources said. Fauci's decision comes amid concerns that the event could become a superspreader like the annual Gridiron Dinner held weeks ago, even though the WHCA is taking all the expected Covid precautions. Fauci's decision also comes as the omicron sub-variant sweeps the nation...
 >> What about POTUS? President Biden still plans on attending the dinner, Jen Psaki said in the briefing room Tuesday...
 >> On a related note: WME said Tuesday that instead of hosting a party, it will make a donation to the Center for European Policy Analysis' Democracy Fellowship Fund that will sponsor Ukrainian and Russian journalists and activists "who have risked their lives in an effort to provide truthful information to the public..."
Carlson unloads on McCarthy
On Tuesday night Fox's biggest star declared war on Kevin McCarthy. Tucker Carlson, citing new reporting and audio from NYT's Jonathan Martin and Alex Burns in which McCarthy seemingly expressed a desire for Twitter to suspend fringe members of his conference out of fear they could incite further violence after 1/6, likened the GOP leader to an "MSNBC analyst."
At one point, during a blistering segment, the banner on Carlson's show read, "KEVIN MCCARTHY HATES PEOPLE LIKE YOU AND THIS SHOW." Carlson concluded, saying, "Unless conservatives get their act together right away, Kevin McCarthy or one of his highly liberal allies ... is very likely to be speaker of the House in January. That would mean we will have a Republican congress led by a puppet of the Democratic Party." It must be emphasized: It was McCarthy's concern about far-right tweeters inciting violence that offended Carlson so much...
Biden delivers the eulogy at Madeleine Albright's funeral...
Spotify releases earnings before the bell; Meta reports after the close...
BuzzFeed holds its upfront for advertisers at 11am ET...
Elon Musk is everywhere right now
BY BRIAN STELTER:
With his plan to take control of Twitter, "Musk has picked the next hard problem he wants to solve," Molly Ball writes in the cover story for this week's TIME: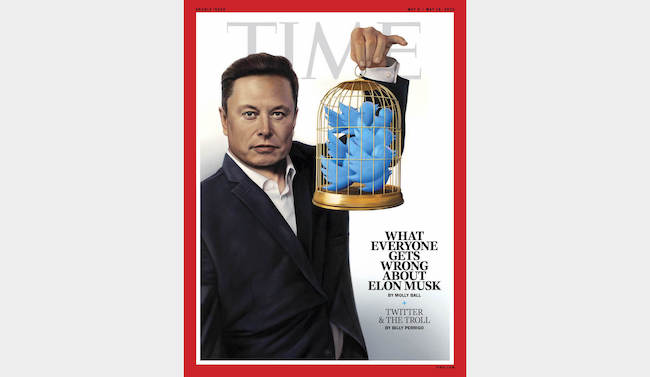 Musk "has become the most powerful person in the world," Allison Morrow wrote in this analysis for CNN Business. But he still isn't invincible. The Drudge Report's banner right now is "STREET RATTLED," highlighting Tesla's Tuesday plunge wiped away well north of $100 billion in value. "That works out to nearly a $21 billion paper loss" for Elon Musk, "which is the same amount he's personally committed to invest into the Twitter deal," Dan Primack of Axios noted. The upshot: "Twitter may cost [Musk] more than he was expecting." Twitter stock also fell below $50 a share on Tuesday, even though Musk has agreed to buy it all at $54.20...
Musk takes on Twitter's top lawyer
Meanwhile, Musk is making his disdain for Twitter's management team even more clear. On Tuesday evening he responded to a report from Politico's Emily Birnbaum and Betsy Woodruff Swan that said top Twitter exec Vijaya Gadde "cried" during a meeting about the billionaire's takeover of the company. Musk replied to a tweet about the story and called out Twitter for taking action against a NY Post story about Hunter Biden story in 2020, writing, "Suspending the Twitter account of a major news organization for publishing a truthful story was obviously incredibly inappropriate." 
Earlier in the day, Musk tried to outline what he means when he refers to free speech. "By 'free speech,' I simply mean that which matches the law," Musk tweeted. "I am against censorship that goes far beyond the law. If people want less free speech, they will ask government to pass laws to that effect. Therefore, going beyond the law is contrary to the will of the people."
How far is too far?
BY BRIAN FUNG:
Musk says he doesn't want to go "far beyond the law." But how far is too far? There is a huge range of content that is not strictly illegal that tech platforms have spent years trying to figure out what to do with, from election lies to videos of graphically violent crime. Will all of it now be permitted? Only some? Musk seems to be confronting the complexity of the issue for the first time, and while he leaves himself room to do more than what local law requires, where will he draw his line? It isn't clear, and it isn't obvious he's very interested in the thorny details. 
 >> Part of why the Twitter story feels like such a big deal is because it sits at the crossroads of multiple unresolved societal debates: About the power of billionaires, about tech platforms' influence on democratic discourse, and about the rules that govern digital speech (and who gets to enforce them). By buying Twitter, Musk has suddenly collapsed all these threads into one, right as policymakers and the courts are poised to make some very big decisions regulating tech platforms. We're at an important turning point for tech, and in classic fashion, Musk has jumped in and blown it all up. 
How many are deactivating?
NBC's Ben Collins noted Tuesday night that in the last 24 hours or so, some Twitter users have "noticed massive follower drop-offs." Twitter told Collins that it has looked into "recent fluctuations" in follower counts. "While we continue to take action on accounts that violate our spam policy which can affect follower counts, these fluctuations appear to largely be a result of an increase in new account creation and deactivation." As Collins summed up: "In short: The same day Elon Musk bought Twitter, a lot of people deactivated their accounts..."
Left versus right
In a pair of tweets, CNN's Ali Zaslav highlighted the difference between Democratic and Republican reactions to Musk's move. First up, Chuck Schumer's reaction: "Look, in many ways Twitter has been a dark, dark place. I hope it doesn't get any darker." Contrast that with Mitch McConnell, who called the Twitter takeover an "incredible event" that "we're all watching" with "a great deal of interest because there's certainly been our share of complaints about the way its been run in the past..."
 -- The top headline on CNN.com Tuesday night: "Russia dramatically escalates tensions with the West with gas cutoffs..." (CNN)
 -- Reporters Without Borders says "Russian troops in Ukraine are compiling lists of journalists for questioning..." (RSF)
 -- Michelle Ruiz writes about "how female correspondents are defining war coverage in Ukraine..." (Vogue)
 -- Dylan Byers scoops that Cesar Conde took a recent trip to Ukraine and reports that "some NBC insiders quietly criticized Conde for potentially using the trip simply to burnish his own image..." (Puck)
The "Great Streaming Correction"
I noticed two reporters on the media beat, Ben Mullin of the NYT and Tim Baysinger of Axios, use this phrase on Tuesday. With Netflix shares continuing to sag, down another 5% on Tuesday, it is well-stated. Showtime is about to debut "The Man Who Fell to Earth," starring Chiwetel Ejiofor, but it could just as easily star Reed Hastings and Ted Sarandos.
With Netflix's collapse on the tips of tongues, execs from Warner Bros. Discovery (CNN's parent) addressed Wall Street analysts Tuesday and positioned the company as "far more balanced." CEO David Zaslav said "it's a big benefit that we're a fully diversified company," with cable channels, theatrical releases, gaming, and streaming. Zaslav was blunt that "we will not overspend to drive subscriber growth" and that "we have no religion about any one platform or window versus another."
CFO Gunnar Wiedenfels said his team is working to "analyze the ROI of each dollar spent" on content and indicated that he sees inefficiencies at the former WarnerMedia. Here's my full story...

What CNN's internal research said about CNN+
"New data from a March 2022 pitch deck shows CNN+ executives projected that within the next decade, CNN+ would be more profitable than the company's cable arm today," Axios' Sara Fischer scooped Tuesday. Fischer reported that by 2030, internal CNN financial projections estimated CNN+ would generate about $800 million in profit. CNN research "estimated that 70% of CNN+ subscribers could be bundled with HBO Max over time." But those #'s came from the legacy management team. The new management team clearly didn't buy it, and the service officially will shut down this weekend. Details here...
 -- From the "Marketplace Morning Report:" "The failure of CNN+ could put a damper on big news organizations' attempts to innovate..." (Marketplace)
 -- Max Tani and Alex Thompson take a look at Biden's cable news diet and report that Joe Scarborough and Mika Brzezinski "have spoken privately" with the president "on occasion since the 2020 election..." (Politico) 
 -- "The BBC has attempted to prove its worth in the face of the incoming licence fee freeze by publishing a landmark study in which households had to go without all of the corporation's services for nine days," Max Goldbart writes, noting that "70% of naysayers wanted it back..." (Deadline)
 -- Kevin Hart's media company, the aptly-named HartBeat, is selling a $100 million stake to Abry Partners, "the latest example of private equity's pushing into Hollywood to cash in on the demand for streaming shows..." (NYT)
Baquet's next role
"Dean Baquet will lead a new local investigative journalism fellowship at The New York Times," publisher A.G. Sulzberger wrote in a note to employees Tuesday morning. Sulzberger, who described the decline of local investigative reporting as a "national tragedy," said the year-long fellowship "will produce investigative projects focused on the state and local level" and "offer a rare opportunity for up-and-coming journalists, especially those with backgrounds that are underrepresented in newsrooms and investigative reporting." Read Sulzberger's full note here...
New York Post settles lawsuit with former digital chief
The New York Post and former digital chief Michelle Gotthelf announced in a joint statement Tuesday that they had settled the explosive lawsuit Gotthelf had filed earlier this year. Gotthelf had alleged in her lawsuit that she was wrongfully fired after she reported to her boss that a longtime lieutenant of Rupert Murdoch sexually harassed her. Now, after months of discussion, Gotthelf and The Post said the lawsuit had been "amicably resolved" and will be withdrawn against all parties. In her statement, Gotthelf praised The Post as an "iconic institution" and EIC Keith Poole credited her for having been "crucial in helping The Post reach its present stature." Here's my full story...
It's a great week for brand new nonfiction releases. I'm afraid I'm missing some, but let me highlight some of the attention-grabbing titles. Five of them are topping Amazon's new releases list right now: "Just Tyrus" by the Fox commentator, "Finding Me" by Viola Davis, "The Palace Papers" by Tina Brown, "The War on the West" by Douglas Murray, and "Off with My Head" by Stassi Schroeder.
"Silent Invasion" by Dr. Deborah Birx is also generating a lot of news – here is CNN's story and Jake Tapper's interview with her. Another new release, "The Infodemic" by Joel Simon and Robert Mahoney, explores Covid censorship around the world.
There is something for every book buyer today: CNN International anchor Zain Asher is out with a memoir titled "Where The Children Take Us." (Listen to Asher on NPR's "Fresh Air.") Historian Mark Updegrove is out with "Incomparable Grace: JFK in the Presidency," examining the way the 35th president is remembered. (TIME has a preview here.) Sleuth Paul Holes is out with "Unmasked: My Life Solving America's Cold Cases." (LA Mag profiled him.) And actor Terry Crews is out with "Tough: My Journey to True Power."  (Watch him on "Entertainment Tonight.")
FOR THE RECORD, PART THREE
 -- ABC's Kaylee Hartung, who previously worked at CNN and ESPN, "has emerged as the leading candidate to be the sideline reporter on Amazon's Prime Video's exclusive 'Thursday Night Football' coverage this fall..." (NYPost)
 -- Kwame Opam will head back to the NYT "in a newly created role as the strategy and operations deputy for the Live and Express desks..." (NYT)
 -- "With Trump and Rumble, Florida becomes conservative media HQ..." (Axios)
YouTube falls short of Wall Street expectations
CNBC's headline about Q1 earnings for Google's parent company: "Alphabet reports weak earnings and revenue on big YouTube miss." It shows that the "digital media ad market is getting hit hard," Jennifer Elias and Kif Leswing wrote.
Across the marketplace, the causes "include iPhone privacy changes, supply chain disruptions, labor shortages, inflation, and rising interest rates. Alphabet CFO Ruth Porat said... that Russia's invasion of Ukraine and Google's pullback in the region also hurt YouTube revenue." Read on...
FOR THE RECORD, PART FOUR
 -- The Sundance Institute "has consolidated or cut two programs for filmmakers in an effort to stay nimble during the ongoing pandemic," Matt Donnelly reports... (Variety)
 -- SiriusXM and Audio Up have announced the launch of two podcasts as part of the partnership the companies agreed to last year... (Inside Radio)
 -- Powered by The Slap, Variety said it had its biggest traffic month in history in March... (Variety)
CINEMACON UPDATES:

'The Batman' will return for a sequel
"The Batman" is returning for a sequel, Warner Bros. announced during its CinemaCon presentation Tuesday. Robert Pattinson will return as Batman and Matt Reeves will direct the film. Variety's Rebecca Rubin, however, noted that Reeves did not "provide any details about what the movie will entail." More here...
'Simultaneous release is dead'
"The movie theater industry's top lobbyist said that the persistent experimentation that saw studios release movies in cinemas at the same time they landed on streaming or on video-on-demand is over," Brent Lang reported Tuesday. Lang quoted National Associate of Theatre Owners chief John Fithian who said at CinemaCon, "I am pleased to announce that simultaneous release is dead as a serious business model, and piracy is what killed it." As Lang wrote, Fithian argued that the cutting of release windows reflected "a compromise, one that preserved the kind of exclusivity that cinemas need to remain viable." More from Lang here...
 >> Fithian also signaled a willingness to work more with Netflix: "Our door is open for bigger, broader play of Netflix movies if that is a path they want to go down. "They're movie fans like we're movie fans..."
'Love Victor' to air on Disney+ and Hulu
After being redirected from Disney+ to Hulu because of its content – focusing on a teenager coming to terms with being gay – the final season of "Love, Victor" will now air on both services, Marc Malkin reported Tuesday. Beyond making a statement about LGBTQ programming, it comes after Disney has somewhat loosened its guidelines, such as adding the harder-edged Marvel shows originally produced for Netflix (i.e. "Luke Cage," "Daredevil," etc.) to its menu.
FOR THE RECORD, PART FIVE
 -- HBO Max has released the official trailer for "Hacks" season two... (YouTube)
 -- Justin Lin will no longer direct "Fast X," Justin Kroll reports... (Deadline)

 -- The B-52s are "hitting the road one last time for a final tour this summer that will roam from coast to coast," Mark Kennedy reports... (AP)
 -- "Four years after landing at HBO, J.J. Abrams' 'Demimonde' is finally coming into focus," Lesley Goldberg reports... (THR)
 -- Lil Nas has unveiled the dates for his Montero 2022 tour... (Pitchfork)
 -- "Blue Bloods" has been renewed for a 13th season... (Variety)
Ken Burns' next PBS project
Given the ongoing debate over teaching negative aspects of US history, this is worth noting: Ken Burns' next multi-part PBS documentary will be "The U.S. and the Holocaust," examining "the rise of Hitler and Nazism in Germany in the context of global antisemitism and racism, the eugenics movement in the United States and race laws in the American south." It premieres in September...
 -- Viola Davis has responded to criticism of her Michelle Obama portrayal...
 -- Harry Styles graces the new cover of Better Homes & Gardens, obviously...
 -- "90 Day Fiancé's" Anna-Marie and Mursel Mistanoglu welcomed a baby born via surrogate in Ukraine...
LAST BUT NOT LEAST...
Pet of the day!
Reader Karen Bressler emails a photo of her rescue beagle Harry: "Begging for food with sad beagle eyes..."
Thank you for reading! Email your feedback anytime. We'll be back tomorrow...
You are receiving this message because you subscribed to CNN's Reliable Sources newsletter.
® © 2022 Cable News Network, Inc.
A WarnerMedia Company. All Rights Reserved.
Our mailing address is:
Cable News Network, Inc.
Attention: Privacy Policy Coordinator
One CNN Center, 13 North
Atlanta, GA 30303