Brian Stelter here at 11:01pm ET on Thursday, April 21. Let's begin with the news that shocked CNN and the streaming world today: The sudden end of CNN+.

Minus +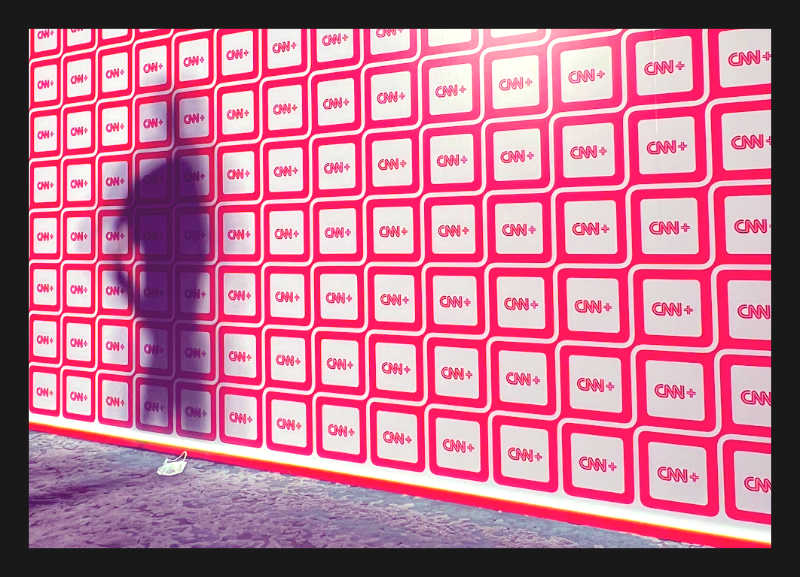 When WarnerMedia and Discovery merged earlier this month, the incoming management team faced an immediate question: What to do with CNN+.
So at 8 a.m. on April 11, the first morning of Warner Bros. Discovery's corporate life, before the stock even began trading on Wall Street, the company's new streaming boss J.B. Perrette and incoming CNN CEO Chris Licht held a critical meeting about the two week old subscription service. On the other end of the video call were CNN chief digital officer and EVP Andrew Morse, CNN+ general manager Alex MacCallum and chief technology officer Robyn Peterson.
The meeting was Discovery's first full look at the CNN+ business model and the initial subscriber numbers. That's because executives at competing companies are legally barred from such discussions during a merger review process.
But everyone in the meeting knew that Perrette and his longtime boss David Zaslav were inclined to roll all of the company's assets into one super-sized streaming platform. Discovery executives were clear about that in public statements a number of months ago. It became even more evident when Morse, an outspoken believer in CNN+, shared his status report on April 11. Perrette's concerns were readily apparent.
The situation "is honestly really simple," a CNN executive remarked. "Two very different strategies for a future caught in the middle of a corporate merger."
Ten days later, on Thursday, CNN+ was cancelled in a highly public way. Licht and Perrette announced that the service will cease operations on April 30. Subscribers will receive prorated refunds. Hundreds of staffers will either land new positions at the company – or be laid off.
There were certainly rumblings that the new management team was going to take some action. But few really anticipated that the entire service would be shuttered less than a month after it had debuted. 
From the POV of the leadership team that launched CNN+, one of the world's top news brands had to start a subscription business to secure its future. It was an expensive but necessary bet – and had to be made regardless of merger timing.
From the other POV, conveyed by Perrette during a town hall with staffers on Thursday, the "prior leadership" of CNN endangered the brand because they "decided to just keep going" with the planned March launch of CNN+ despite the impending merger.
"This wasn't fair to the incoming team or all the employees who have worked so hard at CNN+," a Discovery veteran remarked. "Why not be prudent and wait two weeks till the close?"
Discovery has tried niche streaming services in the past with little success. Perrette's statement in the end-of-CNN+ press release spelled it out: "In a complex streaming market, consumers want simplicity and an all-in service which provides a better experience and more value than stand-alone offerings."
This back and forth is the talk of the media biz right now. It's likely going to become a business school case study. So we're going to analyze it in detail... just a couple of paragraphs from now... but let me first say this on a personal note: TV is a team sport, and "Reliable Sources Daily" is made by an amazing team. From the cold opens to the closing thoughts, the guest bookings to the graphics, the show is superb, thanks to the producing staff. And on Thursday evening, despite this news, we got together and planned Friday's show.
One of those outstanding team members, Ellie Smith, tweeted a message that went viral on Thursday. She wrote: "PSA if you're going to tweet something snarky about CNN+, hundreds of journalists and technicians who did nothing but work their tails off just had the rug pulled out from under them. So be kind."
More key details from the announcement
 >> Morse is leaving CNN after a transition period. He said in an internal memo that "the vision the new leadership has for the future is different than the one we've had. That's OK. That's all part of change..."
 >> Licht told staffers that he wanted Morse to stay, but respected the decision...
 >> MacCallum "will step in to lead CNN Digital" and work with Licht "to determine a leadership strategy going forward," the company announced. Execs said they intend to double down on CNN Digital's strengths...
 >> Within the halls of CNN, Licht got credit for his blunt and empathetic approach. He highlighted the quality of CNN+ and called its closure a "uniquely shitty situation." He told the affected staffers, "It is not your fault that you had the rug pulled out from underneath you." And he vowed to minimize the impacts to staff...
 >> Here's our full story for CNN Business...
Astonishment and disbelief reverberated throughout the 16th floor of CNN's Hudson Yards office, which houses some of the hundreds of CNN+ employees. "Total and utter shock" is how one staffer put it to me after Licht and Perrette's town hall meeting. "At first, people were really freaking out," explained the person. "And then, toward the end of the meeting, it just turned to sadness. Every team was just huddling with each other." CNN+ employees broke out bottles of whiskey and wine to commiserate, and some later retreated to nearby bars...
Nine months of pay
Warner Bros. Discovery executives emphasized the generous nature of the pay packages for affected employees. CNN+ staffers will remain on the payroll for three months, and will have the ability to apply for open jobs at CNN or the wider company. Then, if they are not absorbed into the organization, they will be paid six months of severance. The untimely demise of CNN+ will draw analogies to Quibi – in fact, it already has – but Quibi's severance package was not nearly as extensive...
WBD has billions in debt and executives are under pressure to realize $3 billion in savings. Which is to say, CNN+ was obviously an attractive opportunity when looking to implement cost-cutting measures. As CNBC's David Faber put it, "Spending $500m a year on a venture the boss doesn't believe in while he tries to quickly fulfill a $3b cost synergy promise. CNN+ never had a chance..."
So what happens to the CNN+ programming now? That's up in the air. Licht said at the town hall that some of the content "will have a home on CNN." Other programs may move to HBO Max or CNN Digital. Others will not continue in any form. An agent for one CNN+ host, who was set to host a weekly show on the streaming service, described their client's program at the network as facing an uncertain future. "It's all TBD," the agent told me. But the agent added that the network has gone out of its way to make clear that it is committed to finding roles elsewhere for CNN+ hosts...
I think this is an easily overlooked point re: CNN+, made by the Washington Post's Steven Zeitchik on Twitter. "It's important to recognize that CNN isn't giving up on reaching consumers through digital devices far from their cable box; they're giving up on a specific branded product that was conceived by a previous corporate owner," he wrote. "There's kind of a difference." Indeed, there's a major difference between using CNN as another source to provide content for a bigger streaming service and digital ventures -- which appears to be Discovery's plan -- and believing the brand should be positioned as a stand-alone product...
 -- The end of CNN+ is on the front pages of both the NYT and WaPo on Friday...
 -- "Its demise makes it perhaps the shortest lived of all subscription streaming ventures, a lesser lifespan than Quibi, the platform that ran for about seven months in 2020," Ted Johnson and Jill Goldsmith observed... (Deadline)
 -- "Aside from Morse," Joe Pompeo wrote, CNN+'s "biggest champions were Jeff Zucker, president of CNN until he abruptly resigned in early February, and Jason Kilar, the former CEO of former CNN parent company WarnerMedia, and also the guy who compelled Zucker's resignation over an undisclosed romantic relationship with his longtime top lieutenant Allison Gollust... (Vanity Fair)
 -- "The demise of CNN+ shows the unique challenges of building a streaming-news business, which can't feature a live feed of the TV network or its highest-profile content without running afoul of contractual obligations with pay-TV providers," Joe Flint wrote... (WSJ)
 -- "The journalists I have been privileged to work with on CNN Plus are world class," Kasie Hunt tweeted. "I am so incredibly proud to be able to call them colleagues." Hunt is absolutely right... (Twitter)
HBO Max's strong Q1 subscriber growth 
"AT&T, in its Wall Street swan song as an entertainment entity, reported solid subscriber pickup for HBO Max and HBO for the first quarter of 2022," Variety's Todd Spangler wrote Thursday. "The now-divested WarnerMedia unit was again a drag on profitability because of continued investments in HBO Max and the launch of CNN+ — reflecting a key reason AT&T spun it off." But HBO Max and HBO added 3 million subscribers "to end Q1 with 76.8 million total..."
"Stunned Netflix Vows to Curb Profligate Spending"
Shares in Netflix fell another 3.5% on Thursday following Wednesday's epic 35% fall. "Well, it's a bitch," co-CEO Reed Hastings told employees at a town hall about Q1 earnings, according to the WSJ's Joe Flint. So what's the new strategy? Well, the headline in Friday's Journal, seen above, is a big hint. The company "is imposing more financial discipline," Flint wrote... "After churning out over 500 original programs last year, Netflix is looking to add fewer new titles, with a greater emphasis on quality..."
IN OTHER NEWS...
Taylor Lorenz on this week's Reliable podcast
Taylor Lorenz, the Washington Post journalist who profiled the "Libs of TikTok" Twitter account and revealed the creator's identity, joined me for this week's "Reliable Sources" podcast. She says "Libs of TikTok," which ridicules progressive educators, has become a "feeding ground" for right-wing media outlets, and "the idea that this woman is not newsworthy is nonsense." She also says the conservative commentators who are denouncing her want to "sow doubt and discredit journalism. That is their agenda." Tune into the podcast via Apple Podcasts, Spotify, Stitcher, or your favorite app...
It is Earth Day...
"They Call Me Magic," a four-part documentary about Magic Johnson, hits Apple TV+...
Per Brian Lowry, it's an unusually big weekend for movie openings, with "The Northman," "The Unbearable Weight of Massive Talent" (starring Nicolas Cage as "Nick Cage") and DreamWorks' "The Bad Guys" all hitting theaters...
Obama's Stanford speech
DONIE O'SULLIVAN REPORTS FROM THE CAMPUS:
President Obama came here to Stanford University, in the heart of Silicon Valley, on Thursday to call on Big Tech to step up its act in dealing with disinformation. He spoke at length about the need for companies to be more transparent about their algorithms – i.e. what makes something go viral. (That's something Elon Musk has talked about too.) Obama also talked a bit about the need for possible government regulation – saying that the US government has successfully regulated other new industries in the past – but he really didn't get into the specifics of Section 230. He described himself as "almost" as free-speech absolutist – which I think underlines once again how thorny an issue any regulation of tech is going to be. Read on...
Disney fallout in Florida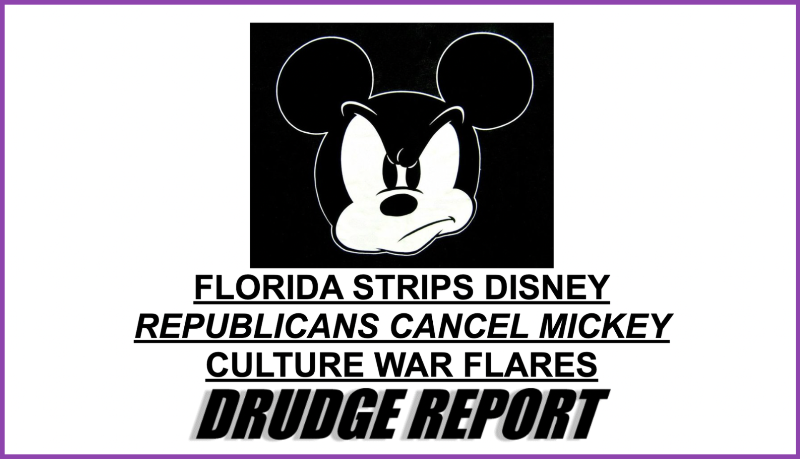 It's official: "The Florida legislature on Thursday gave final passage to a pair of bills aimed at Disney, weeks into the company's feud with Republican Gov. Ron DeSantis over its objections to a new law that limits certain classroom discussion on sexual orientation and gender identity," CNN's team reports. The bill to remove Disney's unique self-governing status is heading to DeSantis now. (Here's an explainer about the Reedy Creek district.)
 >> Reporting from Orlando: Right now the Orlando Sentinel's homepage features Orange County mayor Jerry Demings saying that dissolving Disney's special district would be "catastrophic" for his county's budget...
 >> This story is wrapped up in anti-big business rhetoric, but the chain of events leads straight back to the so-called "Don't Say Gay" law. As I wrote here, homophobia and hate are right underneath the surface of the high-minded talking points about "parental rights in education..."
 >> Notable language from the WSJ editorial board: "The Disney lesson for CEOs is to stay out of these divisive cultural fights. The lesson for political partisans in the workplace is that their bosses run the office, but they don't run the country..."
Biden's reaction
This just in via CNN's Shawna Mizelle and Sam Fossum: President Biden "criticized the Republican Party over its confrontation with Disney and suggested the 'far right has taken over the party.' It's the first time that Biden, who was speaking at a fundraiser in Oregon, has commented on the feud... 'This is not your father's Republican Party,' Biden said at one point on Thursday, later adding: 'It's not even conservative in a traditional sense of conservatism. It's mean, it's ugly. I mean, look at what's happening now in Florida: Christ, they're going after Mickey Mouse.'"
 -- A big WSJ story on Thursday: Meta COO Sheryl Sandberg "is facing internal scrutiny over two occasions in which she pressed a U.K. tabloid to shelve a potential article about her then-boyfriend, Activision Blizzard CEO Bobby Kotick, according to people close to the executives..." (WSJ)
 -- Sean Hannity is now "the longest-running primetime cable news host in television history, beating the record previously set by late broadcasting legend Larry King..." (People)
 -- Typo alert! Yesterday I misspelled Wil Wheaton's name. Thank you to the readers who flagged this...
Maddow obtains audio of McCarthy talking Trump resignation 
On Thursday morning, NYT reporters Alex Burns and Jonathan Martin disclosed a stunning detail from their new book, "This Will Not Pass." The duo reported that House GOP leader Kevin McCarty had mulled asking Trump to resign after 1/6. McCarthy attacked the reporting as "false and wrong" and suggested the reporters were not "interested in the truth." But hours later, Rachel Maddow backed up their claim. Maddow obtained audio of a phone conversation McCarthy had with Liz Cheney in which he privately said he expected Trump to be impeached and that he was considering asking Trump to resign. It's going to be difficult for McCarthy to deny NYT's account now that he's caught on tape saying what he had suggested was not true...
FOR THE RECORD, PART THREE
Links about the war in Ukraine and the coverage:
 -- CNN's top homepage headline right now: "New images point to evidence of mass graves near Mariupol..." (CNN)
 -- David Zurawik's latest analysis is related: "Finding the right tools to cover Mariupol without reporters on the ground..." (CNN)
 -- "With sunken warship, Russian disinformation faces a test," Neil MacFarquhar and Alina Lobzina report... (NYT)
 -- Sarah E. Needleman and Evan Gershkovich's deep dive into the Kremlin's social media knockoffs -- Rutube instead of YouTube -- finds that the "homemade alternatives are a tough sell..." (WSJ)
 -- "Condé Nast is closing Vogue Russia and ceasing publishing due to the ongoing war in Ukraine and related censorship laws, CEO Roger Lynch said..." (Vogue)
Musk shows he's serious about buying Twitter
BY CLARE DUFFY:
Elon Musk on Thursday answered one of the big outstanding questions about his bid to acquire Twitter: how he would pay for it. Although he is the richest person in the world, much of Musk's wealth is tied up in Tesla stock, and some followers of the company had speculated that it could be challenging for Musk to raise debt against the historically volatile stock. In an SEC filing, Musk said he has lined up commitments worth $46.5 billion to finance a Twitter takeover deal. He said he has not yet received a formal response from Twitter to his acquisition offer and is seeking to begin negotiations on a deal "immediately." Musk also said in the filing that he's considering launching a tender offer to buy shares directly from other Twitter shareholders, a move that could put additional pressure on the board. More here...
Depp questioned about past texts during cross examination

Johnny Depp on Thursday has concluded his third day of testimony in his defamation case against his ex-wife Amber Heard. Under cross-examination by Heard's lawyer Ben Rottenborn, evidence of text messages from Depp to some of his friends, including Marilyn Manson and actor Paul Bettany, were introduced that referenced his drug use during the time he was in a relationship with Heard.
Other messages included references of violence toward Heard. Before some exchanges were read in court, Depp said he "wasn't proud of any of the language" that he used in the text messages. Recordings of Depp threatening to self harm were also played. The jury will return on Monday, at which time the cross examination will continue. Here's my full story...
"The Northman" has more style than substance

Part "Hamlet," part "Conan the Barbarian" and plenty of "Vikings," "The Northman" is a great-looking Viking epic from director Robert Eggers ("The Lighthouse"), shot in a dreamlike, almost hallucinatory fashion. If only the movie, which stars Alexander Skarsgård, had a more substantive story to go with its ample style...
 >> One footnote: Nicole Kidman, Skarsgård's wife in "Big Little Lies," plays his mother here. That's Hollywood for you...
FOR THE RECORD, PART FOUR
 -- "Following the news that production was suspended on the Searchlight film 'Being Mortal,' sources tell Deadline the suspension had to do with a complaint made against star Bill Murray for inappropriate behavior..." (Deadline)
 -- "The season two debut of 'Bridgerton' carried the show to a dominant No. 1 in the streaming charts for March 21-27," Rick Porter reports... (THR)
 -- "Nicholas Braun and Chris Buongiorno are developing a series together at HBO," Joe Otterson reports... (Variety)
 -- "Netflix and Skydance Television have set the cast of the untitled Arnold Schwarzenegger spy adventure series, signing nine actors as series regulars," Nellie Andreeva reports... (Deadline)
 -- "Raúl Esparza will return to 'Law & Order: Special Victims Unit' as attorney Rafael Barba in the season 23 finale," Sharon Knolle reports... (The Wrap)
"The Late Show" announced Thursday that host Stephen Colbert has tested positive for Covid. "Tonight's show is canceled," the CBS late-night show tweeted. "As previously planned, the show will be airing repeats tomorrow through next week. We will return with new episodes on May 2..."
Pet of the day...
Reader Carol Ellard emails: "This is Sophie. She keeps me company while I work and check my email for the latest Reliable Sources..."
Thank you for reading! Email your feedback anytime. We'll be back Friday...
You are receiving this message because you subscribed to CNN's Reliable Sources newsletter.
® © 2022 Cable News Network, Inc.
A WarnerMedia Company. All Rights Reserved.
Our mailing address is:
Cable News Network, Inc.
Attention: Privacy Policy Coordinator
One CNN Center, 13 North
Atlanta, GA 30303