Oliver Darcy here at 10:55pm ET on Wednesday, March 30. Here's the latest on Chris Rock, Lara Logan, Alex Jones, Mila Kunis, David Enrich, Jonathan Capehart, Bruce Willis, and more......
Demonizing Disney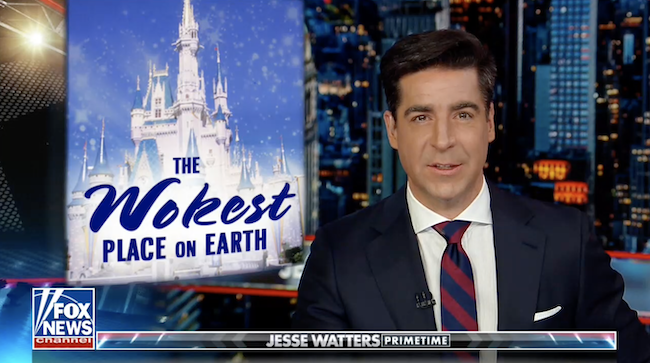 The right-wing media machine has a new villain: Disney.
Right now Fox News, conservative talk radio, and a constellation of right-wing websites and influencers are all training their firepower on the entertainment giant. Disney CEO Bob Chapek's belated stand against Florida's "Don't Say Gay" bill has given way to right-wing media portraying the company as a "woke" organization seeking to "groom" children with what they characterize as a radical LGBTQ agenda. 
Yes – really – Disney. The family-friendly, fun-for-everyone, intentionally inoffensive brand is being challenged like never before, largely by Florida Gov. Ron DeSantis and other GOP politicians who are playing to the cameras to raise their own profiles.
"They have a sexual agenda for six-year-old children," Fox host Tucker Carlson declared on Wednesday night. "You'd think that's illegal in some way. It's certainly immoral. It's creepy as hell. And yet they are the country's leading purveyor of children's programming. That's a problem, no?"
Later in his show, Carlson spoke about executives at Disney who have sought to normalize LGBTQ lifestyles by representing them in movies and other projects. "Sounds like the behavior of a sex offender," Carlson said. "Normal people do not sexualize underage children."
Carlson's rant is just one of many examples. An hour earlier, Fox host Jesse Watters made similar arguments, dubbing the company's theme parks as "The Wokest Place on Earth." The truth is that characterizing Disney as a creepy company which aims to morally bankrupt kids – an extreme position – has become quite mainstream in GOP media circles.
While Disney employees and others initially hammered Disney for not taking a strong stance on the "Don't Say Gay" bill, the opposite is now true on the right...
How much will it impact business?
It might be tempting to dismiss these attacks on Disney as irrelevant to the company's bottom line, but I think that would ignore the very real power held by the talking heads and entities attacking the company. We saw over the last six years how effective these same players were at convincing a not-so-insignificant swath of the country that news from reputable sources was "fake." That assault certainly impacted how conservative Americans view mainstream news outlets. 
That's not to say that the same fate will meet Disney. It's possible that this assault will blow over in a few days or weeks. And Disney's footing in American culture is strong, with its ownership of brands such as "Star Wars" and Marvel. Disney has historically been seen as both family-friendly and, in a more specific way, gay-friendly. Those two identities are not in conflict. Rather, they shouldn't be, but DeSantis and others seem to be creating a conflict.
Consider this: Just as the "1619 Project" was successfully demonized by Fox and others, what is to say that Disney will be unscathed? If the right-wing media apparatus is able to put a sour taste in the minds of the millions who turn to it for news, that could spell at least some bad news for Disney...
The Daily Wire's $100 million bet
While the right is waging an all-out war on Disney, at least one company is seeking to take advantage of it. The Daily Wire, the right-wing media organization, announced in a press release that it will "invest a minimum of $100 million over the next three years into a line of live-action and animated children's entertainment on its streaming platform." The company said such content, which it disclosed had been in the works for months, will be available to its subscribers in 2023. As Axios' Sara Fischer noted, the company has "pushed into entertainment" as a way "to attract paid subscribers." 
In making the decision to develop children's content, Daily Wire co-CEO Jeremy Boreing said, "Americans are tired of giving their money to woke corporations who hate them. They're tired of giving their money to woke media companies who want to indoctrinate their children with radical race and gender theory. But they want to do more than just cancel them. They want alternatives. The Daily Wire is giving them those alternatives."


The QAnon factor 
It is difficult to ignore the QAnon factor at work. The political movement reshaped the GOP in significant ways, helping to mainline the notion inside the party that elites are sexual deviants seeking to exploit kids. This type of story, that Disney is a woke company used by the liberal Hollywood elite to indoctrinate children with radical gender theories, feeds right into that broad theory and reinforces it. Fox and others in the right-wing media galaxy might not directly be promoting QAnon, but they are without question throwing up the Bat-Signal to its fans.
 >> Here's a good background piece published last year from BuzzFeed's Otilla Steadman: "Conspiracy theories about sex trafficking and child abuse have been a core feature of the online fever swamp that bloomed under Trump, acting as a powerful recruitment tool and call to action..."
Fox's own LGBTQ activism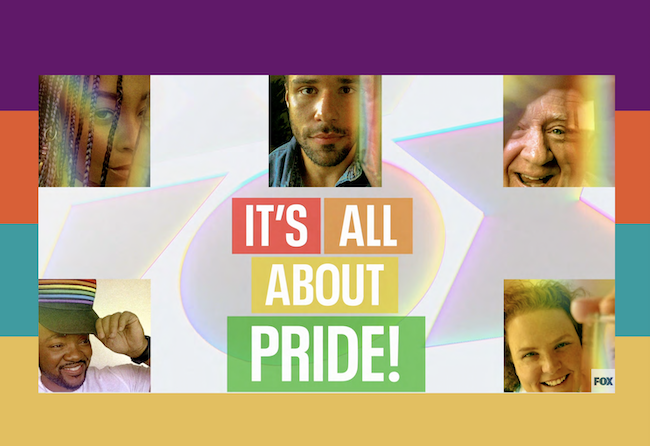 While Fox's talk channel blasts Disney for advancing a pro-LGBTQ agenda, it apparently forgets — or chooses not to mention — that it belongs to an organization that also boasts about its own "commitment" to "championing" such communities. On Fox Corp's website, as flagged by MMFA's John Whitehouse, the company, for instance, brags that it has received a 100% rating by the Human Rights Campaign Foundation's 2021 Corporate Equality Index, giving Fox "the distinction of 'Best Places to Work for LGBTQ Equality.'"
The company adds that it has been recognized as a "Top LGBTQ+ Friendly Company." It even goes as far as to say that it seeks out to "build business opportunities  and lasting relationships" with companies owned by LGBTQ individuals. "IT'S ALL ABOUT PRIDE," the company says in its "corporate social responsibility" report. I asked a Fox Corp. spox on Wednesday how the company can square the two messages, but didn't hear back...
 -- Chapek's missteps have fueled a "confidence crisis at Disney," Kim Masters writes. She says insiders are speculating about "how long he might last on the job..." (THR)
 -- In an interview set to stream on CNN+ Thursday, Bob Iger tells Chris Wallace, "When you are dealing with right and wrong, and when you are dealing with something that does have a profound impact on your business, I just think you have to do what is right and not worry about the potential backlash to it..." (Deadline)
 -- Laura Ingraham continued the assault on Disney on her show: "Why not just rename the roller-coaster 'Sex Mountain.' C'mon kids, it will be blast!" (Twitter)
 -- Philip Bump's point: Republican legislators ... are in the business of selling themselves to the sorts of people who agree with what's shown on Fox News. And here we are..." (WaPo)
DEVELOPING:
Chris Rock breaks his silence
Chris Rock made an emotional return to the stage on Wednesday night for the first time since Will Smith slapped him at the Academy Awards. Rock, dressed in all white, publicly addressed the incident for the first time. He was greeted by the audience at Boston's Wilbur Theater with two back-to-back standing ovations, lasting several minutes. "Let me be all misty and s***," Rock said with tears in his eyes, gesturing to the crowd's warm response.

"How was your weekend?" he quipped, to which the audience responded with laughter.
"I don't have a bunch of s*** to say about that, so if you came here for that," he said, paused and then continued, "I had written a whole show before this weekend. I'm still processing what happened, so at some point I'll talk about that s***. It'll be serious. It'll be funny, but right now I'm going to tell some jokes." The comedian, currently on his "Ego Death Tour," then moved on with his show.
Academy says Smith "refused" to leave ceremony
Rock's comments came just hours after the Academy released a statement announcing that it had "initiated disciplinary proceedings" against Smith. The Academy, which said Smith's conduct violated its standards, described what happened as a "deeply shocking" and "traumatic event." The Academy said that Smith had actually been asked to leave the ceremony, but "refused" to do so. 
And finally, days later, the Academy apologized to Rock: "Mr. Rock, we apologize to you for what you experienced on our stage and thank you for your resilience in that moment," the statement said. "We also apologize to our nominees, guests and viewers for what transpired during what should have been a celebratory event."
 -- Wanda Sykes told Ellen DeGeneres that the incident was "sickening" and she's "still a little traumatized by it..." (CNN)
 -- Amy Schumer said she too is "still triggered and traumatized..." (A/V Club)
 -- Tony Rock, Chris Rock's brother, also shared some of his thoughts on the incident on social media Wednesday... (CNN)
 -- BAFTA said that under its rules, it would have "removed" Smith from its ceremony: "We do not tolerate violence of any kind..." (THR)
CBS News employees upset over Mulvaney hire
CBS News employees are up in arms over the network's hiring of former Trump acting chief of staff Mick Mulvaney, WaPo's Jeremy Barr reported Wednesday. "The reaction from CBS News employees to Mulvaney's hiring was as chilly as the reaction on social media, where many journalists and political commentators suggested that the network was jeopardizing its long history of journalistic excellence," Barr wrote. As one source explained to him, "I know everyone I talked to today was embarrassed about the hiring."
Barr also reported that when the network only introduced Mulvaney on Tuesday as a "former Office of Management and Budget director," the outlet's standards department sent out an internal note. The note, according to Barr, said that "as we introduce these folks, we must always identify relevant background and biographical information," such as which White House they worked in. More from Barr here...
Lara Logan: I was "dumped by Fox"
Lara Logan is coming clean about why she is no longer on Fox. In an interview flagged by Rolling Stone's Tim Dickinson, Logan said she was "dumped by Fox," adding, "That's what happened to me." The "dumping," of course, occurred after Logan went on Fox and compared Dr. Anthony Fauci to a Nazi doctor who infamously performed horrific medical experiments on prisoners at the Auschwitz death camp.
Logan, however, claimed that being ditched by the right-wing network was a blessing. "God has intervened in my life in very significant ways to spare me from being tainted," Logan said. "I was taken off the air at Fox just before they went into a whole marathon of war porn in Ukraine." More from Dickinson here...
 >> A reminder: Fox never said anything about Logan's outrageous comparison of Fauci to the Nazi doctor... 
Judge holds Alex Jones in contempt

A Connecticut judge is holding notorious conspiracy theorist Alex Jones in contempt of court after he failed to comply with multiple orders for Jones to sit for a deposition in a defamation suit brought against him by families of victims of the Sandy Hook shooting. The judge did, however, stop short of issuing a warrant for Jones' arrest, which the plaintiffs had requested. 
Superior Court Judge Barbara Bellis announced her decision at a hearing Wednesday, saying Jones "intentionally failed to comply with orders of the court" and that there is no adequate explanation for why he did not follow her orders to sit for a deposition. Until he complies and sits for a deposition, Jones will have to pay fines that will start at $25,000 a day on April 1 and increasing by $25,000 each business day. Here's my full story...
House Speaker Nancy Pelosi holds her weekly press conference at 10:45am...
President Biden delivers remarks on Vladimir Putin and energy prices at 1:30pm...
"Putin misled by advisers, U.S. claims"
That's the main headline on the front page of Thursday's Washington Post. And I can't help but wonder if this is ultimately the overarching story of the war in Ukraine. 
Vladimir Putin's "senior advisers are too afraid to tell him the truth," a US official told reporters on condition of anonymity on Tuesday. "We have information that Putin felt misled by the Russian military," the official also said. One day, will the world look back and conclude that Putin launched a doomed war because he was poorly advised and misinformed?
Why Ukraine will stay on American screens
After a month as the top story in mainstream media, it is inevitable that coverage around the war in Ukraine will at some point start to fade in prominence. But that fade can be just that, rather than something resembling a fall off a cliff. American viewers will continue to stay highly engaged — that is, if coverage remains focused on empathetic, on-the-ground reporting of what have long been known in newsrooms as "people" stories, analysts say. More in my full story here...
FOR THE RECORD, PART THREE
 -- Alik Sardinian argues that members of the international media "are failing the people who are helping them do it: Ukrainian journalists..." (Open Democracy) 
 -- Mark Hannah asks: "Why is the wartime press corps so hawkish?" (Foreign Policy)
 -- Tom Jones writes about Ukraine coverage: "When it comes to optimism, pessimism or skepticism, news outlets have chosen something even better: realism..." (Poynter)
 -- Ashton Kutcher and Mila Kunis talk to Chris Wallace about their efforts to help Ukrainians... (CNN)

FIRST IN RELIABLE:
"Servants of the Damned"
BY BRIAN STELTER:
New York Times business investigations editor David Enrich is about to reveal the title of his next book, "SERVANTS OF THE DAMNED: Giant Law Firms, Donald Trump, and the Corruption of Justice." Mariner Books is set to publish on September 13. Enrich's first book, "Dark Towers," was a bestseller back in 2020. It looks like the new book has just popped up on Amazon...
After I published Tuesday's newsletter about CNN+, one of the main Q's I received was about breaking news coverage. Wednesday brought several answers in the form of three different breaking news episodes. The first was space correspondent Kristin Fisher's special report when US astronaut Mark Vande Hei returned to Earth after an historic mission aboard a Russian spacecraft. "We are able to program a special report like this on CNN+ while 'New Day' focuses on the latest from Ukraine and the day's other top stories," Andrew Morse pointed out. In the afternoon Kasie Hunt anchored a special report when President Biden spoke about Covid-19 and received his second booster shot, and after Hunt's 4pm show I led a news update about Bruce Willis retiring from acting. I spent seven minutes speaking with one of the world's leading neurosurgeons -- which didn't occur anywhere on traditional TV news. So that's three very different types of breaking news coverage, all within the CNN+ environment...
Four notes
 >> Jimmy Fallon opened his "Tonight Show" monologue on Tuesday by dreaming up some slogans for CNN+. Here's the video...
 >> Speaking of late night, did you catch what Chris Wallace did at the end of his segment with Stephen Colbert on "The Late Show" Monday night? He used the chat to book Colbert for CNN+...
 >> The Verge's Catie Keck wrote about Interview Club: "CNN Plus launches with Reddit-like interactive Q&As..."
 >> Commercial satellite imagery has been a top source of info from Ukraine. So on Thursday's "Reliable Sources Daily," I will speak with a top exec from one of the satellite firms – Stephen Wood of Maxar...
Alexey Navalny film coming to theaters in April
"CNN Films, Warner Bros. Pictures, and HBO Max have partnered with Fathom Events to present director Daniel Roher's documentary thriller 'Navalny' in special screening events" April 11 and 12 in approximately 800 theaters in North America, IndieWire's Samantha Bergeson reports. "The screenings will be followed by a conversation with the filmmakers, moderated by CNN's chief international correspondent Clarissa Ward."
 >> "Navalny," a top award winner at Sundance, will premiere later on CNN+, HBO Max, and the CNN US linear television network...
 >> In a Twitter thread about CNN+, WarnerMedia CEO Jason Kilar raved about the film: "There isn't a more relevant nor more important documentary/story in this moment..."
FOR THE RECORD, PART FOUR
 -- Jonathan Capehart has been named associate editor at WaPo... (WaPo)
 -- Isaac Arnsdorf is jumping from ProPublica to WaPo as a national politics reporter... (WaPo)
 -- María Elena Salinas, most recently of CBS, has joined ABC News as a contributor and a consultant for the race and culture unit... (ABC)
 -- Cathy Lo is joining NYT Cooking... (NYT)
 -- Promotions at Variety: Michael Schneider is the new TV editor; Kate Aurthur is expanding her coverage... (Variety)
 -- Disney has named Google vet Jeremy Doig as its CTO for streaming... (THR)
Meta hired GOP firm to attack TikTok
Facebook faced criticism (I know, an evergreen three-word phrase) on Wednesday after WaPo's Taylor Lorenz and Drew Harwell scooped that the company's parent, Meta, had hired "one of the biggest Republican consulting firms in the country to orchestrate a nationwide campaign seeking to turn the public against TikTok." Per Lorenz and Harwell, "The campaign includes placing op-eds and letters to the editor in major regional news outlets, promoting dubious stories about alleged TikTok trends that actually originated on Facebook, and pushing to draw political reporters and local politicians into helping take down its biggest competitor."
>> A TikTok spox told WaPo the company is "deeply concerned" about "the stoking of local media reports on alleged trends that have not been found on the platform..."
>> Meanwhile, Meta spox Andy Stone said, "We believe all platforms, including TikTok, should face a level of scrutiny consistent with their growing success..."
FOR THE RECORD, PART FIVE
 -- The Senate "narrowly advanced the nomination of Alvaro Bedoya to the Federal Trade Commission, as Democrats seek to end a deadlock on the commission and advance an agenda likely to take a harder line on corporation consolidation and tech giants," Ted Johnson reports... (Deadline)

 -- A new weekly "CBS Mornings" series will explore life in the Metaverse, Brian Steinberg reports. The series begins Thursday morning... (Variety)
 -- Over at NBCU News Group, the company has partnered with Consumer Reports "to weave e-commerce into the digital counterpart to its venerable 'Today' show as well as other areas," Steinberg reports... (Variety)
 -- Katy Perry is "getting into the podcast business," narrating a series about Elizabeth Taylor, Alicia Rancilio reports... (AP)

 -- Get ready for more "Game of Thrones." The HBO spin-off series, "House of Dragon," will premiere August 21, the network said Wednesday... (Variety) 
 -- "The Good Doctor" has been renewed by ABC for a sixth season... (Deadline)
 -- "The Rookie" has also been renewed by ABC for a fifth season... (Deadline)
 -- Apple will re-release "Coda" in theaters after the film's Oscars win... (THR)
 -- How much will "Morbius" net at the box office? The movie is eying a $40 million opening weekend... (Variety)
Bruce Willis to step away from acting after aphasia diagnosis 
Bruce Willis will take a break from acting because of a medical condition that is affecting his cognitive abilities, his family shared Wednesday. A statement posted by the "Die Hard" actor's daughter read: "To Bruce's amazing supporters, as a family we wanted to share that our beloved Bruce has been experiencing some health issues and has recently been diagnosed with aphasia, which is impacting his cognitive abilities. As a result of this and with much consideration Bruce is stepping away from the career that has meant so much to him."
The statement added that the family is "moving through this" as a "strong" unit and that they "wanted to bring his fans in because we know how much he means to you, as you do to him." According to the Mayo Clinic, aphasia is "a condition that robs you of the ability to communicate" and can be caused by a stroke, head injury, a brain tumor or a disease. Here's my full story...
FOR THE RECORD, PART SEVEN
LAST BUT DEFINITELY NOT LEAST...
Pet of the day
Reader Brenda Murray emails: "'What!?' says my South Carolina rescue Frito when she hears we can't subscribe to CNN+ since we live in Canada. Let us know when it's available up here!" Will do, Frito...
Thank you for reading! Email your feedback anytime. We'll see you tomorrow...
You are receiving this message because you subscribed to CNN's Reliable Sources newsletter.
® © 2022 Cable News Network, Inc.
A WarnerMedia Company. All Rights Reserved.
Our mailing address is:
Cable News Network, Inc.
Attention: Privacy Policy Coordinator
One CNN Center, 13 North
Atlanta, GA 30303