Brian Stelter here at 11:12pm ET on Tuesday, March 22. Here's the latest on Disney, BuzzFeed, Rachel Zegler, Discord, Mike Tirico, "The Love Boat," Tom Hanks, and more...
Remembering Sasha
Too often, the deaths of local journalists are overshadowed, relegated to a passing mention or a stray paragraph, particularly when globetrotting correspondents are also killed or injured.
But that's not how it should be.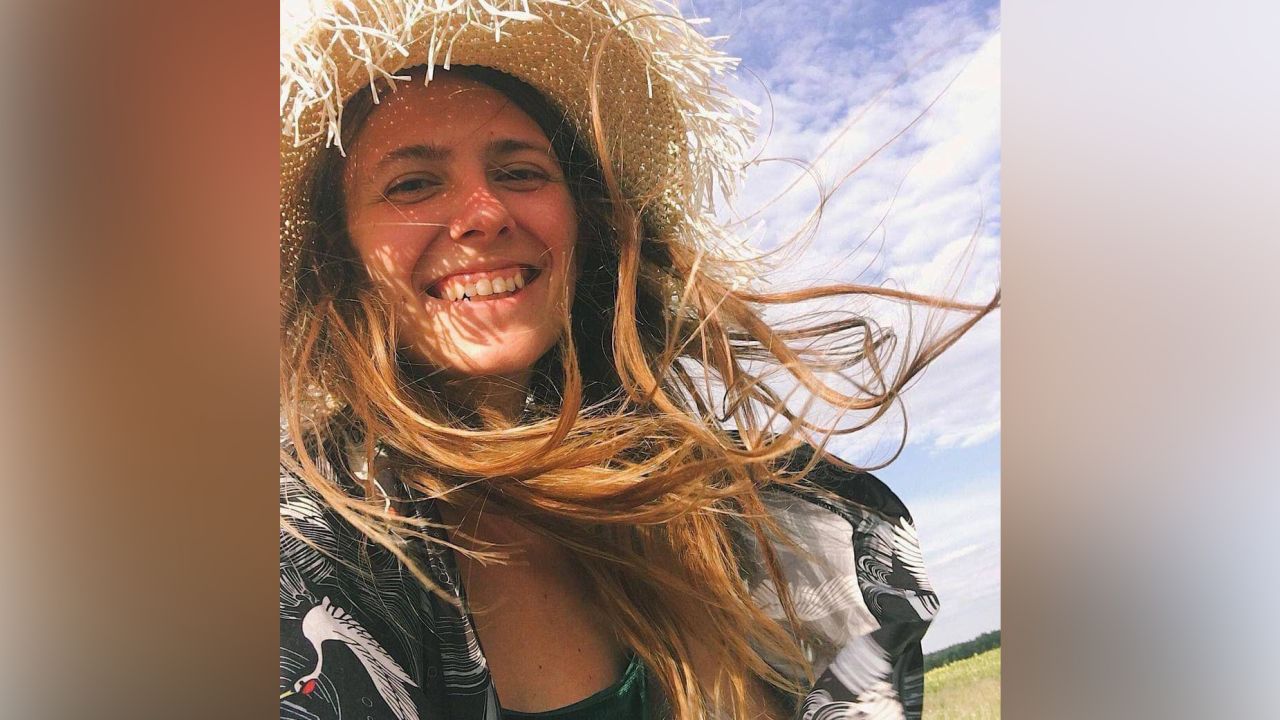 This is Oleksandra "Sasha" Kuvshynova, the Ukrainian journalist who was killed when a Fox News crew came under fire last week. She died alongside veteran Fox cameraman Pierre Zakrzewski. Correspondent Benjamin Hall was severely injured.
CNN's Rebecca Wright and Olha Konovalova wanted to make sure her full story was heard, was understood, so they interviewed Sasha's family members and friends. They found that she "led a vibrant life" before the war, "immersed in the creative community of the Ukrainian capital and working on a string of diverse projects — everything from founding a music festival for up-and-coming jazz musicians to working as a DJ and writing poetry." She was a gifted photographer, too. When the war began, she felt compelled to help cover it, so she wound up working with a team from Fox.
Wright and Konovalova produced this emotional profile of Sasha – one of the countless lives lost to the senseless fighting. A standout sentence: "Her father, Andriy Kuvshynov, told CNN they always knew Sasha was a 'talented girl' with a 'love of life,' but the outpouring of messages from her wide circle of friends and colleagues has enabled the family to build up a broader picture of the 24-year-old."
The obit closes with Sasha's own words, from a poem that she wrote in English and posted for friends on Instagram about six weeks ago. She wrote:
This time
When there is only left
a touch between us
I see the sky in front
No words left for you
I have got thousands lifetimes
To count the steps
That I will make for us
I hold on tight every moment
Your smile
Between my heart and morning tea
Seconds blaze furiously
My heart is warm
The consonance sounds
Intermission.
The battlefield story
The story is complex, as CNN.com's two-line banner headline shows right now: "Russia attacks from the sea; Ukraine makes gains near Kyiv." The NYT's homepage headline is "Russia's Combat Forces Have Shrunk, Pentagon Says." The WSJ's headline is "Ukrainians Flee as Russian Forces Push to Take Mariupol." And here's the print headline in Wednesday's WaPo:
Amanpour's exclusive
An Phung writes: "Kremlin spokesman Dmitry Peskov refused to rule out the use of nuclear weapons if Russia sees what it considers to be an 'existential threat.' The full CNN exclusive with Christiane Amanpour is worth watching just to see how closely and carefully he toes the party line. This is what Russians are getting on their airwaves, minus the benefits of Amanpour's probing…"
 -- A debunked TikTok video, "describing an attack on a Russian-speaking boy in Germany," is "the latest salvo in a battle over truth playing out in parallel with the war in Ukraine," Isaac Stanley-Becker and Dan Rosenzweig-Ziff report... (WaPo)
 -- An update on a story we shared on Sunday: "The independent Ukrainian television station Hromadske announced that Viktoria Roshchina, a reporter with the station who went missing on March 11," has been released... (CPJ)
 -- "Renowned Ukrainian photojournalist Max Levin has disappeared on the front line near Kyiv, according to a statement from a friend of Levin..." (CNN)
 -- "The Online Sleuths Fighting Russian Disinformation:" The Journal. podcast spoke with Bellingcat's exec director Christo Grozev. Transcript here... (WSJ)
 -- "Zhanna Agalakova, until her resignation this month a journalist with Russia's state-controlled Channel One broadcaster, said on Tuesday she quit in protest at the war being waged by Russia in Ukraine..." (Reuters)
 -- Steven Zeitchik's latest is a Q&A with Russian American filmmaker Maxim Pozdorovkin: "Americans may be greatly underestimating the impact of 10 years of Putin's propaganda..." (WaPo)
"A WhatsApp War"
Joel Simon's latest for CJR is titled "For journalists, Ukraine is a WhatsApp war." News organizations "are using messaging apps to manage risk in a conflict that has been deadly for the press," he wrote. "I spoke with journalists, editors, and security experts to find out how it's working..."
Inside the new funding for Radio Free
The Washington Post's editorial board has weighed in on news I've been meaning to mention here: "Congress has approved a major injection of funds to Radio Free Europe/Radio Liberty and to Radio Free Asia, which are dedicated to the broadcast of independent news and information to nations that need it, including Russia and China." The editorial board's take: "After the Cold War ended, some thought the organizations were obsolete, but their mission now seems more urgent than ever — and they will need ingenuity to overcome hurdles to fulfilling it." Details here...
Auctioning off his medal...
Novaya Gazeta editor Dmitry Muratov, the Russian journalist who won last year's Nobel Peace Prize, "says he will auction off his medal to support Ukrainian refugees," CNN's Eoin McSweeney and Niamh Kennedy wrote Tuesday. He said he "was compelled to sell his medal by the sight of 'wounded and sick children' requiring 'urgent treatment' following Russia's invasion of Ukraine..."
Correction
Last night I misspelled Peter Pomerantzev's name, in a headline no less! So that's why this correction is getting a headline as well. Thanks to reliable reader Steven S. for flagging the error...
 -- "Russia's brutally simple Ukraine strategy poses new risks for journalists," CPJ's Robert Mahoney writes, with remarkable examples... (Nieman Reports)
 -- A no-nonsense, very practical guide by Daniel Victor: "How to avoid sharing misinformation on the war..." (NYT)
 -- In other news, urban search and rescue teams and other first responders are fanning out in New Orleans after a large tornado battered parts of the city. We'll know a lot more come sunrise... (CNN)
 -- Via WDSU: "Chief Meteorologist Margaret Orr fights back tears after watching new video of the tornado move over Chalmette..." (Twitter)
Walkout day
Frank Pallotta writes: "Some of Disney's biggest brands showed support for the LGBTQ+ community as company-wide walkouts by employees took place in multiple locations on Tuesday. Several divisions of the company also showed solidarity through Instagram and Twitter posts. 'To ALL who come to this happy place, welcome," Disney Parks posted, echoing the words of Walt Disney during his speech at Disneyland's opening day in 1955. 'Disney Parks, Experiences and Products is committed to creating experiences that support family values for every family, and will not stand for discrimination in any form.'"
Pallotta writes: "Tuesday's action underscores the company's complicated history with the LGBTQ+ community — a complex relationship that has reached a boiling point. Going back to the days of Walt Disney, the company has portrayed few prominent queer characters and when it does, it's more of the 'blink and you'll miss it' variety. Disney 'often tries to give nodding representation — representation that could likely be appreciated by somebody looking for it, but could be missed by people who might be bothered or traumatized by seeing what they feel as inappropriate content,' Sean Griffin, author of 'Tinker Belles and Evil Queens: The Walt Disney Company from the Inside Out,' told me on Tuesday. Where the relationship between the company and the LGBTQ+ community goes from here is now the question…"
Further coverage
 -- The NYT's Brooks Barnes reports that "longtime theme park executives worried there could be trouble ahead" for Bob Chapek several weeks before the employee uprising became national news...
 -- Ryan Faughnder's latest for the LA Times: "The ongoing revolt by staff" signifies "a significant break with Disney's normally insular company culture, in which employees have long been fiercely loyal and protective of the company." Employees "rarely publicly challenge top management," well, until now...
 -- Disney-owned ABC News also covered the walkout on Tuesday, with a thorough story written by race and culture reporter/producer Kiara Alfonseca...
SCOTUS confirmation hearing takeaways
Day two of Judge Ketanji Brown Jackson's confirmation hearing proceeded as expected, with Republican attacks and many opportunities for Jackson to defend herself. The session lasted more than 12 hours, and since most people did not watch it minute-by-minute, news sites leaned heavily on "live updates" pages and "top takeaway" articles. CNN's Tierney Sneed has an excellent recap here...
The Senate Judiciary Committee's SCOTUS hearing resumes at 9am ET...
President Biden travels to Brussels, Belgium...
It's National Puppy Day...
BuzzFeed News is downsizing
CNN's Jennifer Korn writes: "BuzzFeed News announced on Tuesday that its editor in chief is stepping down and the company is offering buyouts to eligible staffers that could turn into layoffs." Either way, the news division is shrinking yet again, starting at the top:
 -- Editor in Chief Mark Schoofs, who replaced Ben Smith in 2020, is out. Samantha Henig will be the interim top editor.
 -- Deputy editor in chief Tom Namako is becoming the new executive editor of NBC News Digital.
 -- Ariel Kaminer, executive editor for Investigations and Tech, is also exiting.
Why Peretti is scaling back news
The departures are the part that's visible above the surface. Beneath the surface, there is more going on. CNBC's Alex Sherman reported that "several large shareholders have urged BuzzFeed founder and CEO Jonah Peretti to shut down the entire news operation," since it's a drag on profits. "Instead of being a vanguard of the digital age, BuzzFeed News is looking more like one of those aging newspapers that has to keep cutting employees as it tries to keep up with declining ad revenues," The Information's Martin Peers wrote.
BuzzFeed held its first earnings call as a public company on Tuesday. Peretti touted the company's overall profitability but signaled changes: Execs will prioritize content investments "around coverage of the biggest news of the day, culture and entertainment, celebrity, and life on the Internet," he said...
 >> The WSJ's Alexandra Bruell has more on the staff cuts here...
 >> Insider's Steven Perlberg obtained audio of Peretti's meeting with staffers...
"The dark side of Discord for teens"
Samantha Murphy Kelly writes: "I spent several months talking with parents about Discord, the popular audio and chat social network with 150 million active users (many of whom are teenagers). Lawmakers are focused on the dangers of social media, but Discord has largely been left out of the conversation. Dangerous incidents are playing out in a way that parents aren't aware of until there is an incident. Part of the reason is Discord's approach: reporting is tricky and audio conversations are untraceable." 
 >> For example, Amanda Schneider, seen below, said an older man pursued an inappropriate relationship with her 13-year-old son on Discord. "It was just awful; there was no help at all," Schneider said. Read on...
FOR THE RECORD, PART THREE
 -- Joshua Benton's look at a new collection of research into climate reporting: "How can journalism get better at covering climate change? Being a bummer might help..." (NiemanLab)
 -- "Ben and Justin Smith plan to name their new company 'Semafor,' a word used to describe a method of communication via two visual signals..." (Axios)
 -- Alex Wilheim is back as editor-in-chief of TechCrunch Plus, the site's members-only community... (Twitter)
 -- Ashley Carman's deep dive into Earworm and Stitcher: "How SiriusXM bought and bungled a beloved podcast network..." (The Verge)
 -- Shira Ovide offers some "metaverse lessons from Hollywood..." (NYT)
Tirico joining "Sunday Night Football"
"Veteran sportscaster Mike Tirico will join NBC's 'Sunday Night Football' next fall, pairing up with analyst Cris Collinsworth in the latest shake up among the announcers who call the plays of TV's most-watched sport," Variety's Brian Steinberg writes. "Tirico fills a spot left vacant by the departure of Al Michaels, who is expected to join Amazon to call 'Thursday Night Football...'"
 -- Alex Weprin's big picture look for THR: "NFL Megadeals Spark Boom Times for TV Announcers"
New revenue streams for sports = new headaches for fans
"Simply trying to 'put the game on' may have gotten a little more complicated," The Wrap's Brian Welk writes. "In addition to the deals Major League Baseball already has with your regional sports network, with ESPN, Fox, Facebook Live, YouTube, MLB Network and its streaming service MLB.TV, fans will soon be hunting for their favorite team on both Apple TV+ and Peacock..."
FOR THE RECORD, PART FOUR
 -- Noel Murray's viral tweet about "The Goldbergs" and Jeff Garlin has become a fantastic essay: "The Goldbergs found a catastrophically weird way to deal with its controversial star..." (Slate)
 -- By Travis Clark: "How 6 indie theaters adapted as the pandemic rocked the movie industry and why execs are hopeful for the future..." (Insider)
 -- Jamie Ding writes: "Video game workers found their voices in the pandemic. Could unions be next?" (LAT)
 -- U.S. District Judge Dale Fischer is "likely to approve $18 million Activision Blizzard sexual harassment suit settlement," Shannon Liao reports... (WaPo)
Oscars countdown 
Brian Lowry writes: "In my obligatory Academy Awards preview, I pose some of the questions before, during and after the ceremony, such as whether the ratings can rebound at all; if the time-crunching of categories will work (or if the Academy irked part of its membership to no avail); and how this movie year will be remembered if one of the perceived streaming frontrunners, 'The Power of the Dog' or 'Coda,' wins. The bottom line: There's nothing wrong with trying to bring the Oscars kicking and screaming into the 21st century, but each step forward usually comes with one back..."
"Love" connection
Brian Lowry writes: "Add 'The Love Boat' to the strange genre of reality shows built around movies or scripted TV, coming not long after Fox's 'The Real Dirty Dancing' and HBO Max's 'Finding Magic Mike.' This one represents a collaboration of CBS and Network 10 in Australia, and requires finding people both looking for love and willing to get on board a cruise ship..."
FOR THE RECORD, PART FIVE
 -- "Following an internet firestorm over the revelation" that Rachel Zegler "had not been invited to attend the 2022 Oscars," the Academy "has invited the up-and-comer to be a presenter at the ceremony," Scott Feinberg reported Tuesday... (THR)
 -- I loved Kate Aurthur's lead here: "Fire up the hot takes! Buy tickets to the comedy concert! 'And Just Like That,' the show that caused the internet to explode in conversation each week, has been renewed for a second season by HBO Max..." (Variety)
 -- David Spade's first Netflix comedy special will debut next month... (TheWrap)
"King of Late Night"
"The story of one of America's most beloved TV personalities, Johnny Carson, may finally be coming to the screen," Deadline's Nellie Andreeva scooped Tuesday. "A high-profile series, starring Joseph Gordon-Levitt as Carson, written by Deadwood creator David Milch and to be directed by Jay Roach, was recently taken out and has been heating up the premium marketplace." The project's name right now is "King Of Late Night." Andreeva noted that "there have been multiple previous attempts to mount a Johnny Carson biopic" in the past...
SAVING THE BEST FOR LAST...
Dog of the day
Victoria shares this photo of Kenzie and her super cool glasses...
You are receiving this message because you subscribed to CNN's Reliable Sources newsletter.
® © 2022 Cable News Network, Inc.
A WarnerMedia Company. All Rights Reserved.
Our mailing address is:
Cable News Network, Inc.
Attention: Privacy Policy Coordinator
One CNN Center, 13 North
Atlanta, GA 30303