Oliver Darcy here. It's 10:35pm ET on Friday, March 18. Here's the latest on NYT, Project Veritas, Pixar Animation, and more. Plus, a weekend planner, long reads, and this Sunday's "Reliable" guest list. But first...
"Appalled" at Axios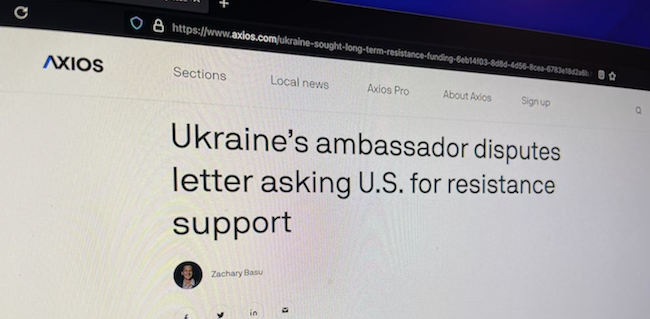 The White House spent much of Friday frustrated by an Axios report that it believes was based on a fabricated letter purportedly written by Ukraine's top national security official. The Axios story, written by reporter Zachary Basu, said that Oleksiy Danilov had asked the US earlier this month "to go beyond traditional military aid and provide the country with the funding, training and weaponry to support a long-term resistance movement." 
But Ukrainian Ambassador Oksana Markarova later told Axios that she believed the letter was "falsified." And officials at the National Security Council also told Axios they have no record of receiving such a letter from Danilov.
Here's what I have gathered after talking to a senior administration official familiar with the matter: WH and CIA officials told Axios off the record on Thursday that they had no record of receiving Danilov's supposed letter and that they could not confirm its authenticity. In other words, they tried to wave Basu away from it. When Basu published his report anyway, the WH connected the outlet with Markarova so that she could relay that she believed it to be inauthentic. Markarova did so on Friday. Meanwhile, the WH repeatedly asked Axios to retract its story -- all to no avail. 
"We were appalled that Axios apparently did not have time to verify with Ukrainian officials whether or not this letter was a fake, but made sure to reach out to a former Trump official with no knowledge of the situation for a 'gotcha' quote," the senior admin official told me. "And then we were even more appalled it stayed up all day despite our repeated asks to take the story down when became obvious the letter was a fake – which Axios should have dug up before publishing in the first place."
Shortly after I contacted Axios for comment Friday evening, the outlet updated its story. Axios changed the headline — which initially read "Scoop: Ukraine sought long-term resistance funding" — to "Ukraine's ambassador disputes letter asking U.S. for resistance support." The new story, which included Markarova saying the document appeared "falsified," cited a "former senior Ukrainian official close to Danilov" who told Axios "that they had received the letter from Danilov's office, and that it was also distributed to Ukrainian American groups and think tank experts in Washington." But crucially, the source also told Axios that he or she could not confirm the letter was officially transmitted to the US government -- essentially the crux of the initial story.
Notably, at that point, the article didn't include a correction or retraction, despite it seemingly having no real legs to stand on. Later in the evening, a proper correction was ultimately appended to the top of the story. It read, in part, "This corrects an original version of this story that stated the Ukrainian government 'asked' for additional assistance from the U.S. government, when Axios was unable to confirm the letter was actually sent." Still, given that Axios is now conceding it was "unable to confirm" the main point of its initial story, it is surprising that a more forceful correction or full retraction wasn't issued.
NSC spokesperson Emily Horne went on the record about the whole episode. In a statement to me, she said, "We told Axios that we had not received this letter and were unable to verify its authenticity. There's a lot of disinformation and misinformation being pushed around about Ukraine right now. This is a moment where taking the extra time to verify reporting is even more essential than usual." I think everyone can agree with that...
 -- CNN's homepage headline right now: "Russian forces dig in near Kyiv as brutal strikes continue..."
 -- For a local view, check out the homepages of the Kyiv Independent and Kyiv Post, with headlines like Mariupol "remains defiant while calls for help persist" and "Is Putin going to launch a nuclear war?"
 -- Don Lemon had an exclusive interview with Defense Secretary Lloyd Austin in Sofia, Bulgaria on Friday. Austin said the Russians "have not progressed as far as quickly as they would have liked..." 
 -- Margaret Sullivan's latest WaPo column: "What you can do to help save Ukraine from a looming news apocalypse..."
 -- WaPo's Saturday front page: "Russia widens battlefield with strike in Lviv..."
RT gets booted from Britain
RT's reach continued to shrink on Friday when UK media regular Ofcom banned the channel. Ofcom had said weeks ago that it had launched multiple investigations into RT and whether the network met its standards for a broadcasting license. On Friday, Ofcom said that it had determined that RT did not. "Following an independent regulatory process, we have today found that RT is not fit and proper to hold a license in the UK," the media regulator said. "As a result we have revoked RT's UK broadcasting license." Russia decried the move as "anti-Russian madness." CNN's Mark Thompson has more here...
Platforms are treading carefully...
"Russia keeps spreading claims on social media the international community has rejected as false, including a conspiracy theory about biolabs in Ukraine," CNN's Brian Fung writes. In this CNN.com story, Fung says this shows how social media platforms are treading carefully when it comes to the Russian government, taking "a more surgical approach by removing individual posts by government accounts that violate platform rules," rather than entire accounts. Read on...
 -- During an English-language interview on RT on Friday, "Russian Foreign Minister Sergei Lavrov praised Fox News as alone among 'Western media' in 'trying to represent some alternative points of view...'" (Mediaite)
 -- Never a dull moment on Daniel Dale's fact-checking beat: "Three American troops that a Russian media outlet claimed had been killed in Ukraine are all alive, and none are in Ukraine, the National Guard said in a Thursday statement..." (CNN)
 -- A fascinating story from Laura Haim, which details how veteran war photographers have surged into Ukraine "to capture the devastation in what could be their last hurrah..." (AirMail) 
 -- China's "state-run news media juggernaut — like the government itself — appears to be subtly shifting its tone on the war..." (NYT)
 -- But: "A Chinese vlogger shared videos of war-torn Ukraine. He's been labeled a national traitor..." (CNN)
 -- Lorraine Ali watched "Servant of the People" starring Volodymyr Zelensky, now that the first season is newly back on Netflix, and found that it "brims with insights about modern governance..." (LAT)
The Producers Guild, one of the more reliable Oscar bellwethers in recent years, presents its annual awards on Saturday...
The NCAA Men's Basketball Tournament moves into its second round...
Jake Tapper's guests on Sunday's "SOTU" will include US Ambassador to the UN Linda Thomas-Greenfield and former CIA director General David Petraeus (Ret.)...
NBC's "Meet the Press" is promoting exclusives with Sen. Chris Murphy and Rep. Liz Cheney...
This Sunday on "Reliable"
Brian Stelter writes: "How are news outlets operating in Ukraine while trying to stay safe? I'll be talking with The AP's top editor Julie Pace and Kyiv Independent's EIC Olga Rudenko about that. Plus: Kimberly Dozier, Anne Applebaum, Peter Pomerantsev, Mara Schiavocampo, and Philip Bump, and NewsGuard general manager Matt Skibinski. See you Sunday at 11am ET on CNN..."
IN OTHER NEWS...
NYT cancel culture editorial sparks online fury
The NYT's Opinion section ignited fierce online debate Friday when its editorial board published an editorial decrying cancel culture and declaring that "America has a free speech problem." The key line: "Americans are losing hold of a fundamental right as citizens of a free country: the right to speak their minds and voice their opinions in public without fear of being shamed or shunned." Critics of the piece — and there were many — pointed out that people are free to self-expression, but not free from the consequences of that expression, like being shunned. Others, however, defended the piece's basic premise.
You can read the piece and make up your own mind. I found what Puck's Dylan Byers reported later in the day to be interesting: That the piece "was effectively commissioned by the paper's publisher A.G. Sulzberger, and had been in the works for several months." Byers argued that "the Sulzberger-commissioned editorial can also be read not just as a declaration of the Times' commitment to long-standing values, but as something of a declaration of resistance against 'wokeness' and some of the most censorious impulses of its left-leaning staff members..."
FOR THE RECORD, PART THREE
Judge tosses out Project Veritas lawsuit against CNN
 
The right-wing group Project Veritas suffered a legal loss on Friday morning when a judge tossed out its defamation lawsuit against CNN. US District Judge Steve C. Jones concluded that a TV segment with Ana Cabrera and Brian Stelter referencing the group's suspension from Twitter was substantially true and, thus, not defamatory.
Of course, when James O'Keefe and company filed the suit last year, it was widely hyped in right-wing media. "We're going to get past motion to dismiss in the CNN lawsuit — and depose Ana Cabrera and Brian Stelter," O'Keefe said on Fox. Alas, there were no depositions, since the judge granted CNN's motion to dismiss the case. Project Veritas lawyer Harmeet K. Dhillon told Deadline's Ted Johnson that her camp disagrees with the decision and is evaluating their options. Johnson has more here...
 
Meanwhile: An update to my story on the group's tactics
 
Last Friday, I reported on how Project Veritas was engaged in a campaign of harassment and intimidation against journalists who report accurate, but unflattering stories about the group. Specifically, I reported on how such a campaign was being waged against three NYT reporters who have broken a number of stories about the organization. Well, on Friday, Project Veritas proved my point. O'Keefe and a team of several others responded to my story by staking me out and harassing me as I walked to work in the morning. O'Keefe referenced my reporting from last week and badgered me with all sorts of questions.
The goal of all of this seems clear: to make shining a light on Project Veritas an unpleasant experience. O'Keefe and Project Veritas apparently target reporters who write stories they don't like. But their efforts won't work. They won't be able to intimidate reporters and news orgs into silence through public harassment campaigns. And they aren't having much success in court, either…
Recommended weekend reads
By Brian Stelter:
 -- Charles Sennott with words to live by: "Those of us who care about a free press as the cornerstone of a functioning democracy must continue to rebuild local news ecosystems and support a new generation of journalists..." (Boston Globe)
 -- Collaborative reporting projects are rewarding, but "the process itself remains so frustrating," Tegan Wendland writes, sharing lots of ideas for improvements... (CJR)
 -- Shraddha Chakradhar interviewed 24-year-old entrepreneur Amethyst J. Davis, who built a news outlet "from the ground up" in her hometown of Harvey, Illinois, a former "news desert..." (NiemanLab)
 -- "Every day, or so it feels, I read another opinion about the decline of 'storytelling' or 'narrative' itself," Megan Marz writes. Don't buy it, she argues... (Real Life)
 -- "Beating Japan at Its Own (Video) Game:" A Chinese game called Genshin Impact "is the first bona fide international smash hit for China's video game industry," Ben Dooley and Paul Mozur report... (NYT)
"Why Hollywood Is Souring (Some) on Streaming"
Brian Stelter writes: "I devour Matthew Belloni columns for Puck the way others gorge on Ben & Jerry's or Bonbons. His latest is about the assumptions that have been baked (or Half Baked) into the streaming arms race. Companies like Netflix and Disney are admitting that 'nobody has any idea what the TAM for streaming will be,' he writes. That's the Total Addressable Market. 'Streaming isn't some passing fad or a fake business,' he writes, 'but it's also not one size fits all. Wall Street is starting to figure that out. What terrifies so many media companies is that, at least for the foreseeable future, the economics of streaming are far more challenging than those for cable television, with its lucrative bundles and high barriers to canceling.' I don't want to give away his kicker line, so read it for yourself here if you're a subscriber or a free-trial-er..."
FOR THE RECORD, PART FOUR
 -- CNN's Paula Reid and her husband Jason Kolsevich are expecting their first child! Reid says she "sought out an IVF doctor and did two rounds of IVF and we were successful with the first embryo transfer..." (People)

 -- UK TV news: Sharon Osbourne is joining Piers Morgan with a "show on Rupert Murdoch's Talk TV..." (Deadline)
 -- "The suspected robbers behind the heist of over $300,000 worth of equipment from the set of the Netflix series 'Lupin' have been arrested," Mia Galuppo reports.. (THR)

 -- Amazon on Friday revealed MGM's interim leadership structure at a town hall with the company's staff... (Variety)

 -- Lionsgate is "finalizing a deal to acquire a minority stake in London- and Los Angeles-based management and production company 42," Andreas Wiseman and Nellie Andreeva report... (Deadline)

March Madness moment of silence
"With the start of the NCAA women's tournament on Friday, two ESPN announcers used the platform to take a stand," Yahoo's Jason Owens wrote. It was a statement against Florida's so-called "Don't Say Gay" bill, which Disney hesitated to oppose last week, sparking internal criticism. Carolyn Peck and Courtney Lyle "spoke about the bill in solidarity with their Disney colleagues" and went silent for the first two minutes of the second half. "We love our teammates. We support our teammates. We are one," Lyle said afterward...
When a kiss is more than a kiss
Think back to March 9, when "LGBTQ employees and allies at Pixar Animation Studios sent a joint statement to Walt Disney Company leadership claiming that Disney executives had actively censored 'overtly gay affection' in its feature films," as Variety's Adam Vary wrote. The callout came as part of a larger protest over Disney's handling of the aforementioned bill.
That's the setup for Vary's scoop on Friday: "In at least one case, the statement appears to have made a significant difference. According to a source close to the production, Pixar's next feature film, 'Lightyear' — starring Chris Evans as the putative real-life inspiration for the 'Toy Story' character Buzz Lightyear — does feature a significant female character, Hawthorne (voiced by Uzo Aduba), who is in a meaningful relationship with another woman. While the fact of that relationship was never in question at the studio, a kiss between the characters had been cut from the film." The kiss has now been "reinstated into the movie..."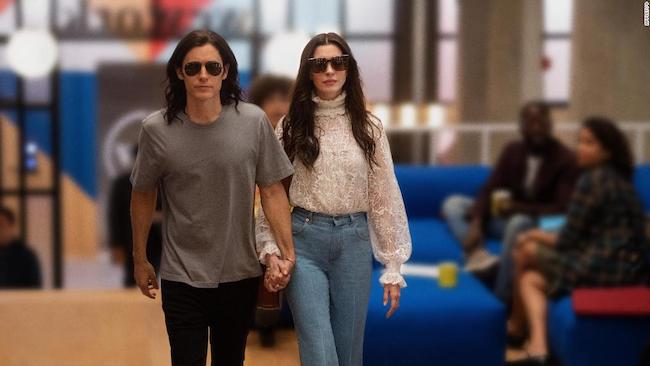 Crashed landing
Brian Lowry writes: "'WeCrashed' has the misfortune to follow significantly better series about startups and their founders that flew too close to the sun, including 'The Dropout' and 'Super Pumped: The Battle for Uber.' This one chronicles the couple behind WeWork, which built an empire worth billions before its inevitable downfall. Despite Jared Leto and Anne Hathaway, the Apple TV+ series is the worst of the bunch..."
Elsewhere in streaming: "Deep Water"
Lowry adds: "'Deep Water' seems likely to garner most of its attention because of the pairing of former exes Ben Affleck and Ana de Armas, but the adaptation of Patricia Highsmith's novel starts quite well, before getting shallower as it progresses. It's directed by Adrian Lyne, who basically defined the modern erotic thriller, a genre that once thrived in theaters but is now relegated to a Hulu debut..."
Stelter's counterpoint: "Relegated? More like treated to a Hulu debut! I never would have made it to the theater to see 'Deep Water,' but I watched the first 30 minutes this afternoon on Hulu and I was hooked. I will probably watch the rest once my kids fall asleep tonight..."
FOR THE RECORD, PART FIVE
 -- "Christopher Lloyd is adding another iconic sci-fi franchise to his storied career," Aaron Couch and Borys Kit report. "The 'Back to the Future' actor is on the call sheet for 'The Mandalorian...'" (THR)
 -- "A scripted series about legendary rock band U2 is in early development at Netflix," Joe Otterson reports... (Variety)
 -- "WarnerMedia OneFifty has picked up this year's Oscar-nominated live action short 'The Dress,'" Anthony D'Alessandro reports... (Deadline)
 -- "She's strong": Justin Bieber is talking about his wife Hailey's blood clot, Lisa Respers France reports... (CNN)
Behind the "Baby-Sitters Club" cancellation
Vulture's Kathryn VanArendonk spoke with Rachel Shuker about her two-season series "The Baby-Sitters Club," which was dropped by Netflix last week. From the intro: "Increasingly, Shukert says, the streamer is prioritizing shows whose viewers binge — and complete — new seasons upon release, making it more difficult for quietly beloved shows" to succeed. The interview is well worth reading. Rick Ellis of All Your Screens has a worthwhile rebuttal too: He thinks "Netflix seems to have a passive-aggressive approach to marketing and promoting their content," and it's hurting shows like Shukert's...
SAVING THE BEST FOR LAST...
Pet of the day
Reader Melinda Feiklowicz emails: "Here is Sanjay, just named today. He is a four-day-old miniature cow at Samma Farm Tennessee Cow Rescue in McMinnville, Tennessee. He is currently unable to stand. We have high hopes that he will be able to do so soon..."
Thank you for reading! Email your feedback. Brian will see you Sunday...
You are receiving this message because you subscribed to CNN's Reliable Sources newsletter.
® © 2022 Cable News Network, Inc.
A WarnerMedia Company. All Rights Reserved.
Our mailing address is:
Cable News Network, Inc.
Attention: Privacy Policy Coordinator
One CNN Center, 13 North
Atlanta, GA 30303