Oliver Darcy here. It's 10:47pm ET on Tuesday, March 15.
Killed on the job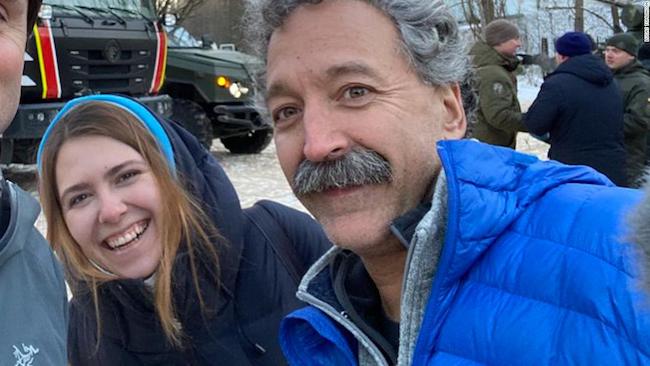 Fox News is grieving after losing journalists in the field for the first time in the network's 25 year history.
Photojournalist Pierre Zakrzewski, 55, and consultant Oleksandra Kuvshynova, 24, were with correspondent Benjamin Hall on Monday when their vehicle came under fire. Hall was injured and rushed to a hospital, which Fox reported Monday.
It was well known among reporters that Hall, who Scott said on Tuesday remains hospitalized, was not traveling alone. But major news outlets waited to report any details until Zakrzewski and Kuvshynova were accounted for. There were some hopes, or at least a glimmer of hope, that they might be found alive.
But, tragically, officials in Ukraine confirmed on Tuesday that both journalists were dead, and they blamed artillery shelling by Russian forces. "The truth is the target," Ukraine's Ministry of Defense said.
The deaths underscore the dangers faced by members of the media across Ukraine, nearly three weeks into the Russian invasion...
"Without a free press, the autocrats win"
Fox's national security correspondent Jennifer Griffin said it best on the air Tuesday: "The loss and pain we feel is enormous," Griffin said, "but if ever there were a time that the world needed journalists, reporters, risking their lives to tell these stories, to tell the truth, it's now. Without a free press, the autocrats win. We will redouble our efforts to honor these colleagues," she said, choking back tears, "and all reporters in harm's way tonight." As Bret Baier said to her, "Your feelings are our feelings tonight..."
Blinken condemns "Russia's ongoing violence"
Secretary of State Antony Blinken said that he was "very saddened" to learn about the deaths of Zakrzewski and Kuvshynova. He offered his "deepest condolences" and also wished for Hall to make a "speedy recovery." Blinken added, "I am grateful to all those risking their lives to show the world what is happening in Ukraine. The United States condemns Russia's ongoing violence, which is putting the safety of journalists and other media workers in Ukraine at risk..."
Tributes pour in
 >> Suzanne Scott remembered Zakrzewski as a journalist who was "profoundly committed to telling the story" and praised "his bravery, professionalism and work ethic." Scott said that Kuvshynova "was incredibly talented..."
 >> Bret Baier described Zakrzewski and Kuvshynova as "wonderful people" who "were lost on that battlefield..."
 >> Bill Hemmer, who broke news of Zakrzewski's death on the channel's air, said that the photojournalist was "an absolute legend" at the network... 
 >> Trey Yingst tweeted this about Zakrzewski: "I don't know what to say. Pierre was as good as they come. Selfless. Brave. Passionate. I'm so sorry this happened to you." Yingst added this about Kuvshynova: "She was talented, well-sourced and witty. She liked photography, poetry and music. We became fast friends over a shared love of coffee..."
 >> Clarissa Ward, who said she met Zakrzewski in Gaza in 2006, spoke to Anderson Cooper about him: "He really was the real deal, Pierre. He cared so much about these stories. Every war zone you went to, Pierre was there. This was his life. This was his passion. He was dedicated to it..." 
 >> NYT released a statement of solidarity: "Brave journalists like Pierre and Oleksandra put themselves in harm's way to tell the world about the harrowing impact of the fighting there. We are deeply grateful to them and all journalists who take severe risks to bear witness to conflicts around the world..." 
 -- The family of Brent Renaud, who was killed in Ukraine on Sunday, thanked Ukrainian president Volodymyr Zelensky for his condolences: "We stand with you and the people of Ukraine..." (Twitter)
 -- CNN.com's banner headline right now: "35-hour curfew in effect in Kyiv." Here's the latest... (CNN)
 -- In congressional testimony on Tuesday, Anne Applebaum said "we need to provide real, long-lasting competition for the Russian state-run cable and satellite television that most of the people in these regions watch..." (The Atlantic)
 -- Meanwhile: The FCC has implemented "new rules requiring broadcasters to identify foreign-government material," David Shepardson reports... (Reuters)
 -- NPR examines what the Ukraine war looks like from Russia: "The shaping of the Russian narrative begins with words — both chosen and left unsaid..." (NPR)
 -- Zelenskyy calls for Russian propagandists to quit their jobs... (Twitter)
 -- Brian Fung writes about how, despite Putin's media clampdown, "a growing number of Russian internet users appear determined to access outside sources and circumvent the Kremlin's restrictions..." (CNN)
Russian TV protester speaks out after court
A Russian state TV journalist who protested her country's unprovoked war on Ukraine during a live broadcast spoke out about her detention after her court appointment Tuesday. The journalist, Marina Ovsyannikova, said she was questioned for 14 hours, denied a lawyer, and hadn't slept for two days.
Ovsyannikova also said the decision to protest was hers alone. "I made this decision by myself because I don't like Russia starting this invasion," she said. "It was really terrible." In court, Ovsyannikova was found guilty of an "administrative offense," but only for the video statement she recorded prior to appearing with an anti-war poster on TV. CNN's David Goldman has more here...
"Minute-to-minute triage"
NYT's Tiffany Hsu and Michael Grynbaum spoke with CNN EVP of programming Michael Bass and other newsroom leaders about balancing news-gathering and employee safety in light of Russia's new anti-journalism law. VOA director of digital strategy Matthew Raise put it like this: "There is a constant minute-to-minute triage of that balance. Every day, we're attempting to adapt to the situation there while not jeopardizing people's lives, but we also have to have a way to get reporting out of the country." Read the story here...
Senators condemn censorship law
Democratic Sen. Bob Menendez and Republican Sen. Jim Risch put out a blistering statement Tuesday criticizing Putin for, in their words, "eliminating any last shred of free press and freedom of expression inside Russia." The senators continued, "The Russian people deserve to know the truth about Putin's war and to speak freely without fear of arrest. Putin is a murderous dictator waging a dangerous war, killing innocent civilians, and committing war crimes. Today, more than ever, we stand with the brave journalists in Russia and around the world for their tireless work to shine a light on what's happening in Ukraine so Putin and his cronies can be held to account."
 -- WaPo has launched a Telegram channel so that it can update audiences with the latest on Ukraine... (Twitter)
 -- TikTok is "censoring its content in Russia more heavily than it said it would, blocking access to most overseas accounts and leaving a content vacuum that is being partially filled by state media propaganda," Liza Lin and Evan Gershkovich report... (WSJ)
 -- Slack has also begun "cutting off access to some customers in Russia as it looks to comply with both international sanctions and the policies of parent company Salesforce," Ina Fried reports... (Axios)
 -- "Paramount Global is temporarily halting its operations in Russia and giving $1 million to support humanitarian relief for Ukraine..." (Deadline)
 -- The App Store in Russia has "lost 6,982 mobile apps since the start of the Ukraine invasion, as numerous companies have now pulled their apps and games" from the country... (TechCrunch)
Zelensky will deliver a virtual address to the US Congress at 9am ET... Expect to see widespread live coverage...
With the Federal Reserve expected to begin raising interest rates, Fed Chair Jerome Powell will hold a press conference at 2:30pm...
The Radio & Television Correspondents Association dinner takes place in DC...
IN OTHER NEWS:
Warner Bros. Discovery board announced
Discovery and AT&T on Tuesday announced the names of the 13 people who will make up the board of directors for Warner Bros. Discovery once WarnerMedia (CNN's parent) and Discovery merge. Seven directors were chosen by AT&T and six were chosen by Discovery. "Samuel Di Piazza, who currently sits on AT&T's board, will be chairman of Warner Bros. Discovery," Deadline's Dade Hayes wrote...
FOR THE RECORD, PART THREE
 -- "The Jan. 6 select committee has obtained footage from a documentary film company that captured crucial moments during the run up to the assault on the Capitol," Kyle Cheney reports... (Politico)
 -- Erik Wemple writes about how Justices Neil Gorsuch and Clarence Thomas were "blasted for not understanding history of media protection..." (WaPo)

 -- Vanity Fair EIC Radhika Jones spoke to theSkimm about the state of media: "On the one hand, it's a challenging time in media in certain regards. On the other hand, it's a time of boundless opportunity because of all the platforms that we have at our disposal..." (Apple Podcasts)

 -- Barstool launches a "social good platform following Portnoy controversy," Sara Fischer reports... (Axios)

 -- Say goodbye to the BuzzFeed News app. The outlet is shutting it down and focusing its efforts inside the main BuzzFeed app... (BuzzFeed)
BuzzFeeders say outlet shortchanged them during IPO
"Nearly 80 former and current employees of BuzzFeed accused the company in complaints on Tuesday of bungling its stock market debut and denying the workers the chance to sell their shares at a higher price," NYT's Katie Robertson reported Tuesday. "In two claims, made to the American Arbitration Association, which resolves disputes out of court, the employees said the company had failed to properly instruct them on how to trade their shares immediately after the initial public offering in December. The groups are asking for compensatory damages estimated at more than $8.7 million..."
>> A BuzzFeed spox pushed back on the complaints, saying it had "prioritized communication with former and current employees last year" and that there is "no merit to the claims..."
FOR THE RECORD, PART FOUR
 -- Ben Smith and Justin Smith poach Reuters executive editor Gina Chua to lead their forthcoming media startup... (NYT)
 -- The Fuller Project has named WaPo veteran Eva Rodriguez as its editor-in-chief... (Fuller Project)
 -- Bo Hee Kim will start a new job as NYT's strategy and operations deputy... (NYT)
 -- Julie Rapport will be the sole head of Amazon movies as Matt Newman switches over to a new role at Prime Video's sports division... (Variety) 

How many Disney employees will walk out?
Disney employees are turning up the heat on CEO Bob Chapek. Some unnamed employees have put up a list of "demands" on a website that they say will help the company "regain the trust of the LGBTQUIA+ community and employees." Further, they "have scheduled a series of 15-minute walkouts during employee breaks starting Tuesday, to culminate in a larger protest planned for March 22," LAT's Ryan Faughnder writes. It's unclear how many people walked out Tuesday afternoon, but the unnamed employees organizing the protests told those who didn't, "Tomorrow awaits." More from Faughnder here...
 >> Related: THR's Rebecca Keegan reports on how staffers are debating "whether to take a public or private stand" on the matter. She notes there "isn't monolithic agreement within Disney's LGBTQ community about the decision to take their grievances public..."
FOR THE RECORD, PART FIVE
 -- "Paramount Global CFO Naveen Chopra on Tuesday rejected the notion that the entertainment conglomerate doesn't have enough hits and content firepower to succeed in the streaming space," Georg Szalai reports... (THR)
 -- "Amazon has won unconditional EU antitrust approval for its $8.5 billion acquisition of storied U.S. movie studio MGM," Jill Goldsmith reports... (Deadline)
 -- "TikTok has become the official partner of the Cannes Film Festival, in an alliance likely to burnish the brands of both organizations," Scott Roxborough reports... (THR)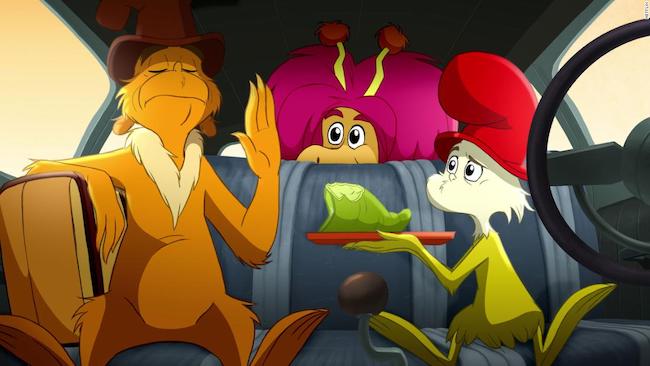 More Dr. Seuss heading to Netflix
 
Frank Pallotta writes: "Winning the hearts and minds of children could be part of the solution to Netflix's recent growth problems. That's why it's doubling down on Dr. Seuss. The streaming company announced Tuesday that it was premiering five new animated series based on books by the beloved children's book author. The series are 'One Fish, Two Fish, Red Fish, Blue Fish,' 'The Sneetches,' 'Horton Hears a Who!,' 'Wacky Wednesday,' and 'Thidwick The Big-Hearted Moose.' The company did not say when the new shows would debut on the service..."
What "works" on Netflix
Brian Stelter writes: "Bloomberg's Lucas Shaw, with help from colleagues Yasufumi Saito and Adrian Leung, analyzed every Netflix top 10 list dating back to late June, 'and the result is a deep dive into what people are watching on Netflix.' Among the takeaways: TV is dominant. 'The average Netflix hit disappears after two weeks or less.' Foreign TV 'may supplant English TV as the top programming category.' And 'the biggest Netflix hits come from South Korea and Europe (and the U.S.).' Read on..."
 -- The Recording Academy has started naming performers for the Grammys. So far, the list includes Olivia Rodrigo, BTS, Billie Eilish, and others... (Variety)
 -- Selena Gomez is developing a comedy series with Tanya Saracho and Gabriela Revilla Lugo... (Deadline)
 -- Mark Hamill says that Grant Feely "looks like a perfect Luke Skywalker" and that he is "wishing him all the very best..." (IGN)
 -- Isla Fisher is joining the cast of "Strays," which already includes Will Ferrell and Jamie Foxx... (THR)
 -- HBO's "Winning Time: The Rise of the Lakers" sees its viewership rise in its second week... (Deadline)
From acting to activism
Brian Lowry writes: "The headline-making part of 'Phoenix Rising,' a documentary about Evan Rachel Wood's activism regarding domestic violence, center on the 'Westworld' star's allegations against former boyfriend Marilyn Manson, and finding the courage to speak publicly. But of near-equal interest in this two-part HBO presentation are Wood's recollections about growing up as a child actor, and the way that she was sexualized while still a minor after her role in the edgy indie film 'Thirteen...'"  
FOR THE RECORD, PART SEVEN
 -- The real-life "Inventing Anna" is facing deportation, Marianne Garvey and Catherine E. Shoichet report...
 -- Sandra Bullock is taking a break from acting, Lisa Respers France writes...
 -- One more from Lisa: Rihanna talked about her maternity style which she has deemed "rebellious..." 
 -- The "Ms. Marvel" trailer introduces the MCU's Muslim teen superhero, Scottie Andrew writes...
SAVING THE BEST FOR LAST...
Pet of the day
Reader Paula Kohl writes: "Angel is holding my flip flops hostage until I read him tonight's Reliable Sources..."
Thank you for reading! Email your feedback. We'll be back tomorrow...
You are receiving this message because you subscribed to CNN's Reliable Sources newsletter.
® © 2022 Cable News Network, Inc.
A WarnerMedia Company. All Rights Reserved.
Our mailing address is:
Cable News Network, Inc.
Attention: Privacy Policy Coordinator
One CNN Center, 13 North
Atlanta, GA 30303