Brian Stelter here at 1:30pm ET with a special mid-day edition of our media digest...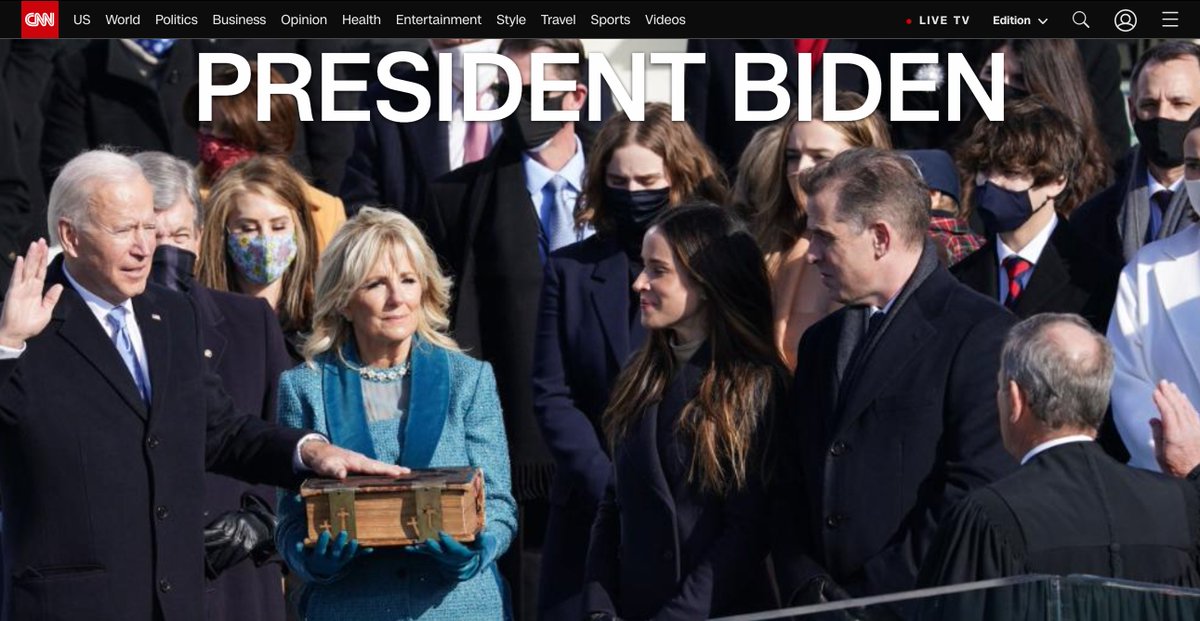 "WE CAN DO THIS"
President Biden's inaugural address was "part sermon, part pep talk," Chris Wallace said on Fox, calling it "the best inaugural address I have ever heard" and "a call to our better angels."
Biden told the nation that "the answer is not to turn inward, to retreat into competing factions, distrusting those who don't look like you, or worship like you do, or don't get their news from the same sources you do. We must end this uncivil war that pits red versus blue. Rural versus urban. Conservative versus liberal. We can do this if we open our souls, instead of harden our hearts."
I heard some of Barack Obama's "yes we can" in his "we can do this" oratory. What did you hear? The speech is just beginning to be dissected...
"Defend the truth and defeat the lies"
Oliver Darcy writes: "In a sharp break with his predecessor, Biden vowed to lead an administration that delivers hard truths to the American public: 'We must reject the culture in which facts themselves are manipulated and even manufactured.' And he did not stop there. He invoked the nation's information crisis several times. 'There is truth,' he said, 'and there are lies.' Biden noted that some lies are told 'for power' and other lies are told 'for profit' -- a not-so-subtle nod at corporations like Fox."
Darcy adds: "Biden implored the country to confront this crisis head on, and it was refreshing to hear. Every White House spins, and Biden's team will be called out when it happens. But it's almost certain that Biden won't engage in a Trump-like war on reality -- and that marks a seismic shift in our country."
 >> Biden's remarks about defending truth and defeating lies "was a call to all of us," including broadcasters and commenters on social media, Wallace said on Fox.
 >> Reason editor at large Matt Welch tweeted: "The new president in his inaugural addressed denounced lies and the manipulation of facts, and vowed to always level with us. Let's hold him to that, shall we?"
What it looked like on TV
Washington sparkled. All the photojournalists and engineers and directors deserve a huge amount of credit for pulling off exquisite pool coverage in the age of Covid. NYT TV critic James Poniewozik pointed out that "the widespread and conspicuous mask-wearing" immediately presented "a visual difference from the last administration's events." It's a "symbolic message for the country and the world: America has embraced reality and science," CNN's Bianna Golodryga commented.
Lowry's take
Brian Lowry writes: "There will be no arguments about crowd size for this inaugural, which reflects the savvy way this inaugural was produced as a made-for-TV event. Trump's might have been billed as a 'reality TV presidency,' but Biden's response to the pandemic has been evident in the way he campaigned and now the way he was inaugurated: Using the medium of TV as a means of shaping the message, in the same way that other live events, from sports to talk shows, have had to adapt to this new reality."
The first briefing
Jen Psaki's first on-camera press briefing will take place at 7pm. In an interview during the 7am hour, Psaki told Jake Tapper that Biden feels "a great deal of responsibility" since "there are multiple crises happening at one time." She talked about Biden "getting to work quite quickly this afternoon," and indeed that's where the news coverage will now shift.
 >> Bloomberg's Jennifer Jacobs shared this photo of the cleaning crews giving the press secretary's office a deep, deep clean: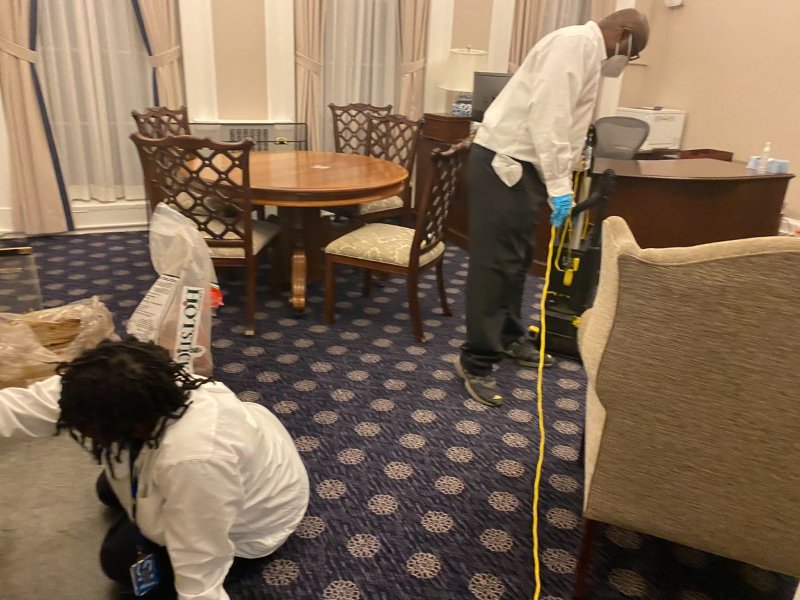 "Celebrating America"
"The day's events conclude with a primetime special, 'Celebrating America,' which will be simulcast across ABC, CBS, CNN, NBC and MSNBC," Deadline's Patrick Hipes wrote. "The roadblock will be hosted by Tom Hanks and include remarks from Biden and Harris, along with performances from Lin-Manuel Miranda, Jon Bon Jovi, Ant Clemons, Foo Fighters, John Legend, Demi Lovato, Bruce Springsteen, Justin Timberlake and Ozuna." And that's just a partial list...
Biden WH will hit the ground running with 'themed days'
CNN's Betsy Klein reports: "In addition to 17 executive actions and memoranda soon-to-be President Joe Biden will sign later this afternoon upon taking office, the Biden administration has an ambitious slate of additional actions for the first ten days in office, many of which will roll back key policies established by his predecessor. Starting Thursday, each day through the end of the month, with the exception of this weekend, will center around a specific theme, with a set of corresponding actions and directives, according to a draft of a calendar document sent to administration allies and viewed by CNN."
Here are the themes:
January 20 - Inauguration and 4 Crises
January 21 - COVID
January 22 - Economic Relief
January 25 - Buy America
January 26 - Equity
January 27 - Climate
January 28 - Health Care
January 29 - Immigration
February - Restoring America's Place in the World
 -- Jake Tapper amid live pictures of the Capitol: "Two weeks after that very same site was desecrated by a domestic terrorist mob trying to stop democracy in its tracks, the United States and, in fact, the world was treated to a beautiful demonstration of the steadfastness of that democracy."
 -- Alec MacGillis: "'May God protect our troops' carries a bit more punch as closing line when there are 15,000 of them occupying Washington DC to protect it from other Americans."
 -- Ron Brownstein: "Not surprising that Biden stressed unity or appealed to voters who resisted him. More surprising how strongly he called out the threat to democracy Trump unleashed. Suggests drawing a new dividing line: those who do & don't believe in the American system with Trump on the other side."
 -- "It was not a partisan speech," Abby Phillip said on CNN. "It was an invitation, not just to reach across the aisle, but to get back on track. It was an invitation to decency, to civility. It was about the core foundation of democracy and not so much about politics..."
 -- "That was, almost surely, the first time that a President ever mentioned 'white supremacy' in an inaugural address," David Lauter wrote on the LAT's live blog.
 -- Per CNN's Manu Raju, many GOP lawmakers praised Biden's speech "and his handling of the transition -- including the GOP senators whom Biden will need to advance his agenda."
 -- "I think particularly for all of us as journalists, it was resonant to hear the president say, this is about defending the truth and defeating the lies. Reminding us about responsibility in that," Margaret Brennan said on CBS.
Madam Vice President
Biden: "Today we mark the swearing-in of the first woman in history elected to national office, Vice President Kamala Harris. Don't tell me things can't change."
This morning I explained to Sunny, who will turn four in May, that we have a new president, or "boss." She practiced saying the name Biden. And then I told her that we're going to have a "girl boss" for the very first time. That's why this tweet from The 19th* co-founder and CEO Emily Ramshaw resonated with me: "My daughter is young enough that she won't remember a time when there had never been a woman Vice President. And I f***ing love that for her." 
Let's be clear: "It's not a peaceful transfer of power"
Oliver Darcy writes: "Normally on Inauguration Day, anchors marvel at the peaceful transfer of power and how it makes the US a special nation — not only in the world, but in the history of the world. That did not happen on Wednesday. On CNN, Jake Tapper noted, 'It's not a peaceful transfer of power, but it is a transfer of power.' On MSNBC, Nicole Wallace referred to it as a 'not-so-peaceful transfer of power.'"
Reality crashes down on Q followers
Oliver Darcy writes: "Trump's presidency came to a close Wednesday without 'the storm' that so many adherents of the QAnon conspiracy theory so believed would happen. 'Lots of anger in the QAnon group chats, with many people saying they want to throw up as they realize the mass arrests won't happen,' The Beast's Will Sommer noted. NBC's Ben Collins tweeted a screen grab of a QAnon forum in which Q followers expressed both confusion and frustration. The NYT's Kevin Roose has more here..."
Morning highlights
A rough and very incomplete chronology of Wednesday's first 12 hours:
2am: "It is morning in America," Poppy Harlow said on CNN.
6:11am: Alisyn Camerota on CNN: "It does feel like today, somehow, reality won. And we didn't know that reality was going to win. I mean, it was in a mortal combat death struggle for a long time. But today, reality won."
7:08am: "Today is going to be the most important speech of Joe Biden's public service," Dana Perino said on Fox.
7:20am: Speaking on "GMA," incoming comms director Kate Bedingfield confirmed that Trump and Biden have had no communication. None.
8:14am: "He looks small," Dana Bash said as Trump departed the White House for the final time. "He just looks like a small man."
8:15am: John Dickerson on CBS: "This is Joe Biden's day, but actually it's not Joe Biden's day. It's the country's day."
8:45am: "A fitting end to the Trump presidency," Jake Tapper said at the end of Trump's remarks. "A speech full of puffery and lies, although, of course, with this president, it always could have been worse."
8:59am: As Trump took off on Air Force One, Anderson Cooper paused to hear the "surreal" sound in the background – Sinatra's voice on the loudspeaker at the farewell speech location. "Yes," Sinatra crooned, "it was my way." Then, in a perfectly-timed moment, the control room cut to the Biden and Harris families at church. Cooper: "A new beginning."
9:15am: "What a split screen it was," Kristen Welker said on MSNBC. "You couldn't have scripted it better from the reality TV show president."
9:31: Chief medical correspondent Jennifer Ashton on ABC: "As a country, we are in critical condition, and the challenges facing this new administration are enormous."
10:03am: On NBC, Chuck Todd said Trump "imploded in his inability to accept the loss." So he slinked away, Todd said, and "I would argue that might be the biggest favor he's done for the country and for Joe Biden today."
10:51am: Pat Kiernan on NY1 with surprise in his voice: After four abnormal years, "this is so... normal, what we're seeing right now."
10:56am: "I may be a lonely voice on this – I think Donald Trump was right not to go today. It would have been so fake of him to go," Ari Fleischer said on Fox. Then he called the outgoing president "not a politician."
11:10am: Kaitlan Collins reported that Trump watched the inauguration proceedings on his way to Florida.
11:25: Brit Hume on Fox: "Let's give him a chance."
11:48am: "So help me God." Followed by: "Congratulations, Mr. President."
 -- WarnerMedia CEO Jason Kilar tweeted: "On this Inauguration day, am very proud of the job that @CNN has done the past 40 years and excited for the job they will do these next 4 as well. CNN has never been stronger." (Twitter)
 -- The new WhiteHouse.gov website is online, and Biden has sent his first tweet from the @POTUS account... (CNN)
 -- A preview of the Republican party divisions to come: "Sean Hannity spent Trump's last night in office lashing out at Senate Majority Leader Mitch McConnell, calling on McConnell to be replaced as the Senate's Republican leader..." (Beast)
A national sigh of relief
Kerry Flynn collected some examples of journalists and commentators processing the moment:
 -- Jill Filipovic's column for CNN.com: "Finally I can unclench my jaw and exhale."
 -- Crooked Media's Jon Favreau tweeted: "Is today really happening? It is, right?"
 -- The Verge exec editor Dieter Bohn: "I feel weird. Is this relief? Is that a feeling that people used to have?"
 -- BuzzFeed's Stephanie Lee: "He's gone. It'll be a while before I can fully process this, I think."
 -- Gimlet's Lydia Polgreen: "No, I'm not crying at how normal this all is, you are crying."
 -- WaPo's Max Boot: "Good riddance."
Trump country's heartache 
Hosts and guests on Fox News channeled the presumed pain of their viewers all morning long. "There are so many people that voted for President Trump that have a hole in their heart this morning," co-host Ainsley Earhardt said. Guest Tomi Lahren urged viewers to "put all that anger you have in your heart" to good use because "we've got midterms coming up."
As the morning went on, the coverage continually acknowledged the Fox base's feelings. Bill Hemmer at 10:25am: "Today is Joe Biden's day, and as much as it hurts the 74 million plus voters who voted for Donald Trump, there is a sense of renewal..."
No unrest
Thankfully the worst fears about January 20 have not come to pass. As Nicholas Fandos pointed out on the NYT's live blog, "for all the anxiety about security and partisanship, today's transfer of power has looked remarkably like those that preceded it, but for a few masks and some extra space between chairs."

Morgan Mckay, a New York state political reporter for Spectrum News, shared this photo from Albany. "Mark Leggiero is the one lone Trump supporter out in front of the NYS Capitol," she wrote. "He says he expected a few thousand ppl here and is disappointed. He said he drove 45 minutes for a peaceful protest."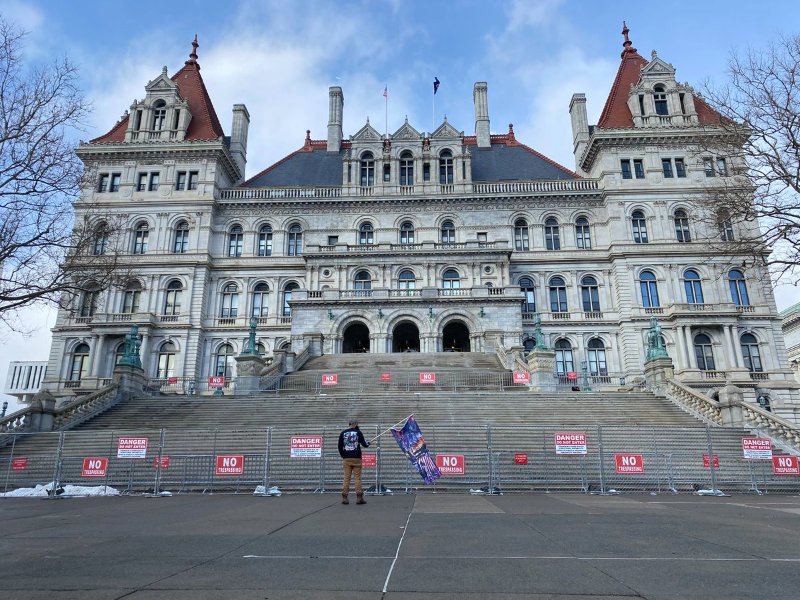 FOR THE RECORD, PART THREE
 -- Page One of today's NYT captures America's exhaustion: Trump's departure leaves a country "that is divided, impassioned, fearful, radicalized — and worn out." (NYT)
 -- Anderson Cooper made this point during CNN's special coverage: "To not have President Trump, the name Trump in our heads 24 hours a day is going to be a big adjustment, and something I think a lot of people in this country welcome…"
 -- The AP's David Bauder noted that the major networks did carry Trump's final remarks live... (AP)
 -- Media research and comms professor Dylan McLemore tweeted this on Tuesday night, and I think it was spot-on. "I know he has a few more hours," McLemore tweeted, "but it feels like Donald Trump's presidency ended when his Twitter account was taken away." (Twitter)
 -- What now? "Exiled from social media mainstream, Trump and his followers will find life different at the extreme corners of the Web," Craig Timberg and Drew Harwell write... (WaPo)
Unity? Not on right-wing TV
"Politics doesn't have to be a raging fire, destroying everything in its path," Biden said. He's right. But for all the hopeful talk about unity today, we should be clear that this country is being yanked further and further apart, every single day, and it's obvious just by watching a few minutes of right-wing media content. Multiple networks supply 24/7 streams of grievance and outrage, much of it in reaction to the rest of the media, and it's getting more and more extreme.
 >> We forget this fact at our peril: "About 3 in 10 Americans see Biden's win as illegitimate; about as many believe there is solid evidence that fraud occurred."
This is the right-wing media's natural state
Oliver Darcy writes: "Four the past four years, right-wing media has been in an uncomfortable position, defending the indefensible to serve up content for its audience. On Wednesday, that began to change. Now that Biden is in office, right-wing media is returning to an adversarial state. This is where the modern conservative media was largely born and where it is most comfortable. These outlets and personalities suddenly care about the breaking of 'norms;' about civility in politics; about misuse of government resources; and pretty much everything they ignored and covered up for during the span of Trump's presidency..."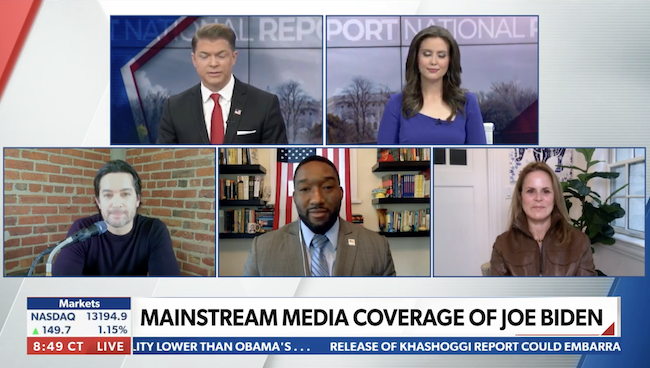 On cue, right-wing TV spent tons of time on Wednesday attacking the media. "MAINSTREAM MEDIA COVERAGE OF JOE BIDEN," blared one chyron on Newsmax as the panel blasted news orgs for not being harsh enough on the incoming president. Fox did the same -- the network that existed primarily to praise Trump for four years acted deeply disturbed that folks on other networks were praising Biden. On "Fox & Friends," Joe Concha said the press must "start doing your job as journalists, which is to hold the powerful accountable without fear or favor for party." That's beyond rich coming from Concha. Remember: Fox's DNA is more anti-Democrat than pro-Trump...
Late-night pardons
Trump made WH reporters stay up late, really late, waiting for a pardon dump. The press release came around 12:53am. The follow-up coverage will take days...
A final surprise pardon... for a Pirro
Per CNN's Betsy Klein and Jeremy Diamond: "Trump granted one additional pardon in the final hours of his presidency. 'Today, President Donald J. Trump granted a full pardon to Albert J. Pirro, Jr.,' deputy press secretary Judd Deere said in a statement to the press pool. Pirro is the ex-husband of Trump ally and Fox News personality Judge Jeanine Pirro. He was convicted on conspiracy and tax evasion charges after improperly deducting $1.2 million of his personal expenses in business writeoffs."
Trump's lonely flight
"During the flight to West Palm Beach, Trump declined to visit with members of the press, a continuation of the outgoing president's determination to evade questions about his role in the Capitol insurrection," Jim Acosta wrote in this dispatch from Florida. "Instead, a lone White House wrangler who will go on to work for the ex-president, Margo Martin, fought back tears as she thanked reporters and photographers for their work covering the administration. 'It's been an incredible ride you guys,' Martin said."
Quoting from Acosta's story: "Martin told reporters that Trump doesn't have any set plans for his first few weeks out of office. Mostly golf, she said. 'He doesn't sit still very well,' Martin said of Trump. Following Trump's arrival in Florida, reporters made one final attempt to shout questions on the tarmac, during the ex-president's final minutes in office. 'Any remorse for the events of January 6?' this reporter asked again. There was no response."

Late night TV says goodbye to Trump
"It's the end of an error." That's how Jimmy Kimmel kicked off his show Tuesday night, "conveying the mood across late-night as hosts like Kimmel, Stephen Colbert and Seth Meyers all bid farewell to the man they mocked and reviled for four years," Frank Pallotta writes. Read on...
What about the "side effects?"
Trump won't truly be gone, Trevor Noah pointed out last night: "He's basically the Covid of politics. America is going to be experiencing side effects long after he's out of the system. But I do hope that with him at least not being president, we can all get back to being a bit more honest with each other and more nuanced in talking about what divides us..."
Corden's musical send-off
If you like "Les Miserables," you'll probably like James Corden's Trump-themed "One Day More" from the "Late Late Show..."
SAVING THE BEST FOR LAST...
Pet viewer of the day
Ellen sent in this picture of "OJay watching history! Pretty smart cat..."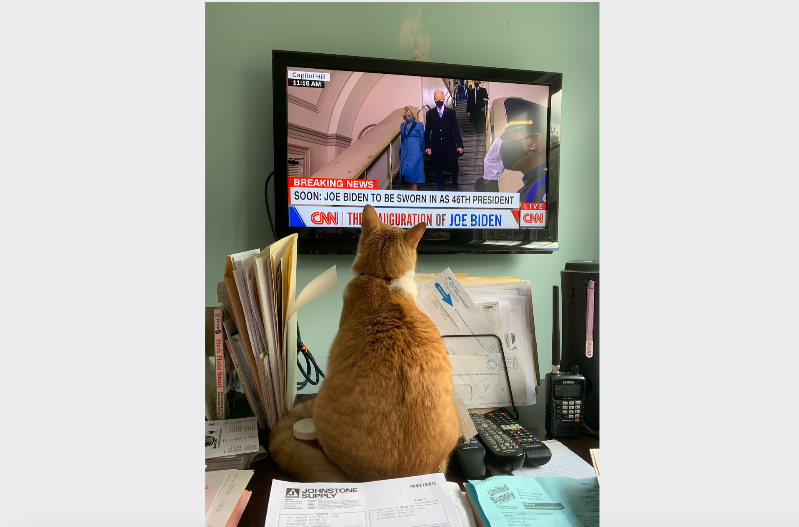 You are receiving this message because you subscribed to CNN's Reliable Sources newsletter.
® © 2021 Cable News Network, Inc.
A WarnerMedia Company. All Rights Reserved.
Our mailing address is:
Cable News Network, Inc.
Attention: Privacy Policy Coordinator
One CNN Center, 13 North
Atlanta, GA 30303