There's a joke among literature lovers that the act of reading a book is just staring at a piece of dead tree and hallucinating. Is that image a little unsettling? Sure. Is it also kind of hilarious? Of course. What's really fascinating about enjoying a good book is that your experience of it — the characters, the places, how every little thing looks, smells, tastes and feels — is completely unique to you. Even a movie adaptation is just one peek into a world that exists in a million different forms in a million different minds. How delightful then, that we can bond with others over stories that spin out so differently for each of us.


If there's something you'd like to see here, shoot us an email. Know someone who could use a little Good Stuff? Send them a copy! We hope you love it as much as we do.
Our favorites this week
Get going with some of our most popular good news stories of the week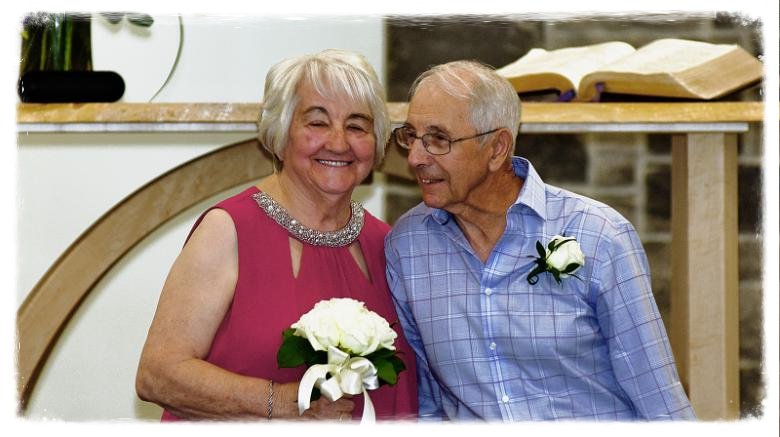 Love is always on time 
Fred Paul and Florence Harvey first met 68 years ago in the bayside town of Wandsworth, Canada. They were classic high school sweethearts, taking walks after church and stealing kisses in between classes. Every night during their two years together, Paul would flicker his porch light before going to bed so Harvey could see it from her side of the bay. It was his way of telling her that he loved her. But life happened, and the teenagers had to go their separate ways. Paul and Harvey each grew up, got married, and had families. Sadly, Harvey's husband passed in 2017, and Paul's wife in 2019. In that dark time, like a porch light shining across the bay, they found each other again. Harvey looked Paul up and gave him a call to offer her condolences. They chatted, sharing fond memories about their families and their past, and those chats quickly became daily occurrences. When they finally reunited again in Toronto months later, they knew almost immediately that, after full and happy lives apart, they were meant to share one together. They were married in August. "You were the first young man to walk me home in my teens," Harvey told Paul during the ceremony. "I guess you'll be the last man to walk me home." (Note: You really should read the whole story, there's so much I couldn't fit in. I openly sobbed reading it, and my colleague Alaa couldn't have written it better.)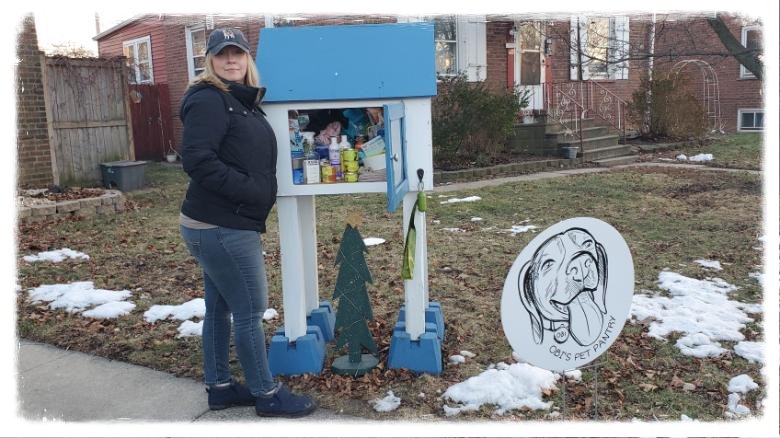 Giving what you have 
It's a special kind of selfless when someone chooses to help others even when they're struggling, too. Take Carolyn Alonzo, who owns a Fetch! Pet Care franchise in Chicago. She's seen her business take a huge hit during the pandemic, and to make matters worse, two of her dogs died. But out of her grief, she created the non-profit Obi's Pet Pantry to help people who are having a hard time financially providing for their pets. She used some of her stimulus money and some donations to keep it stocked with food, blankets, collars, shampoo and other pet supplies. Others are using their stimulus money to pay it forward, too. Jeff Suchon of Highland Park, New Jersey, has purchased more than 30,000 masks with his economic relief payments, even though he lives on a fixed income and can't work due to health concerns. Matthew Pierce, a teacher at Milton Hershey School in Hershey, Pennsylvania, has used his stimulus payments to buy Uber Eats gift cards for many students and their families. "We have to model good civics. It's not something we're born with," Pierce says. "We need to give back in times of need."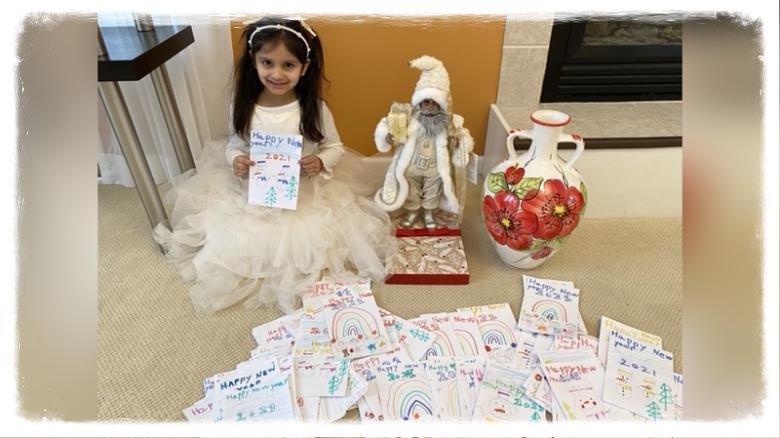 Hire her, Hallmark! 
Five-year-old Aryana Chopra rang in the new year in the most productive, positive way possible: She designed and handmade 200 cards to send to every resident at a senior living home in Vestal, New York. Aryana's father is a doctor on the front lines of the pandemic, so she knows how serious coronavirus is. "I got an idea of making cards for the people in the nursing home who cannot go out and meet their friends and family," she says. When her mother noticed Aryana hard at work making the cards, she called the local nursing home and asked how many residents were there. Two hundred is a tall order, but Aryana worked for almost two weeks to make them all, decorating each one with a unique combination of rainbows, snowmen, kids holding gifts and special New Year's messages. Even then, that wasn't enough for the little girl. She broke open her piggybank and bought the resident a few more gifts, including a very cute Santa Claus statue.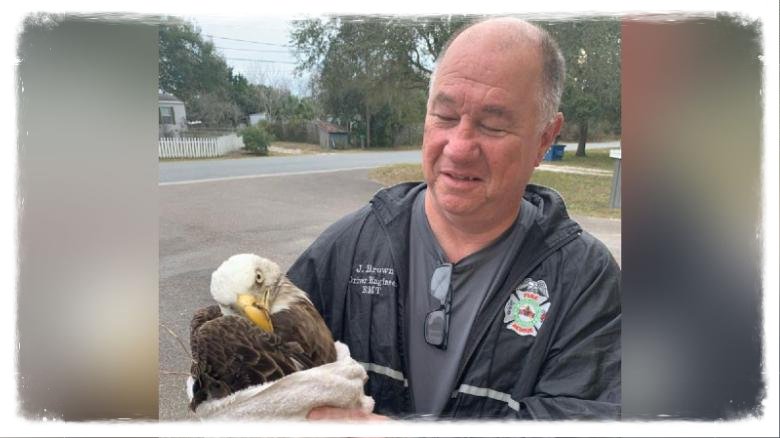 To firefighters in Florida who helped rescue a bald eagle with a fishing hook stuck in its beak, and the children who alerted them of the eagle's precarious situation. The bird was in quite a bind when two children brought it to firefighters at Pasco County Fire Rescue Station 21. A hook had pierced its beak, and the line wrapped all the way around its mouth and wing, preventing it from eating or flying. However, Florida has one of the densest concentrations of nesting bald eagles in the lower 48 states, so officials are no strangers to such entanglements. Some TLC and a drive to a local wildlife shelter later, and the eagle is chowing down and on the mend. The firefighters are using the good news to remind people to properly dispose of fishing gear to keep wildlife safe.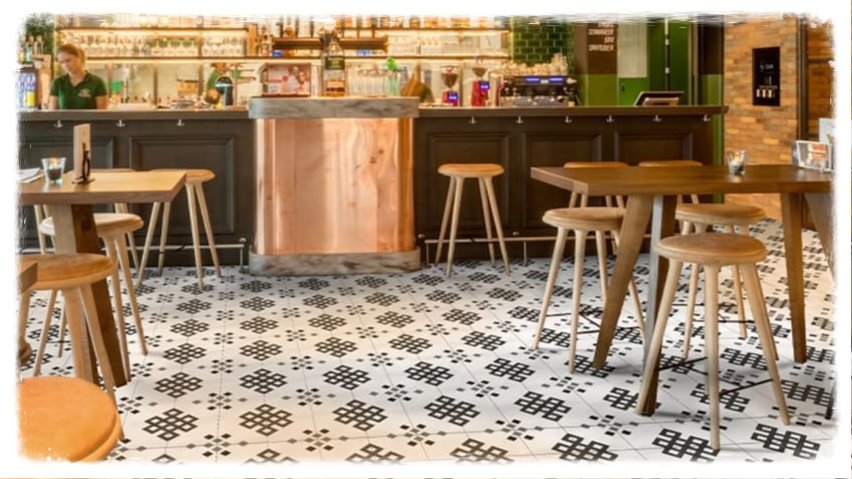 Go ahead, take a guess what the stylish floor tiles in this restaurant are made of. They contain pigment from black carbon — yes, as in the extremely harmful stuff belched out by cars and factories. Carbon Craft Design, a startup launched by Indian architect Tejas Sidnal, aims to capture and reuse this cruddy byproduct in beautiful, sustainable ways. The idea is to capture these carbon emissions before they get into the atmosphere. That, in turn, may improve air quality. There's another plus side to the eye-catching, rustic tiles and bricks the startup produces. Their high carbon content makes for an especially strong building material and people in the architecture and engineering communities are calling it a "winner" for the construction industry.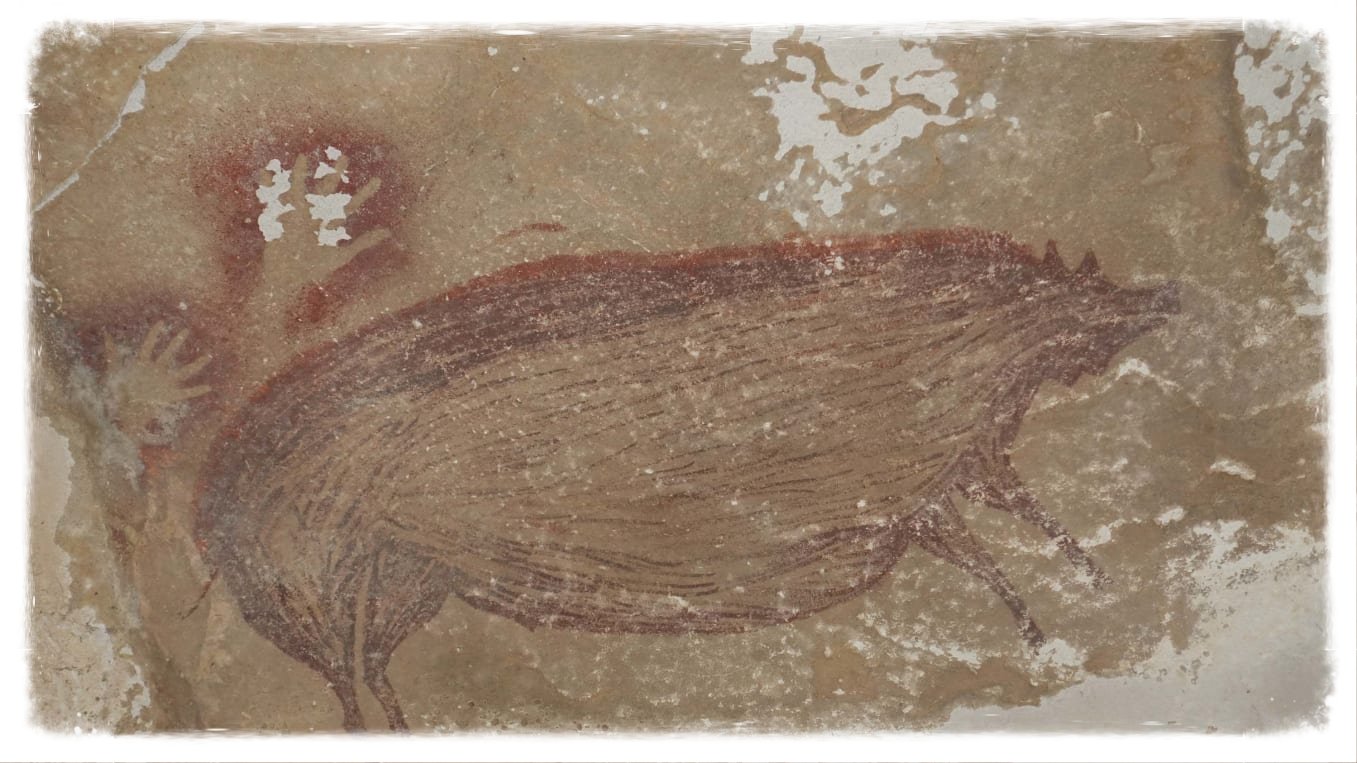 This cave drawing of a pig is the world's oldest known depiction of an animal, and we have to say, whoever made it really captured the charming chunker's essence. It was painted with red ocher pigment, and appears to show the pig fighting with other pigs (or maybe they're all just hanging out, it's unclear). Archaeologists working at the cave site on the island of Sulawesi in Indonesia said the cave art is at least 45,500 years old. There are two other really cool facts at play. One, discoveries like this challenge a long-held belief that prehistoric artistic expression began in Europe. And two, warty pigs are actually still common in Indonesia, all these millennia later.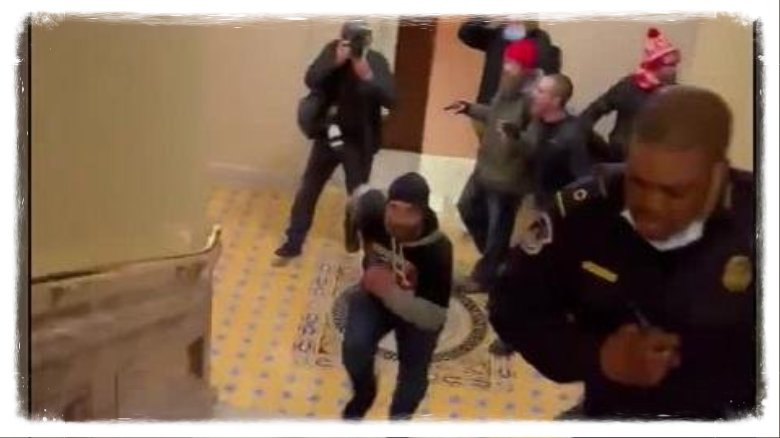 US Capitol Police Officer Eugene Goodman (right) is being hailed as a hero after he led a mob away from the Senate chambers during last week's Capitol siege. The harrowing moment was captured on camera. As a group of insurrectionists approach, Goodman notices the unguarded door to the Senate chambers, and deliberately leads the mob the other way. It's painful to think what could have happened without his bravery, or how much danger he put himself in. Now, a bipartisan trio of lawmakers wants to recognize Goodman with a Congressional Gold Medal for potentially saving lives and preventing even more tragedy.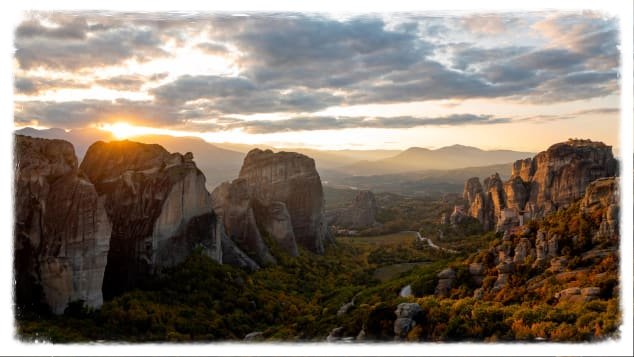 This year, Greece marks its 200th year as an independent nation. And what better way to travel (if only mentally) to one of its many, many showstopping wonders? The immense pillars of Meteora, a rock formation in central Greece near the Pindus mountains, are home to a precipitous cluster of Eastern Orthodox monasteries. The six surviving buildings date back to the 14th century, and rise up from the earth like something from a fantasy novel. Some monks and nuns still seek refuge here, in a place seemingly floating between the heavens and earth.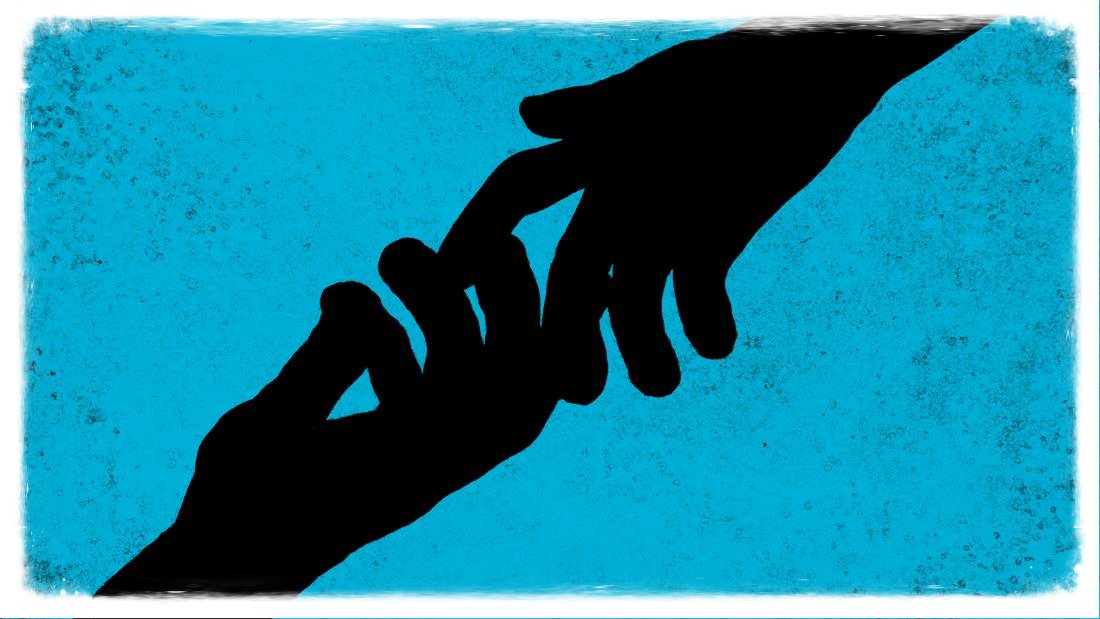 "I'm sorry." They're two of the hardest words to say, and even harder to actually act upon. According to author Susan Shapiro, who wrote "The Forgiveness Tour: How to Find the Perfect Apology," there are four essential elements of a proper apology: 
acknowledgment of the offense

an explanation of why it happened

remorse coupled with a commitment to do better

making a reparation
Shapiro also has good advice about what to do when you feel like you're owed an apology that you may never get, or when someone has wronged you in a way you feel is unforgivable. For one, she says it's perfectly OK to not forgive someone who won't apologize or doesn't understand the hurt they've caused. She says it may be better to focus on working through and understanding your own trauma so you don't dwell on it, rather than wait on an apology from someone to begin healing. 
Rec of the week
Brought to you by CNN Underscored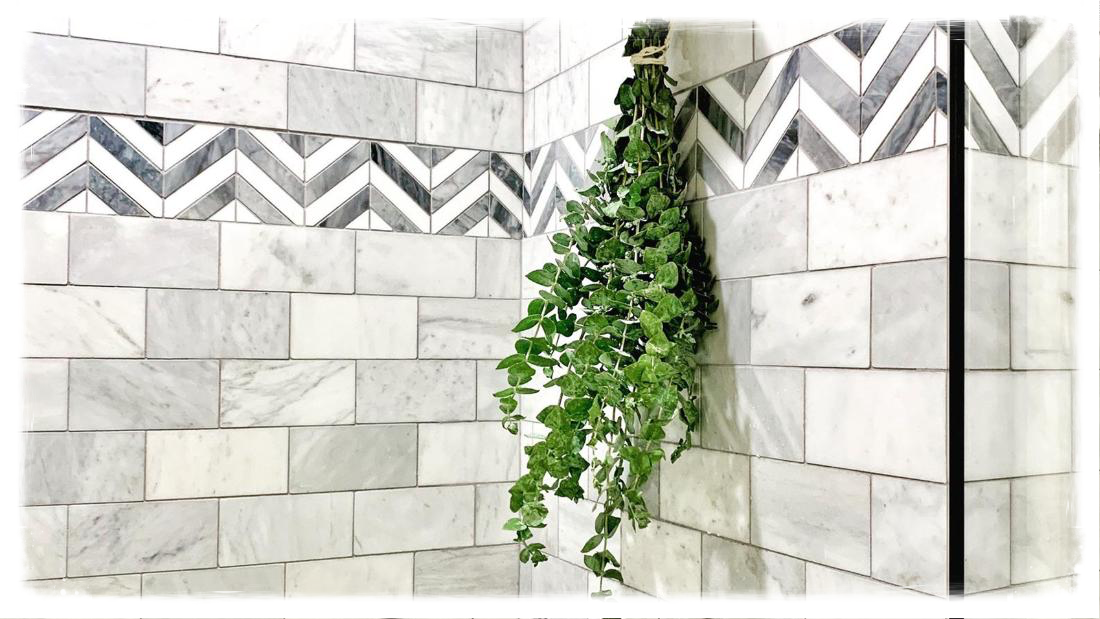 30 items for anyone who really needs a vacation right now
Though we may not be able to relax on a tropical beach, unwind at a fancy spa or eat our way around new faraway cities just yet, there are plenty of products that can help bring the luxuries of vacation to your everyday life.
Shameless animal video
There's always time for cute animal videos. That time is now.
In zoos and wildlife centers across the country, young cheetahs are sometimes paired with dogs as a sort of unlikely buddy system. Cheetahs can be anxious and solitary, so having a charismatic canine friend helps them stay happy and healthy as they grow up together. So here's the question: When you think of the relationship you have with your bestie, are you the cheetah, or the dog? Hmmm. (Click here to view) 

A newsletter for the good in life
All CNN Newsletters  |  Manage Your Profile
Copyright © 2021 Cable News Network, Inc. A WarnerMedia Company, All rights reserved.
Our mailing address is:
Cable News Network, Inc.
1 CNN Center
Atlanta, GA 30303