Brian Stelter here with a special lunchtime edition of Reliable, as we're all still digesting what has happened. We're living through a traumatic period in American history. Here are some links, columns and TV segments that might help you make sense of it all...
Democracy prevailed
Joe Biden's victory was certified by the Congress at 3:40 in the morning, when most Americans were trying to sleep. Democracy prevailed...
...But deep scars remain
It is right to decry security failures at the Capitol. It is also relatively easy to do, and it's happening all across the media landscape. It is harder to dissect the engines of radicalization that led some of our fellow Americans to attack police, terrorize lawmakers, and loot the Capitol. It's hard, but necessary, to examine the extremist networks that exist right under our noses.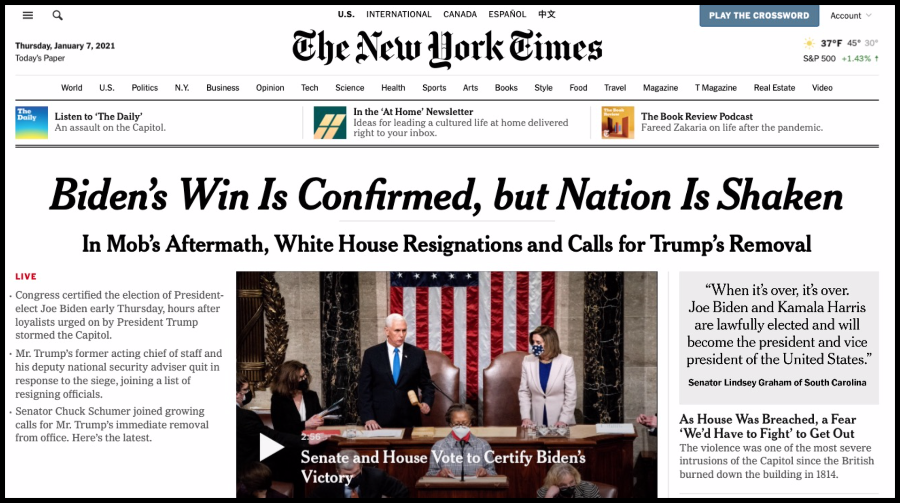 A "mass-delusion event"
The Atlantic's EIC Jeffrey Goldberg walked and talked with pro-Trump activists in the hour leading up to the deadly riot. After "sponging up Trumpist paranoia, conspiracism, and cultishness," Goldberg wrote that "this gathering was not merely an attempted coup but also a mass-delusion event, not something that can be explained adequately through the prism of politics. Its chaos was rooted in psychological and theological phenomena, intensified by eschatological anxiety."
As I read and watched interviews with the Trump faithful Thursday morning, the word "cult" kept coming to mind. Hunter Walker of Yahoo News tweeted, "One thing that struck me in talking with many of the people who stormed the Capitol yesterday is that I would ask them what they wanted or hoped to accomplish and they didn't know. They just wanted Trump. It's all just Trump."
"On some level," Walker wrote, "I empathize with the people who stormed the Capitol. They were lied to. They were falsely told their votes were stolen. They were made to believe the democratic process was undemocratic. Those who did this to them are just as accountable as they are."
Jess Bidgood of the Boston Globe filed a story from Georgia about the pervasiveness of the delusion, and she quoted numerous Republicans to prove the point. The "Trump won" lie "has become a widely accepted orthodoxy in the Republican Party," she wrote, and this fact poses "a grave risk to the fabric of American democracy." The GOP's antidemocratic streak is a big part of this ongoing story...
They were warned
CNN's Jake Tapper wrote Thursday morning: "How could this have happened? ask Trump-enabling politicians and media who have for years ignored warnings that something like this would inevitably happen."
-- Anderson Cooper's question to Charlie Dent is what Thursday is all about: "Can the country handle 13 more days of President Trump?"
 -- The other big Q: Why haven't the authorities arrested more of the attackers? More arrests are said to be imminent...
 -- Movement toward the 25th Amendment? Adam Kinzinger became the first House Republican to call for its invocation, and Chuck Schumer put the weight of the Senate Democrats behind it, urging VP Mike Pence to take immediate action. "If the Vice President and the Cabinet refuse to stand up, Congress should reconvene to impeach the president," Schumer said...
 -- Trump and his spokespeople remained mostly silent all morning long...
 -- "The president is not showing any remorse. Just the opposite. He's getting more and more agitated," Dana Bash said on CNN just now...
 -- Bret Baier told Fox viewers: "I think this is a really dangerous period, as far as what is going to happen between now and January 20."
 -- DC Mayor Muriel Bowser at a press conference shortly before noon: "What happened yesterday is textbook terrorism...
 -- Many social media users are replying to the FBI's call for help identifying "individuals instigating violence" with photos of the president...
 -- CNN has an explainer: "What's the 25th Amendment and how does it work?"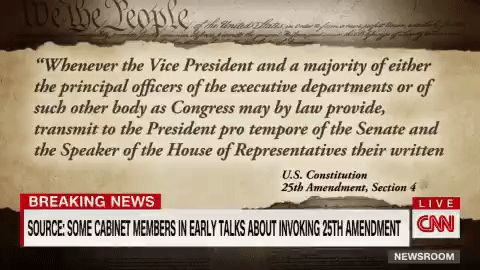 "You are being lied to"
I know a lot of reporters can relate to what WaPo's Philip Bump said: "I get a lot of emails which are rehashes of 'there is TOO evidence of fraud' reiterating claims debunked weeks ago. In each case, I want nothing more than to simply reply, 'You are being lied to.'"
Will anyone be held accountable?
Oliver Darcy writes: "It's possible Trump might face some consequences for inciting the act of domestic terrorism we saw Wednesday. But what about the right-wing media machine that primed the rioters with lies and conspiracy theories? It seems hard to imagine folks like Sean Hannity, Rush Limbaugh, Tucker Carlson, Glenn Beck and Mark Levin will face any real consequences. And it seems harder to imagine the enablers like the Murdochs and various companies that provide these propagandists with sizable platforms will see any consequences. In fact, there are signs that companies such as Fox are willing to behave just as irresponsibly as they were before the riot. The sad fact is we don't appear to live in a society where people can be truly held responsible for their actions because a lack of shared reality works to protect partisans from their dishonest actions..."
Now there's another "big lie"
CNN's Marshall Cohen emails: "The rioters were incited by a 'big lie,' that the election was stolen from Trump. Now the same liars are pushing the next 'big lie,' that this was a false-flag by Antifa. It's endless. It's relentless. It's shameless. And it's destroying the fabric of our country."
Right-wing media's divide
Some prominent right-wing personalities have denounced the attack and distanced themselves from Trump in the past 18 hours. I noticed a very different tone on Fox Thursday morning than on Wednesday night: Brian Kilmeade began "Fox & Friends" by saying "let's be honest," since Election Day "the president's behavior has been terrible." Steve Doocy called Biden "very presidential."
Note that I said some personalities -- not all. Unfortunately Sara Fischer of Axios is spot-on about this: "The right's favored media offered an alternate reality in which everyone but pro-Trump rioters were to blame for the mayhem at the Capitol." For example, Pete Hegseth's comments on Fox were widely scrutinized. Hegseth went out of his way to sympathize with the MAGAsphere and said "this is the result of frustration that a lot of people feel."
Wednesday night's "maybe Antifa infiltrated the crowd" narrative faded from Fox's airwaves on Thursday morning, but it could still be heard loud and clear across the pro-Trump media universe. The "Naked Cowboy" of Times Square, who was in DC for the Trump march, went on Newsmax and claimed there were "people dressed up as Trump supporters and they were not Trump supporters." Newsmax later deleted its tweet containing his on-air comments.
 >> Another go-to narrative on the right is, as the New York Post put it, "the left erupted first," with tons of talk about last May and June's unrest...
"Domestic terrorism problem"
"I remain concerned that the actors that we saw yesterday are increasingly emboldened," former Homeland Security official Elizabeth Neumann said on CNN. Neumann has been raising alarms about right-wing extremist threats for months. "We should look at what happened yesterday as a warning," she said Thursday. "We have a very dangerous problem inside our homeland... We have ignored this domestic terrorism problem and it is time for us to reckon with it."
 -- An AP headline for the ages: "Trump's rage ignites mob assault on democracy." (AP)
-- "Chaos. Anarchy. Assault on Democracy." Here's how newspapers around the world reacted to US Capitol riots... (CNN)
 -- TIME magazine's new cover: "Democracy Under Attack." (TIME)
 -- Bloomberg Businessweek's new cover is a photo of the Capitol being swarmed with the the words "NEW LOW." (Businessweek)
 -- From the CNN Investigates unit: "The mob of Trump supporters who stormed the US Capitol on Wednesday included conspiracy theorists linked to QAnon and the Proud Boys -- two right-wing extremist factions" that Trump "repeatedly refused to condemn during his election campaign last year..." (CNN)
 -- CNN's Elle Reeve, who covers the far right better than anyone, recounted what she saw in DC, and said "there were young twenty year olds there, but a lot of people in their 40s, 50s and 60s. A lot of people who spend a lot of time on Facebook..." (CNN)
Deplatformed
"The dam is finally breaking," The Verge EIC Nilay Patel remarked when Facebook announced that Trump has been banned "indefinitely."
"We believe the risks of allowing the President to continue to use our service during this period are simply too great," Mark Zuckerberg said. "Therefore, we are extending the block we have placed on his Facebook and Instagram accounts indefinitely and for at least the next two weeks until the peaceful transition of power is complete."
What a stunning admission by FB: They are afraid that the president will use their platform to incite further violence. They feel that they need to protect the American people FROM the president.
 >> Donie O'Sullivan's reaction: "This gets Facebook the headline. But they know it's not the solution. And they know they haven't done enough. They have created a cesspool that they have left run out of control. All while making billions."
What will Trump tweet next -- and when?
"So Trump has access to the nuclear codes but he can't Tweet or post to Facebook," Andrew Ross Sorkin observed last night. Per Brian Fung, a Twitter spokesperson said Thursday morning that Trump HAS removed the three tweets from his profile that prompted a temporary lock of his account. The time-out lasts for 12 hours from the moment Trump deleted the tweets. "Asked what time Trump will be able to tweet again, Twitter declined to comment," Fung wrote...
Big Tech shouldn't get a pass
Oliver Darcy writes: "Big Tech platforms have allowed Trump to spread lunacy to massive swaths of the US population for years. And, despite his rule breaking, he's only finally just been put in a time-out. But the convo should also be bigger than Trump. Platforms like Facebook, Twitter, and YouTube have for years allowed online trolls who lie and mislead and provoke, to exploit their algorithms for attention and build massive followings — giving some of the most dishonest people in the world huge platforms to feed garbage to audiences. These platforms have still failed to address this five-alarm fire in any meaningful way..."
Malice toward the media
The NYT's headline: "Covering Pro-Trump Mobs, the News Media Became a Target."
NPR's Lulu Garcia-Navarro wrote Thursday morning: "Talking to friends who are journalists who were at the Capitol yesterday and one thing that needs attention is the media violence, the threats against working reporters and President Trump's incitement... Journalists there were scared that they would be stabbed. They had their equipment vandalized. They were insulted and threatened. That's not how a democratic society treats its press. It is urgent that journalists are able to work safely. The rhetoric against media must stop."
FOR THE RECORD, PART THREE
 -- John Avlon on "New Day" Thursday morning: "There is now no question that Donald Trump will go down as the worst president in American history." (CNN)
 -- Presidential historian Doris Kearns Goodwin: "My hope is... seeing the violence at the Capitol, knowing that it was incited by the President of the United States, will lead to a change in public consciousness, and people will say enough is enough" of this tribal politics. (CNN)
 -- "The reason that it's so important to show the images of looting and destruction and terror in the Capitol yesterday is because the campaign to lie about what happened and rewrite history has already begun," Susan Glasser commented. (Twitter)
 -- "An employee of right-wing commentator Glenn Beck's media outlet TheBlaze stormed Nancy Pelosi's office on Wednesday alongside pro-Trump protesters," Max Tani wrote... (Beast)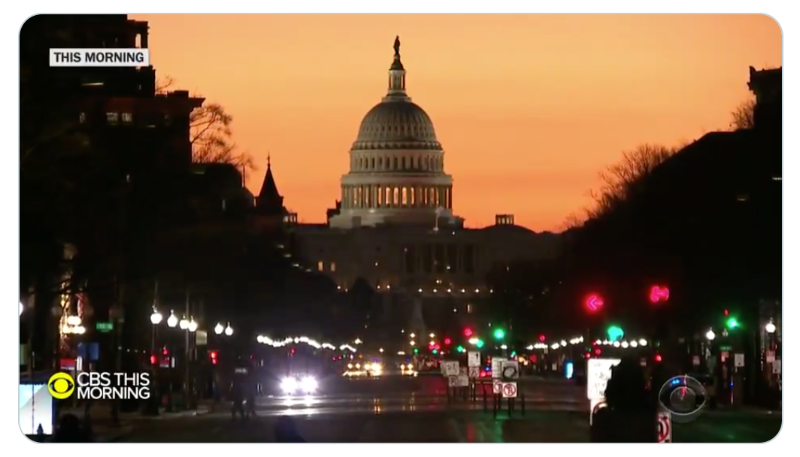 On the morning shows
 -- Accurate, eye-popping words from Alisyn Camerota as the second hour of "New Day" began: "We are happy to report this morning that the insurrection failed. The weaponized attempt to block the election of Joe Biden failed."
 -- Numerous lawmakers appeared across the A.M. shows and said they feared for their lives during the attack.
 -- NBC's "Today" show began one hour early, at 6am, with Savannah Guthrie co-anchoring from outside the Capitol. 
 -- Tony Dokoupil co-anchored "CBS This Morning" from the Capitol. Anthony Mason called Wednesday "one of the most hideous days in American history." Gayle King said she was still "very rattled."
 -- Mick Mulvaney made news on CNBC's "Squawk Box" when he announced he "can't stay" in the admin.
 -- Joe Scarborough made news on MSNBC's "Morning Joe" by dropping an F-bomb and calling for Trump's arrest.
 -- "We've had an escalating crescendo of pro-Trump political violence over the past four years," David Frum pointed out on "Morning Joe."
 -- On "GMA," George Stephanopoulos interjected when his guest Rep. Markwayne Mullin said "it's all of us, the media is to blame, the right and the left is to blame."
AT&T CEO's statement
AT&T, CNN's parent, congratulated Biden and Kamala Harris on Thursday morning. AT&T CEO John Stankey said "we applaud all those who stood strong to thwart an appalling insurrection bent on blocking the peaceful transfer of power following a free and fair election. Freedom, democracy and rule of law are America's bedrock and must never be usurped. We congratulate President-elect Biden and Vice President-elect Harris on their Electoral College victory. There is much to be done to move the country forward."
FOR THE RECORD, PART FOUR
 -- Kristina Monllos looked at advertisers that paused their ad spend on Wednesday... (Digiday)
 -- Kerry Flynn writes: "Dave Jorgenson, WaPo's TikTok savant, noted that Yahoo News posted 38 TikToks on Wednesday. This video of a woman saying she was maced while trying to enter the Capitol building received nearly 20 million views..." (Twitter)
Few jokes on late-night TV
"These are difficult times to do an entertainment show," Jimmy Fallon said Wednesday night. "These are difficult times to do any show. But these are also times when we need each other the most." Frank Pallotta has a full recap of the late-night commentaries here...
 >> Of note, Seth Meyers said the images from DC "should be seared in our collective consciousness for the rest of our lives" and called for Trump's immediate removal from office.
 >> And Stephen Colbert called out Fox News: "You think maybe years of peddling his conspiracy theories had anything to do with this?"
ON A DAY LIKE TODAY, WE NEED...
Pet of the day
Esther shared this photo of Willy, a "sweet 4 year old rescue."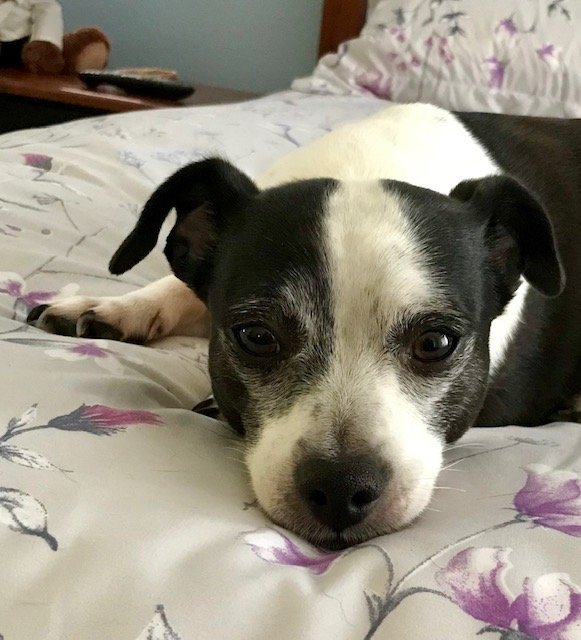 You are receiving this message because you subscribed to CNN's Reliable Sources newsletter.
® © 2021 Cable News Network, Inc.
A WarnerMedia Company. All Rights Reserved.
Our mailing address is:
Cable News Network, Inc.
Attention: Privacy Policy Coordinator
One CNN Center, 13 North
Atlanta, GA 30303