Brian Stelter here with Oliver Darcy. Don't forget these wise words: "What separates the winners from the losers is how a person reacts to each new twist of fate." That's what Donald Trump said on Twitter in 2014... 
Facts not feelings
Joe Biden is closing in on the presidency. He has the facts on his side. President Trump? He has feelings and "Fox & Friends." 
I don't know what the electoral college map will look like at the time you're reading this. But I know that all of Thursday's news coverage and social media chatter reminded me of one saying: "Facts don't care about your feelings." Conservative commentator Ben Shapiro popularized the phrase in 2015. In the Trump age, it has been wielded like a sword in left-right debates. Conservatives like Shapiro have portrayed themselves as the rational, factual ones while liberals are the emotional ones.
Now consider what we all witnessed on Thursday: Trump tweeted in ALL CAPS and sounded despondent in the briefing room. He lied so brazenly that the broadcast networks cut away. He refused to answer questions from reporters. It was all about his feelings, not facts.
Fox News tried to protect Trump's feelings. The prime time propagandists pretended like the election is being stolen. Lou Dobbs shouted for help from the Department of Justice. The network's news anchors treated him exceedingly gently. Correspondents emphasized that Trump "feels" like this process is unfair. Fox's coverage matters enormously because tens of millions of Trump voters are being misled by it. But this landmark moment in American history is about FACTS, not feelings. So let's start there, then deal with the pro-Trump media's poisonous content...
Friday's front page
"Biden sees gains as path becomes clearer" is the Washington Post's banner headline. The first subheadline notes that Biden urged "calm." The second subhed notes Trump's "baseless" allegation of "mass fraud." Consider the presentation: The facts about Biden are being played much more prominently than Trump's feelings.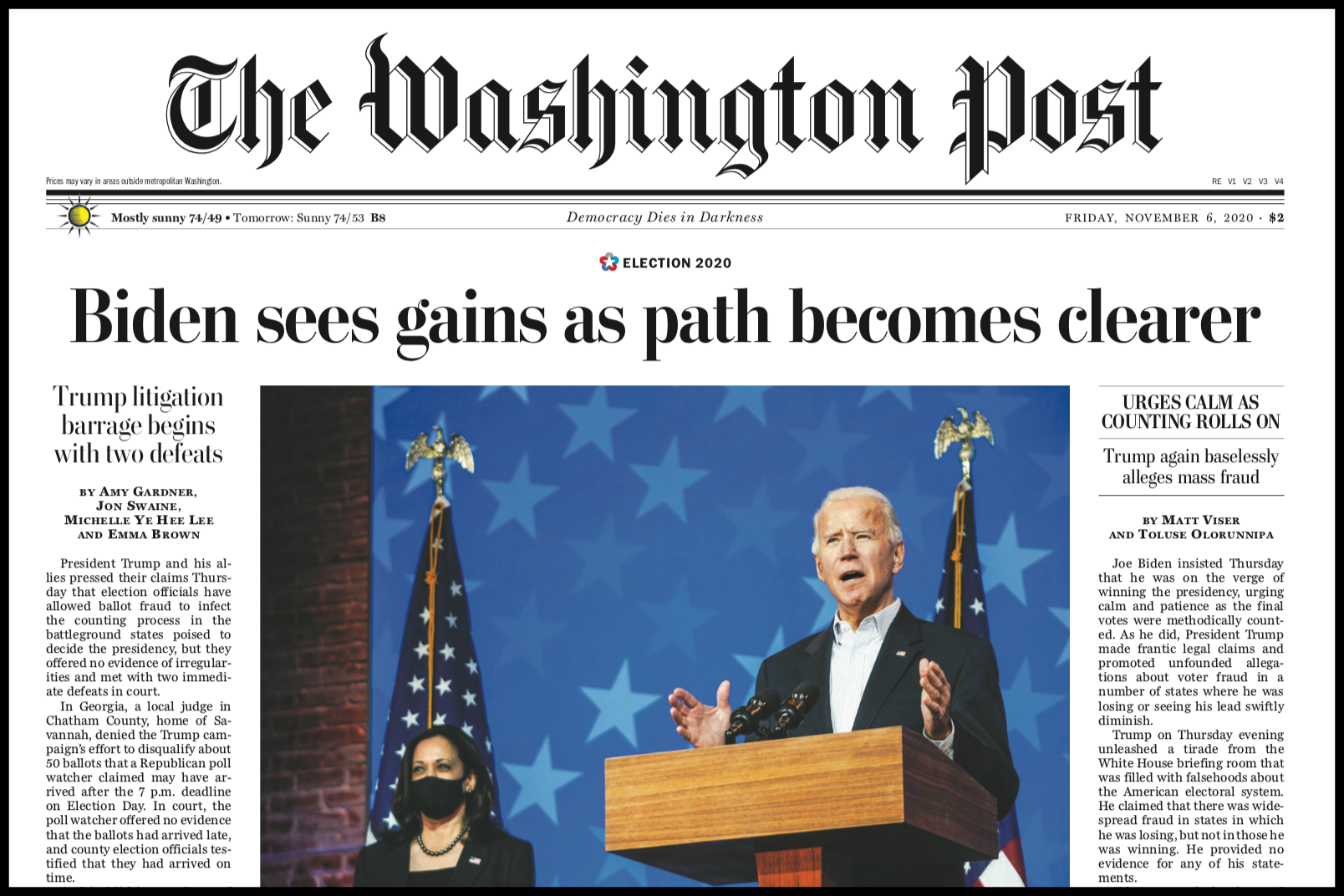 Showing your work
Remember what your math teacher said – to "show your work?" This week is the television version of showing your work. "This is exciting because votes are being counted. This is the experiment of democracy," Jake Tapper said on CNN. It's something to be celebrated, "and it IS being celebrated by everyone except President Trump and his minions..."
"Networks cut away from Trump's White House address"
That's the headline on David Bauder's report for The AP. I have to confess, I was surprised when this happened. All the major networks went live to the WH when Trump spoke at 6:45... but ABC, NBC, CBS, and MSNBC all cut away due to Trump's bogus, dangerous claims. POTUS "knew exactly what he was doing... in coming on in the middle of our newscasts tonight," ABC's David Muir said later. "We knew when we heard that -- if you count legal votes, I easily win, if you count illegal votes, they could try to steal the election -- that it was time to pull out of that and fact-check it in real time. And I thank Jon Karl for joining me in that moment. And it is a surreal moment that we're even having this discussion in this country."
CNN and Fox News carried all of Trump's remarks live, but CNN's banner warned about Trump's lies while Fox's banner dutifully repeated his words. CNN immediately followed up with fact-checks, corrections and appropriately harsh language. "What a sad night" for the country, Jake Tapper said. "Pathetic." Over on Fox, Bret Baier and Martha MacCallum simply repeated and summarized some of Trump's lies. Later on, Baier briefly noted that "we have not seen evidence" of Trump's allegations. Not a single host or guest sufficiently criticized or called out Trump's undemocratic conduct. Instead, they pretended like it was normal.
There was talk on Thursday, among media critics, about a "Murdoch pivot." There was speculation that Rupert and Lachlan Murdoch were taking steps to break with Trump. But this talk was wildly overstated. Fox's biggest stars are promoting voter fraud innuendo, denigrating cities like Philly, and treating Trump's long-shot lawsuits like serious pursuits. Hannity, for example, told his viewers that "it will be impossible to ever know the true, fair, accurate election results. That's a fact."
The executives are complicit
Oliver Darcy writes: "It is hard to overstate how reckless, irresponsible, dishonest, and dangerous the rhetoric coming from Fox's biggest stars is. But, that said, it's not really surprising that Hannity and the other pro-Trump propagandists are undermining the election. They care about raw power and ratings. No one expects more of them. But it is striking that the Murdochs are allowing them to go on air with this undemocratic language. Where are the execs and managers? Their employees are riling up viewers and essentially claiming that the election is being stolen by corrupt Democrats. Words have consequences, and it's frightening what sort of action this rhetoric might inspire."
Daniel Dale's assessment
Here's what he wrote for CNN.com: "I've watched or read the transcript of every Trump speech since late 2016. I've cataloged thousands and thousands of his false claims. I have never seen him lie more thoroughly and more egregiously than he did on Thursday evening at the White House."
Colbert threw away his script...
Stephen Colbert and the producers of "The Late Show" threw away their planned show and started from scratch after Trump's shocking remarks. Here's the first part of the monologue. "If you did not know that Joe Biden was getting close to 270, Donald Trump just provided all the proof you will ever need," Colbert said...
 -- "We are not showing or playing what he said," Brian Williams said in the 11pm hour on MSNBC, before paraphrasing the president's lies about fraud...
 -- Jon Karl on ABC's special report: "This is a real moment of truth for Republicans... Do you stand with the president's efforts to question the legitimacy and the integrity of American democracy or do you stand with the people and right to have their votes counted?" (Twitter)
 -- David Leonhardt writes: Trump's actions "force election officials, journalists and social-media platforms to choose between telling the truth and sounding nonpartisan; it is impossible to do both about Trump's election claims..." (NYT)
 -- "Middle America gave the 'middle finger' to the mainstream media at the polls," Paul Bond writes... (Newsweek)
 -- Margaret Sullivan's column: "Fox News is pulling out all the stops to promote Trump's twisted logic about 'corrupt' voting..." (WaPo)
The CNN team's longest day of the week 
On Tuesday CNN's prime time political team (Jake Tapper, Wolf Blitzer, Dana Bash, Abby Phillip, and John King in DC, with Anderson Cooper and a panel of guests in NYC) began at 4pm ET and continued until 3am -- an eleven-hour marathon. On Wednesday the team went for another ten hours. Thursday was the team's longest day yet: Blitzer and company began at noon, and at the time I'm hitting send on this letter, at 11:30pm, they're still on the air. 
John King has slept just 6.5 hours since Tuesday
That's according to the LAT's Christi Carras. Here's what King told her: "I've been on air 12-14 hours both Tuesday and Wednesday. Tuesday night I got 2.5 hours sleep; Wednesday night 4. Happy to do as much as I can. This is an amazing and consequential story. More so because of the pandemic and its impact on everything."
No broadcast TV blow-out*
Brian Lowry emails: "The broadcast networks again added news specials on Thursday night, but they did not blow out their prime time lineups, which included the return of the CBS hit 'Young Sheldon' as well as 'Mom' and the just-OK new sitcom 'B Positive.' Why not blow out their lineups for election news? Because the audience is no longer programmed to go to them as an exhaustive go-to news source, a decision that's been pretty clear since they decided to reduce their coverage of the political conventions to a single hour a night..."
Stelter's asterisk: Lowry is right, but the broadcast special reports still matter because they help the election info reach a broader audience, including people who don't think of themselves as hardcore partisans or news junkies...
Today in disinformation...
It's almost all coming from Trump's social media machine. I have lost track of the # of Trump tweets that Twitter has slapped with warning labels. Numerous Trump "minions," to borrow Tapper's word, have also been labeled.
 -- For example: Twitter flagged a Donald Trump Jr. tweet calling for his father to go to "total war over this election," Donie O'Sullivan reports...
 -- CNN's Alisha Ebrahimji reports: "Video alleging possible vote-counting fraud in Detroit is actually a journalist pulling a wagon with camera equipment..."
 -- Facebook belatedly shut down a pro-Trump group called "Stop the Steal..."
FB is breaking the glass
Via CNN's Brian Fung: Before the election, Facebook exec Nick Clegg said the company "prepared multiple 'break-glass' tools and options in the event of a chaotic US election. Thursday's announcement appears to make use of them."
The company is rolling out "additional, temporary measures to limit election misinformation on its platform in response to an increased number of misleading claims." For instance, content "will be demoted by the company's automated systems if the systems determine that it may contain misinformation, 'including debunked claims about voting...'"
Right-wing media drums up faux scandal in Detroit
Oliver Darcy writes: "Pro-Trump media outlets such as Fox News, Breitbart, and The Gateway Pundit have portrayed a move at a Detroit ballot-counting center as nefarious, spotlighting a decision by poll workers to partially cover windows with cardboard. The reports were widely shared and found their ways to large audiences. On Thursday, for instance, a Breitbart article shared by Trump had even ascended to become the top link on all of Facebook for the previous 24-hour period. But Lawrence Garcia, an attorney for the City of Detroit, said that the windows were partially blocked because of concern voter information could be wrongfully revealed to the public. Those concerns were compounded by the fact that protesters standing outside the ballot-counting area were taking photographs and recording video. More in my story here..."
"Where are the illegitimate ballots?"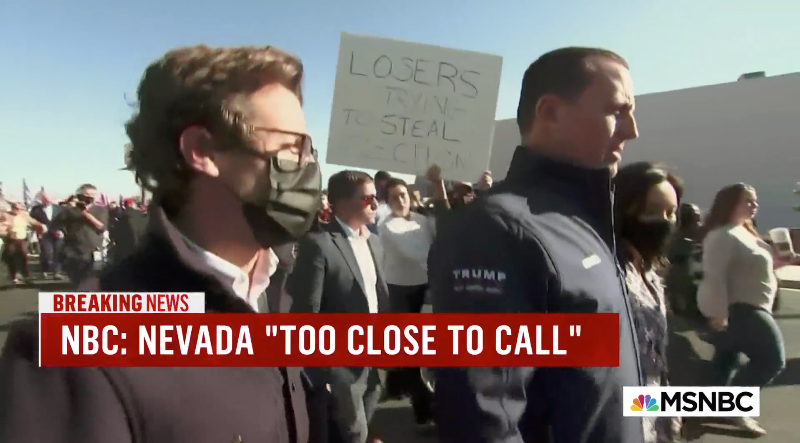 Oftentimes the shortest and simplest questions are the best. At a Trump campaign news conference in Las Vegas, Trump loyalist and former acting director of national intelligence Ric Grenell claimed that Nevada was continuing to count 'illegal votes.' Right afterward, live on MSNBC, correspondent Jacob Soboroff walked over to Grenell and asked him, "Where is the evidence of the fraud?" Grenell walked away and leapt into a waiting vehicle. Soboroff also spotted Matt Schlapp and asked another simple question: "Where are the illegitimate ballots?" It was one of the best moments of cable news this week. Watch here...
>> Yamiche Alcindor of PBS applauded Soboroff for "doing the work we need in this moment..."
Bartiromo vows to leave Twitter after fact-check
Oliver Darcy writes: "Fox's Maria Bartiromo continued to cement her status as a conspiratorial media personality on Thursday, sharing on Twitter multiple debunked theories about the election results. Twitter quickly fact-checked her, prompting Bartiromo to claim the platform was abusing its power and vowing to leave the platform altogether..."
 -- "In 2020," Bill Carter writes, "it had to come to this: Election Night had to reach new heights of drama, or who would have remembered it in the year of an impeachment trial, the death of George Floyd, countless environmental disasters and Covid-19." (CNN)
 -- On any other week, this would be the biggest story: Daily Covid-19 cases surpassed 121,000 on Thursday, a new record high. On Wednesday the daily case count was 102,831... (CNN)
 -- Twitter permanently suspended an account belonging to Steve Bannon "after he suggested Thursday morning that Dr. Anthony Fauci and FBI Director Christopher Wray should be beheaded..." (CNN)
 -- TechCrunch reporter Sarah Perez looked at how TikTok is removing "some hashtags related to election misinformation," but leaving others... (TechCrunch)
Fox and The AP stand by Arizona projection
Biden's lead in Arizona has shrunk dramatically as counting has gone on. But Fox's decision desk continues to stand by its Tuesday night projection that Biden will eventually win the state. Other decision desks don't think the call was sound at the time it was made. The AP concurred with Fox's call early Wednesday morning, and on Thursday afternoon AP signaled that it remains confident: Exec editor Sally Buzbee said "we will follow the facts in all cases..."
 >> Yet Fox stars continue to doubt Fox's decision desk. Hannity did it again on Thursday night. An emailer says "I think the headline out of Hannity trashing the AZ call is FOX NEWS HOST SAYS DON'T TRUST FOX NEWS..."
CNN's second most-watched day in history
Fox News was No. 1 among the networks on Election Night, while CNN was No. 1 on the day after. "According to final data from Nielsen, CNN Election Night in America (Continued) captured more 7.4 million viewers in prime time" on Wednesday, "more than the other broadcast and cable news competition who carried day two of the proceedings," TVNewser's A.J. Katz wrote.
The ratings are eye-popping. Wednesday was CNN's "second most-watched day in the network's 40 year history, just following Election Day 2016," the network said in a press release.
 >> More: CNN's audience is skewing younger than the audience for the other networks. The median age of the CNN audience on Wednesday night was 53, compared with 57 for NBC, 60 for ABC, 61 for CBS, 62 for Fox News, and 64 for MSNBC...
Record-smashing ratings and web traffic
 -- "Wednesday broke every single record for CNN Digital as 116 million unique visitors logged on to see what was happening with the election," TheWrap's Lindsey Ellefson reported...
 -- The Washington Post says that Tuesday and Wednesday were both "record-setting days;" on Wednesday the Post website had its "highest number of pageviews in history by over 40%."
 -- According to a Post spokeswoman, "subscription starts have also been extremely strong over the last month, with a large bump over the last 48 hours."
 -- The Post's publishing platform, Arc, also powers 1,200+ sites around the world, and on Tuesday and Wednesday "traffic across the platform nearly tripled."
 -- Per the NYT's Kevin Draper, "local news sites in battleground states also benefited. Starting Tuesday afternoon, traffic to The Philadelphia Inquirer website jumped 140 percent over 48 hours and new digital subscriptions were up 83 percent." More examples here...
Is local news a "solution to Trump-Biden polarization?"
No matter who wins the race to 270, the "void of mistrust and misinformation" will only grow, Marc Ambinder warns in a new essay. He offers "one way to pierce this epistemic steel trap, even if it sounds counterintuitive: More news. Specifically, more independent, local news."
Ambinder writes: "If we want a society where we can accurately understand the preferences and behaviors of everyone, we need more local journalism. Journalism models the pursuit of truth; we know already that Americans trust local news sources more than national ones. An energetic local news revival would create models of engagement; it would allow newspapers (in digital form) to intervene in social conversations before misinformation spreads. Local news outlets are an early warning system that benefits everyone, and over time, might increase the level of comfort that mistrustful Americans have with the reporting process." Read on...
FOR THE RECORD, PART THREE
-- Jessica Huseman: "Journalists should maybe take a few days to let results finalize and the litigation play out just a bit before we begin our performance of hanging each other out to dry for inaccurate coverage..." (Twitter)
 -- "Election Day compounded an already trying year for journalists of color," Doris Truong writes... (Poynter)
 -- Farai Chideya's point about "fact checking a culture war" stood out to me: "After writing/speaking about why the 2016 round of political coverage lacked cultural competency, I saw how much 2020 media tried to fact check a culture war vs understanding race, class and post-fact politics..." (Twitter)
 -- Need a smile? Watch Senate candidate Raphael Warnock's newest ad in his Georgia special election campaign against Kelly Loeffler. It is a clever parody of an attack ad... (Twitter)
IN NON-ELECTION NEWS...
Quarterly earnings show the ad biz is still bleak for publishers
Kerry Flynn writes: "This week's media earnings across newspaper publishers showed a similar trend: The ad business is recovering from the spring's Covid-led crash, but it's still bleak. Ad revenue year over year:
>> For Gannett, Q2 was down 37.7%; Q3 was down 23.4%. 
>> For NYT, Q2 was down 43.9%; Q3 was down 30.2%.  
>> For Tribune, Q2 was down 48.1%; Q3 was down 38.2%.
>> For News Corp, Q4'20 was down 51.6%; Q1'21 was down 45.4%.
Those circumstances continue to prove that it's a smart strategy for publishers to decrease reliance on ad revenue by growing subscription businesses. The NYT announced that it has reached 7 million subscribers, getting closer to its goal of 10 million by 2025."
 >> Related: BuzzFeed CEO Jonah Peretti told staffers that the company "will be profitable for all of 2020, driven by a profitable Q3 and Q4." The memo pointed to double digit growth in its direct sold business and 50% yoy growth in organic affiliate business. Full memo here...

Need a break from the election right now?
Yes! Feel-good content is what we need right now, and Lisa Respers France has lots of ideas. Check out her list right here...
PET OF THE DAY:
'Dad, are you done reading the news yet?'
Devon shares a picture of his dog Lilly: "Her pleading eyes in this photo seem to say 'Dad, are you done reading the news yet? It's perfect weather for a walk!'"
That's a great idea, Lilly. Everyone needs to make time for walks right now...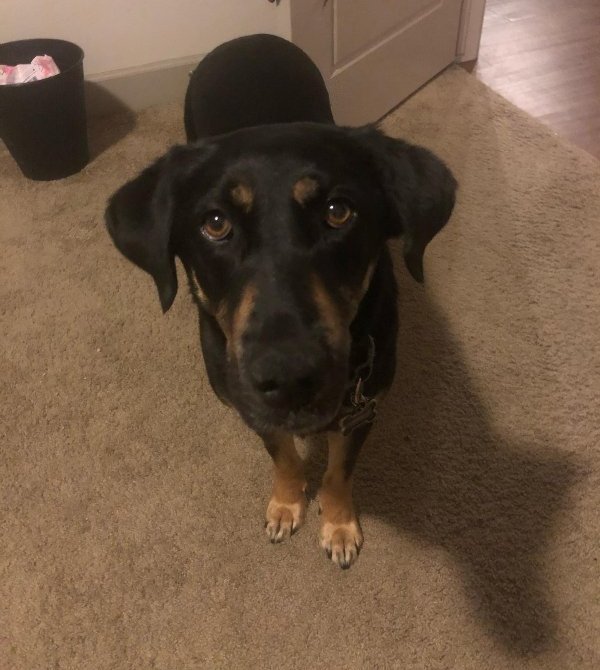 You are receiving this message because you subscribed to CNN's Reliable Sources newsletter.
® © 2020 Cable News Network, Inc.
A WarnerMedia Company. All Rights Reserved.
Our mailing address is:
Cable News Network, Inc.
Attention: Privacy Policy Coordinator
One CNN Center, 13 North
Atlanta, GA 30303