Friday, October 23
Facing off in their final debate of the election campaign, President Donald Trump and his rival, former Vice President Joe Biden, offered diametrically opposite predictions for the pandemic's future threat to the American people, at a time when Covid-19 cases are rising in more than two dozen states. 
Biden warned that the United States is going to have a "dark winter" as the coronavirus once again begins to rage out of control.
Trump rejected that view and once again claimed -- as he has for the last eight months -- that the virus would miraculously disappear. "We're rounding the corner. It's going away," Trump said.
Facts First: This is false. The US coronavirus situation -- as measured by newly confirmed cases, hospitalizations and the test positivity rate -- is getting worse, not better. The US is now well into the dreaded fall surge, fueled by indoor socializing, outbreaks at schools and pandemic fatigue. 
And scientists say if dramatic steps aren't taken to improve contact tracing or double down on safety measures, like social distancing and mask-wearing, the situation will continue to deteriorate. 
Global Cases
41,771,162

Global Deaths
1,138,206

US Cases
8,411,259
US Deaths
223,059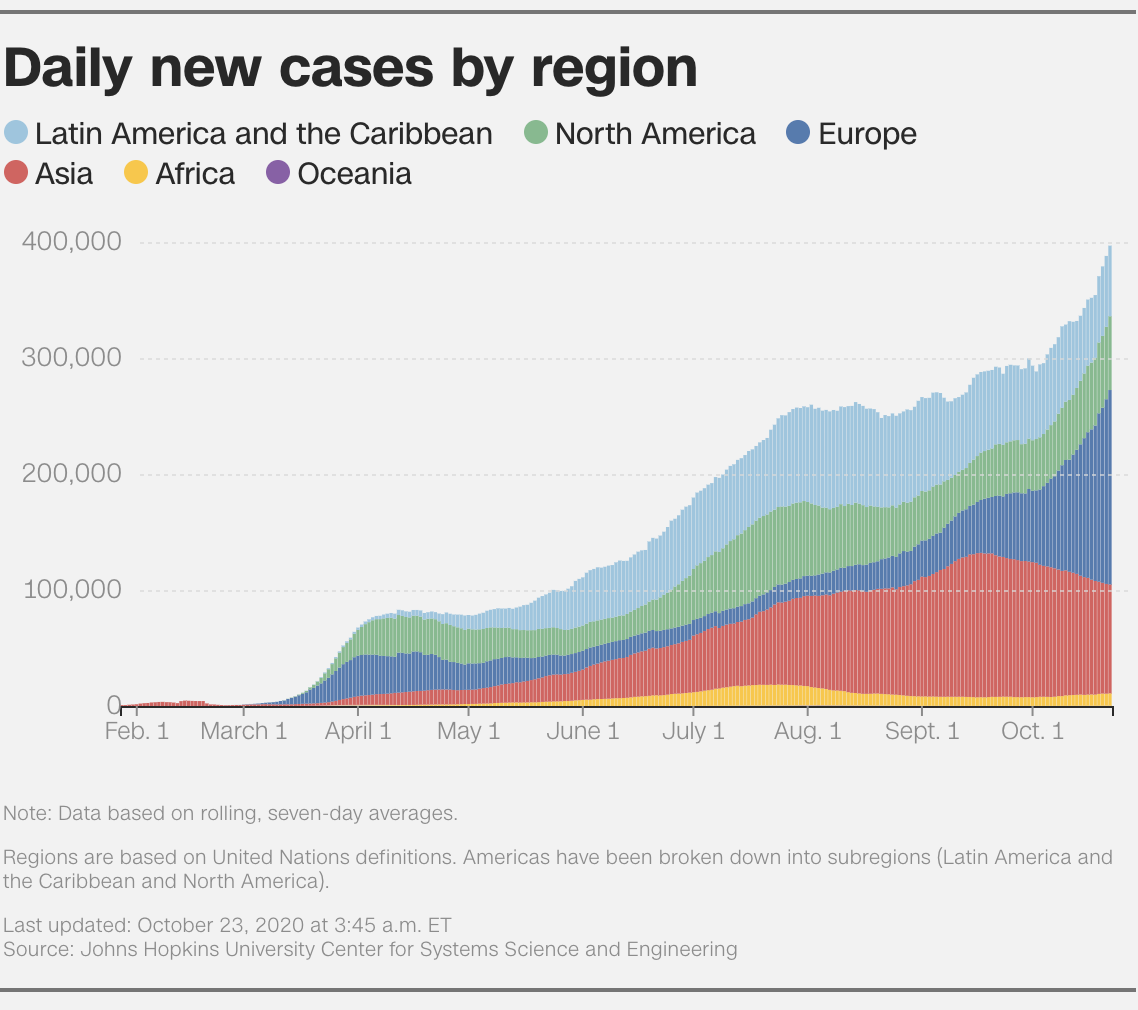 Source: Johns Hopkins University
Q
When will the coronavirus pandemic end?
A
Since February, Trump has declared at least 38 times that Covid-19 is either going to disappear or is currently disappearing. It's not. In fact, the World Health Organization has said that the virus may never go away; instead, it could become a constant background presence in our communities, occasionally flaring up in local outbreaks.


Multiple teams of scientists around the globe are working to develop a viable coronavirus vaccine, which is the world's best shot at ending the pandemic. But that vaccine will have to be highly effective and widely available to stop the virus from circulating within the population -- plus people will need to take it.


Pandemics don't persist forever, but that's not normally because a virus disappears. Eventually Covid-19 could end up like HIV, which can be treated to the point of elimination, or measles, which can be kept under control with a vaccine.
Send your questions here. Are you a health care worker fighting Covid-19? Message us on WhatsApp about the challenges you're facing: +1 347-322-0415.

The number of older people getting coronavirus in Europe is rising again


Seven months into the pandemic, doctors and scientists have made major strides in learning how to better treat patients of this still-new disease. And that knowledge is a huge advantage. For example, ventilators -- once widely used early in the pandemic -- are now used less frequently, as doctors have learned how they may injure the lungs of Covid-19 patients.
But in some places, nurses still don't have enough protective equipment. People keep flouting mask rules and social distancing. And rapid, at-home testing remains a pipe dream. This is where experts say the US stands as it enters the next grueling phase of the pandemic. 
Remdesivir becomes first Covid-19 treatment to receive FDA approval


Remdesivir has become the first Covid-19 treatment to be approved by the US Food and Drug Administration, the drug's maker, Gilead Sciences, said Thursday.


Sold under the brand name Veklury, remdesivir has been used under emergency authorization since May. Earlier this month, President Trump received the drug after testing positive for the coronavirus.
But the antiviral has shown, at best, only a modest benefit for coronavirus patients. A World Health Organization-sponsored global study found that remdesivir did not help Covid-19 patients survive or recover faster. And former US Health and Human Services official-turned whistleblower Dr. Rick Bright told CNN's Wolf Blitzer that the data shows the drug is far from a home run. "It wasn't a remarkable improvement in terms of mortality, or even the lengthening or shortening of the length of hospital stay, but it did show some marginal benefit," Bright said.
Lockdowns enforced and curfews extended, as Europe battles second wave

Desperate to avoid the crippling economic costs of stay-at-home orders enforced in the spring, Europe's leaders are imposing and widening local restrictions in the hopes of stemming a surge in cases.


France has extended curfews to around two-thirds of its population, while Greece and Italy have imposed night-time restrictions on movement in high-risk areas. Non-essential services, including bars and restaurants, have been curtailed or closed in the Czech Republic, Belgium, Denmark and the Netherlands. And Britain has tightened restrictions in several areas of England, including Manchester, moving them into the "very high" category, which bans people mixing outside their households.
Wales' two-week "firebreak" lockdown starts on Friday night, with schools, shops, pubs and hotels shuttering and people told to stay at home. It joins Ireland as among the strictest lockdowns to be enforced since the pandemic hit the continent.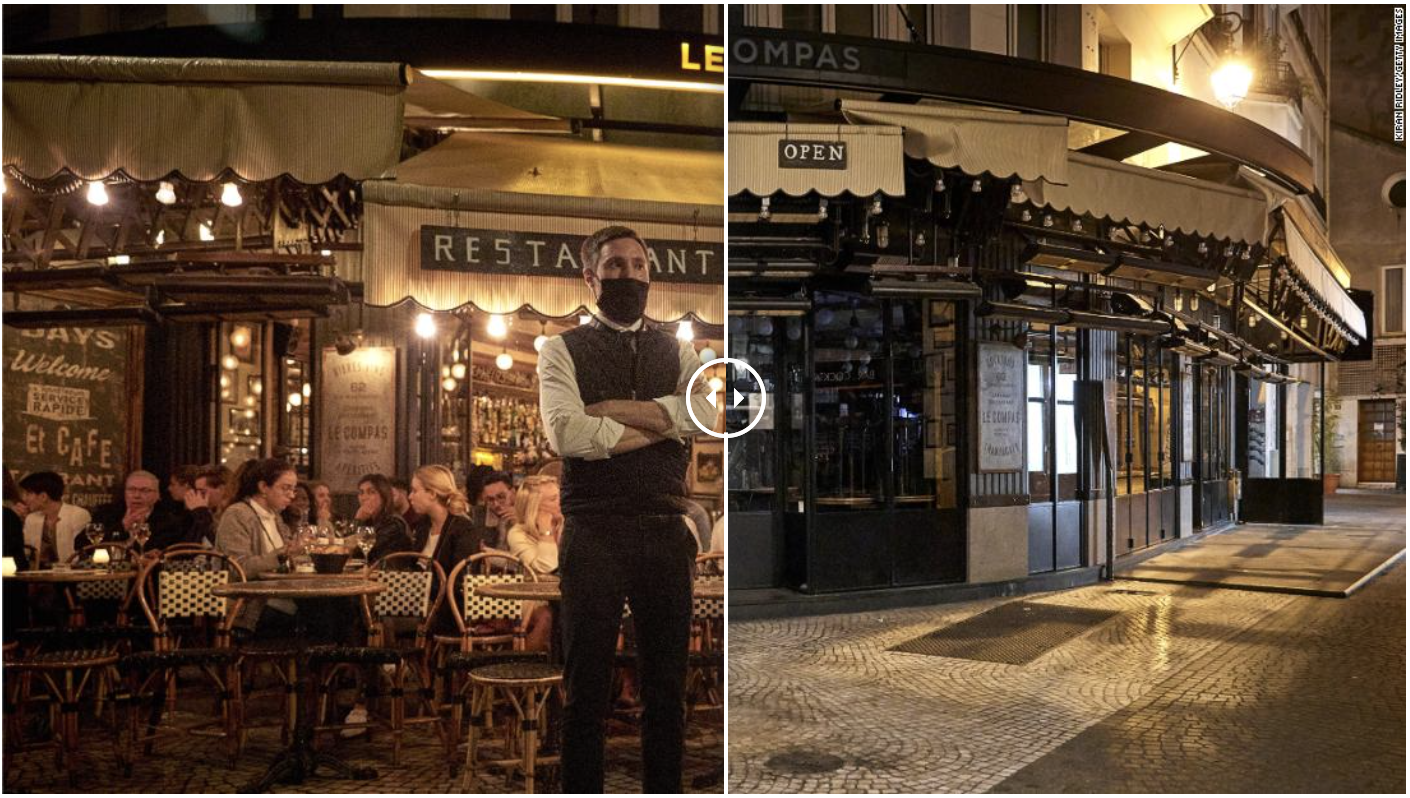 Le Compas on Paris' Rue Montorgueil on September 23 (left) and October 17 (right).
See more before and after photos here.
 We're less than two weeks away from the US presidential election. And while millions of Americans will cast their ballots early by mail, many will still opt to vote in-person. Concerned about your safety at the ballot box? We have compiled a list of guidelines to reduce your risk of contracting Covid-19 while carrying out your civic duty.
FROM TODAY'S
PODCAST
"First I saw the smartphone, this white-blue rectangle waving in the dark. Then I heard a man calling for help."
-- CNN Senior Writer Thomas Lake
Lake and his wife were very careful about the virus. No travel, no hairstylists, no friends or relatives inside the house. And then, in the space of a few seconds on a dark country road in Georgia, Tom flung all that caution into the night. Listen Now
The FDA has lengthened a daylong meeting of its vaccine advisers scheduled for Thursday to discuss a potential coronavirus vaccine.
Divorce or separation is rarely easy, but couples dissolving their households during Covid-19 are facing new woes -- the stress of job losses, shared housing, co-parenting and health insurance worries in a global pandemic.