Tuesday, September 8
Hundreds of Americans are dying every day from Covid-19, and President Donald Trump is "gaslighting" people when he says the US is leading the world in successes against the virus, CNN medical analyst Dr. Seema Yasmin said Monday. 

Her comments followed a tweet from Trump stating that the US is "starting to get VERY high marks in our handling of the Coronavirus (China Virus), especially when compared to other countries and areas of the world." He added that "the Vaccines (Plus) are coming, and fast!" 

Public opinion on Trump's handling of the outbreak is low, according to polls, and the President is looking for good news to bolster his re-election chances. He told a Monday news briefing that, "we're going to have a vaccine very soon. Maybe even before a very special date."

While Trump did not specifically mention which date, he has previously suggested that a coronavirus vaccine could be ready before Election Day. Meanwhile, health experts have said for weeks that the prospect of a shot being ready by then is highly unlikely. 
Pharmaceutical companies are also pushing back against the prospect. Nine companies have signed an unusual pledge, released on Tuesday, to uphold "high ethical standards," suggesting they won't seek premature government approval for Covid-19 vaccines.
The irony of all of this is many Americans may not even want the jab, partly due to the Trump administration's mixed and misleading messages that could undermine confidence in the vaccine process. According to a new CBS News/YouGov poll, only 21% of voters nationwide said they would immediately seek out a vaccine if one was made available in 2020, while 65% said they believed a vaccine announced this year would, by definition, be the product of a "rushed" process. Only 35% would regard it positively, as a "scientific achievement."
As of 7:00 a.m. ET, September 8
Global Cases
27,356,706
Global Deaths
893,005
US Cases
6,301,451
US Deaths
189,221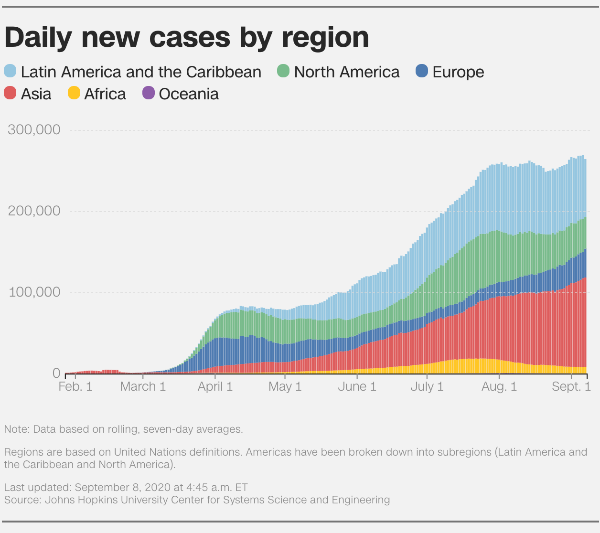 Source: Johns Hopkins University
Q
Can I catch Covid-19 from food or its packaging?
A
It is highly unlikely that food is a source of coronavirus transmission, according to a team of experts on food contamination. 
"To date, there has not been any evidence that food, food packaging or food handling is a source or important transmission route for SARS-CoV-2 resulting in Covid-19," the International Commission on Microbiological Specifications for Foods said in a statement. 
Those findings mirror earlier reporting from the US Food and Drug Administration that there is no real risk of getting the virus from food or food packaging.
Send your questions here. Are you a health care worker fighting Covid-19? Message us on WhatsApp about the challenges you're facing: +1 347-322-0415.

People celebrated at big events this Labor Day, despite warnings
Labor Day celebrations were in full swing this weekend, and while many heeded official warnings and opted to ditch the crowds, others were not so cautious.  

In San Francisco, more than 1,000 people gathered at an event celebrating Burning Man culture. In Brooklyn, authorities shut down a bar over the weekend after deputies found nearly 300 people packed inside. In Nashville, thousands flocked to the bars operating with restrictions, prompting the mayor to close down portions of a road to allow for more social distancing, Christina Maxouris reports. 

This comes as experts offer a grim prediction on what the next few months could look like, with the pandemic stacking up against flu season and new fronts opening up, including schools and college campuses. "We're heading into the fall and the winter, when we would expect a respiratory pathogen like a coronavirus to start spreading more aggressively than it would in the summertime," Dr. Scott Gottlieb, the former US Food and Drug Administration commissioner said on CBS' Face the Nation.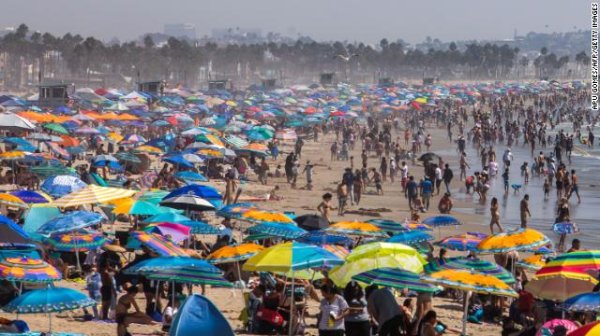 People gather at a Santa Monica beach on the second day of Labor Day weekend.
Credit: Getty Images
French Open tennis tournament to be played with fans 
The French Tennis Federation announced Monday that the 2020 French Open will be open to fans when play begins later this month -- despite a rise in cases in the country. The Grand Slam event was originally scheduled for May but was postponed by the pandemic.
But world No. 1 Ashleigh Barty said she won't be in Paris to defend her French Open title. The Australian said in a statement that she would not be traveling to Europe in part because of the Covid-19 pandemic as well as factoring in her lack of preparedness to play at Roland Garros. 

Serena Williams has also expressed some reservations. After beating Maria Sakkari at the US Open, Williams said: "I'm super conservative because I do have some serious health issues, so I try to stay away from public places, because I have been in a really bad position in the hospital a few times. So I don't want to end up in that position again, so I don't know. I'll just do my best to continue to keep -- for me, I try to keep a 12-foot distance instead of 6." 
Spain passes half a million infections
Spain has topped the 500,000 mark after recording a further 2,440 Covid-19 cases on Monday, making it the first western European country to pass that threshold. It now has a total of 525,549 infections, according to Johns Hopkins University data. 
This comes as the UK reported nearly 3,000 cases for two days in a row, marking the country's highest daily totals since May. Health minister Matt Hancock said he was concerned about the rise, which he said was primarily among "affluent" young people. Meanwhile, Denmark is restricting public gatherings in its capital and 17 other municipalities after seeing a "worrying" increase in cases, its health ministry said.  
More soccer stars catch the virus, while others breach the rules
French soccer star Kylian Mbappe tested positive for Covid-19 while on international duty, the French Football Federation announced on Monday. The 21-year-old is the seventh Paris Saint-Germain player to contract coronavirus in recent weeks. Manchester City footballers Riyad Mahrez and Aymeric Laporte have also tested positive, their club announced on the same day. 

Meanwhile, two England players -- Manchester City's Phil Foden and Mason Greenwood of Manchester United -- have been sent home for breaching coronavirus rules while in Iceland.
The England team was in Reykjavik following a 1-0 victory over Iceland in the Nations League. Since the win, Icelandic media outlet DV reported that the players were visited by two Icelandic girls in their hotel. 
Pfizer and BioNTech vaccine could be ready for approval by October says BioNTech chief
The collaboration between Pfizer and BioNTech is confident it can have a vaccine ready for regulatory approval by the middle of October, BioNTech CEO and co-founder Ugur Sahin told CNN. 
"It has an excellent profile and I consider this vaccine as a vaccine which is near perfect and which has a near perfect profile," Sahin said in an exclusive interview with CNN's Frederik Pleitgen. He added "this provides us with a lot of confidence in combination with understanding of the mode of action. In combination with the safety data coming in from the running trial. Yes, we believe that we have a safe product and we believe that we will be able to show efficacy."
Sahin told CNN he believes the approval for emergency use will be granted quickly by regulatory authorities. US drug giant Pfizer and German firm BioNTech say they plan to provide 100 million doses of their vaccine candidate, BNT162, by the end of the year, and up to 1.3 billion doses in 2021.

While Sahin said approval could happen by mid-October, federal officials have told CNN they believe this is an optimistic timeline.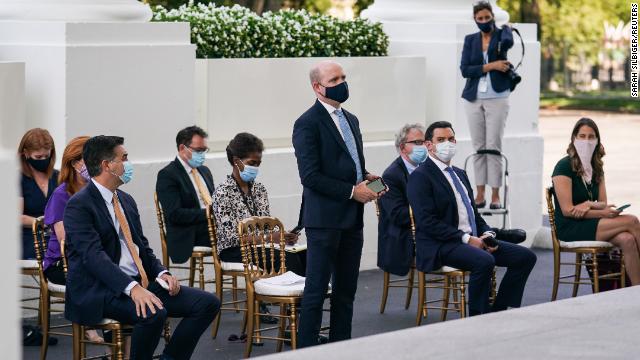 Reuters correspondent Jeff Mason (center) would not remove his face mask at the request of the President. Credit: Reuters
With the Covid-19 pandemic spreading rapidly around the globe, medical experts say distributing the flu vaccine has taken on new urgency. Here's how to get a shot in the US: 
Residents in any state can find out where to get vaccinated using the CDC's VaccineFinder website, which partners with local health departments and clinics.

Drive-through flu shots are also available at some Kaiser Permanente locations. 

Flu shots are also currently available at many chain drugstores, including CVS and Walgreens.
"You really couldn't sit there and think moment to moment about what was going on or you would become sort of paralyzed."
-- Maureen O'Donnell, Chicago Sun-Times' obituary writer
In today's podcast, the longtime obituary writer for the Chicago Sun-Times shares what it's been like covering the lives of people we've lost over the last several months. Listen Now.

It began more than 100 years ago, but World War I is no remote event. Its carnage and tumult changed our world, says Ruth Ben-Ghiat.
The US-China trade war might be having a chilling effect on business investment, but it's not derailing the splurge in share buybacks.