Wednesday, August 5
"It is what it is."
That's what President Donald Trump had to say about the staggering death toll from the coronavirus pandemic in the United States, which, at more than 150,000, is nearly a quarter of all global fatalities -- far outpacing that of any other nation.
In an interview with Axios on HBO, Trump claimed that the virus is "under control as much as you can control it" in the US, despite the fact that infection rates and deaths have been spiking. 
Nationally, the seven-day average of new daily cases is at about 60,000, while deaths, which typically lag several weeks behind, are steadily increasing, averaging 1,000 a day for a week straight.
Globally, more than 5,900 people are dying every day from Covid-19 on average, according to CNN calculations based on Johns Hopkins University (JHU) data from the past two weeks. That is 248 people per hour, or about one person every 15 seconds.
"We're lower than the world," Trump said in an incomprehensible response when pressed on the climbing US death toll.
When fact-checked in real time by Axios's Jonathan Swan, Trump struggled to back up his claim, pointing to misleading statistics in an attempt to mask the truth that, by almost all measures, the US is doing badly in comparison with the rest of the globe. 
In reality, coronavirus is more widespread in the US than ever before, prompting White House coronavirus response coordinator Dr. Deborah Birx to say over the weekend the country has entered a "new phase" of the pandemic. The virus is now hitting urban, suburban and rural areas and has even spread to Americans living on distant islands. Hawaii and Puerto Rico both saw their highest seven-day averages of new daily cases on Monday, per data from JHU. 
"The bottom line is we have people in this country contracting Covid at record rates, dying at record rates," said Ron Klain, the former Ebola czar under President Barack Obama, on Tuesday. "We're losing Americans out here right now at about the same pace we were losing Americans in World War II. We certainly didn't hear FDR tell people 'it is what it is.'"
As of 7:00 a.m. ET, August 5
Global Cases
18,560,630

Global Deaths
701,027
US Cases
4,771,519
US Deaths
156,830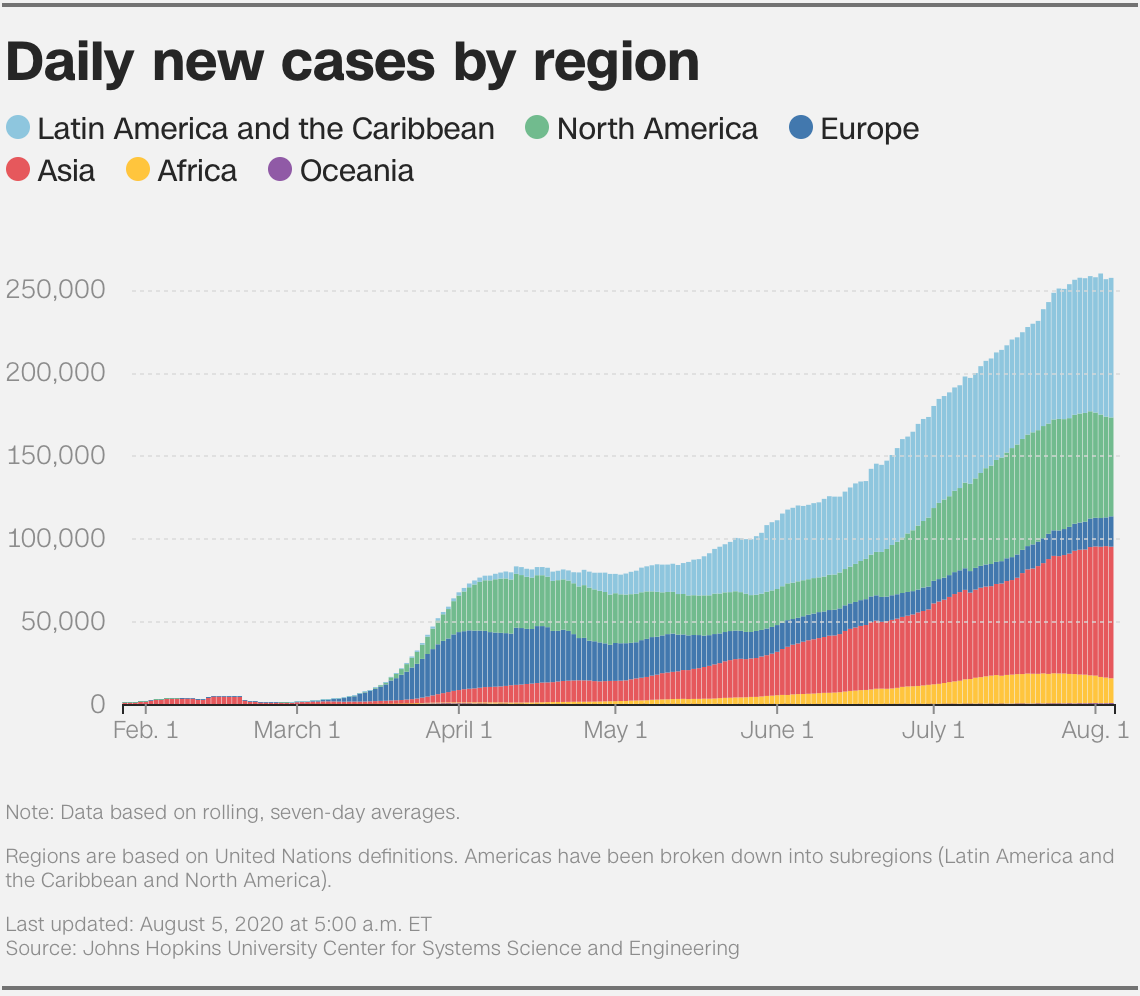 Source: Johns Hopkins University
Q
Is it safe to go on vacation?
A
It depends on how careful you are. While some parts of the US have more cases of Covid-19 than others, "I think even more important than where someone goes is what they do when they go there," said Dr. Andrew Thomas, chief clinical officer at Ohio State University's Wexner Medical Center.
"Much like even when you're at home, if you are essentially controlling your environment, not going out into public places with large crowds, you're wearing a face mask, you're washing your hands, you can go on vacation safely," he said.
"I think certainly flying on planes is a little less safe than driving," Thomas said. "But it's really what you do when you go there. If you're going to bars and restaurants, not wearing a mask, going out with large crowds … you're going to potentially come home with the virus."
Send your questions here. Are you a health care worker fighting Covid-19? Message us on WhatsApp about the challenges you're facing: +1 347-322-0415.
Trump's testing czar says the government is doing all it can. Experts disagree.


Demand for tests is outstripping supply, makers of test components say, even as about 800,000 tests are carried out per day in the US, according to the Trump administration's coronavirus testing czar, Admiral Brett Giroir.
CNN asked more than 20 public health and lab industry sources whether Giroir and the administration were doing all they could to fix the country's testing problems and there was an overwhelming consensus: No. 
What's most needed, they said, was for the federal government to seize a larger leadership role in coordinating a focused, national effort aimed at identifying and solving issues in the testing supply chain and providing better guidance to health workers on how best to use limited resources. Their recommendations come as tests often take multiple days or more to process, which can stunt health officials' abilities to effectively track the spread of the virus.
There's no "one size fits all" approach to returning to campus


The start of the new school year is already proving that there is no one way to reopen schools during the Covid-19 pandemic and returning to classes does not mean anything close to returning to normal.


Many officials had hoped to send students back to school this month with coronavirus cases under control. But as the infection rates in the country change, so will many districts' plans, said Wendy Price, president of the National Association of School Psychologists. "There's just a litany of things that schools are going to have to consider," Price said. "And it's no one size fits all. It really isn't."
If students don't return to classrooms, many parents lacking childcare may have to stop working entirely. And that could have devastating implications for America's economic recovery, Goldman Sachs says.
Novavax vaccine shows promising immune response


Novavax, an American biotechnology company that received a $1.6 billion deal from the US government for its experimental coronavirus vaccine, released encouraging results on Tuesday from an early study.


The company said that its vaccine candidate produced higher levels of antibodies in healthy volunteers after two doses than those in recovered Covid-19 patients, raising hopes it will be proven safe and effective in large-scale trials, which could start as soon as late September.
The vaccine is one of more than two dozen products that have begun the first round of safety tests in humans, known as Phase 1 trials. Six other vaccines are in Phase 3, the final regulatory stage in which thousands of people are tested to see if the vaccine works.
Cases soar in Latin America and Caribbean, with no signs of stopping


As the global death toll from Covid-19 surpasses 700,000, Latin America and the Caribbean are increasingly becoming the epicenter of the global pandemic. And the region is struggling to curb the spread of the virus, reaching more than 5 million confirmed cases on Tuesday, according to a CNN tally based on Johns Hopkins University data.
Among the top 10 countries with the most infections globally, five are from Latin America: Brazil, Mexico, Peru, Chile and Colombia, according to JHU. Brazil continues to be the second hardest-hit country worldwide following the US, topping 2.8 million cases. And several countries in Latin America, including Colombia, Argentina, Mexico and Peru, have seen an acceleration in the number of new cases over the past two to three weeks
Beirut's hospitals were already buckling. Then the explosion hit.


On Tuesday morning, the head of Beirut's main public hospital treating coronavirus patients said his facilities would soon reach full capacity after a surge in the country's Covid-19 cases. It was a statement that seemed to foretell the worst case scenario for Lebanon's healthcare system, already buckling under the weight of an economic meltdown, Tamara Qiblawi writes.
Hours after the announcement, a massive explosion ripped through Beirut and its outskirts, devastating broad swathes of the city. Thousands flooded the hospitals, many of which were also damaged. Patients lay lying on the floor as they were administered IV-drips. The cries of babies bounced off the walls. One US citizen in Beirut tells CNN that he visited the St George Hospital offering to donate blood. The security guard turned him away. "We don't need blood, because there is no hospital. We are zero," said the guard.


For now, the health ministry has said that field hospitals will be set up to treat the over 4,000 wounded. But where and how, amid this devastation, Lebanon can tackle its growing Covid-19 spread is anyone's guess.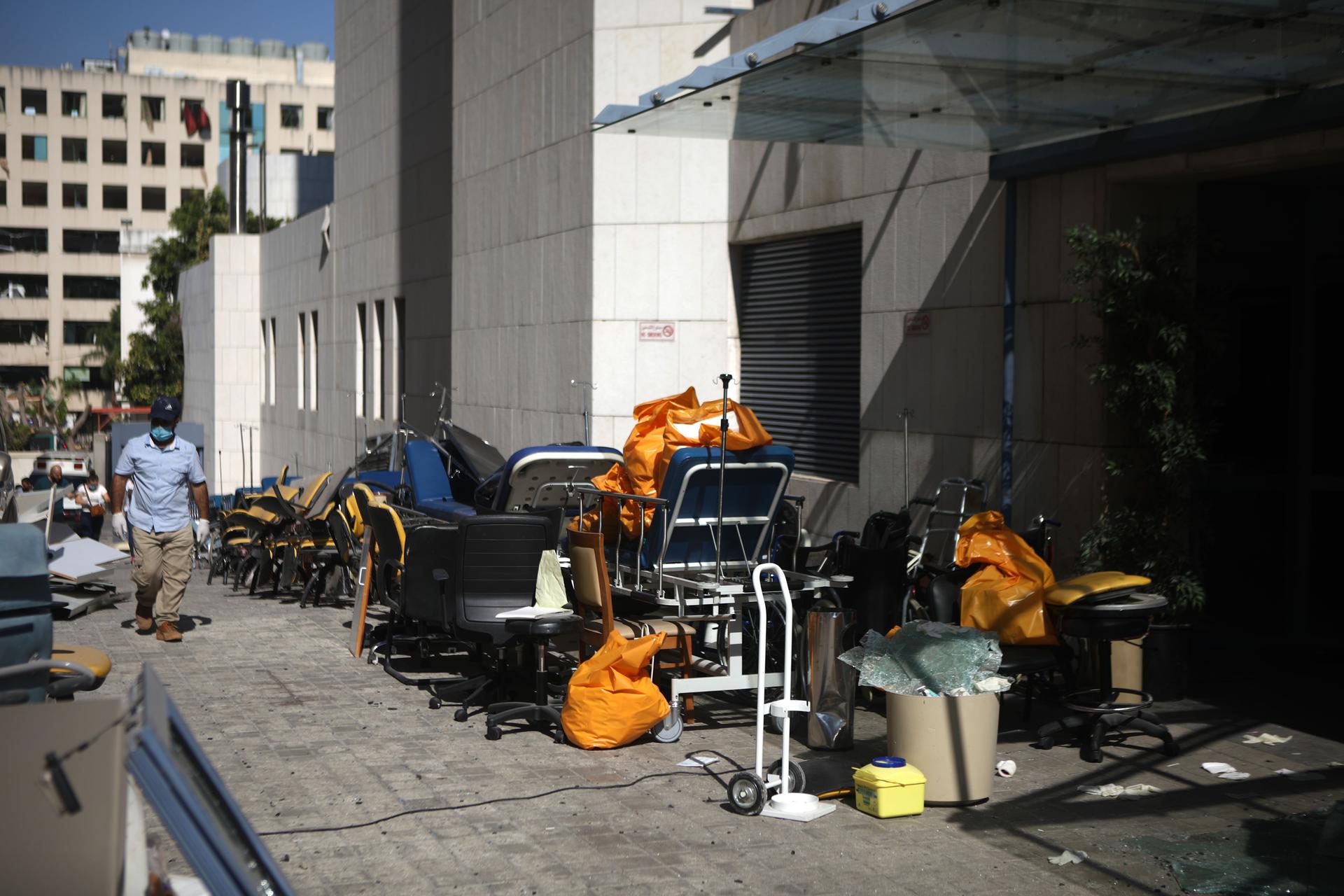 Medical supplies outside a partially destroyed hospital in Beirut. (Credit: Patrick Baz/AFP/Getty Images)
As students start to return to classrooms, we talked to multiple professionals about the best ways to keep them safe. Here is their 2020 back-to-school checklist -- it looks a lot different to what we're used to.
Don't send kids to school sick

Bring your own school supplies (like pencils, pens, highlighters, etc.)

Pack hand sanitizer (60% or higher alcohol-based)

Have a supply of masks on hand

Keep home safe by having a back-from-school protocol (like disinfecting before you get in the door, removing clothes/shoes and placing them in the laundry)

Stay positive, and adjust expectations
FROM TODAY'S
PODCAST
 "Let's make no mistake, this is a war."
-- Dr. Richard Carmona

US Surgeon General Dr. Richard Carmona is heading up the University of Arizona's Covid-19 reopening task force, and overseeing the campus' return. Hear how he devised the school's plan on today's podcast. Listen Now.

Disney's "Mulan" has been delayed multiple times this year because of the coronavirus outbreak, but audiences will finally be able to see the blockbuster soon.
Two new trials soon will be underway in the United States to investigate antibody treatment approaches for Covid-19 patients.
You are receiving this message because you subscribed to receive coronavirus updates from CNN.
Subscribe to more CNN Newsletters
 ® © 2020 Cable News Network, Inc.
A WarnerMedia Company. All Rights Reserved.
One CNN Center Atlanta, GA 30303