Monday, July 27
The United States recorded more than 1,000 coronavirus deaths for four days running last week.


The staggering, repeat toll has ushered in a new sense of urgency in the nation as public health experts call for another shut down.
While cases surge in parts of the South and West, Dr. Deborah Birx, the Trump administration's coronavirus response coordinator, made a visit to Kentucky on Sunday, where she urged officials in the region -- citing Indiana, Ohio, Tennessee and Virginia -- to close bars, cut back indoor restaurant capacity and limit social gatherings to 10 people. She also recommended that "100%" of people wear masks when they are in public -- something that some local leaders are still unwilling to enforce.


With overwhelmed hospitals and lengthy delays in testing, some local leaders across the US -- including the mayors of Houston and Los Angeles -- have said a second stay-at-home order might be possible.


Federal and state officials now seem to agree that backlogs for Covid-19 testing and extended wait times for results pose a serious problem to containing the pandemic. Speaking on CNN's "State of the Union," Adm. Brett Giroir, the Trump administration official overseeing coronavirus testing, conceded that turnaround times are still too long. The director of the National Institutes of Health, Dr. Francis Collins, said last week that such delays undercut the value of the testing. CNN has previously reported results can now take an average of four to six days, but over a week in places experiencing surges.
 
President Donald Trump's top aides are stepping up blame-game tactics against the states, saying coronavirus testing problems and rising cases are not his fault as they try to counter new polls suggesting that his leadership failings could cost him reelection, Stephen Collinson writes.


Meanwhile, top White House negotiators are still pushing to scale back the next coronavirus relief legislation to focus primarily on deadline issues -- like the unemployment benefits that expire at the end of July, as well as education funding just weeks before schools are set to open. Senate Republicans plan to release their $1 trillion proposal on Monday.
As of 7:00 a.m. ET, July 27
Global Cases
16,264,048

Global Deaths
648,966
US Cases
4,234,140  
US Deaths
146,935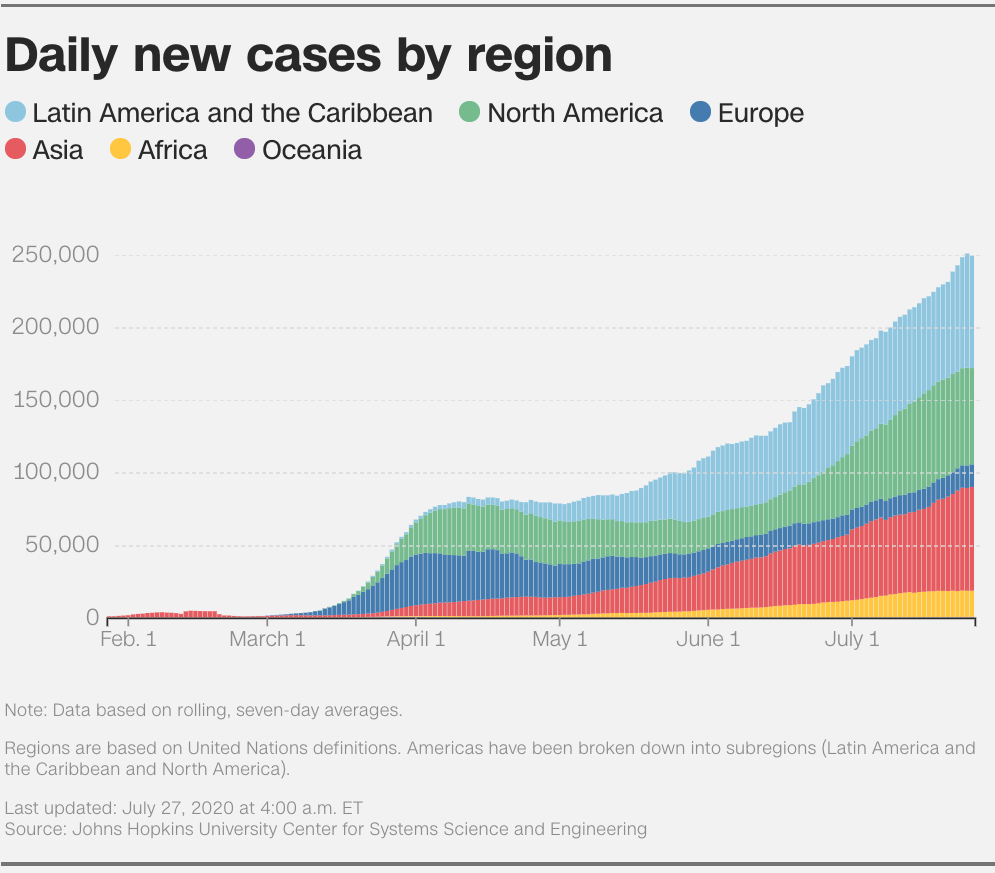 Source: Johns Hopkins University
Q
Do I still need to quarantine for 14 days after returning from travel?
A
If you traveled internationally, the US Centers for Disease Control and Prevention says you should stay home for 14 days after returning. During those 14 days, be sure to take these steps:
Take your temperature with a thermometer twice a day and monitor for a fever. You can use this temperature log to monitor your temperature. And watch for coughing or trouble breathing.

Stay home and avoid contact with others. Do not go to work or school.

Do not use public transportation, taxis, or ride-share services.

Keep your distance from others (about 6 feet or 2 meters).
If you traveled domestically, it depends on the state. Some state or local governments require those who have recently traveled to stay home for 14 days. You can read the CDC's full guide on how to protect yourself on different types of transportation here.  
Send your questions here. Are you a health care worker fighting Covid-19? Message us on WhatsApp about the challenges you're facing: +1 347-322-0415.
Quarantine order surprises Britons returning from Spain -- including transport minister


The UK government made the abrupt move on Sunday to impose a 14-day quarantine on all people returning from Spain, amid local outbreaks in Barcelona and other parts of Catalonia. The news came as a surprise to Britons, including -- embarrassingly -- Britain's own transport secretary, who was in Spain on holiday. 
Spain's foreign minister has said she is trying to convince the British government to make an exception for the Canary and Balearic islands, which have epidemiologic data "well below" that of the UK. The UK has the third highest Covid-19 death toll of any country globally, and has more cases and fatalities than Spain, something that the minister pointed out.
After U-turning on Spain, the UK government said it was monitoring the situation in Germany and France "closely" as it continues to review the travel bridges to many popular holiday destinations.
Asia is still struggling to stamp out the virus

Fresh outbreaks and surging cases across the Asia Pacific region are proving just how difficult it is to keep the coronavirus contained. But countries are still trying, with increasingly strict measures. Here's the latest:
"I hope we don't get sick from these Ch*nks"

Those are the words an Asian-American woman from Seattle, Washington, heard while boarding an airplane. The passenger who said it was staring directly at her. 
This is one of more than 2,100 anti-Asian, pandemic-related hate incidents documented and submitted to Stop AAPI Hate, a reporting center founded by the Asian Pacific Policy and Planning Council. Since its launch in March, Stop AAPI Hate has recorded incidents ranging from verbal harassment and physical assault to civil rights violations.
"I'm terrified of walking around looking like this and people shouting at me," Pete Rojwongsuriya, a travel blogger born and raised in Thailand, said.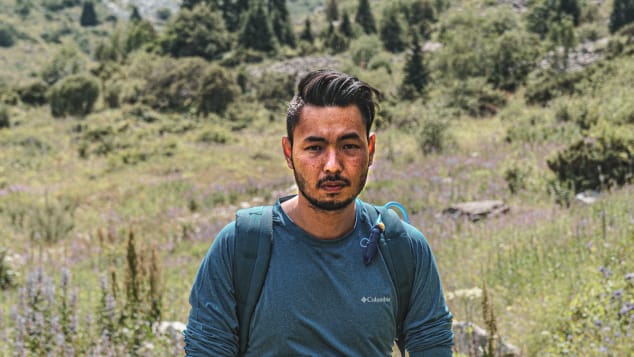 Pete Rojwongsuriya, a Thai travel blogger based in Thailand, at Ala Archa National Park in Kyrgyzstan.

Latin America is battling one disaster as a mammoth recession looms

Even as coronavirus cases soar in Latin America, another calamity looms: Sharply contracting economies, unsustainable debt and deepening inequality could unleash social turmoil in the region. The economy of Latin America and the Caribbean is expected to shrink more than any other region worldwide -- a contraction of nearly 10% this year, according to the International Monetary Fund's June forecast. A new UN report goes further -- saying Covid-19 could lead to "the worst economic and social crisis in decades."
The region had already been weakened by years of stagnation before Covid-19 arrived. The millions who had finally made it into the middle class faced what the Organization for Economic Cooperation and Development called "a vicious cycle of low-quality jobs, poor social protection and volatile income that leaves them at risk of falling back into poverty." Now, the pandemic is turning anemic growth into a canyon of recession -- and throwing millions back into poverty, Tim Lister writes. 
Don't listen to Jair Bolsonaro's advice on hydroxychloroquine. Announcing he had tested negative for coronavirus this weekend, the Brazilian President posted an image of himself on Twitter with what appeared to be a box of the anti-malarial drug. Bolsonaro has repeatedly endorsed the use of hydroxychloroquine to treat coronavirus patients, despite multiple studies showing that it does not help, and could even be harmful.


A study published in The New England Journal of Medicine last week, led by researchers in Brazil, found that hydroxychloroquine -- given either alone or in combination with the antibiotic azithromycin -- did not improve the conditions of hospitalized patients with mild-to-moderate Covid-19. Additionally, unusual heart rhythms and elevated liver-enzyme levels were more frequent in patients receiving hydroxychloroquine, according to the study.
FROM TODAY'S
PODCAST
"I thought it was the dumbest idea I'd ever heard."
— Dr. Allen Sills, NFL's chief medical officer 

Face masks for football players? Sills was initially skeptical. As the NFL prepares for its upcoming season, CNN Chief Medical Correspondent Dr. Sanjay Gupta speaks with the league's chief medical officer about the new tech designed to protect football players from Covid-19. Listen Now.

A thousand Japanese civilians working at two United States Marine Corps bases on Okinawa have been tested for coronavirus, as the US military institutes more stringent screening measures to stop the virus spreading on the island.
In the corner of a COVID-19 ward in Sao Paulo, Brazil, a woman cleaning the mouth of an intubated patient carries an extraordinary hope for pretty much all of us. Slipping a mouthwash-soaked brush into an elderly woman's mouth, at great personal daily risk, dentist Denise Abranches has something more than courage in her veins.
You are receiving this message because you subscribed to receive coronavirus updates from CNN.
Subscribe to more CNN Newsletters
 ® © 2020 Cable News Network, Inc.
A WarnerMedia Company. All Rights Reserved.
One CNN Center Atlanta, GA 30303