Brian Stelter here with a special edition of the newsletter. Dan Primack quipped on Saturday, "The only really good thing that's happened this week involves two guys leaving Earth altogether." For those of us still on the planet, here's the latest...
America aflame
We are witnessing the most widespread outbreak of disturbances in American cities in several generations.
Minneapolis is the focal point, and for good reason, given the appalling death of George Floyd. Protests in big cities like New York, Chicago, Atlanta, Miami, and Los Angeles are also getting lots of news coverage. But this unrest is even bigger than it appears on TV and on Twitter. Peaceful protests are taking place in dozens of locales. Riotous acts of vandalism are also being reported in cities large and small, from Raleigh, NC to Cleveland, OH... from Dallas, TX to Charleston, SC... from Oakland, CA to Tampa Bay, FL.
"We haven't seen a spasm of riots like this since the assassination of Martin Luther King, Jr. in 1968," historian Douglas Brinkley told me just after midnight Eastern time on Sunday. "There were more deadly and expensive riots in the 1960's -- like Newark, Detroit and Watts -- but there is no comparison to the toxic combination of George Floyd's murder, Covid-19 and economic depression. 2020 is an election year and our entire democratic process is bursting at the seams. This will be known as the summer of fright and loathing in America."
Viewers are seeing the unrest through a series of proverbial soda straws: live shots from courageous TV crews, aerial views from news helicopters, tweets and stories from reporters on the ground. It is incumbent on news outlets to provide the fuller picture as well. Rather than replaying old video from the same half dozen cities, show the protests from coast to coast and everywhere in between. Don't just show the same police car on fire on a loop, describe the extent of the injuries and arrests and vandalism in places from Pittsburgh, PA to Portland, OR. 
The list goes on and on: There were fires in DC and Nashville and Reno and Indianapolis on Saturday. Extensive looting in Philly. Widespread vandalism in Madison, Wisconsin. Cars destroyed in Salt Lake City, Utah. Windows smashed in Wilmington, Delaware. The list goes on and on. News outlets should share the list and show that this is much, much worse than we've seen in decades...
The big picture
CNN.com's banner headline right now: "Rage and fury across America."
Don Lemon on CNN: "40 million people are out of work. More than 102,000 Americans' lives have been lost to a pandemic. And for the fifth night, images of American cities smoldering. People out in protest. Rioting. An emergency is gripping the country..."
"We're undergoing a great national trauma"
NYT chief White House correspondent Peter Baker on PBS's "Washington Week:"
"We started this year thinking it was another 1998, because of impeachment. Then we moved to 1918 with the pandemic. Then we thought maybe it was another 1929, throw that on top of 1918, because of the Great Depression. Now we're talking about 1968. Throw all of those in together at the same time: the polarized fight for the presidency; an epidemic of the likes we haven't seen in our lifetime; depression-era economic collapse; and now this social unrest, this tearing at the fabric of our society. What we're seeing, I think, is a year unlike that we've seen in many many years. We're undergoing a great national trauma."
Sunday's WaPo front page: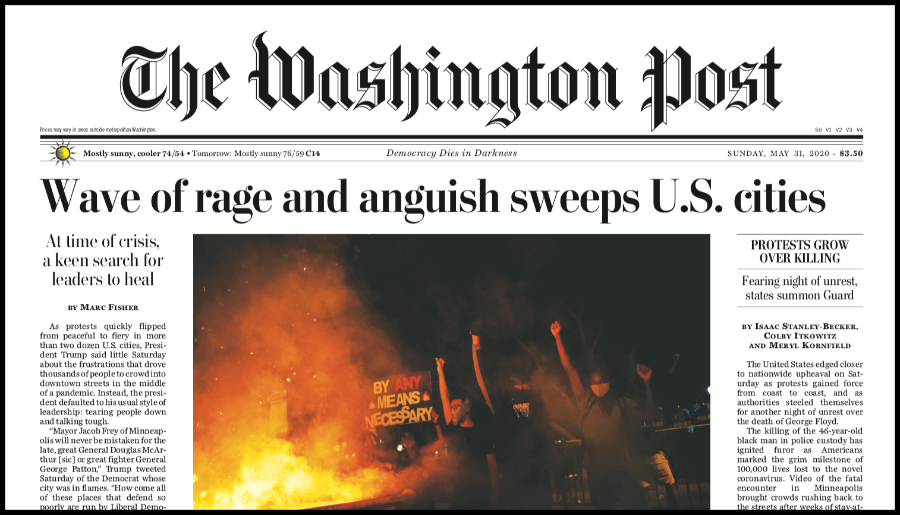 TV coverage notes
 -- Bill Hemmer anchored special Saturday night coverage on Fox News, preempting Jesse Watters and Jeanine Pirro...
 -- Ali Velshi anchored some of MSNBC's prime time coverage from a protest in Minneapolis... He was TKTK
 -- Wolf Blitzer, John Berman and Ana Cabrera anchored multi-hour stretches on CNN during the day. Now Don Lemon is anchoring into the night...
 -- "Fox & Friends" and CNN's "New Day" both begin an hour earlier than usual, at 5am ET...
The need for caution
Brian Lowry writes: One of the strengths of TV news has always been its ability to provide a visceral, up-close view of breaking events, with the tradeoff being that those images often come before the viewer is presented with fuller context, both as to what's happening and why. Following along chaotic situations in multiple cities via Twitter is a pretty good demonstration of how social media magnifies that process, providing a rush of snapshots that is, in the early stages, as jumbled as a jigsaw puzzle. That dynamic reinforces the need for caution, given the understandable tendency to react to snippets of information – shaped by the makeup of one's timeline -- without the fuller picture. And it's arguably one of the key things that separates the current president – who is prone to firing off instant responses directly into the Twittersphere – from his predecessors, who through most of our history lacked that option.
 -- Jelani Cobb: "You know we're in uncharted territory when something happens in Minneapolis and they're setting cars on fire in Salt Lake City..." (Twitter)
 -- Margaret Sullivan's new column: "Trump has sown hatred of the press for years. Now journalists are under assault from police and protesters alike..." (WaPo)
 -- Don Lemon noted Trump's absence: "I am waiting for a call for calm... from the leadership in this country. Where is it?"
 -- A key point made by BuzzFeed's Joe Bernstein: "An important thing to keep in mind as you try to make sense of protest/unrest coverage is that our current media moment ensures that any given event can and will be decontextualised and reassembled in such an way that confirms any number of political aims..." (Twitter)
Unrest in the age of a pandemic
In Columbus, Maddie McGarvey spotted "hand sanitizer duct taped to a pole for demonstrators..."
In Brooklyn, Christopher Mathias described a tense standoff between protesters and cops "outside a COVID testing site..."
In Miami, MSNBC anchor Joshua Johnson noticed arrows on the ground of a Miami mall that was being looted... Arrows to direct customers to socially-distance...
Later in the day, witnesses said Mathias was detained by police...
This Sunday on "Reliable Sources"
I'll be joined by Errin Haines, David Zurawik, Jane Coaston, Roger McNamee, Yael Eisenstat, Omar Jimenez, David Frum, and Jeff Mason... Live at 11am ET Sunday on CNN...
Assaulted on the job
Ian Smith, a photojournalist for KDKA TV in Denver, said he was "attacked" by protesters downtown on Saturday. "They stomped and kicked me," he wrote in a tweet from the back of an ambulance. "I'm bruised and bloody but alive. My camera was destroyed. Another group of protesters pulled me out and saved my life. Thank you!"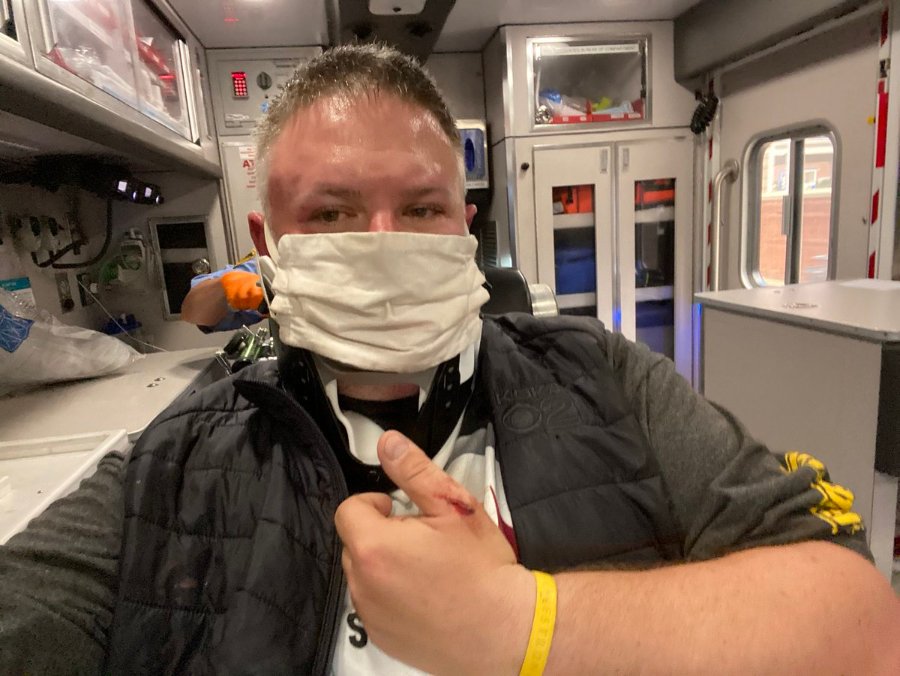 From Minneapolis to DC, from Louisville to Las Vegas, reporters are facing assault and arrest while reporting on the unrest. At least a half dozen different incidents were reported on Friday, and more on Saturday. Chicago Tribune photog Erin Hooley tweeted just now that "looters in Chicago shoved me on the sidewalk and took my cameras tonight." 
Fox News crew attacked
On Friday night A Fox News crew was harassed and chased out of Lafayette Park, one block from the WH, by protesters who cursed at Fox and criticized right-wing media. Correspondent Leland Vittert, cameraman Christian Galdabini and two security guards left the park as the crowd grew more and more hostile. "Vittert and the crew were punched and hit with projectiles as they fled, and a Fox News camera was broken when a member of the mob tried to grab it," Fox reported. Journalists from rival outlets supported the Fox crew and condemned the violence...
 >> Fox News Media CEO Suzanne Scott said in a Saturday memo that the company is taking "all necessary security precautions to safeguard all of our journalists and reporting crews..."
Two photographers arrested in Las Vegas
Photographer Bridget Bennett told me that she was detained while "working on assignment for AFP." Ellen Schmidt, a staff photojournalist at the Las Vegas Review-Journal, was also arrested. Review-Journal exec editor Glenn Cook said in an email message, "they never should have been touched, let alone arrested and then booked into jail." Here's my full story...
UN secretary general's message
António Guterres was moved to post a message defending the rights of the press Saturday morning. "When journalists are attacked, societies are attacked," he tweeted. "No democracy can function without press freedom nor can any society be fair without journalists who investigate wrongdoing and speak truth to power."
 -- Friday night: Louisville, Kentucky PD apologized to WAVE 3 News after an officer fired what appeared to be pepper balls at a live news crew...
 -- A news vehicle belonging to another Louisville station, WLKY, was destroyed, and a videojournalist "was attacked so badly he had to go to the ER," anchor Julie Dolan said... (CNN)
 -- In Minneapolis, photographer and author Linda Tirado said she was blinded in her left eye. What "we think happened is I took a rubber bullet to the face..." (Daily Mail)
 -- In Phoenix, reporter Briana Whitney was accosted by a protester while she was live on the air... (Twitter)
 -- Saturday afternoon: KCRW's Cerise Castle said the LAPD "just shot me and protestors gathered at Beverly & Fairfax with rubber bullets. I was holding my press badge above my head." (Twitter)
 -- Saturday evening: Pittsburgh police reported that "at least three local journalists were attacked/injured by protesters..." (Twitter)
Zucker's memo to CNN staff

Oliver Darcy writes: In a Saturday memo, Jeff Zucker addressed CNN staffers: "We woke up yesterday to the sight of our reporter and his team being arrested, on live television, for doing their jobs," Zucker wrote, adding, "We went to bed last night to the sight of our offices at the CNN Center in Atlanta under attack and being vandalized." Zucker said that all employees "are safe and sound" and said that the graffiti on the CNN logo outside the CNN Center would be removed, which it was on Saturday morning.
Zucker added, "This has been a difficult week. Understandably, emotions are raw. The pain is real. All of this against the backdrop of a global pandemic that we cannot forget, either. I want to thank the entire organization for its collective sense of purpose. CNN has never been more essential. CNN has never been stronger."
Let's hear the voices of protesters
WaPo Beirut bureau chief Liz Sly tweeted Saturday: "The absence of protesters' voices in US coverage is striking. In Egypt, Libya, Syria, Iraq, Lebanon etc we sought out protesters, explained their motives, profiled them. Who are these US protesters? What are their stories? A whole piece of the story is missing."

CNN's Sara Sidner replied: "Really Liz? You didn't see any of my interviews? I was standing in the middle of a burning bank last night talking to protestors about why they were there. Choking on tear gas." Sidner pointed out that "there are many who didn't talk due to fear." I agree with Sidner -- her reports have been outstanding -- but I think Sly is pointing out a broader problem in the coverage.
Here's another excellent example of hearing from protesters:
"We're trying to stand up if the basic rights of humanity."
Oliver Darcy writes: If you didn't catch this live on CNN, it's worth a watch. Miguel Marquez asked a demonstrator in Minneapolis for his message to those carrying out violence and destruction. "If you cannot stand up and fight the good fight and you want to be a cheater and go ahead and take what we're trying to do, something is wrong with you," the demonstrator said. "We're trying to stand up if the basic rights of humanity."
"We do not want to go through this anymore," he continued. "I want to be able to go in a white neighborhood and feel safe. I want to be able when a cop is driving behind me I don't want to clench. I want to be able to be free and not think about every step I have to take. Because at the end of the day, being black is a crime. At the end of the day, being born black is a crime to them. I don't understand why because we're all humans and that's sickening."
Twitter's showdown with Trump

Oliver Darcy writes: If you're curious about what went on behind the scenes in the moments leading up to Twitter affixing a warning label to Trump's tweet, read this piece from Kate Conger. She reported that Jack Dorsey was already online talking with Twitter executives when Trump posted the tweet and that a group of 10 officials "quickly gathered virtually" to review the post.

"Now Twitter is at war with Mr. Trump over its treatment of his posts, which has implications for the future of speech on social media," Conger reported. She added, "Twitter is girding for a protracted battle with Mr. Trump. Some employees have locked down their social media accounts and deleted their professional affiliation to avoid being harassed."
>> Related from John Avlon: "Trump is at war with the truth, not Twitter..."
Dowd dares Dorsey: Delete his account
In a Saturday column, Maureen Dowd effectively dared Dorsey to delete Trump's account: "C'mon, @Jack. You can do it. Throw on some Kendrick Lamar and get your head in the right space. Pour yourself a big old glass of salt juice. Draw an ice bath and fire up the cryotherapy pod and the infrared sauna. Then just pull the plug on him. You know you want to."
"All it would take is one sweet click to force the greatest troll in the history of the internet to meet his maker. Maybe he just disappears in an orange cloud of smoke, screaming, 'I'm melllllllting,'" Dowd added. "Do Trump — and the world — a favor and send him back into the void whence he came."
FOR THE RECORD, PART THREE
 -- LAT reporter and union leader Matt Pearce pointed this out: "One of the major news events in American history, in the middle of a historic pandemic, and local journalists around the country are on furlough, if they even still have jobs..." (Twitter)
Don't rush to blame Russia

Quoting from Donie O'Sullivan's newest analysis for CNN Business: "In coming hours and days you'll likely hear the claims: 'outside forces,' perhaps even Russians, are mobilizing online to inflame tensions and stoke violence as protests sweep America following the death of George Floyd. That's certainly possible. But it's worth stepping back and taking a breath before getting too caught up in that discussion. No matter how much fake online organizing there might be, it's nearly impossible to create the depth and breadth of the very real feeling on the issue around the country right now."
Netflix's message
The streaming service tweeted this message on Saturday afternoon: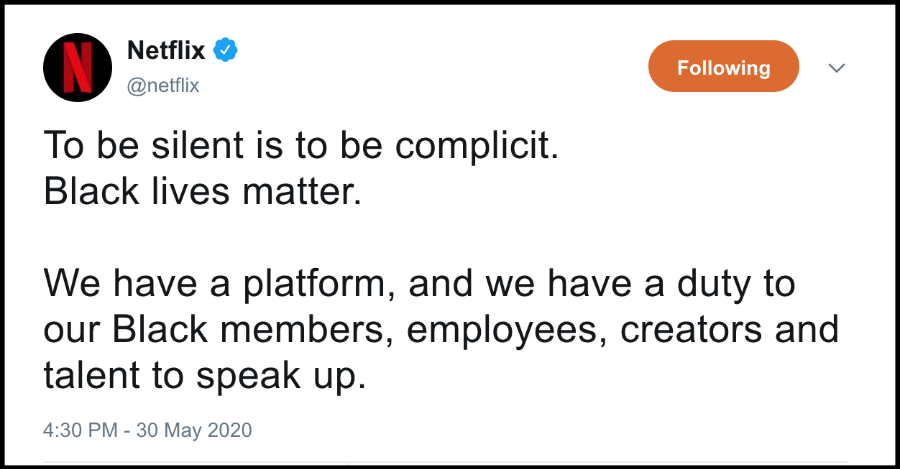 "A moment you will never forget"
For one hour, much of America paused and enjoyed an astronaut launch. CNN's resident space geek Rachel Crane, our innovation and space reporter, witnessed the launch in person. I asked her to recount the experience. Crane wrote:

"I've never been to a rocket launch that has taken off on time. As the saying goes, space is hard, and the moving launch dates and weather scrubs makes covering them, certainly not rocket science, but let's say... challenging. And those past SpaceX launches I speak of, they didn't even have humans onboard. That's because that hasn't happened from U.S. soil in 9 years -- well, until today.

To be honest, I really didn't think it was going to take off today. Florida weather was being once again typically temperamental. But then the clouds cleared, and then the instantaneous launch window started to align with that break in the clouds, and then my butterflies started, and the realization that it was going to happen dawned on me, and then the tears welled up.

This launch represents so much work by thousands and thousands of folks across NASA, SpaceX and all the contractors they work with. And there are human lives on the line here. Bob and Doug are more than just astronauts -- they are both husbands and fathers.

I've been covering the space industry for over 8 years now. Due to the pandemic NASA significantly limited the number of journalists allowed on-site to cover the launch, so I felt incredibly honored to be amongst the space reporters credentialed to attend. I feel like we were on the frontlines of a new era in spaceflight. Once in a while you know you are living through a moment you will never forget -- I speak for myself and the amazing CNN team at Kennedy Space Center when I say that today was one of those days."
You are receiving this message because you subscribed to CNN's Reliable Sources newsletter.
® © 2020 Cable News Network, Inc.
A WarnerMedia Company. All Rights Reserved.
Our mailing address is:
Cable News Network, Inc.
Attention: Privacy Policy Coordinator
One CNN Center, 13 North
Atlanta, GA 30303