EXEC SUMMARY: Welcome to Monday. Scroll down for The New Yorker's must-read, "temperature assistants," front page stories, "Idol at Home," and WaPo's plans for World Press Freedom Day...
Stress test
The coronavirus is a stress test. In the same way that doctors put patients on treadmills to test their hearts... and in the same way that regulators put banks through simulations to test their balance sheets... this disaster is a stress test for American democracy, for countries around the world, for the global economy, for hospitals, for supply chains, for media companies.
It is also a stress test for our families. Our neighborhoods. And for each of us individually. For kids; for young adults; for spouses; for people who live alone. We are all experiencing it. Some people are thriving, while others are floundering. Unfortunately the person at the very top is floundering.
Counting the dead
As the death toll has worsened, President Trump's behavior has worsened. I think his statements and rants and tweets are newsworthy no matter what, but should be reported in context, and right now the death toll is crucial context.
As the US death toll approached 50,000, Trump mused about disinfectants.
50,000 dead, and he claimed he was just pranking the media.
51,000 dead, and he attacked CNN's owner AT&T.
52,000 dead, and he tweeted about a professional wrestler.
53,000 dead, and he touted his ratings.
54,000 dead, and he went on a misspelled rant about "Noble Prizes."
Nearly 55,000 dead, and he retweeted a far-right commentator who suggested "lunatics" on the left might be inflating the mortality rates "in an attempt to steal the election."
Incapable of empathy?
The Washington Post's Philip Bump and Ashley Parker analyzed three weeks worth of WH briefings and found that the president spent little time talking about the actual victims of Covid-19 and lots of time portraying himself as a victim. They wrote: "The president has offered little in the way of accurate medical information or empathy for coronavirus victims, instead focusing on attacking his enemies and lauding himself and his allies." I appreciated this piece because it's important to try to see what's missing...
The American family
On Sunday's "Reliable Sources" telecast I said this: When a grandparent is not well, the entire family feels it. The entire family shares the pain. Thousands of families are going through that right now – and the American family is experiencing it too. When a leader is not well, everyone feels it.
Others are bringing up this same concern, and some are going a lot further than I did:
 -- Carl Bernstein on CNN: "The question for the press, and all Americans, and the senators, and congressmen that needs to be raised is: Are we at the mercy of a delusional, unstable president?"
 -- Actor Bryan Cranston on Twitter: "I've stopped worrying about the president's sanity. He's not sane. And the realization of his illness doesn't fill me with anger, but with profound sadness. What I now worry about is the sanity of anyone who can still support this deeply troubled man to lead our country."
 -- So what's the counterargument? Well most of the pro-Trump arguments I came across this weekend weren't about Trump at all -- they were about evil Democrats and "enemy of the people" journalists. Those are deflections, not defenses.
The 'villains' of this era
"We're running out of words to describe this era," Jake Tapper said on Sunday's "SOTU." He said "Republicans in Congress and in the Trump administration know that not only is the President failing to rise to this moment to, for example, get the nation on a path to widespread testing, the president's now making open ponderings about treatments that experts worry could actually harm people."
They know it -- so what are they doing about it? "Republican leaders need to acknowledge the reality of the situation. They need to intervene," Tapper said. "They need to convince President Trump to defer to the experts and focus on the needs of not his ego but the sick and the dying and the people trying to care for them." He concluded: "There is going to be a history of this era written and those who are pretending this irresponsibility is not happening, they will be remembered as villains."
Re-centering the story
I'm all in favor of less top-down, Trumpian coverage and more bottom-up coverage. Here are two strong examples:
Page One of Monday's NYT has a story about big businesses getting small-business bailout $$$ on one side and a heart-wrenching Sabrina Tavernise story about unemployment on the other side. Tavernise depicts the "quiet catastrophe" for working-class people in Las Vegas. Read the story here.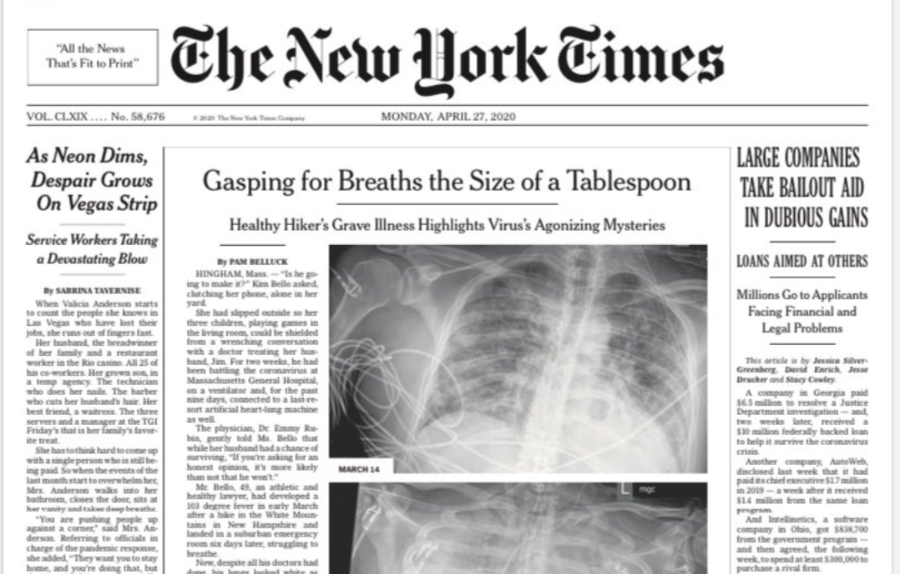 Monday's WaPo front page is equally powerful. It has a lead story about "Mixed signals on virus orders" and a Stephanie McCrummen story titled "Day-to-day, line-to-line," about life in the South Bronx. "This is kind of how I imagined the End Times to be," one resident said. "That's what it feels like." Another: "We just have to hold on." Read the story...
"In time, we will all be okay, together."
It's critical that we cover both the economic toll and the emotional toll of this disaster. On Sunday's "Reliable," I followed up on my "it's okay not to be okay" commentary and shared some responses from viewers.
 -- Joe wrote: "I always thought I was built for this. But it has been a rude awakening. A spiraling feeling of loss and no control."
 -- Brad: "It's ok to feel sad for our kids and scared for our parents."
 -- Tracy: "It's okay to be sad, afraid, and angry all at the same time."
 -- Scott: "I am not ok. I am so worried about losing my house."
 -- Leslie: "I lost my job last week. I feel like part of my identity has been taken away."
 -- Dave: "It is okay to not be okay, because no one is okay. That is the one thing we all have in common right now. No one is okay."
 -- Jennifer: "I'm not okay. I'm quite frankly pissed off. I'm just plain angry. This world has been turned upside down and inside out."
Yes it has. So I closed with Jennifer's final comments in her email to me: "No, we're not okay, but I know in time, we will all be okay, together."
We will pass this stress test. Better days are ahead... I just don't know exactly when.
 -- "To solve our problems, marginalize Trump," E.J. Dionne Jr. advises. He says a "bipartisan coalition of responsible governors" should "pick one of their own to lead a daily briefing aimed at the whole country..." (WaPo)
 -- I can't say enough good things about Charles Duhigg's new piece about the differences between the East and West Coast outbreaks. A pandemic "is a communications emergency as much as a medical crisis," and Seattle's leaders communicated more effectively than New York's... (New Yorker)
-- Ben Smith's Monday media column is about the "boomers" of Condé Nast. Smith focuses on Anna Wintour and says "the bigger question may be what becomes of the glossy magazines in whatever new age we are entering..." (NYT)
 -- Smith asked Condé Nast chief executive Roger Lynch "whether he'd renew" VF editor Radhika Jones's contract this summer, and "he demurred, saying, 'Radhika works for Anna.'" Wintour's comment through a spokesman: Jones is "the right leader for the title..."
Birx pressed on Sunday shows
Oliver Darcy emails: While making the Sunday show rounds, Dr. Deborah Birx faced tough questioning from Jake Tapper and Chuck Todd -- both of whom asked her about Trump's comments about UV light and disinfectants. Birx tried to sidestep Tapper by saying she "understood" that Trump wasn't recommending a treatment. Tapper pushed back, noting that was a offering a "generous" interpretation of events and asked her if she felt bothered she had to even discuss this. "Well it bothers me that this is still in the news cycle," Birx replied.
Over on NBC, Todd asked Birx whether she was "concerned the credibility of the scientists on the task force get undermined" when Trump makes such comments. ""I think all of us are very clear and very clear in our discussions with the American people how we're looking and utilizing data to drive decision-making within the task force," Birx replied.
Trump cutting back on coronavirus press briefings?
"I'll believe it when I see it," said Jonathan Karl, president of the White House Correspondents' Association. While some Trump aides and allies believe "the briefings have backfired for him politically," Karl said, Trump loves the stage.
To his point, the WH did not hold a coronavirus briefing on Saturday or Sunday, but there IS a briefing scheduled for Monday at 5pm ET...
 >> BTW: Karl's book, "Front Row at The Trump Show," is climbing up the NYT best-seller list... Here's my Q&A with him about the book...
 -- Spotted by David Gura: WaPo has posted job listings for "temperature assistants" who will "help us ensure that we are maintaining the health and safety of our workplace by temperature screening employees and visitors as they enter the work environment." Expect to see a lot more of this... (WaPo jobs)
 -- "One of the recurring features of the Trump years has been the president's knack for detonating so many of our powerful shared experiences into us-versus-them grenades," Mark Leibovich says... (NYT)
 -- Brian Klaas writes: "The United Kingdom and the United States are both hard-hit by the coronavirus pandemic," but "there's something very different about life in Britain in the time of the novel coronavirus: There's no Fox News here. Thank goodness for that..." (WaPo)
Trump continues to crack the whip on Fox News
Oliver Darcy writes: As part of his Sunday tweetstorm, Trump took a sledgehammer to Fox News, bashing the network for supposedly catering too much to the Democratic Party. He said the network runs the party's talking points "without hesitation or research," accused the network of trying to "become politically correct," attacked Fox Corporation board member Paul Ryan, and blasted Chris Wallace.
"The people who are watching ... are angry," Trump tweeted. "They want an alternative now. So do I!" Obviously the assertion Fox is a hub for Democratic talking points has no relationship with the truth. It's simply not tethered to reality. But Trump continues to push this idea. Will any of the network's top shows or hosts push back against him? I'm looking at you Sean Hannity, Tucker Carlson, Laura Ingraham, and "Fox & Friends..."
Only pure propaganda earns his praise
Darcy adds: Trump's assault on outlets like Fox News and Drudge Report proves that, these days, he is only satisfied with pure propaganda. Even though Fox has been exceptionally loyal to him, the network's news coverage (which also frames things in light favorable to him) irks him. Only outlets like OAN earn his praise these days...
Week ahead calendar
Monday: More talk of "reopening" plans in various localities...
Tuesday: Alphabet earnings after the bell...
Wednesday: Facebook and Microsoft earnings after the bell...
Thursday: Comcast and Twitter earnings before the bell and Amazon and Apple earnings after...
Thursday: NBC airs the "Parks & Recreation" reunion special...
Friday: Ryan Murphy's "Hollywood," a seven-part limited series, drops on Netflix...
Sunday: World Press Freedom Day... Scroll down for details...
Brooke Baldwin is back
"I'm one of the lucky ones," CNN anchor Brooke Baldwin told me on Sunday, because she did not have to be hospitalized during her battle with Covid-19. Still, the virus "took its toll on me psychologically as well as physically." She said "it was like going to hell and back."
On Monday, after nearly a month in her sick bed, Baldwin will be back behind the anchor desk on "CNN Newsroom," from 1 to 3pm ET!
FOR THE RECORD, PART THREE
 -- On "Reliable," Dr. Seema Yasmin urged journalists to "debunk" Trump's misinfo, "but then keep steering the conversation to where it needs to be. Where are the tests?"
-- Oliver Darcy said "we need to think about what average person at home, who is sitting there without a job, is thinking." For example: What's going on with this glitchy IRS site?
-- Journalists Nikki Vargas and Amy Brothers, who were laid off from their jobs this spring, and Mary Spicuzza, who has been furloughed, spoke with me about the pandemic's impact on media companies big and small...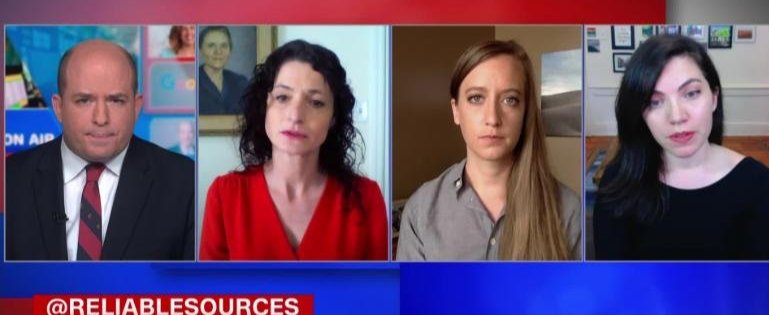 Bustle's PPP loan
Kerry Flynn writes: Bustle Digital Group received a $7.5 million PPP loan on April 16, a BDG spokesperson confirmed to me. Earlier this month, BDG closed The Outline and laid off 24 employees. A spokesperson tells me, "It will enable us to partially undo salary reductions across the company and expand hours for part-time and freelance writers."
 >> Poynter's Rick Edmonds wrote more about PPP loans here...
Conspiracy theory targets CNN
Oliver Darcy emails: A conspiracy theory boosted by Fox News and right-wing personalities like Donald Trump Jr. smeared CNN with a false accusation. On Saturday night, a Twitter user tweeted, "CNN removed the August 11, 1993 Larry King Episode from Google Play, the episode featuring a call from Tara Reade's mother." The Twitter user added, "CNN is actively colluding with the Biden campaign to cover up evidence of Biden's sexual assault."
But the assertions laid out in the tweet were "B.S.," as CNN spokesperson Matt Dornic tweeted. "CNN didn't remove anything." Dornic explained that CNN doesn't have a distribution deal with Google Play and that the listings aren't sourced by the network. Moreover, CNN had spotlighted the very video it was accused of trying to hide on its front page Saturday. Upon learning all of this, the Twitter user who gave birth to the conspiracy theory deleted his tweet. But by then it was too late, and the theory had gained a foothold online.
"There is no consequence on this platform for spreading blatant and demonstrably false misinformation," Tablet mag's Yair Rosenberg pointed out. "Until we create social consequences and block, shame, and unfollow people who do this for retweets, they will continue to do it." Yep...
From "New Day" to "SNL"
Frank Pallotta writes: On CNN's "New Day" earlier this month, Alisyn Camerota asked Dr. Anthony Fauci which actor he would want to play him on "Saturday Night Live."
"Here are some suggestions that I've heard. Ben Stiller, Brad Pitt. Which one?" Camerota said. Fauci laughed and responded, "Oh, Brad Pitt, of course."
On Saturday night, Fauci got his wish. "First, I'd like to thank all the older women in America who have sent me supportive, inspiring and sometimes graphic e-mails," Pitt as Fauci said. Pitt's Fauci then explained that there's been a lot of misinformation out there about the coronavirus, and that "yes, the President has taken some liberties with our guidelines." Watch the cold open here... It's worth watching til the end for the moment when Pitt takes off his wig and thanked the "real Dr. Fauci."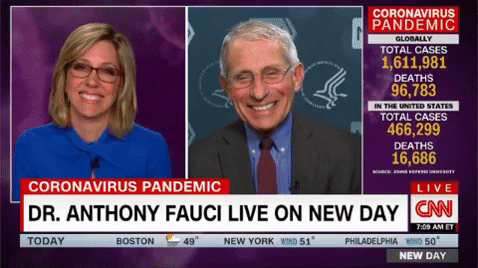 Camerota's reaction
I asked Camerota for her take on the "SNL" bit. She quipped, "Clearly Brad Pitt will do as I say. He's putty in my hands." Yes!
FOR THE RECORD, PART FOUR
-- Bloomberg's profile of John Stankey, who's about to become CEO of all of AT&T: "The executive is 6-foot-5 and has a booming voice, almost like a P.A. announcer. But what stands out more is his ability to be blunt..." (Bloomberg)
 -- Eye on Disney and Universal: "Change is barreling toward Orlando's theme parks and attractions, thanks to the coronavirus pandemic. Adjustments will be made in many ways — perhaps in every way..." (Orlando Sentinel')
-- "Like so many others, DJs everywhere have suddenly been left with no work and no income…" So now they are livestreaming their sets… "But is anyone getting paid?" (Pitchfork)
'Homeland's' fight comes to an end
Brian Lowry writes: When Showtime renewed "Homeland" for three more years – through an eighth season – it offered the prospect of a big buildup and whiz-bang finish. What emerged was considerably less than that, culminating in a tense, high-stakes final season that still felt like a much-diminished show from the one that rightfully garnered awards and waves of media attention when it premiered.
The series premiere aired on Sunday night... Read Lowry's full review here...
"Idol at Home"
"American Idol" joined the remote production movement on Sunday. "We were determined to make this work, not only for you, but for the top 20" finalists, host Ryan Seacrest said while introducing the show...
SAVING THE MOST IMPORTANT STORY FOR LAST...
World Press Freedom Day is coming up


The UN and numerous other groups recognize May 3 as World Press Freedom Day.
Ahead of the date, the Washington Post Press Freedom Partnership is highlighting critical cases of journalists "who are currently detained or otherwise persecuted for their reporting," per a rep. Ads will run in print and on the web all week long. "Post readers can learn more about the following journalists: Austin Tice of the United States, Claudia Duque of Colombia, Azimjon Askarov of Kyrgyzstan, Solafa Magdy of Egypt and Iwacu journalists of Burundi." Here's a look at the ads: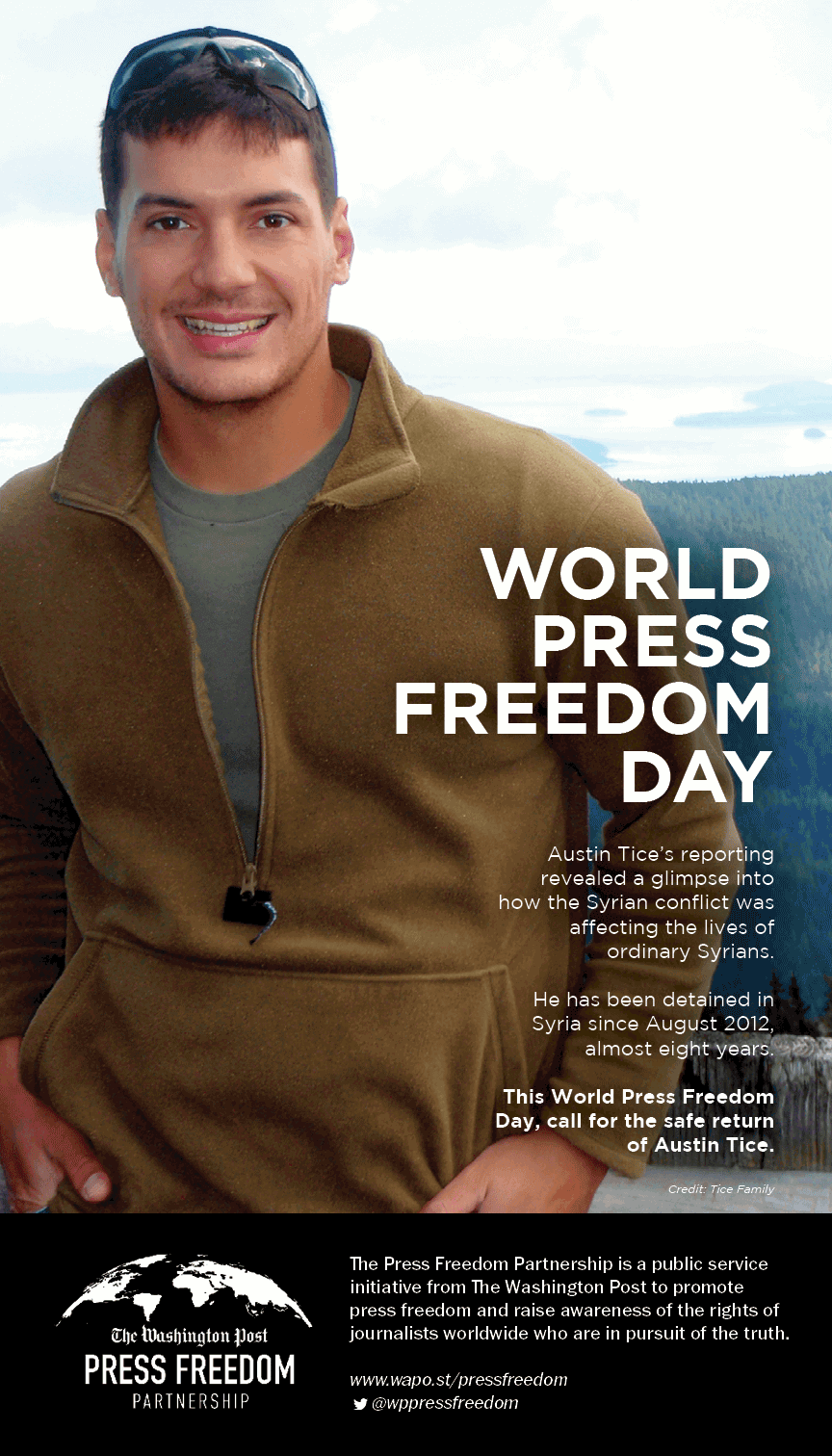 Thank you for reading! Email me your feedback. Oliver will be helming the newsletter for the next few days while I'm on assignment. Back soon...
You are receiving this message because you subscribed to CNN's Reliable Sources newsletter.
® © 2020 Cable News Network, Inc.
A WarnerMedia Company. All Rights Reserved.
Our mailing address is:
Cable News Network, Inc.
Attention: Privacy Policy Coordinator
One CNN Center, 13 North
Atlanta, GA 30303