Monday, April 6
In the span of 40 minutes inside one New York City emergency room, six patients went into cardiac arrest, and four died before they made it out of the ER. There was no time to regroup.

A hospital worker wrapped the body of a deceased patient. A half hour later, the body was gone, the space sanitized, and another critically ill patient arrived, coughing, with an oxygen mask on his face.
This is what coronavirus is doing to thousands of Americans, and likely will to many thousands more, Lauren del Valle and Miguel Marquez write. The US Surgeon General has told Americans this week to brace themselves for a "Pearl Harbor moment," as the national death toll nears 10,000. Still, President Donald Trump says he sees "light at the end of the tunnel."  

As the US heads towards the peak, Europe's numbers offer some hope. Fatalities and infections seem to be slowing in Italy, Spain and France, among the hardest-hit countries on the continent — and in the world. 

Meanwhile, as the UK looks for reassurance, the Queen made a rare televised address, calling for unity and resolve, while Prime Minister Boris Johnson was admitted to hospital 10 days after announcing he contracted the virus. "I hope in the years to come everyone will be able to take pride in how they responded to this challenge," the Queen said.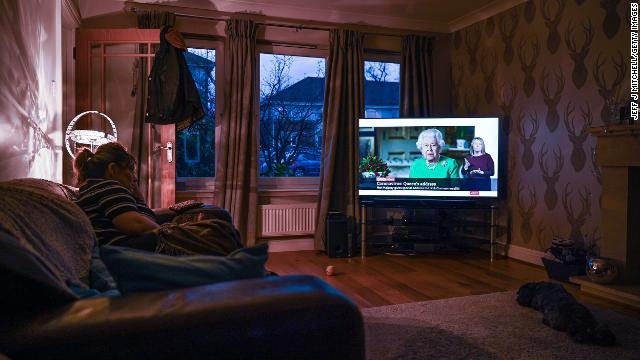 A woman watches the Queen's speech in Glasgow, Scotland.
As of 6:30 a.m. ET, April 6
Global Cases
1,280,046
Global Deaths
69,789
Source: Johns Hopkins University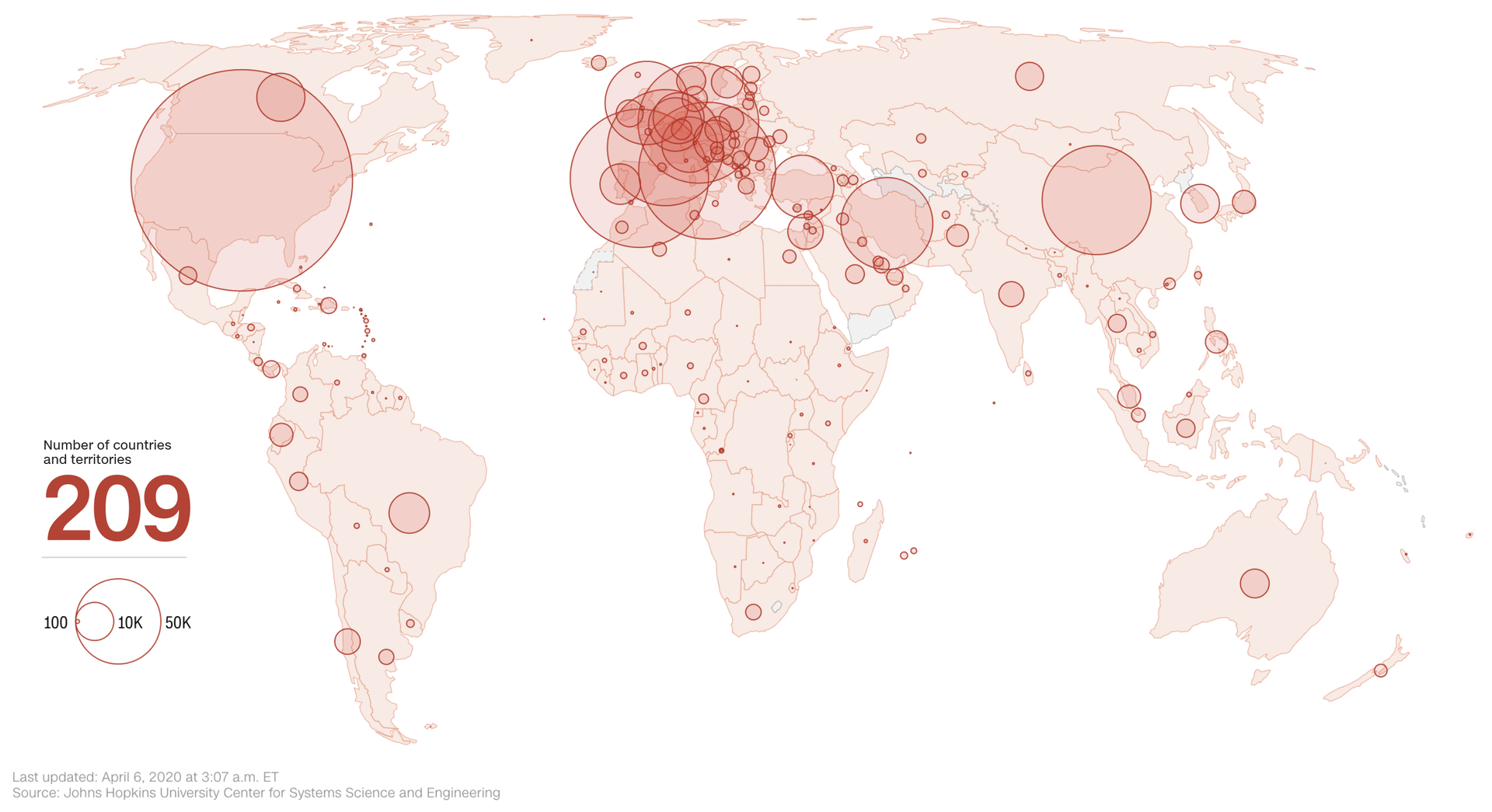 Q
Why does the coronavirus kill some young people?

A
Scientists wonder if the answer could lie in our genes, particularly one enzyme that attaches to the surface of cells in the lungs, as well as the heart. It is also possible that a critical ingredient produced by the body, known as surfactant, which better allows the lungs to expand and contract, becomes depleted in some patients. Another avenue being pursued: in some young, healthy people, a very reactive immune system could work too well — leading to a massive inflammatory storm that overwhelms the lungs and other organs. 

More than 50,000 people have asked us questions about the outbreak. Send yours here. Are you a health care worker fighting Covid-19? Message us on WhatsApp about the challenges you're facing: +1 347-322-0415.

'War for masks' intensifies

Several countries have accused the US of trying to hijack their orders of vital medical supplies, including masks and respirators, but the details are still murky, Tim Lister writes. In France they are calling it the "guerre des masques" — the war of the masks. 
Unregulated and illicit markets are booming in the midst of shortages. In the UK, Britons are turning to mail-order coronavirus test kits and reportedly stocking up on illegal drugs.   
What the world can learn from Taiwan 
Taiwan's experience fighting the severe acute respiratory syndrome (SARS) outbreak in 2003, combined with its world-class, universal coverage health care system, has uniquely positioned it in the fight against Covid-19. While other countries were still debating whether to take action, it rapidly produced and implemented a list of more than 100 action items to protect public health, James Griffiths writes. 
Drive-through funerals in Spain  
Every 15 minutes or so, a dark hearse pulls up in front of the crematorium of Madrid's sprawling La Almudena Cemetery. Father Edduar, a Catholic priest dressed for mass, greets family members (limited to five or fewer), delivers blessings and douses the sealed casket with holy water. There's no eulogy, or public burial. There's hardly even time for a goodbye, Scott McLean and Laura Pérez Maestro write.  

FROM TODAY'S
PODCAST
"The bottom line is this: yes, the official recommendations have changed. This has been an evolution. We're all continuing to live and learn. But for now, cover your face when you go out in public. Stay home as much as you can. Maintain a social distance."
- CNN Chief Medical Correspondent Dr. Sanjay Gupta 

Up until last week, official guidance suggested that presumptively healthy people didn't need to be wearing masks. Now, that has changed. In this episode, Gupta explains the new recommendations. Listen now.

People across India turned off the lights in their homes and stood on their balconies, at their open entryways and outside their homes with candles and lamps lit, or flashlight and mobile phone lights turned on, to observe a candlelight vigil on Sunday night.
Last week, a 99-year-old New Jersey man who went to an engagement party was arrested in New Jersey for defying the state's ban on gatherings. In a separate case, a 100-year-old man violated a stay-at-home order by attending a funeral.
You are receiving this message because you subscribed to receive coronavirus updates from CNN.
Subscribe to more CNN Newsletters
 ® © 2020 Cable News Network, Inc.
A WarnerMedia Company. All Rights Reserved.
One CNN Center Atlanta, GA 30303