EXEC SUMMARY: Another special Saturday edition of the newsletter because the news keeps coming. The coronavirus US death toll just topped 2,000, though the true number may never be known since some people with symptoms have died without being tested...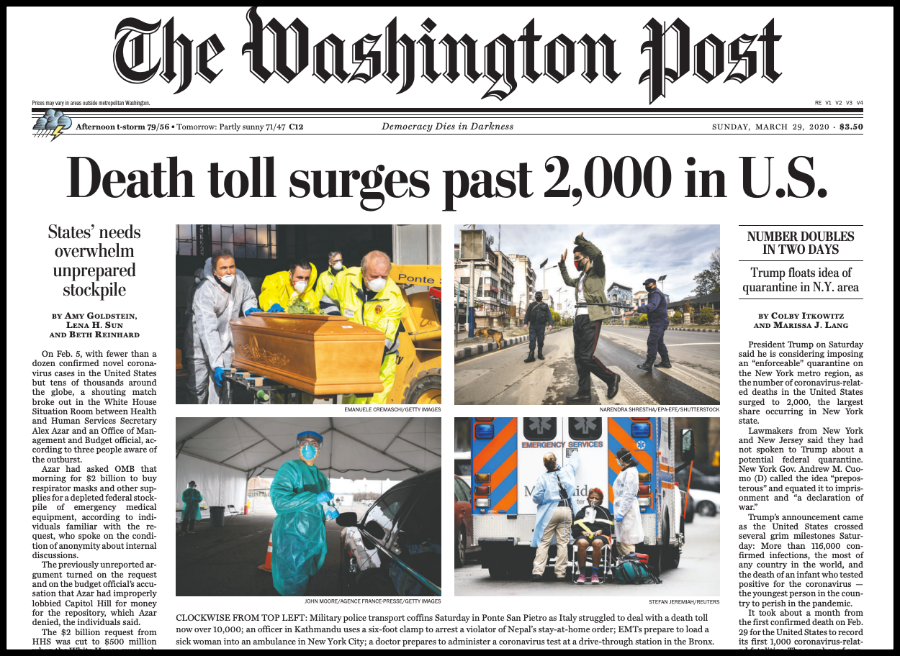 It's everywhere
New York state has the highest number of coronavirus cases and the highest death toll. New York City, where I'm writing to you from, feels like the epicenter right now. But this international pandemic is a local story with permutations in all 50 states of the United States. So newsrooms have to work overtime to capture the size and scope of this disaster. By Monday, according to CNN's count, "more than 225 million people across the country will be under those orders."
So I've been browsing the Newseum's daily gallery of local paper front pages to get a better sense of how the virus is spreading. In eight different states on Saturday, I found "first death" headlines, reflecting the local impacts of a disease that might have seemed distant before. Maine's Kennebec Journal: "STATE SEES FIRST FATALITY." The Bakersfield Californian: "Kern reports 1st virus death." Michigan's Traverse City Record-Eagle: "1ST DEATH IN REGION." Maryland's Capital Gazette: "Anne Arundel reports first death." These local papers, of course, are under tremendous financial strain, even while warning their readers about the outbreak.
It keeps going. Wisconsin's Baraboo News Republic on Saturday: "County marks 1st death." Louisiana's Acadiana Advocate: "ACADIANA SEES FIRST 5 DEATHS." Nebraska's Lincoln Journal Star: "State sees first deaths from virus." And Alaska's Fairbanks Daily News-Miner: "Alaska sees first in-state COVID-19 death." Yes, Alaska -- the state put a shelter-at-home order in place on Saturday and closed all non-essential businesses.
Here's the point...
The so-called hotspots are huge stories, but the nationwide impact of this infection is now really being felt. As Dr. Deborah Birx said on Fox News just now: "We don't think any city will be spared from this virus."
In a Saturday Twitter thread, former FDA commissioner Dr. Scott Gottlieb said "this week" the "tragic reality on ground will overtake events. There are multiple epicenters of U.S. spread. We'll grapple with national epidemic. April will be hard." But he added: "We'll get through it. Focus must be on slowing spread nationally, support healthcare system, build back in May..."
Trump bursts his own trial balloon
All of a sudden on Saturday, President Trump floated the idea of quarantining NY, NJ and "maybe one or two other" hotspots. He talked about it with reporters and tweeted about it too. After widespread criticism, he tweeted on Saturday night that "a quarantine will not be necessary."
I'm not sure his idea deserved as much press as it generated. Why? Because Trump keeps trying to look and sound presidential while continually being three or four steps behind. This was yet another example. As Binyamin Appelbaum of the NYT editorial board wrote, "It's like he's watching the crisis on tape delay." Can someone help him hit fast forward?
 --> MSNBC's David Gura wrote: "The off-hand remark, followed by the tweet, followed by more off-hand remarks during a speech, followed by hours of breathless supposition, followed by deserved outrage, followed by tweets that walk back the whole damn thing. Let's do it all over again tomorrow?"
"Those we've lost"
The Obits desk at The New York Times has launched a new series. As Eric Lipton said, it is "depressingly familiar as in Portraits of Grief, the thousands of obits for victims of Sept. 11. Now it is being called 'Those We've Lost' chronicling at least some of the victims of coronavirus."
"Of necessity it will be a small selection, and the pieces will be short," editor Dan Wakin wrote, "but the effort is intended to show the enormous variety -- and vitality -- of those who have died. It is putting faces to statistics."
Garrett Graff on this week's "Reliable" pod
"One of the things that's stood out to me... is how quickly we're losing track of time," Garrett Graff said on this week's "Reliable Sources" podcast. We talked about all the things that make this crisis unique in American history and what he's learning by conducting oral history interviews. Check it out via Apple Podcasts, Spotify, Stitcher, TuneIn, or your preferred app...
Extraordinary lineup on CNN's "State of the Union:" Speaker Nancy Pelosi, Dr. Anthony Fauci, Mayor Bill de Blasio, Gov. Gretchen Whitmer, Gov. Jay Inslee, and Gov. Pete Ricketts...
POTUS is slated to have a mid-afternoon meeting with supply chain distributors...
Fox and iHeartMedia are airing "FOX Presents the iHeart Living Room Concert for America" at 9pm ET...
This Sunday on "Reliable"
This Sunday I'll be joined by Dr. Esther Choo, Jay Carney, David Remnick, Maggie Haberman, S.E. Cupp, Stephen King, and Hasan Minhaj. Join us Sunday at 11am ET on CNN...

 -- Interviews with front-line doctors and nurses continue to be the most important thing news outlets can provide. Dr. Peter Shearer, chief medical officer at Mount Sinai Brooklyn, to CNN's Jake Tapper: "Last week we had ten patients. Now we have 170." And "they're incredibly sick..." (CNN)
 -- NYC's 911 system averages 4,000 EMS calls a day. "On Thursday, dispatchers took more than 7,000 calls — a volume not seen since the Sept. 11 attacks. The record for amount of calls in a day was broken three times in the last week," Ali Watkins reports... (NYT)
 -- Read Dakin Andone's brand new story: "What it's like for health care workers on the front lines..." (CNN)
 -- And read Eli Saslow's interview with Tony Sizemore, whose girlfriend, Roberta "Birdie" Shelton, was the first person to die from covid-19 in Indiana... (WaPo)
 -- Practically overnight, Dr. Deborah Birx "has become a partisan Rorschach test. Conservative commentators have praised her as a truth-teller, pushing back on coronavirus hysteria" while critics say she has squandered her credibility... (NYT)
 -- Also new from the NYT: Dr. Anthony Fauci is facing a "torrent of false claims that he is mobilizing to undermine the president..." (NYT)
No press briefing on Saturday...
For the first time in a while, the admin's task force did not hold a press briefing... Hopefully this was just a one-off, and the pressers will resume on Sunday... Americans deserve both frequent *and* accurate briefings. The W.H. says a briefing is slated for 5:30pm Sunday...
NYT: "The Lost Month"
The NYT's Michael D. Shear, Abby Goodnough, Sheila Kaplan, Sheri Fink, Katie Thomas and Noah Weiland have a huge reconstruct in Sunday's paper. They cite 50+ interviews and describe a "lost month, when the world's richest country — armed with some of the most highly trained scientists and infectious disease specialists — squandered its best chance of containing the virus's spread. Instead, Americans were left largely blind to the scale of a looming public health catastrophe."
Guardian: "The missing six weeks"
In this new story, The Guardian's Ed Pilkington and Tom McCarthy conclude that "Trump failed the biggest test of his life" in February and early March: "The president was aware of the danger from the coronavirus – but a lack of leadership has created an emergency of epic proportions..."
Fox changing the subject
This weekend Fox's shows are bashing the NYC Health Commissioner for saying, in early February, that the city was safe. The first Covid-19 case was reported in NYC on March 1.
Tucker Carlson accused NYC leaders of endangering the public on Friday night, and Fox's newscasts kept the narrative going on Saturday. Fox anchor Leland Vittert: "Conceivably, if people had been more aggressive about it then, we wouldn't be at this place now." He then asked a guest if people "who gave bad advice before should say 'Hey look, maybe I shouldn't be giving advice now.'"
As a New Yorker, I have my fair share of Q's about the local and state response effort. But how can Fox folks blast local officials (who most viewers have never heard of) without acknowledging, in the same breath, Trump's much more egregious failures? Vittert's comments applied to Trump much more dramatically, but he didn't mention that. Remember, on February 24, Trump said "the Coronavirus is very much under control in the USA" and the "Stock Market starting to look very good to me!" On February 28, Trump said the virus is "going to disappear. One day -- it's like a miracle -- it will disappear." And those are just two of many examples...
Like clockwork...


I've been saying it for three years: When the going gets tough for Trump, the news gets "fake." As the number of cases and number of deaths have spiked, so too ha. Newfound scrutiny of the federal government's failures are likely to spur even more attacks.
On Saturday he wasted tweets and time that could be spent on the crisis to repetitive rants about what he called the "Lamestream Media." He said journalists "should be forced to reveal sources, very much as they did in the long ago past." He claimed that "corrupt" journalists "make up" sources. When he routinely lies about something as basic as this, why should his other statements be taken seriously?
As Trump bashes the media, Biden praises the media
Joe Biden concluded his CNN virtual town hall with Anderson Cooper by saying, "You're doing a heck of a job. The news media is keeping this all straight, man. For real." Cooper responded: "Just trying to do our part..."
 -- A revealing story about how the pro-Trump media has tried to paint a rosy picture on the president's behalf: A Miami man "said unproven drug helped him beat COVID-19. Pro-Trump media gave him star treatment..." (Miami Herald)
 -- Speaking of the Herald, Mary Ellen Klas, "a Herald staff writer who works in the Tampa Bay Times/Miami HeraldTallahassee Bureau, said she was refused entry into the Capitol in Tallahassee to attend a news briefing" by state officials on Saturday... (TBT)
 -- File this under the "power of a photo:" Alberto Guiliani's portraits from Italy show "the visible exhaustion of doctors and nurses..." (The Atlantic)
 -- Katherine Miller's latest: NYC keeps getting quieter, and it's "disorienting..." (BuzzFeed News)
 -- McDonald's and other brands are making 'social distancing' logos, Jordan Valinsky reports... (CNN Business)
"How two weeks changed America"
CNN's Marshall Cohen and Curt Merrill break down the "numbers that defined these two unprecedented weeks in America..."
What was your "last normal day?"
I started thinking about this because everyone has a different answer. My last "normal day" before the shutdown was 20 days ago, on March 8, when Jamie and I went down to the Lower East Side for a Harper's Bazaar event and went out for dinner afterward. People were already wary of shaking hands and the restaurant was already weirdly empty, but it didn't feel dangerous to be out and about, yet. But then "work from home" went into effect and everything else changed. Hopefully we all have a last "normal day" to look back on...
SINCE THEN...
Podcast listenership is down
"Since early March, when concerns around the coronavirus started to get more severe, people have been listening to podcasts a lot less," WWD's Kali Hays reported the other day. "Downloads in the space overall have dropped about 10 percent since the start of March, according to data from Podtrac, which follows trends and usage in the space. Total unique listeners also dropped roughly 20 percent in the same time frame."
This makes sense, considering how many people have stopped commuting to work. As Casey Newton wrote, "I do 99 percent of my podcast listening walking around the city. Haven't figured out a way to listen to them at home yet — wondering if others are feeling the same way..."
Some drive-in theaters have been darkened
When chain theaters closed earlier this month, drive-ins looked newly appealing... And some feature stories were written about the revival of the old-fashioned option... But now some drive-ins are closing, too. Here are examples in Alabama and Kansas. Owners are having to follow the same rules as other non-essential" businesses...
Essence Fest 2020 is postponed
"After initially stating March 13 that it planned to move forward with its scheduled July 1-5 dates in New Orleans, Essence Fest 2020 announced late Friday that it will move 'closer to the fall' instead," Billboard's Katie Atkinson reported...
FOR THE RECORD, PART THREE
 -- I joined this week's episode of WGBH's "Beat the Press" to discuss task force briefing tensions and more... (WGBH)
 -- Some excellent stories on this week's "On the Media:" "How the press could do a better job separating vital information from messaging. Plus, a look at the unintended consequences of armchair epidemiology. And, how one watchdog journalist has won paid sick leave for thousands of workers during the pandemic..." (WNYC)
 -- Michael Smerconish's opening message on Saturday: "While we're witnessing a 21st-century test of American ingenuity, in many ways, we are proving our resiliency." (CNN)
A FEW IDEAS...
Stop and smell the roses listen to the birds
Hadas Gold emails: Coronavirus news can be inescapable and overwhelming. So I've been appreciative of when there's a bit of brightness — like news pollution is significantly down, or this morning when both the BBC and Axios did specials on how because of less traffic and all of us staying at home, we can actually stop and listen to the birdsongs. Now is actually a perfect time to do so, Axios explains...
Keep a diary
At his Saturday presser, Andrew Cuomo said he has heard from New Yorkers who are using this time at home to write books. He said others have told him, "I'm writing my journals. I'm writing my life story." A coronavirus "diary" is a great idea, to hold onto memories of this upside-down time...
Cut your hair!
Dr. Sanjay Gupta tweeted a photo with his hair clippers on Saturday night. "It's at that point... last time I cut my own hair was when I was in west quad at @UMich," he wrote, adding a "stay at home" hashtag. This item doubles as a reminder to Jamie that we need to buzz my head in the morning... 😃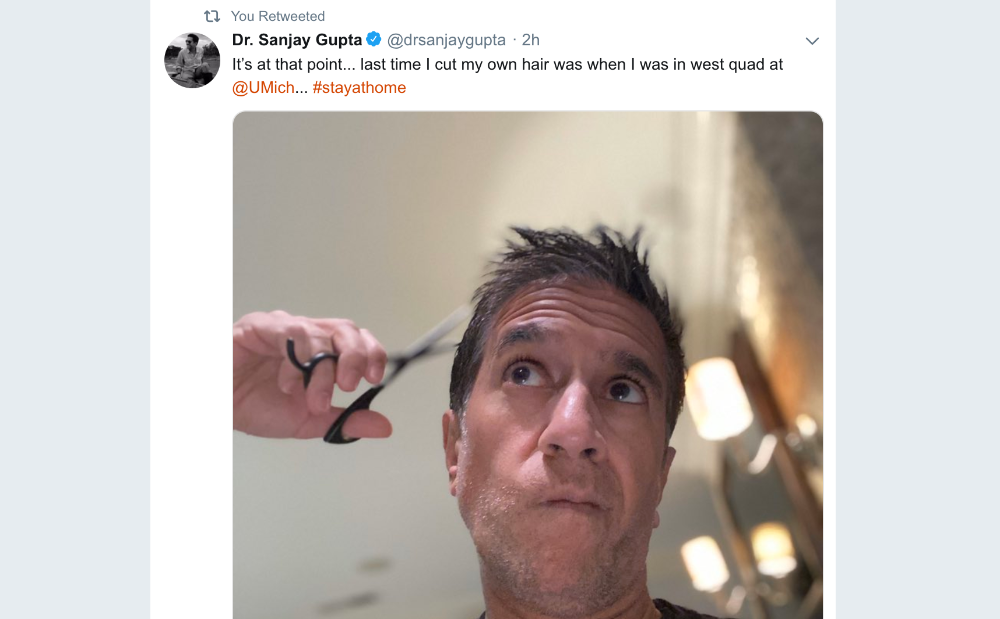 FOR THE RECORD, PART FOUR
 -- "The National Geographic Society is launching an emergency fund for journalists all over the world who wish to cover COVID-19 within their own communities..." (NatGeo)
 -- John Leland reports: "Larry Kramer, the AIDS activist who became that epidemic's wrathful prophet, is now writing a play for the age of Covid-19, perhaps the last work he will ever write." (NYT)
 -- Alexandra Alter has an in-depth look at how the virus is hurting the publishing industry: "Some of the most anticipated titles of the spring are being pushed back to later in the year..." (NYT)
Twitter briefly suspends Rudy Giuliani and Charlie Kirk for spreading misinfo
Oliver Darcy emails: Twitter took action against Rudy Giuliani and Charlie Kirk for sharing coronavirus misinformation. Both Giuliani and Kirk tweeted that hydroxychloroquine has has proven to have a "100% effective rate" when treating coronavirus patients. Mediaite's Tommy Christopher pointed out: "There have been extremely limited studies that aren't scientifically significant, neither of which show the drug to be '100% effective.' One of the studies showed no benefit at all from the treatment."
A Twitter spokesperson told me that Giuliani and Kirk's accounts were "temporarily locked for violating the Twitter Rules regarding COVID-19 misinformation." The offending tweets were removed and Kirk was back to tweeting on Saturday...
Twitch Stream Aid 2020!
CNN's Melissa Alonso writes: "Twitch, the video streaming platform, has raised more than $2.2 million and counting for The World Health Organization's Covid-19 Solidarity Response Fund, its website says. Musicians, athletes, gamers and celebrities performed live from their homes for the 12-hour Twitch charity event, a digital Live Aid of sorts. John Legend, Garth Brooks and Barry Gibb were among the many who performed for hundreds of thousands watching online. Sting, Shaggy and Diplo are slated to close the live event at 11:30 p.m ET, according to the Twitch site..."
WarnerMedia sets up $100+ million fund
LAT's Ryan Faughnder reports: WarnerMedia (CNN's parent) "has committed $100 million to help production crew members whose livelihoods have been threatened by the spreading coronavirus outbreak, said the company's Chief Executive John Stankey in a Friday memo to staff."
Stankey: "We have paused many productions for the health and safety of employees, cast, crew and community. We are stepping up with a commitment of more than $100 million to assist team members of those productions during this time..."
Comcast CEO's $$$ donation for student laptops
THR's Etan Vlessing reports: "Comcast CEO Brian Roberts and his family have donated $5 million to the School District of Philadelphia so city-wide students have laptops to study from home during current school closures caused by the novel coronavirus pandemic..."

'Hawaii Five-0" as comfort food
Brian Lowry writes: More evidence of the surge in traditional TV viewing and the appetite for comfort food: CBS' "Hawaii Five-0" delivered its biggest audience in more than two years with its penultimate episode, in advance of next week's series finale...

Frank Pallotta's free idea
Well okay, not quite free. Cheap idea! Frank Pallotta tweeted: "I know everyone's watching Tiger King, but I just wanted to point out that the film classics tab on Apple TV is chock full of incredible films from over the decades. Most classics are less than $5 to rent. Now would be a great time to get familiar with some of cinema's best..."
David Simon's quip
Brian Lowry writes: Producer David Simon had an amusing response to a report earlier this week that viewing of his signature drama "The Wire" -- never a high-rated show despite its critical acclaim -- has surged amid the hunt for programs to binge. "Now you wanna watch the show about institutional drift and our inability to address actual problems?" he tweeted...
SAVING THE HAPPIEST NEWS FOR LAST...
Live-streaming "I do"
CNN's Haley Draznin reports that "couples around the world are livestreaming their weddings, creating a sense of 'certainty' at an uncertain time." Read her full feel-good story here...
You are receiving this message because you subscribed to CNN's Reliable Sources newsletter.
® © 2020 Cable News Network, Inc.
A WarnerMedia Company. All Rights Reserved.
Our mailing address is:
Cable News Network, Inc.
Attention: Privacy Policy Coordinator
One CNN Center, 13 North
Atlanta, GA 30303