EXEC SUMMARY: Thank you for all the feedback about our new publishing platform. We're making tweaks every day. If you know someone who isn't receiving the email, let me know. Scroll down for Anne Applebaum's insight, George Conway's idea, CNN's next round of town halls, and another Jeff Bezos purchase... 
What Sanders and Buttigieg have in common
Coincidence, or not? The candidates winning the most support in the Democratic primary so far are the candidates who are granting lots of TV interviews. 
Every campaign claims his or her candidate is accessible. But Joe Biden, for instance, has been far more reserved than Pete Buttigieg. As has been well-documented, Buttigieg has played an inside game, courting the press and saying yes to every TV interview under the sun. Bernie Sanders has an outsider's approach, critiquing "corporate media" and promoting his own Bernie-branded digital outlets -- while still giving interview after interview to the big networks.
Data point: Sanders was on four of the big Sunday morning shows this past weekend. Buttigieg was on three. Biden and Elizabeth Warren were on one show each.
 -- Biden did step it up in the last few days before the NH primary, with interviews on multiple networks, but this seemed to be out of desperation. Call it a Twitter primary or a TikTok primary if you want, but national and local TV remains massively important to candidates..
 -- Related? TheWrap suggested a connection between successful Dems and their willingness to go on Fox News, but I think that's reflective of broader say-yes media strategies employed by the candidates...
Buttigieg's TV tour continues


"Fresh off our huge night last night, Pete sat down this morning with 'Morning Joe,' 'New Day,'" and Judy Woodruff for the PBS "NewsHour," press secretary Chris Meagher tweeted Wednesday. He also listed nine stations from Atlanta to SF where Buttigieg did remotes with local TV morning shows...
Wednesday night's circuit
 -- Amy Klobuchar was exclusively on "The Rachel Maddow Show," a very valuable spot for her campaign as it tries to build Klomentum...
 -- Sanders and Warren were both on CNN's "AC360" and MSNBC's "All In with Chris Hayes" within minutes of each other...
 -- Sanders responded to James Carville's criticism with an amazing use of with all due respect: "James, with all due respect, is a political hack..."
"Astounding"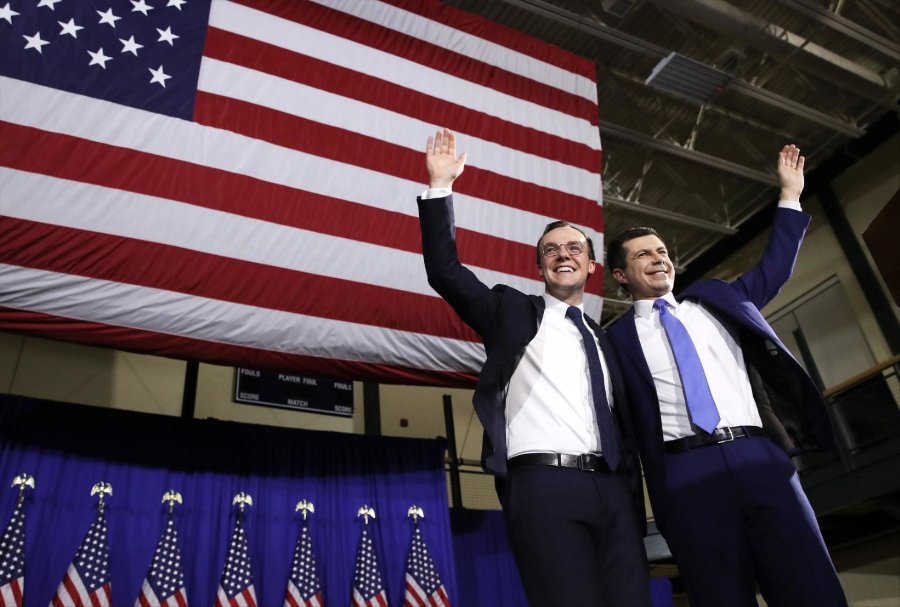 Tim Miller speaking on MSNBC's "Deadline White House" on Wednesday: "I think that a lot of times people here in New York don't maybe give the appreciation that is deserved for how ridiculously amazing and astounding it is that an out, married, gay man is leading the delegate race."
Another primary night winner
Brian Lowry emails: ABC's election-night live episode of "The Conners" actually paid off, yielding the sitcom's biggest audience of the season, 6.3 million viewers. That said, it was also lower than any original episode last season, reflecting the extent to which interest in the show has cooled...
 TEN DAYS TIL THE NEVADA PRIMARY...
Don't bet on this

Brian Lowry writes: Jon Ralston is again pleading with media types to avoid gambling clichés in covering the Nevada primary. It's an admirable thought, but with apologies, the odds of anybody listening aren't in his favor...
CNN town halls next week
CNN announced a fresh round of town halls with top Democratic candidates on Wednesday. They'll take place in Nevada on February 18 and 20, bracketing the NBC #DemDebate on the 19th. Details here...
What about Bloomberg?
Per a CNN spokesperson, all candidates who qualify for the debate are also invited to hold a town hall. Michael Bloomberg hasn't qualified for the debate yet, though he's "on the cusp," in the NYT's words.
But Bloomberg has received an invite for a CNN town hall anyway. Why? It's "part of the network's commitment to hosting town halls with the Democratic presidential candidates." CNN has sought to be very inclusive (remember the town hall with Howard Schultz?) so Bloomberg is being offered a turn... Evidently he has not accepted yet...
George Conway's idea for Bloomberg
"Imagine," he tweeted, "if this fall someone with @MikeBloomberg's money did polling to figure out things Fox News viewers don't know about Trump (because they watch Fox News) and then ran endless ads on Fox News to tell those viewers all that stuff." Bloomberg campaign senior adviser Tim O'Brien replied and said "Noted, George."
 -- Thursday's Washington Post front page lede is incredible: "President Trump is testing the rule of law one week after his acquittal in his Senate impeachment trial, seeking to bend the executive branch into an instrument for his personal and political vendetta against perceived enemies." (WaPo)
 -- Notice the way the NYT justifies its use of anonymous sources in this story: "Prosecutors across the United States, who spoke on the condition of anonymity to avoid reprisals, said..." (NYT)
-- Peter Baker noted: "POTUS today accused Bob Mueller, a former FBI director and prosecutor, of a felony by asserting that he lied to Congress. The White House had no explanation and offered nothing to back up the charge." (Twitter)
 -- Tucker Carlson is continuing to lobby Trump to pardon their mutual friend Roger Stone: "Let's hope he does it. We'll be watching..." (Beast)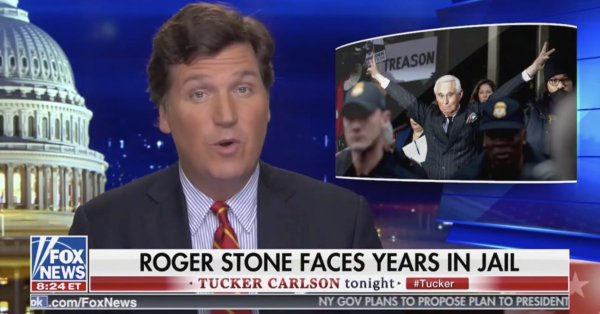 A thread by Anne Applebaum
This is from a few days ago, but it takes on newfound relevance now, with the DOJ crisis in the news. Pulitzer Prize winning author Anne Applebaum wrote on Twitter: "This week I was in Venezuela, mostly offline. I observed, from Caracas, the finale of the impeachment trial, Romney's last stand, the firing of civil servants. All around me, people nodded wearily: Yes, they said, we've seen this before."
"Of course," she continued, "Venezuela is not the US, Trump is not a Bolivarian socialist like Chavez, of course everything is different. But it is amazing how familiar Trump's behavior seemed to people who had lived through the decline of their own democracy. All of the elements were there: The strongman who made people laugh, who seemed authentic, 'different.' The appeal to fear and anger, and the hatred of 'elites.' Also, the fact that everyone saw what was happening and described it, in real time. Brilliant academics, excellent journalists -- they all knew that the dictatorship was expanding, that Chavez's personal power was growing. But they couldn't stop it." Here's the rest of her short thread...
 Lessons learned...
Jake Tapper's lead on "The Lead" Wednesday afternoon: "It has been exactly one week to the day since the Senate acquitted President Trump, with Republican senators expressing confidence at the time that they believed President Trump had learned his lesson. What lesson exactly? Well, President Trump was just asked that very question." He tossed to this sound bite of Trump telling a reporter that he learned "the Democrats are crooked, they have got a lot of crooked things going, that they're vicious that they shouldn't have brought impeachment."
So, Tapper said, "that's President Trump's take on the lesson he learned..."
Impeachment's true "reach"
When reporters write about TV ratings, we usually cite the "average," which is the average per-minute audience of a program. But Nielsen offers another view: The "reach" of a program. How many people saw at least one minute of a program, i.e., how many people did it "reach?" To know the true impact of something, we need to know how wide and far it reached.
So I asked CNN's crack team to see how many Americans watched the Senate impeachment trial on TV, and the results came in on Wednesday. From January 21 through February 5, the special trial coverage on the six biggest broadcast and cable networks reached 108 million people, according to Nielsen's measurements. This means at least 108 million people watched at least a minute of the trial, whether they sat in front of the TV for hours or only saw a few minutes.
On a typical day, 30 to 40 million viewers saw at least a little bit of trial coverage. If you hear people claiming that "nobody cared" about impeachment, share that stat with them...
Joe and Jill Biden will appear on ABC's "The View" at 11am ET...

The National Press Foundation's annual awards dinner takes place in D.C...

"Sonic the Hedgehog" opens in theaters...
Bezos purchase sets L.A. record, topping Murdoch

WSJ with the scoop: "Jeff Bezos has purchased the Warner Estate from media mogul David Geffen for $165 million, according to people familiar with the transaction. The deal marks a record for the Los Angeles area. The previous residential record was set late last year, when media executive Lachlan Murdoch paid roughly $150 million for Chartwell, a Bel-Air estate used as the Clampett residence in the television show 'The Beverly Hillbillies...'"
 -- The estate is named for former Warner Bros studio boss Jack Warner. Architectural Digest has all the background here...

Page Six editor Emily Smith in this captivating profile of the gossip column's enduring power, by Esquire's Kate Storey:
"You get people who don't like stories, and they'll go at you. But that's part of the fun. That's part of the game. If we are dishing it out in a gossip column, you have to expect to get it back."
FOR THE RECORD, PART THREE
By Kerry Flynn:
 -- Rebecca Jennings reports on "gossip influencers," people who are sharing news about famous TikTokers and other social media celebrities and making it a business... (Vox)
 -- Kevin Roose interviewed Carlos Maza, who recently left Vox to become a full-time YouTube creator. Maza says "no one is a Wolf Blitzer stan." That's false. I'm a Wolf Blitzer stan! (NYT)
Life at Condé Nast
Kerry Flynn writes: Times have sure changed at Condé. Dan Peres provides insight into what once was normal everyday behavior at the magazine monolith in his new memoir, "As Needed for Pain." Katie Rosman interviewed him about the book and more for this must-read piece in the NYT's Style section...

Flash forward to now: The new editor of Vogue.com Stuart Emmrich was interviewed about his decision to leave the LA Times and take the job. A fun fact: Despite now running a massive fashion site, Emmrich says he's never touched a CMS before...
FOR THE RECORD, PART FOUR
 -- Erik Wemple reports: The New York Times "apologized to the International Consortium of Investigative Journalists over its handling of collaboration on China investigations..." (WaPo)
 -- Love this look at "America's on-air town hall" by Jen Kirby: "Why C-SPAN's quirky call-in show has endured for 40 years..." (Vox)
 -- Snapchat is doing some redesign testing, Casey Newton reports. One of the tests "injects timely news briefs into Snapchat to complement the existing magazine-style stories on the Discover page..." (The Verge)
ViacomCBS layoffs coming...
"ViacomCBS is preparing for the first of two rounds of layoffs," as expected in the wake of the Viacom + CBS combo, Variety's Daniel Holloway reported Wednesday. "According to multiple sources with knowledge of the situation, the first round of cuts, which would affect around 100 people, could take place as early as Feb. 26 — six days after the company issues its quarterly earning report. A second set of cuts is planned to begin on or around March 31." More here...
YOU HEARD IT HERE FIRST
New hires at Digital Trends
Kerry Flynn reports: Tech site Digital Trends is staffing up. CEO Ian Bell tells me they've made these new hires to help the site grow its brand and its coverage:
Kelly Dachtler is joining as the company's first chief brand officer. He currently runs a design company and is experienced in brand development for companies like Target, Adidas and Juice Couture. And Lisa Marie Segarra is joining as gaming editor. She was most recently covering tech and video games at Fortune...
FOR THE RECORD, PART FIVE
By Katie Pellico:
 -- Reuters is the latest news outlet to be paid by Facebook to provide third-party fact-checking of content... (TechCrunch)

-- "The American South started officially publishing at the end of January on USA Today and the sites of 14 southern Gannett newspapers." Poynter's Kristen Hare checks in on the project... (Poynter)
 -- For this week's THR cover story, Eriq Gardner profiled DOJ antitrust chief and former movie producer Makan Delrahim, whose perspective "about what's considered anticompetitive (or not) at a transformational moment will shape the future of the content industry..." (THR)

Watch to watch on V Day
Brian Lowry writes: Valentine's Day brings a couple of romance-themed movies to theaters, but the real action is in TV and streaming, much of it aimed at those who are too young to drive themselves to the multiplex. That includes a pair of sequels – Netflix's "To All the Boys P.S. I Still Love You," which dropped Wednesday, and Disney Channel's musical "Zombies 2" on Friday. Read on...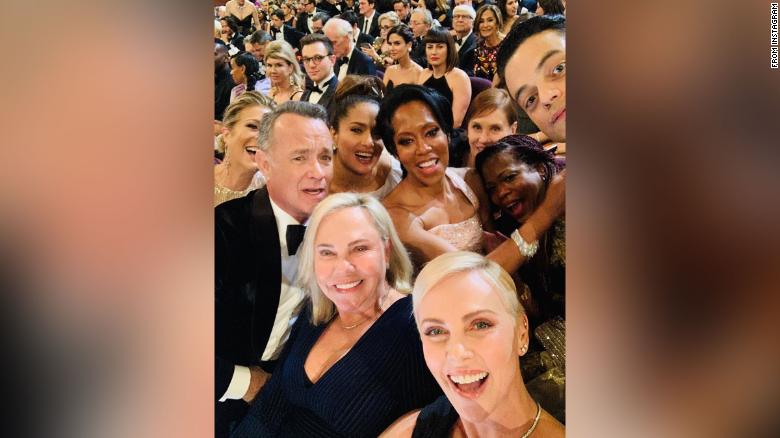 FOR THE RECORD, PART SEVEN
By Katie Pellico:
 -- Quibi plans to spend $400 to $500 million on marketing this year... (Digiday)

 -- Julia Alexander writes: "YouTube is trying to figure out how to help creators earn more revenue through alternative monetization methods, and its newest attempt" -- a "clapping" feature -- "reiterates that YouTube is still following in Twitch's footsteps..." (The Verge)

 -- Spotify's new "Songwriter Pages" is in beta launch. The feature shows fans relevant info about certain songwriters... (Variety)
You are receiving this message because you subscribed to CNN's Reliable Sources newsletter.
® © 2020 Cable News Network, Inc.
A WarnerMedia Company. All Rights Reserved.
Our mailing address is:
Cable News Network, Inc.
Attention: Privacy Policy Coordinator
One CNN Center, 13 North
Atlanta, GA 30303